Ethan S. Knightchilde
Junior
Posts: 13
From: Denver, CO, USA
Registered: Mar 2013



posted March 26, 2013 03:27 PM





---
Hello all!

A couple of years ago, the much-missed "Super 8 Today" magazine ran a cover story about my feature documentary "GHOSTS OF THE WEST". Outside of some interview segments, the entire shoot was accomplished using Super 8 and 16mm film. I'd like to fill you in on some incredible news over the last 6 or 7 months (and perhaps beg a favor):

September 29, 2012 - TEST SCREENINGS: We didn't give away tickets. We didn't have to! PAYING ticketholders began lining up outside the theatre an hour before showtime. Audience members rated the film a 4.5 on a scale of 1 to 5. Theatre employees had to guard the posters against theft!

February 16, 2013 - AWARD CEREMONY: Even though it had been shot throughout the west, a judging panel of movie and TV executives, film critics, and academics gave "Ghosts of the West" the BEST DOCUMENTARY award at the annual black-tie Filmed in Utah awards ceremony. "Ghosts" was up against competition that had shown theatrically and/or played the festival circuit with awards to their names.

NOW---we launched a kickstarter campaign to raise funds for a limited theatrical run and DVD release, as well as covering the cost of the commercial usage rights for some of the historical images used in the film. You can check it out (along with a synopsis of the film's evolution from idea to award-win) at:

KICKSTARTER project for the release of Ghosts of the West

We're on facebook (for quick news and updates) at:

Ghosts of the West on Facebook

The official film web site, where you can see the trailer, production stills, etc is at:

Ghosts of the West movie official web site

The trailer is also on YouTube, Vimeo, and IMDb.

I invite you to take a look at everything and let me know what you think. If you feel it's worthy of the DVD and theatrical-release, would you please consider sharing the kickstarter link with those you feel might be interested? (Or consider its support).

KICKSTARTER project for the release of Ghosts of the West

Thank you all!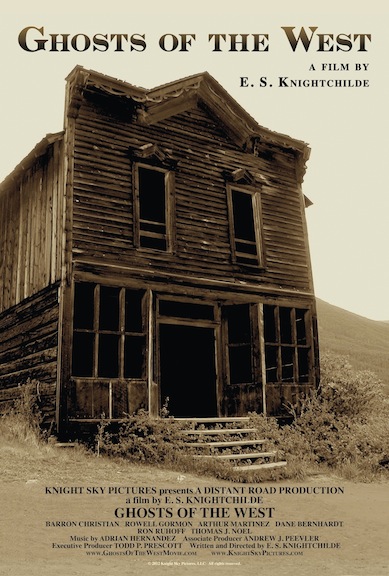 [/IMG]


| IP: Logged