This is topic Racine Films - Extend-A-Reel in forum 8mm Forum at 8mm Forum.


To visit this topic, use this URL:
http://8mmforum.film-tech.com/cgi-bin/ubb/ultimatebb.cgi?ubb=get_topic;f=1;t=001285

---
Posted by Brad Kimball (Member # 5) on July 04, 2005, 02:58 PM:

Years ago, a company (Racine Films) offered a device called "Extend-A-Reel" where one could use up to 1200' reels. Does anyone have it? How does it work? Can you still get one today, anywhere?

---
Posted by Michael De Angelis (Member # 91) on July 04, 2005, 11:01 PM:

I have never seen it, but had heard that they worked great.

The 1200 foot reels had 16mm square hubs, and to my knowledge there
were two reels on a spindle. One feeding and one taking up.
There was also an external attachment to regulate the speed.

This was explained to me a years ago. If I have the details incorrect,
then my apologies.

I have one of the 1200 foot reels, but have decided to hold on to it
for nostalgia purposes.

Michael

---
Posted by Brad Kimball (Member # 5) on July 04, 2005, 11:19 PM:

If anyone has picture, I would love to see what it looked like.

---
Posted by Jan Bister (Member # 332) on July 05, 2005, 12:15 AM:

Hmmmm.

I just bought something very unusual on eBay: a set of two plastic 1600ft. reels for 8mm film. The seller assured me that these reels were not 16mm reels, however they do have small square 16mm spindle holes!


I wonder if this has anything to do with the Extend-A-Reel unit? Is the 1200ft. reel also one of those 8mm reels with 16mm spindle holes?

---
Posted by Gary Crawford (Member # 67) on July 06, 2005, 01:35 PM:

Lou Fazzarri , the inventor of the Extend a Reel ..was a friend of mine....his inventions were always well thought out and beautifully built....and yes...he made the large "8mm" reels from 16mm reels...carefully splitting them and reducinng them to size and putting them back together. Those 8mm reels you saw with square holes may have been some of his reels. LOu passed away many years ago...a relatively young man....from cancer. He also put out some outstanding 8mm films....features....that looked as good as Castle films......he did Ghost of Frankenstein and Animal Crackers and a number of Betty Boop cartoons. He was a huge Boop fan.

---
Posted by Jan Bister (Member # 332) on July 06, 2005, 06:59 PM:

Sad.... yet fascinating. I'm thrilled to have found out where those 8mm-look-like-16mm reels are coming from.
(Have yet to receive them in the mail btw)

---
Posted by Jeff Chaney (Member # 1025) on November 16, 2008, 02:47 AM:

I was about to post asking if anyone had a spare extend a reel for sale, but apparently these are more scarce than I previously thought. They definitely made a 1600 size and possibly a 2000. They did not put extra strain on the motor and belts because they had their own motor.

I would post pictures but I don't have privileges to do so, I put a few on a flickr site http://www.flickr.com/photos/meona/3034427062/in/photostream/

But yeah if anyone has a reasonably priced spare I'd be interested.
Cheers
Dino

---
Posted by Claus Harding (Member # 702) on November 16, 2008, 09:16 PM:

THAT explains those reels...
I have a couple of them, 1600-footers: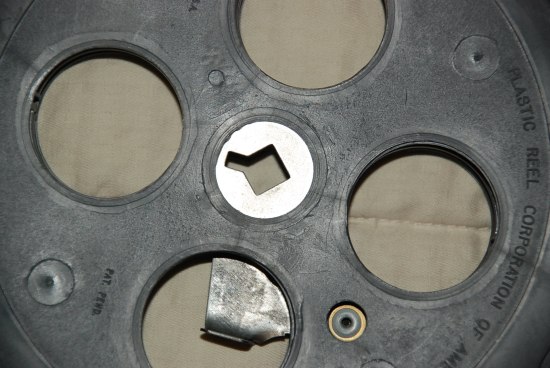 I hadn't heard of the Racine unit before. The co-axial reel design is similar in principle to my Eiki.

Claus.

---
Posted by Dan Lail (Member # 18) on November 16, 2008, 09:54 PM:

I have some extend-a-reels with plastic cases. Contact through my profile where you will find
my email address.

---
Visit www.film-tech.com for free equipment manual downloads. Copyright 2003-2019 Film-Tech Cinema Systems LLC




UBB.classicTM 6.3.1.2