This is topic My first 8mm mini features in forum 8mm Forum at 8mm Forum.


To visit this topic, use this URL:
http://8mmforum.film-tech.com/cgi-bin/ubb/ultimatebb.cgi?ubb=get_topic;f=1;t=001333

---
Posted by Winbert Hutahaean (Member # 58) on July 28, 2005, 10:18 PM:

Ooo gosh....

For some years of my collecting 8mm alone in a remote island of Fiji, I had dealt only with digests (1 x 400"), which mostly were reddish/pinkish. My worst experience with them was when I invited my wife to join the hobby by screening a digest, her first question after spending 16 minutes of Dirty Dozen was, "it's finished??". My wife, who used to watch DVD, of course was shocked when she only watched 16 minutes film for the price of 3 DVDs (if they both are brand new prices).

Now, with my first Ebay experience (as you may have known from my previous posts), I could get two mini-features (3 x 400") at very affordable prices. Yes, I have to be really careful with buying films, since shipping cost will be as much as a brand new extract of Lord of the Rings from Derann. I do understand that a consequence of low price is low quality. But what can I do, my aim is only to show a long film.

So these are the two Mini Features that I bought from Ebay along with my impression on them.

1. Godfather 2 (3 x 400, from Marketing Films)

This item was bought for (approx.) GBP 16. The movies are packed nicely by Marketing Films, my favourite company. One thing that I noticed was the box has different cardboard's quality with others blue Marketing's boxes where mine was a little bit thinner not that thick like the Raider of the Lost Ark's box.

The story of the movies you have already known, so I am not going to tell it, since moreover this is not the review forum. But the saddest thing I got was the colour has been washed out. It is not reddish or pinkish; it is brownish on all three reels.

I read some posts mentioning that three parter Marketing will keep the colour, but why it is not in my case? Any explanation?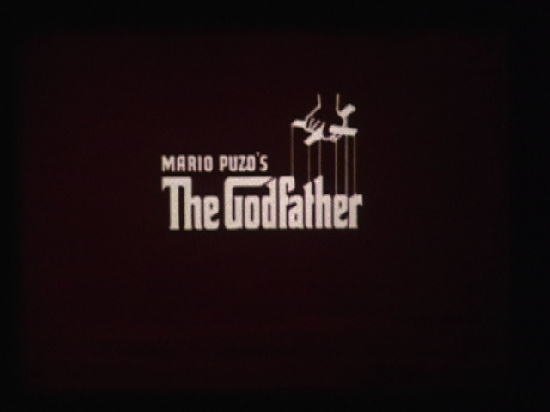 2. Cincinnati Kid (3 x 400, from MGM)

This item was bought for (approx.) GBP 9. It was quite amazing price!. But unfortunately it came with funny boxes. Not like the other MGM releases, this came in plain white clamshell (see picture). I opened the clamshell and it has embossed MGM logo inside. I found on the backside of the box, it has copyright statement, which convincingly shown they were original boxes. What happened with my box? Do you think MGM never released this title with artwork covers? or I 'm just the unlucky one?


Now with the film, like other MGMs, colour quality is mostly warm and grainy. Some blue, green, yellow were left, but not that much.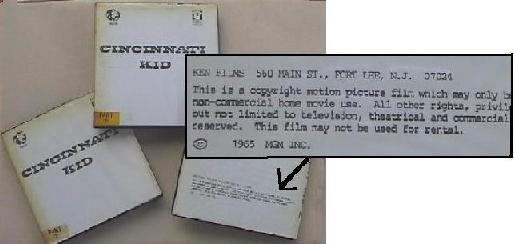 My screaming for help now is, ANYBODY HERE COULD SCAN FOR ME THE ORIGINAL COVER OF THIS TITLE?? PLEASE, POR FAVOR, S'IL VOUS PLAIT!!!!

Now I have a chance to invite my wife joining this wonderful hobby, hopefully she would be satisfied with 45 minutes show.


Some collectors in this forum would probably say that those above qualities are not qualified to be collected. But that is the reality being in a small country like Fiji. In fulfilling my hobby, I had to consider this and that. Besides, I think all beginners will do the same and later on will upgrade to the higher one.

Now, the chance is, I need entrée (hors d'ouvre) for my hobby!. If you have some three/four parter films (Colour and Sound only) that you think they are no longer eligible to be in your shelf, but considering your reputation, you are a bit reluctant to sell/ad them to public, please feel free to email me at winbert@hotmail.com with your lists.

I may buy them, as long as the prices are affordable to be sent to Fiji. Any titles, any quality, scratches, splices, are acceptable, on condition that they are in original boxes and complete.

Thanks, Merci Beaucoup, Gracias, Xie Xie ni!

Winbert

Don't forget with my screaming "ANYBODY HERE COULD SCAN FOR ME THE ORIGINAL COVER OF CINCINNATI KID??"

---
Posted by Douglas Meltzer (Member # 28) on July 29, 2005, 09:28 AM:

Winbert,

Great post! I have Marketing's full length version of "The Godfather" and there is a definite sepia (brown) tint to it, unlike any of their other feature releases. I also have the MGM 3 part "Cincinnati Kid". Nicely edited, but my copies came in the exact same white clamshells as yours. "The Time Machine" 3 parter also had similar packaging. Very surprising, considering how nicely the first wave of MGM releases were packaged.
Good luck with your entrée. Bon Appétit!

Doug

---
Posted by Andreas Eggeling (Member # 105) on July 29, 2005, 09:49 AM:

Winbert,

You will find artwork of Cincinnati Kid here
(front and backside - click on the boxes to open the greater pics.)


---
Posted by Winbert Hutahaean (Member # 58) on July 29, 2005, 11:24 AM:

Thanks Andreas for the picture. I am now printing it and make my own cover.

O yeah, my entree from you has just arrived!. Jacky Chan! I have cheked all four reels, whatever grade you had mentioned ....ehhhhmmm....for me, they were satisfying!

UFA Color....wooooow...never seen like this before!. They are jsut good! Welcome to the humid and hot country of Fiji.

Do you think UFA Color will also have color turning if I leave them inside the cupboard? I am bit worried.... I am just throwing the ideea...if that will really happen ...can I place them inside the fridge? Considering this is the coolest and driest place in this country


I am slowly becoming Germany minded in collecting 8mm


Hi...Douglas, you have never told us about 3 x 400 Return of Jedi that you bought from Ebay, what happend with it, was it good?

Bye

---
Posted by Andreas Eggeling (Member # 105) on July 29, 2005, 11:46 AM:

Winbert,

"UFA-Color" was only a adverisement argument because marketing-films started first with advertising their prints as "Opti-Color" prints, marketing-films adult lables were presented in "Cine-Color", Piccolo with "Proficolor". But all companies ordered their prints sometimes in the same lab and the procedure of printing was the same.

So, don´t give attention about these "Color"-Fantasy-Names.

Douglas, "Jedi" on 3 x 400????? Also want to know more.


Andreas

---
Posted by Osi Osgood (Member # 424) on July 29, 2005, 11:57 AM:

Ahhh, that first feature film, I remember it well. My first feature film was "A Night in Casablanca" (Marx Bros.) 4x400. I got it at a steal of a price, and I adore it. It's actually a slight cut down from the feature, editing out the idiotic subplotting so common to comedies of the time, so actually, it was a much better film for it!

---
Visit www.film-tech.com for free equipment manual downloads. Copyright 2003-2019 Film-Tech Cinema Systems LLC




UBB.classicTM 6.3.1.2