This is topic The Demise Of Filmagic Surfaset in forum 8mm Forum at 8mm Forum.


To visit this topic, use this URL:
http://8mmforum.film-tech.com/cgi-bin/ubb/ultimatebb.cgi?ubb=get_topic;f=1;t=003763

---
Posted by Tom A. Pennock (Member # 202) on June 02, 2008, 11:58 PM:

I really liked this product and have used it on my Super Eight magnetic sound features for year's. It's safe on magnetic soundtrack's and actually make's the sound better. The film becomes so flexible that it makes better contact with the soundhead hence better sound. Also no film chatter either. But when my supply run's out that's it. I have a one gallon jug of it with a small bit left from about 1980 and it still work's great!!! Plus two pint's of it in separate bottles sealed. I bought this directly from Atlanta, Georgia where it was made. I wonder sometime's if anyone has the formula and will make it again? It's also quite unique because it is safe on tape splices unlike Filmguard or Filmrenew or Vitafilm or ECCO VSF-1500. Other than Filmagic Surfaset the only other product's I can think of that are safe with tape splices AND magnetic soundtrack's are ECCO VSF-299 and the old Kodak Movie Film Cleaner with Lubricant. Otherwise you must remake the tape splices because the other product's will loosen them. I don't even want to think about the magnetic soundtracks.

--Tom

P.S. The stuff even has a decent smell to it. Unlike Vitafilm!!! Also you were supposed to use a Filmagic silicone cloth with it to polish the film after letting it cure for a time. Great for green film's!!!

[ June 03, 2008, 01:07 AM: Message edited by: Tom A. Pennock ]

---
Posted by Guy Taylor, Jr. (Member # 786) on June 07, 2008, 01:23 PM:

I still have about a half pint of this stuff.

I will probably use it up this summer.

---
Posted by Jeff Missinne (Member # 3373) on November 11, 2014, 09:45 PM:

Ugh! I hated that stuff! It may be OK for 8mm, but not 16! I once applied some to a brand new print and it warped and twisted immediately. (And yes, I was following the directions.) In my experience it made films chatter worse than before because it made them too slippery; you could see spots of it on the surface like an oil slick. It took several applications of Kodak Movie Cleaner or Renovex (the later version of which was a virtual clone of Kodak) to remove it.

---
Posted by Thomas Dafnides (Member # 1851) on November 12, 2014, 06:00 PM:

I have to give a thumbs up to Surfaset, I still have about 8 oz left from a 1970 quart bottle. Still works fine...my pre-1970 films all play back superb; treated with Surfast 44 years ago. I think the main ingredient was silicone.
Jeff might of got a bad bottle manufactured when somebody goofed up the chemistry that day in the plant.

---
Posted by Joe Taffis (Member # 4) on November 13, 2014, 07:14 PM:

I still have a bottle....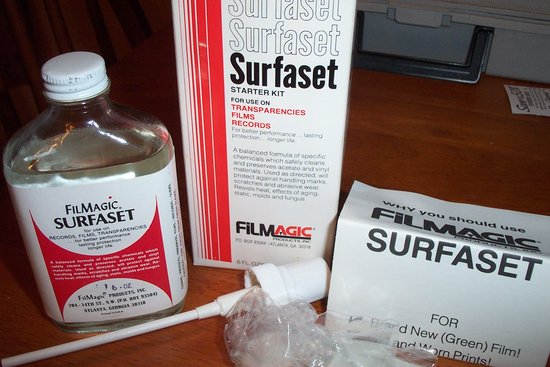 ---
Visit www.film-tech.com for free equipment manual downloads. Copyright 2003-2019 Film-Tech Cinema Systems LLC




UBB.classicTM 6.3.1.2