This is topic MY NEXT LONG PLAY UNIT in forum 8mm Forum at 8mm Forum.


To visit this topic, use this URL:
http://8mmforum.film-tech.com/cgi-bin/ubb/ultimatebb.cgi?ubb=get_topic;f=1;t=004946

---
Posted by Chip Gelmini (Member # 44) on November 01, 2009, 12:49 PM:

ATTENTION

Over the past several days, I have been adding to this post. If you are seeing this for the very first time, plan to spend a few minutes and do A LOT of reading......if you have already seen all of this and are returning for another look, feel free to jump around by using the page up/down buttons.....

BR 2000 PT16

I am pleased to announce I am now building my latest long play system for super 8 sound. Details of testing to come in the next few weeks.

What makes this different than my previous design is the ease of locating the parts. Since my first design was made of 35mm projector parts, they are hard to find and expensive when you do find them.

The new version of the long play system links a 16mm projector to handle all super 8 film transport.

The steps for this are easy:

· Locate a 16mm projector. Easily done on E bay * .

· Replace the motor belt. Yes – still available!

· Add a super 8 brass adapter to the 16mm projector take up shaft.

· Construct a bench or free standing tower to hold all of your equipment.

Run the film through the top mounted super 8 machine to the 16mm take up machine via film guide rollers.

While this is currently in testing mode, it is my intent anyone can obtain parts from me with the instructions on building and set up. Within a few months.

Removing film transport from the primary super 8 machine is a good idea. It DOES make a difference. Super 8 projectors have many jobs to do and only a maximum amount of energy to do it. If you free film transport from that said machine – now that said machine has slightly more energy that it can put to film play and sound reproduction. Thus, wear and tear on the drive train is reduced.

A 16mm machine set at 18FPS nearly matches the 22 foot per minute of the super 8 24FPS output. And, the 16mm machines have spring loaded stability built in to the take up assembly and it is this stability that gives smoother take up. Less film makes contact with the flanges of the reel – and better – not more – tension is automatically controlled.

* You can start browsing here:

http://shop.ebay.com/?_from=R40&_trksid=p3907.m38.l1313&_nkw=b ell+16mm+sound+projector&_sacat=See-All-Categories

More details soon.........

[ November 08, 2009, 11:09 AM: Message edited by: Chip Gelmini ]

---
Posted by Graham Sinden (Member # 431) on November 01, 2009, 02:08 PM:

Chip wouldnt this make the whole system more noisy with the 16mm projector running as well, unless you have a sound booth in your cinema, I dont so I wouldnt try it myself.

I do however like your perseverance in finding that top cinema presentation.

---
Posted by Brad Kimball (Member # 5) on November 01, 2009, 02:28 PM:

I have always dreamed of constructing a sort of "Extend-A-Reel" contraption. Please take pictures and post them here so I can get an idea of what the abstract looks like when finsished. I hate all the reel changes with features. Especially when it's a biggin' like "It's A Wonderful Life".

---
Posted by Chip Gelmini (Member # 44) on November 01, 2009, 09:32 PM:

Gentlemen...please keep your pants on


When the 16mm machine is placed in 18FPS to nearly match the payout of super 8 sound @ 24FPS (as in feet per minute) it will naturally make far less noise than running at standard 16mm speed.

Pictures and more details to follow. I am now just beginning this project for myself. When I know I have something which will work good, then I will post again.

Thank you all for your comments regarding my project.

CG

---
Posted by Damien Taylor (Member # 1337) on November 01, 2009, 09:50 PM:

Good on you Chip, I have often thought about making a long player, but never got around to actually doing it. Here's to you.

---
Posted by Alan Gouger (Member # 31) on November 02, 2009, 08:37 AM:

Hi Chip

Were going to have to call you the mad Scientist:)

Does anyone make full play reels for super 8. For a while Richard Tosti had someone make full play reels out of Plexiglas. While these were DIY they worked great on my Fumeo. Curious if you have success with your project if there's a commercial reel made that would allow full play, thanks.
All the best with your project.

[ November 02, 2009, 09:45 AM: Message edited by: Alan Gouger ]

---
Posted by Chip Gelmini (Member # 44) on November 02, 2009, 10:20 AM:

PREVIEWS OF COMING ATTRACTIONS....

Note: I am just beginning this project. Please allow plenty of time for me to gather more information. As time permits over the next several months I will be giving more information.

At some point I will ask those interested to email me privately. DO NOT DO THIS NOW. By then I will have documentation with photographs ready via file download attached to email.

For now though, just some basic information:

Begin text:

BR 2000 PT16

Introduction

This is the third long play unit for super 8 sound film that I am building from scratch. It allows a film collector to run large reels using a projector that is not designed for this purpose. This project does not modify the projector the user already owns. His machine is simply inserted into a wooden cabinet or structure. His projector is run without reels and will only be used to pull the film through via picture and sound reproduction. An upper assembly above his projector will hold the large reel of film. And a secondary device will be placed under his projector that will be used for take up film transport.

My first two long play units were made from older 35mm projector parts. These were easy for me to find because at the time I was working as a theater projectionist and had contacts to buy the used parts from technicians traveling the theater circuits. Being a projectionist and having connections within the business made that simple. But that isn't easy for someone who does not work in a movie house.

My first two units required separate speed controls operating DC motors which pulled on a 35mm clutch system. After 5 years if working, I began to suspect that in the long term possible damage to the main projectors could result if the speed controls pulled too hard. Even though things seemed to be working very good, this has been a long time concern of mine. So, I set out to create a better, more automatic version using a very simple idea. Another projector.

A secondary projector is perfect because it is designed to handle the load required with the proper amount of tension and speed. With just a little bit of arithmetic and history of motion picture film speeds, I soon picked a machine that was perfectly capable of handling the task. This process now is virtually automated. Either it is running, or it is not running. And when it runs, it will set the speed and tension without me doing anything else to it.

Along the way to creating the BR 2000 PT16 there were some bumps in the road. The biggest problem was the 16mm projector shaft and converting it to hold super 8 reels. How to go from square to round. And on top of that, the shaft on the projector series that I selected, was designed for 16mm with a spring loaded bearing within the shaft. It did not have the spring loaded lever that folds over on the outside of the hub keeping the reel on the shaft as found on other machines or hand crank rewind units.

The simple way I found to change this was to take a common known brass adapter, and have a special one made just like it. The only difference was this brass adapter shaft would be 2.75 inches long. This would allow for the reel to slide on, and then add a locking collar that is set to the reel flange and tightened to the brass adapter. This was tried and the very first reel ran perfectly.

This has been constructed with film transport safety in mind. Everything from rollers, reels, bearings, mounting blocks, 16mm projector models, castings and arms, brake and tension, has been carefully selected, inspected, and tested once, twice, three times and in no way can your valuable film prints be damaged during presentation.

Thank you for your interest in this project.

End text

-CG-

---
Posted by Chip Gelmini (Member # 44) on November 06, 2009, 02:53 PM:

PICTURES ARE IN!

PROJECTORS ARE WORKING!

The text under each picture describes it.....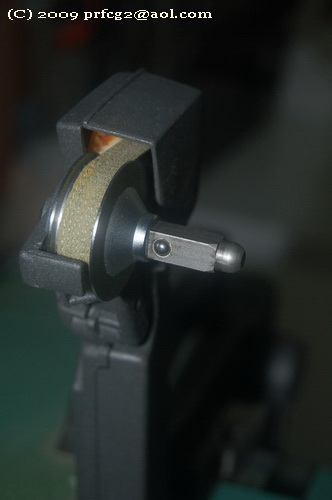 The Bell & Howell classroom projector take up arm assembly. With a few short steps we convert this to super 8 big reel take up!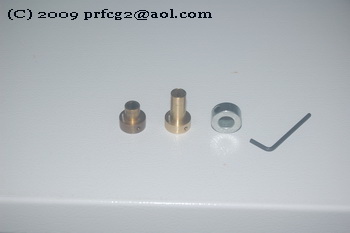 Left: A standard brass adapter. This is too small. There is nothing to hold the reel on.

Center: The new brass adapter with an "extended Shaft."

Right: The locking collar. This will hold the reel on to the extended shaft adapter.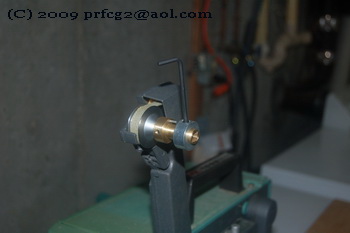 The new brass adapter & locking collar installed to the 16mm projector shaft.



Finally! It really works! A 16mm projector running super 8 large reels! You're looking at a Goldberg 1600 foot reel with 1,000 feet of super 8 film.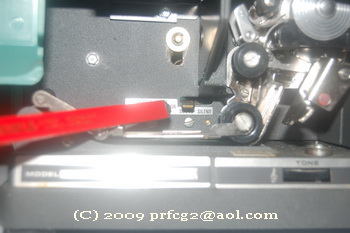 As discussed earlier, you must set the 16mm projector for silent projection. This nearly equals the (footage per minute) of the super 8 machine running at 24 frames per second. The difference is easily controlled by clutch friction. In most B&H machines made after 1974, the switch is located directly under the lamphouse.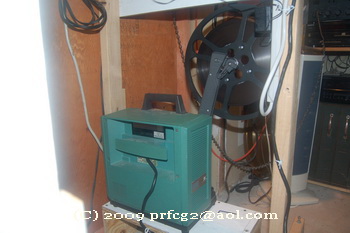 The conversion complete below Tower 2. You might want to build a riser board to hold the projector just a few inches off the floor. Your riser board should be no more than 7" off the floor assuming your guide roller is 35 inches off the floor. The projector will be run with the take up arm in the UPPER position (rewind for 16mm). This saves space and works just fine. There is no harm to the projector mechanics or the super 8 film print.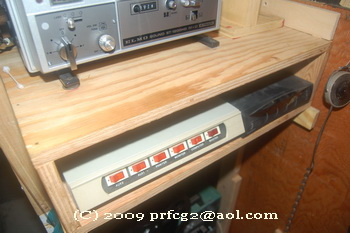 Select a power center so you can control the projectors without having to bend down to the ground just to start one. A power center switch works the same as the power switch on the projector. Either it is or it isn't running. You can use the other switches for the other equipment as well. As shown above, the switches are assigned as:

MASTER = MAIN POWER

COMPUTER = ELMO ST1200HD

MONITOR = SOUND SWITCH BOX*

PRINTER = 16mm TAKE UP MACHINE

* Used as a mono stereo switch linked to aux output and/or dual track output from the ST1200HD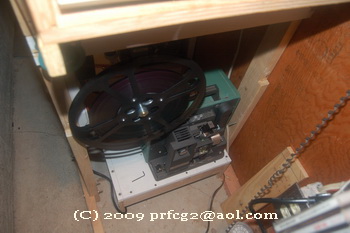 Operating side of the 16mm machine installed below Tower 2 sitting on the riser board.

THE RISER BOARD

Cut 2 pieces 6.75 x 10.25 inches. These are the "ends"

Cut 1 piece 10.25 x 20 inches. This is the "top"

Cut one piece from 2 x 3 stud @ 18.50 inches. This "support" and is installed underneath.

Install the two sides to the stud evenly. Use wood screws and glue.

Install the top shelf evenly to the top of the main unit.

Allow to dry if glue is used.

The riser board is made out of .75 inch thick plywood.

It is just the right size to hold the B&H classroom projector models made in or after 1974.

These measurements assume that:

1. The lower take up guide roller is 35 inches off the floor.

2. The top of the 1600 foot reel when mounted to the projector with the take up arm in the UPPER position (when rewinding 16mm film) is 28 inches off the floor.

3. The riser board raises the projector so that the top of the take up reel (as discussed in step 2 above) is 32 inches off the floor.

4. Should you choose to use one, there will be room between the final guide roller and the top of a 2,000 foot super 8 reel for even longer showings between reel changes.

ABOUT THESE PARTS:

I have been on this mission to improve my Tower film transport for a long time. And it has taken a long time just to have some of these parts specially milled out for me to do what you have just seen.

This has only been installed for less than one week and is running great. However, a considerable amount of time is needed to test this completely.

That being said, there are many "what if?" situations that I have not dealt with yet.

I encourage anyone interested in this project to do it themselves. There is nothing better than designing something and see it come to real life and work better than you expected.

But do so carefully, and at your own risk.

Thanks for your interest and I welcome comments and questions. I'll be happy to help any way that I can in the hope that you can create your goal as I have.

Signing off.....

CHIP GELMINI

---
Posted by Chip Gelmini (Member # 44) on November 06, 2009, 06:12 PM:

PROJECTORS & ENERGY

Theory behind Secondary Spooling

Older movie projectors used at home are getting harder to find and repair. These have been discontinued for a very long time. The good old days of walking into a camera shop and seeing a variety of projectors in the display case or hearing a salesman ask, "Can I demonstrate one of these for you?" are over. So now, we collectors are faced with the unavoidable. Learning to fix our own as best we can, and finding spares in good condition at reasonable prices. Sadly, some of those choices are nearly impossible and always seem to strike backwards. That is, you pay a high dollar price and you get a Junker.

Projectors have several jobs and only a maximum amount of energy to do these jobs. This is true of most things that are mechanical or electrical in some sort. It's even true of us. We start our day, refuel several times, and by days end need our rest so we can do it all over again soon.

Projectors must (1) Spool the film running heavy reels; (2) Put light on the screen; (3) Cool the source that produces that said light to the screen; (4) reproduce audio. Number four is not high on the energy consumption list because it is electronic as compared to mechanical. But still, it's a job.

So there's four jobs that share one hundred percent energy.

Now what if we could eliminate one of those jobs and free up a little more energy that can go to three jobs. But wait. We can do better than that. We can do much better. We can eliminate the toughest of those four jobs. And we do this by adding a secondary take up device that frees the machine from spooling those large heavy weighted over filled reels.

Imagine your home movie projector just pulling the film through! Of course this is nothing new. I remember in the late 70's a company in Wisconsin called Racine and they made the Extend-A-Reel. I remember an article in Super 8 Filmmaker suggesting this was a monolith that stood behind the super 8 projector.

By 1998, I started to hear of a man by the name of Mr. Spondon from England. And he had his version, the Spondon Spooler.

And in 2005 I created my own. The BR2000-PT. Made of 35mm parts, it did just what I have mentioned a few minutes ago. By 2009, I came up with the newest version which is described in previous documents.

With a super 8 projector showing the super 8 film, it is running easier not having to spool the film along with everything else it has to do. So naturally, it can do a better job likewise.

The 16mm machine converted to super 8 take up is made for larger gauge film. So it has slightly more power to do that single job. Speed is reduced to prevent pulling harder than required on the super 8. And since the 16mm machine is running without pulling film through, it is doing three less jobs even though all the parts are of course in motion. There's no film threaded; no hot lamp to cool; no continuous rotation required of the sound drum and flywheel shaft; and so on. And since take up is one of the hardest jobs for the super 8 machine to do, there is no better combination than using the next machine best for it!

The End
Theory behind Secondary Spooling

---
Posted by Chip Gelmini (Member # 44) on November 07, 2009, 10:34 AM:

MORE PICTURES!

(THE TEXT UNDER EACH PICTURE DESCRIBES IT)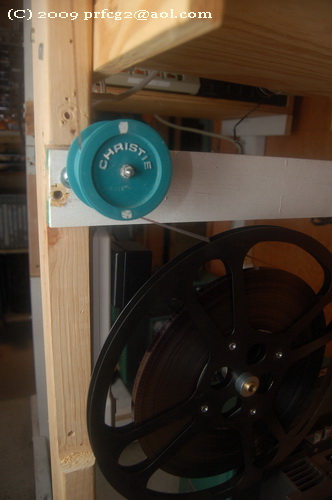 GUIDE ROLLER LINKED TO TAKE UP REEL



ORIGINAL TOWER DEIGN TAKE UP
Remove clutch shaft assembly.
Remove wall mount.
Remove motor & pulley.
Remove motor shelf.
Remove motor shelf brackets.
Install riser board.
Install 16mm projector.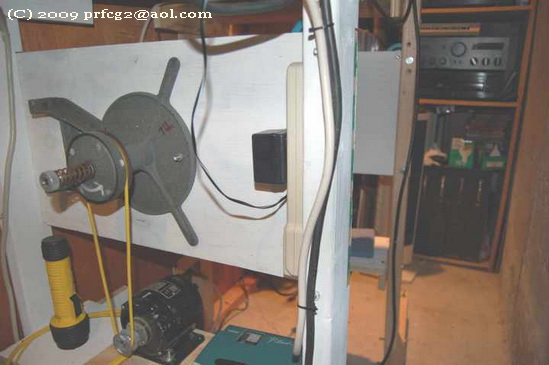 ANOTHER IMAGE OF THE OLD STYLE.



NOW IT LOOKS LIKE THIS.

[ November 07, 2009, 09:55 PM: Message edited by: Chip Gelmini ]

---
Posted by Alan Gouger (Member # 31) on November 07, 2009, 11:13 AM:

Hi Chip well done. The new design looks far less complex then your original and way cooler. I give you credit for thinking this up.
A few questions if you dont mind. I see the Christie film guide, what gauge is that 16mm or 35mm. What are you using for payout?
You are one of the few enjoying full or near full play in super 8mm:)

---
Posted by Brad Miller (Member # 2) on November 07, 2009, 12:16 PM:

Here are some pictures of the very first extended play transport I made back in the late 80s. (Not me in the pics.)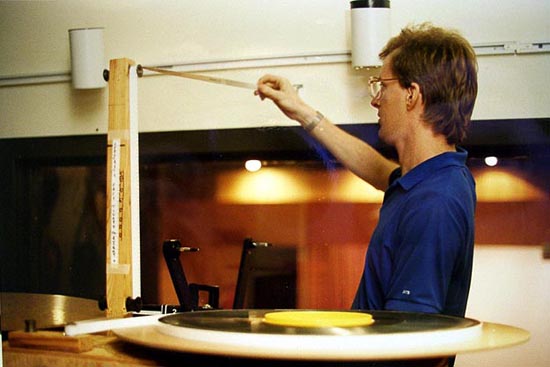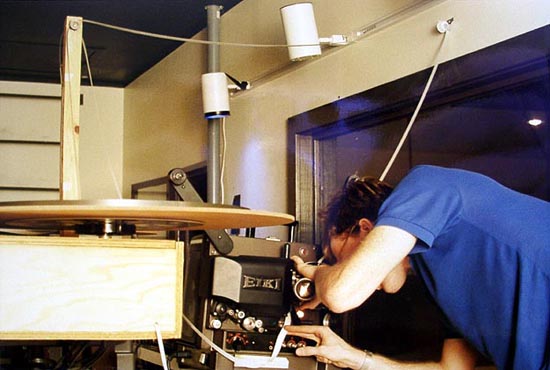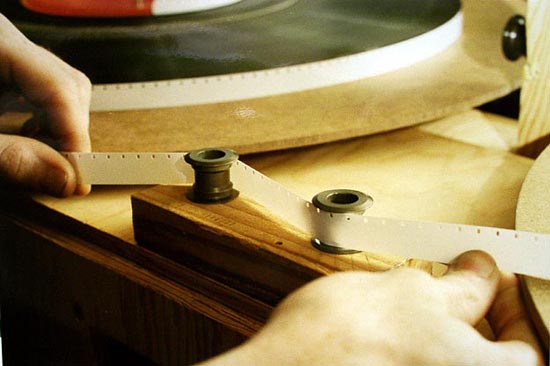 I actually had prints of these images. Sadly my later incarnations of the extended play and actual platter designs have been lost to a hard drive failure. If I can ever come across anyone with actual photos of the later models I will scan them and post them, but later models had the decks stacked on top of each other to save space, and also didn't require rewinding (if so desired to run that way) as they could function as a true platter. Later models could also run 8mm. Somewhere along the line I also made a very tiny version that held actual 2000 foot 8mm reels on the spindles and the projector sat on top of the extended play unit. Just about all of the later models had a film cleaner mount for a modified Kelmar film cleaner too.

I made a number of these for probably 8 years or so for various friends and the university. Never once scratched a film on them.

---
Posted by Chip Gelmini (Member # 44) on November 07, 2009, 01:16 PM:

Hello Alan

Those are 35mm Christie rollers. And the upper reel is held from a modified theater projector shaft assembly with the brass adapter for super 8. These are the very first pictures from 2003 when I was designing the Towers.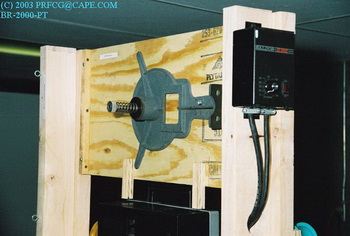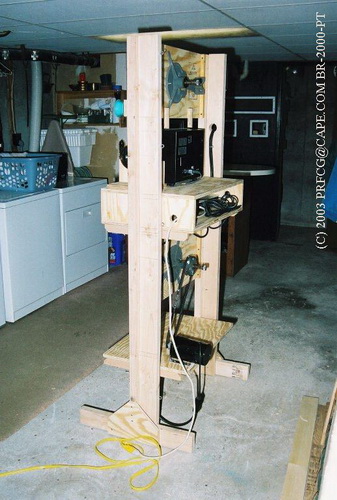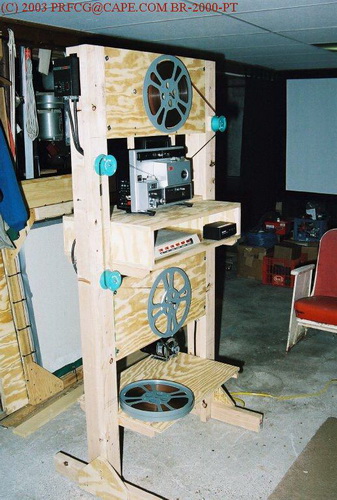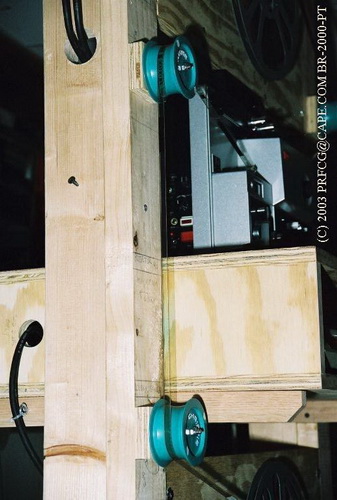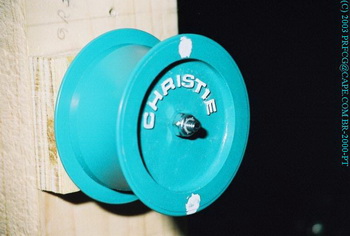 ---
Posted by Alan Gouger (Member # 31) on November 07, 2009, 01:49 PM:

Chip those additional pics helped a lot to understand the whole system, very nice. Nothing more enjoyable then sitting down to a non interrupted film. Especially for the projectionist:)
Im sure many here envy you.

[ November 07, 2009, 06:30 PM: Message edited by: Alan Gouger ]

---
Posted by Christian Bjorgen (Member # 1780) on November 07, 2009, 02:05 PM:

Wow, that's quite an impressive build there


Indeed, those additional photos really helped!

---
Posted by Paul Adsett (Member # 25) on November 07, 2009, 03:08 PM:

Chip, that is brilliant! Very well done indeed.

---
Posted by Alan Gouger (Member # 31) on November 07, 2009, 03:27 PM:

Brad being a smaller scale did you need all the same micro switches and mechanics as a full size platter or were you able to get away with just a take up motor on the one platter. If you ever find those pics please re visit this thread love to see them.
This is a great thread.

---
Posted by Brad Miller (Member # 2) on November 07, 2009, 04:18 PM:

Alan,

If you are just trying to create an extended play system (meaning, rewind after each show), then all you really need is to do something simple. Chip's examples work quite well, and I particularly like the way he did the pictures above by building a "tower" sort of thing with a shelf specifically for the projector. I used to have this soundproof box with ventilation and a mini-port window that we used for situations where we didn't have a booth. In that instance the long play (or platter) would sit beside the box on the outside since it didn't make any noise.

The way I did the extended play systems were to use direct drive motors coupled straight to the shafts. Look closely at the underside of the deck in this picture: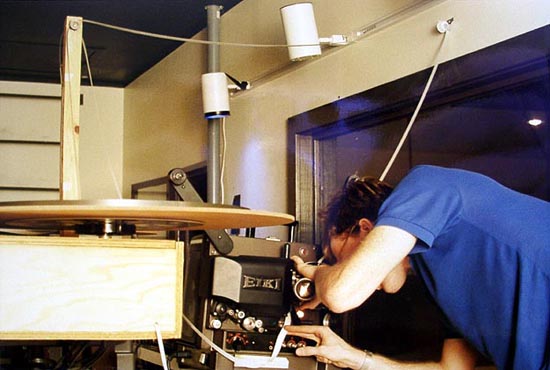 What you see is a 16mm drive shaft with half of an Eiki 2000 foot auto-takeup reel. On top of that is the masonite deck. This way entire features could be built and stored in the closet on the masonite decks for multiple movie changes in the same day (since purchasing 6000' reels was FAR more expensive than making a bunch of masonite decks).

When the movie was threaded and ready to run, both motors would simply be turned on. This provided not only takeup tension, but electronic backtension from the feed platter as well (as opposed to using a clutch like an upper reel arm). The faster the supply reel was spinning, the less backtension there would be (which is what you ideally want). During rewind you only needed to turn both motors on. With the supply reel being empty, it had more power to start the process, and as the movie continued to rewind the takeup reel would lower its backtension due to the weight and drag (also ideal).

Later models of the extended play or platter units had a small arm that would remove any small amount of bounce on the takeup (which only ever really bounced the first few seconds of the startup), and was setup in a way that if the film broke or the movie tailed through the projector, the arm would fall onto a microswitch to turn off the motors on the extended play/platters. That was then extended to turn off the projector and other things.

---
Posted by Chip Gelmini (Member # 44) on November 07, 2009, 09:50 PM:

Hello everyone

Thank you very much for your comments about my project.

The basic idea for the Tower came about when I dreamed of a super 8 projector being made from a 35mm company. For me, the choice would have been Century projector corporation. Of all the ones I ran in the business, I liked Century the best but this is of course as personal choice.

Point being, the top to bottom layout is grand. I was never really crazy of these home projectors with "front to back" reel arms.

Below I will try and post another picture of my Tower and a picture of a carbon arc projector for 35mm. You see how both upper reel, picture and sound head to lower reel all seem to match.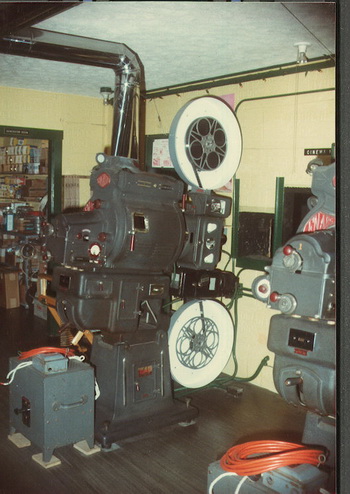 And for those interested, I am still running with changeovers. I have always felt this is the way it should be done. No interruptions from start to finish. No single machine running the entire show.

With all the reels available and various types you can find, most of the reels that you guys use on your reel arms I only use them for storage.

I have always believed that, reels for storage or shipping should be used just for that purpose. And "house reels" should be used only on the projectors.

For example, suppose you have in your collection 10 of those classic Elmo reels holding your library of films - the aluminum 1200 foot. Consider replacing those reels with plastic.

And before you run a show, spin the film off plastic and rewind on to the Elmo reels. And only put the Elmo reels on your projector shafts. They are highly recommended and they were built for the Elmo projectors, right guys?

When your show is over, rewind the reels back on to the plastic for storage.

That's the idea. And for those of you who want to know, I follow that procedure every time I run. My Towers will run any kind of reel I have and any size. But that's besides the point. And my preferred house reel is the Goldberg super 8 reel @ 1600 feet.

And by the way if you own super 8 you won't think of my idea as extra work. If you own super 8 it's a labor of love.


---
Posted by Damien Taylor (Member # 1337) on November 07, 2009, 10:15 PM:

That is a shiny exhaust stack. Good work Chip, very nice. The long play system I made a while back was merely two turntables with variable speed, and felt slipmats to act as a clutch, it worked incredibly well.

Oh also Chip, do your Goldberg 1600 8mm reels have 16mm stamped into them?

---
Posted by Alan Gouger (Member # 31) on November 08, 2009, 12:06 PM:

Thanks for the info Brad.

While most movie goers are not aware of the behind the scene mechanics that make screenings possible this is the stuff that gets my blood going. Great thread guys. Chip thanks for getting this underway.

---
Posted by Chip Gelmini (Member # 44) on November 08, 2009, 02:25 PM: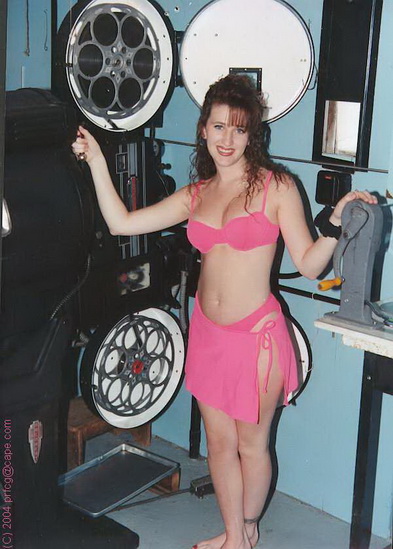 Alan....how is your blood pressure now?
---
Posted by Alan Gouger (Member # 31) on November 08, 2009, 05:20 PM:


quote:

---

Alan....how is your blood pressure now

---
Nothing like a healthy cure for low blood pressure!

[ November 08, 2009, 06:22 PM: Message edited by: Alan Gouger ]

---
Posted by Alan Gouger (Member # 31) on November 08, 2009, 08:34 PM:

Here is my lazy mans full play ( Fumeo ). Unlike the systems shown here my projector is doing all the work. It chugs along just fine with plenty of horse power but the full play reels made by Richard Tosti are no longer avail.


---
Posted by Brad Kimball (Member # 5) on November 08, 2009, 09:24 PM:

Chip,
Aren't you a bit concerned that your projectionist in the pic would be too much of a distraction from the movie she's running?

---
Posted by Antonis Galanakis (Member # 1455) on November 09, 2009, 12:43 AM:

Hey, you guys are crazy!!!!!
That's why I love this forum.

Antonis

---
Posted by Chip Gelmini (Member # 44) on November 16, 2009, 03:26 PM:

I am wondering how many of you are willing to do what I have done.

Please let me help with advice and or parts should you choose to try this.

Always willing to help out another collector with great presentations!

- CG -

---
Posted by Peter van Zand (Member # 1552) on November 21, 2009, 04:59 AM:

A solution for small apartments: the Eiki longplay unit with 8mm adaptors, here in combination with my Sankyo 702 with 1.0 lens, just after a show. The big metal Fumeo reels are the ones I prefer, they come in 600 or 720 meter sizes.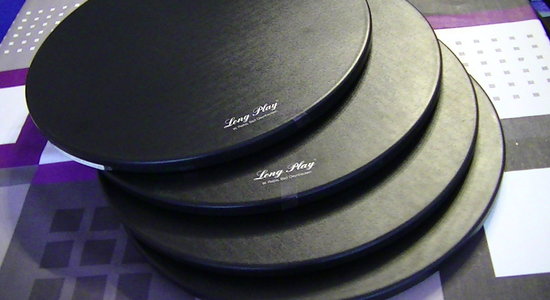 ---
Posted by Damien Taylor (Member # 1337) on November 21, 2009, 08:04 AM:

Yeah the Eiki LP units are good, but they rarely come up for sale

---
Visit www.film-tech.com for free equipment manual downloads. Copyright 2003-2019 Film-Tech Cinema Systems LLC




UBB.classicTM 6.3.1.2