This is topic WHAT IS THE BEST PROJECTOR? in forum 8mm Forum at 8mm Forum.


To visit this topic, use this URL:
http://8mmforum.film-tech.com/cgi-bin/ubb/ultimatebb.cgi?ubb=get_topic;f=1;t=007190

---
Posted by Laksmi Breathwaite (Member # 2320) on June 16, 2012, 11:57 AM:

I have heard so much about best projectors EUMIG,Elmo,Sankyo, Bell Howell,Sears, etc. But what is the best for practical use scratch free,break down, easy to load,lamp life,little noise,and just practical. I have been in the hobby for 40 years and have learn to love my ELMO Hi Vi sion SC-18 2- track. It is kind to my films, it has a low maintance,it has very low noise, it has the side TV viewing, it has great sound, it has a nice zoom lens for showing in theatres, and out side on the beach with a sheet. What are all your thoughts in this forum?

---
Posted by Osi Osgood (Member # 424) on June 16, 2012, 12:24 PM:

Egad!

You open up a great can of fun "worms" which this re-accuring topic, but a fun one no less.

My top three picks are ...

1. EUMIG
2. ELMO
3. CHINON

Why?

ELMO is not first as, while in many ways, they are the best performers, they also have far more problems that pop up, (from everything that I have read on this and other forums), where the EUMIG is just a great "work horse" of a projector, with all the bells and whistles as well. To this day, I have never had a problem with my EUMIG 926 stereo.

CHINON's, depending on the model, are exceptional performers as well, especially the CHINON 9500 Magnetic/optical sound line, of which I have two, and this is why I have them as a third choice as best.

---
Posted by Michael O'Regan (Member # 938) on June 16, 2012, 12:42 PM:

I wish I hadn't sold my Sankyo Stereo 800 - a real beauty to look at as well as a solid performer.

---
Posted by Pasquale DAlessio (Member # 2052) on June 16, 2012, 12:47 PM:

1.Elmo
2.Eumig
3.Sankyo

Just cause I say so
---
Posted by Jean-Marc Toussaint (Member # 270) on June 16, 2012, 12:47 PM:

Laksmi, although I have (and have had) Elmos and Eumigs of all sorts, I'd say that the SC18 has been the most reliable machine I've ever owned. It sits permanently on its very own shelf in my workshop, always ready for print checking.

(Now, which beach in Vegas are we talking about ?
)

---
Posted by John Davis (Member # 1184) on June 16, 2012, 02:01 PM:

Isn't projecting at or near a beach going to invite scratches from sand finding it's way into the machine?

---
Posted by Laksmi Breathwaite (Member # 2320) on June 16, 2012, 02:40 PM:

Osi how long have you had your work horse EUMIG 926 stereo?
What about the scratchings and how's it treats film? My Elmo I have had for almost 30 years is gentle as a babies bottom.
Pasquale DAlessio wow you are the man to my heart! I love my ELMO SC-18 my list is your list.
Jean-Marc Toussaint any Beach,desert,
forest,parks,and camping sight etc has a place with tables and benches with a roof. And poles you can run the white bed sheet between for a nice big screen . But if you don't have that bring a long extension cord find a beach power source or generator. Also you can bring a nice size portable screen.Then John Davis take a folding table to put the projector on then project away Star Wars or a Superman Cartoon at night. Pop up some popcorn on an open fire and marshmallows. Everybody lays out or sits on the sand or grass. Just don't do it on a windy day. Next I have the kids sitting in my camper pluged in to my 12 volt DC converter watching Disney cartoons on my ELMO SC18 editing tv screen.

---
Posted by Hugh Thompson Scott (Member # 2922) on June 16, 2012, 03:21 PM:

For the serious showman/collector, it must be FUMEO,I know
they weren't popular in the USA because of the very high cost,
but the difference of light output and amplification even puts
the flagship GS1200 in the shade.It's the dream machine,no
plastic tracks,manual thread,a powerful motor and a 2500'
spool capacity and 200W lamp.This projector was made to last,and I believe it will.
It also has a huge flywheel for sound stability,no wow there,and
absolutely brilliant on Optical sound,useful on low recorded tracks and an additional presence filter.The Fumeo's could be built to order.The pinnacle of their
projectors was the FUMEO 9154 that had a 500w xenon lamp
and stereo & pulse sync,held 6000'feet of film and can deliver
50w across 8ohmalso could do 5 channel and sub woofer.plus the fact it can fill screens 10-12 meters wide!
The best has to be paid for,and there's no doubt that
FUMEO projectors are,solid,dependable and above all .....kind
to film,something ELMO's never were.Oh the price of this
particular model,a cool £6,500.00 and that was in 1991,but for
those that can't bear to part with that kind of dough,the 9119
takes some beating,and is a bit more affordable.

---
Posted by Laksmi Breathwaite (Member # 2320) on June 16, 2012, 03:44 PM:

Okay Hugh FUMEO projector is the God of projectors what a price tag I guess you get what you pay for . I'm just thinking of us mortals.But is it practical ? I'm thinking price and affordability. I would never take that beast out side my door. I would be to scared. You just made my Elmo cry it has been very nice to my films . Especially if you use FILMGUARD and keep the lubricant going.

---
Posted by Bill Phelps (Member # 1431) on June 16, 2012, 04:39 PM:

For super 8 I like the Elmo ST1200HD. It has been a solid performer for me with no real problems. I also have a GAF 3100S (re-named Chinon) that I use for transfers that works very well. I keep the films lubed and the film paths clean so far so good! I would like to get one of those Elmos like you have with the built-in screen for my editing bench.

For standard 8 I would say Bolex M8. It's a beauty! I just recently got one and I'm in love with it!

Bill
---
Posted by Hugh Thompson Scott (Member # 2922) on June 16, 2012, 04:40 PM:

I hope Laksmi that you have made little modifications to your
projector,because the guides do wear with use on ELMO's and
I thoroughly agree they are a very good projector,the tracking lets
them down,there's nothing worse than running an expensive
print and finding emulsion scratches.It was this that turned me away from ELMO as I couldn't keep up with replacing damaged
film.In SUPER 8 REVIEW run by Keith Wilton and SUPER 8
COLLECTOR run by the late Paul van Someren,it told and showed where to put extra rollers to alleviate scratching,the
unforgivable sin of any projector.It shouldn't really have been too difficult to have made a manual thread ELMO ST1200 as
it was really a scaled down 16mm design.Anyway we can still dream.

---
Posted by Bill Phelps (Member # 1431) on June 16, 2012, 04:44 PM:

Hugh...I wish they were manual thread...I like that much better.

Bill
---
Posted by Steve Klare (Member # 12) on June 16, 2012, 04:51 PM:

I've mostly had Eumig 800 series and Elmo ST's.

Both excellent, but I like the ease of access to the film path with the Elmos. On the Eumig 800s the fact that you are one false step away from knocking off a claw pin when you clean the gate if you forget to align that inching knob is kinda scary.

That much said: my first sound machines was a Eumig 10 years ago and I still don't know what it looks like inside because it's never once died on me!

---
Posted by Paul Adsett (Member # 25) on June 16, 2012, 06:41 PM:

My favourite projector is my Eumig 938 Stereo. Extremely kind to film, never scratches, flawless auto threading, ultra steady projection, and awesome sound. No reliability issues in 10 years.

I also like my Elmo GS1200. It has larger 1200ft spool capacity, higher light output than my Eumig 938, and it will play optical sound tracks. But, it will sometimes scratch film for no apparent reason, and projection is not as steady as the Eumig 938 and sound quality is not as good with a propensity for WOW on some films. Plus, like a lot of GS1200'S, it has had reliability problems with microswitches and stereo amp modules.

Bottom line. For great worry-free projection the Eumig 938 wins every time, it just trucks along with no complaining.

---
Posted by Graham Ritchie (Member # 559) on June 16, 2012, 07:21 PM:

If you are putting on film programme away from home I found my early Elmo ST1200M years ago did the job really well. The thing is, is that you can make up an interesting and varied programme that suits everyone onto a 1200ft or 800ft reel meaning non-stop.

Most folk in particular kids will get restless if you have to stop and rewind etc using a projector that can only take 400-600ft of film. The other thing is light output and again the 150watt lamp gives you plenty of light, getting a 1.1 lens at a later stage will increase that by 25%. If you dont need stereo or optical those early ST1200 projectors are very reliable, light to carry and most importantly, easy to get at and clean the film path. They had just one belt/one motor to drive everything. I still have mine I bought second hand back in 1979 and will never part with it.


If you can find one thats been looked after and at the right price it would be a good buy and for all practical purposes would be just the thing.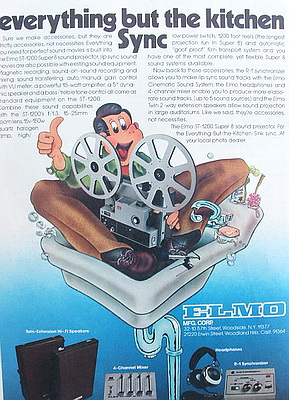 Graham.
---
Posted by Zechariah Sporre (Member # 2358) on June 16, 2012, 08:29 PM:

Well I know I haven't been using projectors near as long as most people but I've had several eumig 800 series and have been tickled pink with them. They've always been very reliable and user friendly. I also love the option of running both super 8 and Reg 8mm on the same machine. My favorite is the 810D lux High Quality Sound and I love the lens and sound on this one.

---
Posted by Laksmi Breathwaite (Member # 2320) on June 16, 2012, 08:53 PM:

Yes Hugh unforgivable sin of any projector is that it scratches the film sooner or later even with all precautions. In the theatres unless it is shown digitally and that is not film. The secret is don't show the film and lub it well. And modifications to your
projector with the guides do wear with use on ELMO's the tracking cuts the film after time and extra rollers to alleviate scratching is good . But sooner or later if you view your films allot you will see scratches. The film passes through the metal gated to hold it down to project the image. Unless you have soft rubber as a tracking gate? Some film that is made well with strong emulsions on the stock can have a less time being damaged . But sooner or later it wuill scratch your film yout unforgivable friend projector you love. But what do you do? You must watch your films if you need a fix like me. A long time ago I used to get films from RED FOX films on the east coast. They sold a furnisher polish that had lemon in it. Any body remember that ? It was the wonder stuff that took away and filled deep scratches on film. I could not believe this stuff and used it all the time. It actually worked and all my scratches were gone. I would just use it on a soft cloth and rewind my film holding it folded across the damaged film and presto change oh it worked. I could only get it from Fox and when they shut down there went my supply of the stuff. Now I use the GUARD and just live with the scratch and keep lubing the films I watch allot. Some films I watch the most have no scratch marks must be made of allot of silver? Film was made with real silver at one time. Anyway the other night I was showing a new film that I got on eBay from England for some Kungfu kids. It was ENTER THE DRAGON 400" . I checked it out it was clean of scratches I was shocked . When I rewinded the the film I got distracted by these kids doing Kungfu kicks. Half the film unwinded in the middle on the floor. I finally got it back on the take up reel and rewinded the rest. I showed it again after it rewinded and it had a blue scratch on the side . It was in about the middle of the film and after no damage on the part that had not been on the rug. I was pissed !unforgivable sin of any projector is that it scratches the film sooner or later even with all precautions. Daaaaa

---
Posted by Osi Osgood (Member # 424) on June 17, 2012, 08:41 AM:

I have had my EUMIG 926 stereo sicne I got back into collecting, nearly 10 years, (and remmber, I got it used in the first place), and, like Paul's 938 stereo (Which I envy Paul for, would LOVE to have one!), my 926 has never scratched a film. Very high quality sound, though I must confess that the balance stripe portion of the stereo is starting to wear a little, so when I play my stereo prints, I use the CHINON 9500's.

I have always been interested in those FUMEO's, but I have never had the pleasure of owning one or even operating one.

---
Posted by Roger Shunk (Member # 2836) on June 17, 2012, 10:12 AM:

I think I will have to agree with Pat on this one Elmo Rules!!

RS
---
Posted by Hugh Thompson Scott (Member # 2922) on June 17, 2012, 02:46 PM:

Osi,you owe it to yourself to get a FUMEO, they are reliable and
straight forward,with little to go wrong,which is one reason we
don't see a lot of Fumeo owners with problems on this forum,
it's taken over by the GS MEN.Lets be quite honest about it, the
Japanese never made anything with a view to longevity,and the
remaining machines are coming to the end of their lives.The
Italians always had an eye for style,and if their Colosseum is
anything to go by,the last word in making things that last.

---
Posted by Adrian Winchester (Member # 248) on June 17, 2012, 06:21 PM:

I can't really name a 8mm projector in this thread, because although I've owned quite a few, I've never owned one that has been sufficiently problem-free for me to choose it here.

However, it's interesting to see how people can have very different experiences with the same projectors. The SC18 has received enthusiastic praise for it's reliability here, but I had worse than average problems with one I bought new. I later sold it to a friend of mine and some time later it became a rare instance of a projector breakdown that even a top Elmo expert considered beyond help!

---
Posted by Laksmi Breathwaite (Member # 2320) on June 17, 2012, 11:56 PM:

Okay Adrian the ELMO SC-18 you got a lemon just like new cars which is problem free a Honda? FUMEO is the God of projectors and with that kind of price tag it better be. Anyway what do you pick as the saint for you? I'm stating the budget wise and practicality's issue. I love the fact SC-18 I can edit watch and zoom in a theatre as well as it is light weight to go camping in the great out doors with. I have had problems with all my projectors, Eumig,Sankyo,Bell & Howell, Gaf,Sears,and Chinon. Cars wear out if you use them. But some more or less then others there not all indestructible. When I was a kid I got to help out in the projection room at my neighborhood theatre the projectors were allways brecking down. Parts had to be changed and everything was lubed all the time. Now and again a whole projector was replace and it started all over again. I used to ask if I could keep some of the films that were badly scartched but the guy I worked with said no it goes back to be burned melted or something . And made into a new print.Oh No give it to me even knowing I had only my tiny projector at home. I thought I would keep it till I could get a big projector some day that was thrown out . If you use it you loose it. FUMEO except. You get what you pay for I guess?

---
Posted by Alan Rik (Member # 73) on June 18, 2012, 01:40 AM:

I have owned the Elmo GS1200,Elmo ST1200, Fumeo 9119, Eumig S940, S926, Chinon 9500, Chinon 4100, Bauer T610, and the Beaulieu 708 Stereo.
The Elmo is the only one I have left.
I liked the Eumig for its sound quality but the picture wasn't really bright enough. I was using it during a screening and then the bulb burned out. I put it on the Elmo GS and one of the people watching it said the picture was much brighter and better. The Eumig had the 1.1 Schneider lens on it too. I never liked the way the 926 had the take up reel on the same side as the feeding reel. It seems to put unnecessary pressure on the film.
I had the Chinon 4100 as new and it chewed up my new print of Enter the Dragon 400. As well as many others. And then I got the Optical/Magnetic 9500. And it did the same!
The Beaulieu was a little finicky when it came to reproducing the sound on some tracks but the picture was really first rate. And the threading was flawless with very little clacking and noise. The brightness due to the 2 bladed shutter and the fast pull down made it as bright as the GS1200 with the 200 watt lamp. That was a great machine too.
The Bauer t610 was a great machine until the claw needed replacing and no one on this side of the pond could do it. Great picture, great sound, and the quietest machine you never heard. Soon I'll get another one.
I do believe the Fumeo 9145 is most likely the best Super 8 machine ever made. However the only thing I liked about the Fumeo 9119 was the manual threading. That was a dream and I wish all the other machines could be threaded like that one. The picture quality with the 1.1 Schneider I had on there was good. It wasn't better than the GS. Comparable. The sound was tinny compared to the GS1200. And the GS has sync pulse for re-recording tracks. And when it comes to the ergonomics of the Fumeo...its really a clunky machine. A workhorse yes but I never bonded with mine.
For me the GS1200 is the best machine I have used (Even better in the Xenon flavor) and the one that I have always gone back to. I had the ST1200HD M/O for a month but I missed my old GS so I was lucky to find one on Ebay.

---
Posted by Michael O'Regan (Member # 938) on June 18, 2012, 02:53 AM:

Has anyone got any photos of those Fumeo machines - in particular the 9154?

---
Posted by Hugh Thompson Scott (Member # 2922) on June 18, 2012, 04:34 AM:

Pictures of this super machine appeared in FFTC # 18 and a
very detailed article Michael.Indeed this projector uses the same
body carcass as the 35mm version.As for Alan saying he had
"tinny" sound with a 9119I beg to differ,the projector has ample bass,treble
and a presence filter to alter sound repro according to the room
The light out put is much brighter than the GS1200.I have one
of the GS machines and do not use it as much as against the
9119,which I know will not put a mark on my films.Unlike the
Elmo family that I believe even had a certain mark on film named after them! No the reason it wasn't popular in the US
is quite simply it was too expensive,and wasn't a portable
recording studio,which the average collector didn't want or require..If the Japanese had paid more attention to film care
and had manual thread at the cost of all the micro switches etc
then a better projector would have resulted,but take away all
the whistles and bells and you have a projector that isn't that
good.A lot of collectors inproved the light out put by shutter
replacement and more powerful lamps,indeed coupled with all the addtional rollers,for a top flight projector it certainly needed a lot of work to bring it up to speed,The majotity of problems with collectors on this forum are GS and that says it all for me.
For reliability and film care then Fumeo can't be beat,and don't
require altering in any way, shape or form.Viva Italia!

---
Posted by Michael O'Regan (Member # 938) on June 18, 2012, 04:54 AM:

I agree that the GS appears to be a troublesome machine though I've never had one.
I do wonder though, when a 6000ft capacity would ever be of use in Super 8 - 5hrs ?

---
Posted by Lee Mannering (Member # 728) on June 18, 2012, 06:20 AM:

Laksmi.

As has been said so many times, everyone will have a different take on the best 8mm sound machines but here are my thoughts for what they are worth.

The Elmo super 8 sound range of machines are professional looking machines apart from when they ventured into plastic manufacture. Certainly the GS1200 is built solidly but as with all cine projectors they are knocking on a bit in years and with so many motors etc parts are a concern. Having said that I love my Elmo even though it is a bit of a win and loose situation owning one.

The Eumig 938 is a cracking machine offering very quiet running, excellent sound and a simpler bet for parts perhaps I found. My 926 Stereo does not scratch films either probably because I clean the gate and film path gently after every show.

For the best of both worlds at living room shows perhaps the Eumig 824 dual, 810D Lux or 822 Sonomatic. Easy to maintain and will project super and Standard 8mm film.

To my mind itís not which is the best projector but more about which projector suits your own needs best.

---
Posted by Hugh Thompson Scott (Member # 2922) on June 18, 2012, 07:50 AM:

What you're saying is very true Lee,each to his own etc,but the
criteria of any projector must be 1; Not to damage film.
2;to be simple to maintain/clean. 3; Have a good light output.
4; To use a lamp that is easily obtainable and moderately priced.
5;good sound reproduction/volume. 6.Ability to remove film.
Any projector that harms film has committed the cardinal sin for
me,and I couldn't consider that machine as a collectors projector.
Consider the 16mm manual threads,like the old B/H 600 series
totally trustworthy and kind to filmstock,and I don't think anyone mentioned the BOLEX projectors,that like EUMIG are
very "filmworthy",and the early models built like tanks.
That's why I myself favour FUMEO, manual thread,no plastic
guides/tracks,all machined metal & rollers,even the soundheads
and optical lamp are all adjustable to ensure good repro.
I have the CHINON SS1200,EUMIG 932 & 934,GS1200,ST1200 bothM/O & HDs ,BOLEX SP80,EUMIG S807,VOIGTLANDER &
EUMIG S709 & MARK S STD 8MM MACHINES +various silent
machines.I have in the past had the Hanimex dual projectors
& PAUL PLUS proj.so I have had my share of machines.If ELMO
had only made their machines manual thread,they would be
the tops,they didn't,have damaged a lot of film so EUMIG I feel
are a better machine all round.

---
Posted by Larry Tocci (Member # 2495) on June 18, 2012, 01:43 PM:

Quick question to all the answers. When the National Archives or an organization comparable transfers film what type of projectors are they using? If they need to preserve a standard 8mm silent short, & I'm assuming many are fragile are they using similar equipment to those named here?

---
Posted by Jean-Marc Toussaint (Member # 270) on June 18, 2012, 02:28 PM:

They would use something like this.

---
Posted by Hugh Thompson Scott (Member # 2922) on June 18, 2012, 04:47 PM:

Funnily enough,the machines that Phil Sheard of CHC was going
to import,weren't unlike the machine shown,as they were ex
telecine and built by............FUMEO.

---
Posted by Paul Adsett (Member # 25) on June 18, 2012, 06:54 PM:

Yes Hugh, Phil's machine was indeed a Fumeo and a manual threader as well. The problem was that it was way over priced, particularly so as it only had a pre-amp, plus Keith Wilton's review on BFCC.BIZ revealed a lot of problems that needed solving. No way it could compete with a good used GS1200.

---
Posted by Hugh Thompson Scott (Member # 2922) on June 19, 2012, 07:15 AM:

I take the point Paul,but is there such a thing as a good used GS,
these machines have a reputation for damage and trouble.
The same machine that Phil wanted to import is sold now by
Wittners.I personally wouldn't buy one as the 9119 ticks all the
boxes for me,especially film care.

---
Posted by Alan Rik (Member # 73) on June 19, 2012, 07:35 AM:

Yes I have had minimal problems with my GS1200's..and I have had over 6! Out of all of them only one had to have the speed board repaired, and the other, a Xenon model had to have a trace resoldered on the main board as the machine must have taken a hit somewhere to cause a crack. The result was a perfect running machine but sans stereo.
Obviously the more bells and whistles a machine has, the more problems you could theoretically have down the road. But a well taken care of GS should last a while. Mine have and for me its the choice of projection and what I believe to be the best available. I of course would LOVE to have the Fumeo 9145..but they were built to order. Ignacio from Spain has one and his had to be built with the optical reader and with Stereo playback. The standard 9145 was not Stereo and not optical.
Off the shelf the GS1200 is King in my opinion.
---
Posted by Allan Broadfield (Member # 2298) on June 19, 2012, 11:04 AM:

Of all the 8mm projectors I've had since the fifties, the Bolex's, Elmo's, Norrises, Toeis', and some I can't recall, In my experience the most consistent in operation - even when dug out of the cupboard after some years, would be the old work horse; the Eumig. I've never had one that's scratched, and I have even heard of one being dropped down the stairs without damage(though wouldn't recommend).

---
Posted by Hugh Thompson Scott (Member # 2922) on June 19, 2012, 11:28 AM:

Well Alan,if you've had six GS's, that covers what I've been saying,
Fumeo's have I but one in use,and that is twenty years old at
least,bought secondhand and still performing.Why would you
have had six,glutton & punishment spring to mind.I have one
that I was given,have modernised it with extra rollers,but still
don't trust it to run a feature through it, Elmo's reputation goes
before it,although I've got to say the ST1200's were a dream
to use for the recording of tracks.My first GS spent half it's life
in transit,until enough was enough,and to the scrap it went.
As Allan said,one of his best was the old faithfull Eumig,my
old S709 is still showing my old std 8s and nary a mark to be seen and it was bought in 1971/2.Now that's reliability.

---
Posted by Alan Rik (Member # 73) on June 19, 2012, 11:42 AM:

Ha ha! Actually the reason I had six was that I purchased a few, sold a few, and then bought another few back. I sold my first GS1200-working perfectly-to fund a GS1200 Xenon. I had 3 of those at one time. I sold one to fund the other 2 but than I had to get a car..so I sold the next 2. Then I got another standard GS1200 and that one was new in the box. I sold that one to purchase another Xenon on Ebay but the seller never came through so I purchased another GS1200 which is what I am using now.
I feel pretty lucky that all the GS's that I have had were with minimal problems. If the Fumeo had stereo sound it would have made it better. You had to have that made from the factory as a build to order option which many didn't. Many of my films are re-recorded in Stereo and the sound for me is very important. The GS has fantastic sound and in Stereo! Don't get me wrong..I loved the manual thread of the Fumeo..they should all have had that wonderful ability..and the picture steadiness, micrometric focusing...very good...now if only the Eumig, Elmo, Beaulieu, Bauer, and Fumeo had a child! What a great child that would have been!

I love them all!

---
Posted by John Davis (Member # 1184) on June 19, 2012, 12:30 PM:

let's throw another hat into the ring.
Braun Visacustic 2000 digital.

---
Posted by Osi Osgood (Member # 424) on June 19, 2012, 12:33 PM:

I have heard much of the FUMEO, and I wouldn't mind having one. (Now, where did I lay that extra cash? haha! What extra cash?!)

---
Posted by Paul Adsett (Member # 25) on June 19, 2012, 12:39 PM:

Can't argue about the superior reliability of the Eumig's - they just keep running- I've never had to do anything to mine in 30 years. The GS1200 is a great machine, no doubt about it, but its main reliability issue is the many micro-switches and relays used for the 'piano key' control. IMO the GS would have been a much more reliable machine without all that complex logic circuitry and they could have easily avoided all that if they had gone to a multi-position manual control knob like the ST or the Eumigs. After all, how much of an ordeal is it for an operator to turn a knob at the start of a movie?
. But they tried to do everything on the GS, particularly the sync-pulse feature.
Like Hugh, I am always a little bit nervous about screening a valued print on my GS. Most of the time there is no problem and the film emerges scratch free. But once in a while, and for no apparent reason, it will scratch a film. With my Eumigs I can completely relax during projection, safe in the knowlege that they will never ever put a mark on my films.

---
Posted by Hugh Thompson Scott (Member # 2922) on June 19, 2012, 01:31 PM:

Somehow I think Alan & Osi could be going into crime to fund
this hobby, and I fully appreciate if you love something,nothings
going to change your mind.That's a good point that John made
of the Braun Visacoustic,then theres Rollei and Noris all dependable machines,now does anyone have experience of any of
them?

---
Posted by Laksmi Breathwaite (Member # 2320) on June 19, 2012, 03:15 PM:

Hey any one got one of these Superfumeos for sale? See if I can use some of my spare cash? As Osi has stated what spare cash?????? Anyway what do you guys think? I have had my CS-18 as long as I can remember with no problems knock on wood . But I love them all GS1200,Eumig, Chinon, Beaulieu, Bauer, and Super Fumeo Is it the best projector or not. Come on lets hear from you'all! The Braun Visacustic 2000 digital what?.

---
Posted by Hugh Thompson Scott (Member # 2922) on June 19, 2012, 03:19 PM:

Laksmi, if you get one of those super duper,cost a bloody fortune
projectors,we're all coming round to see it.

---
Posted by Winbert Hutahaean (Member # 58) on June 19, 2012, 03:50 PM:

Laksmi,

One fumeo was sold for around $700 last year.

BTW, since you guys saying brand new Fumeo, is this company still active??

---
Posted by Laksmi Breathwaite (Member # 2320) on June 19, 2012, 04:03 PM:

I think I will be going into crime next? You guys can come watch movies and party in Las Vegas. In or out of prison or casino. Hey I wish I still worked at my neighborhood theatre in east LA . I thought someday I would own the projectors they had there or my own theatre. Now I guess that theatre is a strip joint and in the real Hood!

---
Posted by Michael O'Regan (Member # 938) on June 19, 2012, 04:45 PM:

That Fumeo sounds pretty good but can anybody tell me what use is a 6000ft capacity for Super 8?

---
Posted by John Davis (Member # 1184) on June 19, 2012, 05:32 PM:

http://www.super8data.com/database/projectors_list/projectors_braun_ag/braun_visacustic2000.htm

nuff said

---
Posted by Hugh Thompson Scott (Member # 2922) on June 19, 2012, 05:46 PM:

It means Michael,that you can watch Ben Hur & El Cid back to
back and to hell with the intermission!

---
Posted by Bryan Chernick (Member # 1998) on June 19, 2012, 06:13 PM:

That's 5 hours of run time at 24 fps! Can you get reels that size for super 8?

---
Posted by Michael O'Regan (Member # 938) on June 20, 2012, 12:59 PM:

Hugh, not to dispute your claim but are you certain it's 6000ft capacity?
I can totally understand the usefulness in 16 or 35 but not at all in Super 8.

---
Posted by Hugh Thompson Scott (Member # 2922) on June 20, 2012, 01:25 PM:

Hi Michael,yes it's 6000' acetate or 9000' polyester,both arms
are motorised and removable.As soon as this ink arrives I'll put
the article in the post for you.The machine is all metal,with
minimum plastics and weighs 55kg,and transformer another
30kg.I was hoping that when Phil of CHC was going to import
new projectors,that I would have been able to get one for std8mm
I still cry myself to sleep with that one.

---
Posted by Michael O'Regan (Member # 938) on June 20, 2012, 01:30 PM:

Thanks, Hugh. I PM'd my address to you.

---
Posted by Maurice Leakey (Member # 916) on June 23, 2012, 03:23 PM:

Hugh
Was there a slip of your typing finger/s, did you mean the Fumeo model 9145?

---
Posted by Michael O'Regan (Member # 938) on June 23, 2012, 04:46 PM:

This one?

http://www.super8data.com/database/projectors_list/projectors_fumeo/fumeo_9145.htm

or, with the larger reels:
http://www.ibcinema.com/ib2006/super8/fumeo_9145.pdf

---
Posted by Maurice Leakey (Member # 916) on June 24, 2012, 01:59 AM:

Michael
Some great research
Happy Birthday

---
Posted by Michael O'Regan (Member # 938) on June 24, 2012, 03:48 AM:

Why, thank you, sir.
Nice to chat yesterday.

---
Posted by Gerald Santana (Member # 2362) on February 02, 2013, 07:52 PM:

Hi folks,

I have to say that in my experience the Bolex projectors are all around the best. I have a an 18-5 for Super 8, an M8 for 8mm and a S321 For 16mm, all are incredibly efficient machines, quiet and beautiful looking. People often compare them to fancy cars and I agree, it's like taking the Rolls Royce out for a spin.

Second to none are also the Kodak M100 and the Pageant 250 series, which I use more frequently. I like Elmo's but their occasional belt and timing issues give them a lesser grade. The Kodak's work very hard and have nice sound when you can get a DI Box and an adapter. You can also fit the lens from the Bolex 18-5 onto the Pageant's to give you a zoom lens!

I also have the idea to modify an old Pageants arms to work as a long play unit for my Bolex M8. Additionally, you can use the 1.2 lens from a Sears Tower on the M8 for a bigger, brighter picture. The LP unit sort of works out in my head but, we'll see if the idea translates when building it. If it does, these projectors would have to be in my opinion, some of the best models out there.

---
Posted by Ken Finch (Member # 2768) on February 03, 2013, 08:28 AM:

Hi everyone. I'm probably going to "put a cat amongst the pigeons", but I don't think there is an answer to this one. In my experience ALL self threading machines will sooner or later scratch films, as they are difficult to keep clean throughout the whole of the film path, fixed plastic guides wear quite quickly particularly the bits in contact with film. It must also be remembered that the more use the machine has had, the more it has worn, and sadly they are all, like me getting a bit old now and there were few Super 8 machines built to last like the older pre 1970's models. Ken Finch.
---
Posted by Lee Mannering (Member # 728) on February 03, 2013, 08:53 AM:

Example.
Perryís Movies always used a Fumeo to post check prints at the lab so guess that is a very good recommendation. We have had this question loads of times but donít you think it rather depends how deep your pocket is? With this in mind and for the general users I vote..

1/Eumig 810D Lux (or buy my lux lens thatís for sale and stick it in a standard 810D)
2/Eumig 938 Stereo are such a quiet machine and sound quality is superb/rock steady picture.
3/GS1200 or GS800 Stereo if you have deeper pockets

5/ For a newcomer I would introduce them to a either Eumig 800 range machine which are versatile projector.

---
Posted by Richard Bock (Member # 1926) on February 03, 2013, 09:29 AM:

My favorite projectors are the Bolex 18-5L Super 8 and the Bolex M8 for Standard 8mm. (Gerald do you have an extra Sears Tower lens?) Reliable and bright and compact. I also have for Super 8 sound, the Elmo St1200 which is a fantastic machine.

Of worthy mention for me are my old Bell and Howell Filmo Regent projectors. They are seemingly unbreakable and last for decades. I have the 8mm Regent and the 16mm Diplomat. They put out a fine image and are a great starter projector as they are simple, reliable and relatively easy to fix. I also like the way they look and the manual threading. They are a tad noisy but we're talking antique here. I still use these regularly.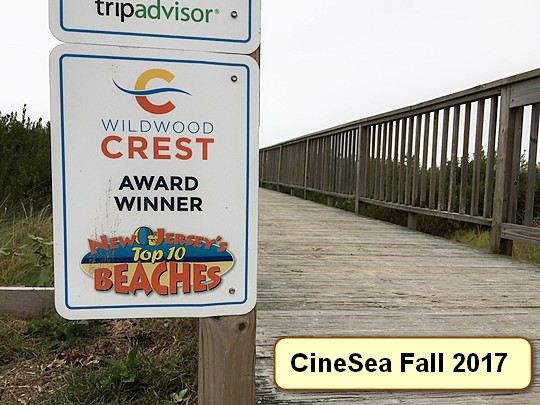 ---
Posted by John Davis (Member # 1184) on February 03, 2013, 11:13 AM:

If I was viewing standard 8 silent I would not go past a later Eumig P8 (Novo) but I would take off the autothread device

---
Posted by Gerald Santana (Member # 2362) on February 03, 2013, 12:53 PM:

Richard,

I don't have an extra 1.2 lens but, I am getting a box full of lenses that could be of use. Once I have them, I'll let you know.

I had a couple of Eumig's, and gave them to friends. The machines always had trouble with prints that had splices or was very particular about sound, and had very jittery gates. I'd like to try more of them if I could find them.

Oh, I forgot to mention the great Elmo CL for 16mm, again a very nice and quiet machine but, the rollers and belts are usually goo when you get them.

I've never seen a Fumeo, they rarely come up for sale in the U.S.., I'm always looking at posts that ask for help fixing large capacity Elmo's, the problems on the machine seem to be common troubleshooting related to sound and speed. I hesitate to ever get one for the prices asked now that I have the Kodak M100.

And finally, I should also mention the superb longevity of the 8mm Keystone 109, and the other vertical manual loading machines like it (such as Richards), if oiled and lubricated, they will run forever on a DDB lamp.

I look forward to the day when I find a 9-5 machine, what would be a good (best) model to look for in that particular format?

---
Posted by Alan Rik (Member # 73) on February 03, 2013, 01:53 PM:

Beaulieu 708 Stereo Xenon. Fantastic machine, kind to film, and the beautiful light. Micrometric focusing, huge reel capacity, pressure plate on the correct side. Really the King of Super 8 projectors in my collection. The prince would be the Elmo GS1200.

And I did own a Fumeo 9119 once. The manual threading should have been what all projectors should have had. One day I'll do a review on it. But in the end we parted ways.

---
Posted by Joe Balitzki (Member # 438) on February 03, 2013, 01:53 PM:

Gerald, you wrote: "The Kodak's work very hard and have nice sound when you can get a DI Box and an adapter." What is a DI Box, what does it do, and how is it used?

---
Posted by Christian Bjorgen (Member # 1780) on February 03, 2013, 02:43 PM:

Personally, I prefer the ELMO ST-models. I own the GS-800 and ST-600, and while I use the GS mainly for it's reel capacity, I find the ST-600 to be more stable and with a better picture. My goal is to get a ST-1200 for the new cinema room (coming 2013).

I used to have a EUMIG, and it was a piece of **** that gave me nothing but trouble and chewed up film. Never again!

---
Posted by Gerald Santana (Member # 2362) on February 03, 2013, 03:09 PM:

Hi Joe,

A DI unit is a "Direct Input" box that takes a high impedance, unbalanced signal and converts it to a low impedance, balanced signal. Here is a link to learn more about it:

http://en.wikipedia.org/wiki/DI_unit

It's a great addition to sound projectors that "cleans up" sound levels minimizing noise and distortion. Most boxes also have a switch to adjust the gain on levels going out. Here is the one I have (but there are better ones), the shipping is free so it comes out to about $10:

http://www.ebay.com/itm/370645994493

You will also need a XLR to 1/4" cable to plug into the unit and 1/4" to RCA (or any other end) as an output cable. I can take pictures of the set up that I do for my film shows and share them on a different thread later tonight.

---
Posted by Pasquale DAlessio (Member # 2052) on February 03, 2013, 04:00 PM:

GS1200 period!

---
Posted by Janice Glesser (Member # 2758) on February 03, 2013, 04:51 PM:

Gerald, I would very much like to see how you are using the DI box and your setup. It's not very expensive, but I have a XLR-PRO balance to unbalanced adapter box that I use with my camcorder...I'm curious if you might know if it does the same thing as the converter you mention or how it may differ.


---
Posted by Gerald Santana (Member # 2362) on February 04, 2013, 03:03 AM:

Hi Janice,

It looks like that unit could work if it has a line out, give it a try and let us know the difference.

In the meantime Joe, I've posted about the set up I have for my film shows here:

http://8mmforum.film-tech.com/cgi-bin/ubb/ultimatebb.cgi?ubb=get_topic;f=1;t=001987;p=9

And to stay on topic...another salute goes out to the M100 that handled our Superbowl program tonight without a hitch and sounding sweeter than ever. Once you go Kodak you'll never go back!

---
Posted by Lee Mannering (Member # 728) on February 04, 2013, 03:05 AM:

Mentioned on a previous thread that many are now using a analogue to digital converter as well particularly with optical 16mm. Split diode for stereo sound etc and its pretty amazing.

---
Posted by Paul Adsett (Member # 25) on February 04, 2013, 03:49 PM:

Ghristian must have had a faulty Eumig. His bad experience is totally atypical of these fine machines. I would like to know what model Eumig it was that gave him so much trouble.

---
Posted by Osi Osgood (Member # 424) on February 05, 2013, 02:14 PM:

Yeah, I'm betting that it was a lower cost EUMIG, as I have never had a problem with my EUMIG'S and they have always been very gentle on film, (as well as superior sound!)

---
Posted by James N. Savage 3 (Member # 83) on February 05, 2013, 05:39 PM:

My first sound projector was a cheaper Eumig (Mark S 802) and that thing was built like a tank, and very smooth.

My best projector to this day is the BAUER T-610. My fave.

James.

---
Posted by Paul Adsett (Member # 25) on February 05, 2013, 08:24 PM:

Yes James, the Bauer's have a great reputation, although I have never owned one.
Like you, my first S8 sound projector was the Eumig S802, a breakthrough projector design at the time. Mine is still running after 40 years!

---
Posted by Michael Beyer (Member # 1143) on February 06, 2013, 02:18 AM:

I have a lot of favourites, because the film sets the projector I use.

If it is Stereo, I use the EUMIG S 940 Stereo multiprocessor or ELMO ST 1200 HD.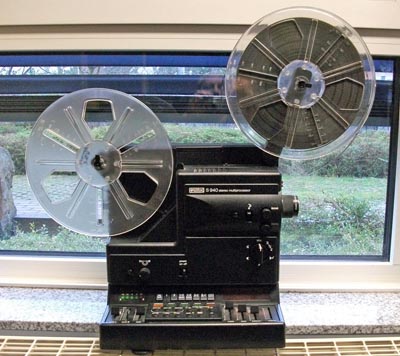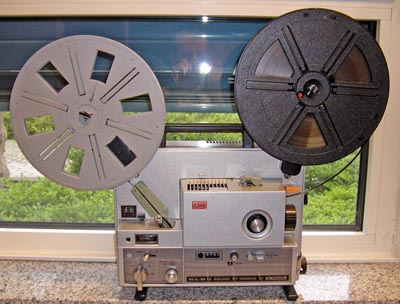 If it is Mono, I use the Bauer T 520 (a really silent projector)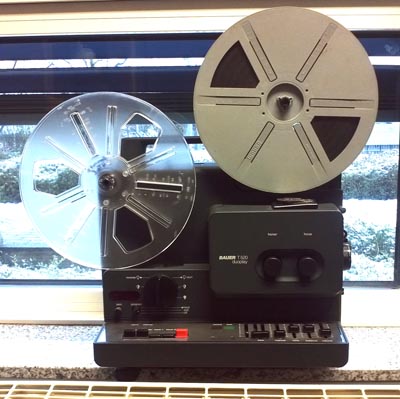 If the sound must come from the notebook, I use the Braun Visacustic 1000 stereo with control unit. (on the picture without the unit)



If it is Optical Sound, I use my good old ELMO ST 1200 M&O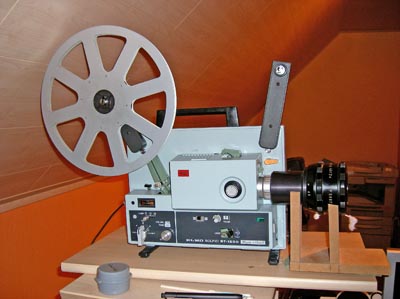 If the projection is not in my "home area", I always use the ELMO ST 1200 HD.

---
Visit www.film-tech.com for free equipment manual downloads. Copyright 2003-2019 Film-Tech Cinema Systems LLC




UBB.classicTM 6.3.1.2