This is topic A Reel Image in forum 8mm Forum at 8mm Forum.


To visit this topic, use this URL:
http://8mmforum.film-tech.com/cgi-bin/ubb/ultimatebb.cgi?ubb=get_topic;f=1;t=007336

---
Posted by Pasquale DAlessio (Member # 2052) on July 30, 2012, 04:51 PM:

Does anybody remember this label?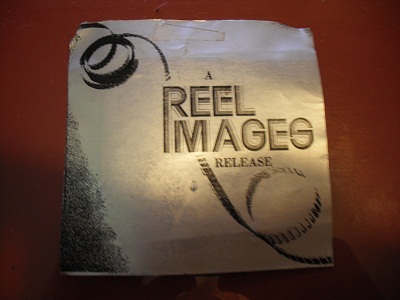 It was on a film I just purchased.


PatD

---
Posted by Joe Balitzki (Member # 438) on July 30, 2012, 04:56 PM:

I do. It was at the Head of a title released by them but I spliced it out of my prints. I have the title in both S8S & 16S. They were based in Connecticut.

---
Posted by Bill Phelps (Member # 1431) on July 30, 2012, 05:00 PM:

That is the company that released my feature print of DEMENTIA 13. I also have a Tweety Bird cartoon from them. What film did you get Pat?

Bill
---
Posted by Joe Taffis (Member # 4) on July 30, 2012, 06:25 PM:

REEL IMAGES did a lot of quality, sharp super 8 prints that I either had or have. Some BEATLES' stuff, and Abbott & Costello meet the Creature come to mind.

---
Posted by Pasquale DAlessio (Member # 2052) on July 30, 2012, 06:39 PM:

Bill

I got s Superman cartoon "Bulleteers" and this was the label on it. I reboxed it with a copy of a Niles Films box. Including the sides with the proper title edited in it.

PatD

---
Posted by Osi Osgood (Member # 424) on July 30, 2012, 10:17 PM:

They had an even better cover, (I'll have to dig it out), that showed a bunch of popcorn and stuiff on the cover ...

... and I have a really neat rarity released by "Reel Images",
it was a rare promotional short, a comedy sketch by the Marx Brothers which was made during the release of "Monkey Business", and it is the only surviving footage from one of thier stage plays, "I'll Say She Is", that they did in the 1920's. Sadly, it is a very bad focus, but I'm happy to have it, just the same!

---
Posted by Brad Kimball (Member # 5) on July 30, 2012, 11:01 PM:

I have a print of "Africa Screams" from them that actually is not bad. The picture is a bit soft and the sound is not booming like some other top brands like CASTLE or U/8, but for a public domain title I really can't complain. I got it back in 1980 for less than $100. It's still in MINT condition. I don't think I even trimmed all the leaders to all 4 reels.

---
Posted by Barry Attwood (Member # 100) on July 31, 2012, 04:49 AM:

Perry's Movies used to import there titles here in the U.K., they had an interesting mix on offer, from trailers, promos to features, but they were pretty dear as I think Perry's brought them in to order only.

---
Posted by James N. Savage 3 (Member # 83) on July 31, 2012, 05:48 AM:

They also released the cult-classic "Fantastic Planet" animated feature. It was a pretty good print too. I wish I handn't traded my print off years ago.

James.

---
Posted by Hugh Thompson Scott (Member # 2922) on July 31, 2012, 01:19 PM:

Hi Barry, Perry's used to print their own films too like "Mummy's
Curse" or "The Selznick Years" etc Ian and Arthur,beavering away
like Santa's workshop on Christmas Eve, their little arms like
bee's wings,printing film. The quality was very good too.Happy
Days.

---
Posted by Adrian Winchester (Member # 248) on July 31, 2012, 09:01 PM:

I'm aware that there were some interesting Reel Images releases but I've never been able to get a sense of what they relesed in terms of content and volume; what they specialised in (if anything; when they were in business; who was behind it, etc. Did they produce catalogues? Any further information - or sources of information - would be appreciated.

---
Posted by David Kilderry (Member # 549) on July 31, 2012, 10:43 PM:

They produced a large catalogue with many rare titles. They had their own products and sold prints from others too. I have that Marx Bros promo too Osi.

Plenty of wartime benefits and early variety shows featuring Hollywood stars like Bob and Bing etc. Robert Youngston shorts, Hollywood docos etc

---
Posted by David Kilderry (Member # 549) on August 01, 2012, 12:12 AM:

There is a Reel Image film catalogue for sale at the moment in the for sale section.

---
Posted by Osi Osgood (Member # 424) on August 01, 2012, 12:55 PM:

James, I had that print (Fantastic Planet), and I wished to hell I never got rid of it. I owned that in the late 80's when I bought from them. I was totally into Disney style animation, and so I didn't appreciate "fantastic Planet" but since then, my appreciation for different animation styles has really grown, but I've never seen another print of that title. They must have printed very few copies and, as I remember, the image quality was quite sharp.

---
Posted by Brad Kimball (Member # 5) on August 01, 2012, 09:34 PM:

They were a mail order retailer located in Sandy Hook, Connecticut, USA. I remember driving by it once during a day trip with my parents who took me to see it being that we were going to be passing by the exit anyway. I must say that seeing these companies in these small little rented spaces in older office buildings always managed to diminish my fantasies about them being big 'Corporate America' type entities. The service level was always excellent, however, and the shipping was fast from R/I, BLACKHAWK, CASTLE, NILES, KEN, COLUMBIA and RED FOX. I was never, ever disappointed. These small companies were BIG where it counted and always put there best foot forward when building customer loyalty was concerned. I remember seeing CASTLE, SELECT FILM LIBRARY and KEN's offices and they were all very tiny in square footage in all the buildings they were operating out of. No larger than your local county clerk's office. Shipping and receiving was probably done in the underground warehouses beneath the buildings because all I ever saw were a few desks and some 4 or 5 people milling about. Boy did these companies sure put smiles on our faces and songs in out hearts whenever the postman delivered our films to our doors. I remember coming home from school and jumping for joy whenever I would see my little package sitting on the stairs as soon as I opened the front door. The rule was all homework had to be done first before any movie viewing was to take place. You never saw a kid's homework get completed so quickly. Gee what great times they were!

---
Visit www.film-tech.com for free equipment manual downloads. Copyright 2003-2019 Film-Tech Cinema Systems LLC




UBB.classicTM 6.3.1.2