This is topic 20,000 LEAGUES FILM OR DIGITAL ? in forum 8mm Forum at 8mm Forum.


To visit this topic, use this URL:
http://8mmforum.film-tech.com/cgi-bin/ubb/ultimatebb.cgi?ubb=get_topic;f=1;t=007556

---
Posted by Laksmi Breathwaite (Member # 2320) on October 22, 2012, 12:42 PM:

Yeah you heard it! The Leagues is playing digitally restored ! Wow At your nearest particpating theatres .It is a Cine Mark Classic Series check it out http://www.cinemark.com/cinemark-classic-series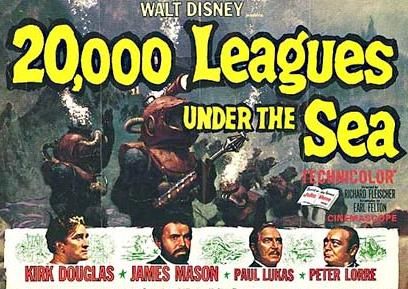 But don't we want to see it in 35mm film prints?

[ October 23, 2012, 01:38 AM: Message edited by: Laksmi Breathwaite ]

---
Posted by Winbert Hutahaean (Member # 58) on October 22, 2012, 12:54 PM:

I think this post should be in General Yak.

---
Posted by Hugh Thompson Scott (Member # 2922) on October 22, 2012, 01:01 PM:

I ask myself why did it need digital restoration? In other words
it won't be on film, so I won't be in attendance.

---
Posted by Laksmi Breathwaite (Member # 2320) on October 23, 2012, 01:26 AM:

Hey Hugh I just saw it at a special showing at the Grauman's Chinese Theatre in Hollywood . Kirk Douglas was there and I was right up in front with him. Anyway I'm going watch it on the big screen. Once back in the mid 1980's I saw it at the San Diego comic con in 16mm that was fun. They used to show movies on 16mm and sometimes super 8mm at the film part of the convention. You got those all night movies and you would just stay up all night. with the comic book and film fans watching films. Now they use DVD projectors and they still have the all night movies. Check out this link http://www.chipandco.com/tag/graumans-chinese-theatre/ and I filmed some of 95 years old Kirk on you tube http://www.youtube.com/watch?v=3h5F-t1g8OU Oh I put the post in General Yak Winbert .

---
Posted by Joe McAllister (Member # 825) on October 23, 2012, 04:23 AM:

One of my favourite films. I remember seeing it at my local cinema as a kid. There was a tremendous queue to get in and I ended up in the front row of the stalls sandwiched between my parents. The cinema in question had what would now be considered a huge screen so it seemed I was right in the middle of the action. One of the experiences that hooked me on movies.
I have re seen it often over the years. There was a West End cinema that was dedicated to Disney re-issues that showed it in glorious IB 35mm on a huge screen which was an adult treat for me. I have a 16mm 'scope print that still gladdens my heart on occasion. But I will probably check it out again in the new format given the chance, a "whale of a tale"

---
Posted by Luis Caramelo (Member # 2430) on October 23, 2012, 06:56 AM:

great film,i also get it in dvd good image and color,i love kirk douglas,s performance it,s one of mine favorite,s actor,i don,t know if mine it,s the restored version but anyway it,s loveling screned in mine 10feet screen.

regards:
luis caramelo

---
Posted by Michael De Angelis (Member # 91) on October 27, 2012, 02:44 PM:

We are the "art collectors" that are disappointed in losing 35mm,
but on another note the film is theatrically presnted and we
need more classic films on the big screen otherwise they will
erased from the publics conscience forever.

Bringing this classic to Comicon, TCM and similar venues
is an impetus for more classics to see their brilliant light shine on
quality entertainment that we appreciate.

Although you may own the WDHM extract or DVD is all well and good,
and to get out with the public in the theater is especially your support
for standing room performances that can not be equaled at home.

In July we attended a sold out show to TCM's 60th anniversary restored
Singin' in the Rain. The crowd was engaged and it was more fun than ever.

The NY Sons of the Desert hosted Way Out West with 400 attendees
and after Stan's line of "I hope so, they buried him," the crowd roared
hard and long that you could not hear the following line by Sharon Lynn.

Has anyone attempted to hold a conversation with the "younger" generation about
any cherished film that we adore? They are not familiar and lack the interest.
A college roommate once said:"the films that we know will be forgotten in the
next 50 years. It's been 33yrs since graduation and his prediction is on target.

Warner Classics decided last year to eliminate striking new negatives of their library.
I never Imagined that the MGM, Warner Bros, Columbia classics etc. would
result with this fate.

Enjoy it now or else all future generations, including digital will be lost forever.

---
Visit www.film-tech.com for free equipment manual downloads. Copyright 2003-2019 Film-Tech Cinema Systems LLC




UBB.classicTM 6.3.1.2