This is topic Disney 'The Band Concert' Praxinoscope in forum 8mm Forum at 8mm Forum.


To visit this topic, use this URL:
http://8mmforum.film-tech.com/cgi-bin/ubb/ultimatebb.cgi?ubb=get_topic;f=1;t=008571

---
Posted by Paul Adsett (Member # 25) on September 18, 2013, 02:02 PM:

I am sure most collectors are familiar with the wonderful 200ft Disney release of 'The Band Concert'. Well my wife and I were in a Hallmark Store the other day, and this wonderful Christmas tree ornament caught my eye. It is a beautiful working Praxinoscope which has Mickey Mouse conducting from his podium, complete with the music from the film. The drum is internally lit from a very bright LED light, so Mickey's movement, reflected off the crytal clear rotating glass prism, is wonderfully bright and clear.
A beautiful little movie toy, which works and looks great, and is a wonderful display souvenir of the film.
My wife bought me one for my Birthday!

Price $34.95 at Hallmark.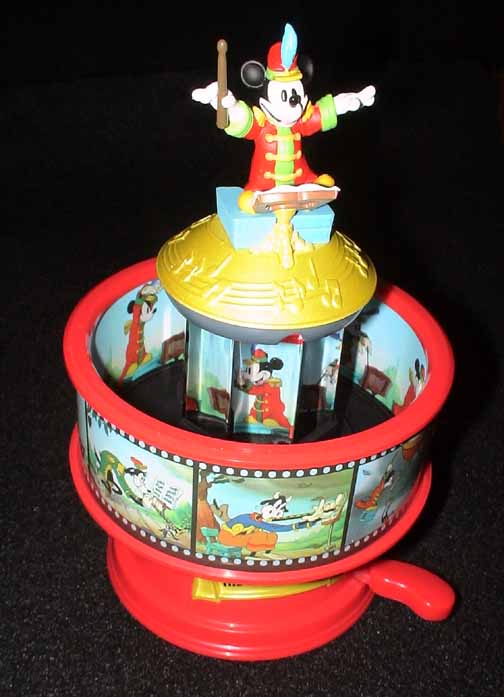 ---
Posted by Maurice Leakey (Member # 916) on September 18, 2013, 02:57 PM:

This is available also on eBay.
http://www.ebay.co.uk/itm/Hallmark-Magic-Ornament-2013-The-Band-Concert-Disneys-Mickey-Mouse-QXD6095-/370854716981?pt=LH_DefaultDomain_0&hash=item5658a9e635

---
Posted by Graham Ritchie (Member # 559) on September 18, 2013, 08:47 PM:

Paul

That's really neat


Graham
---
Posted by Robert Crewdson (Member # 3790) on September 20, 2013, 05:23 AM:

A great present for those interested in the history of motion pictures.

---
Posted by Paul Adsett (Member # 25) on September 20, 2013, 09:10 AM:

As you can see from the picture, the outside of the drum also has many still frames from the film surrounded by a sprocket hole border.
The Praxinoscope is of course one of the many Victorian era motion toys which were popular before the invention of true motion pictures. You can see Robert Donat twirling one in the film The Magic Box as he ponders how to photograph movement. It is a significant improvement on the similar Zoetrope, which was viewed through narrow slits on the drum and thus produced a very dim image. The praxinoscope reflects the picture off the inner surface of the drum via a rotating prism mirror, and produces a very bright clear image. This particular one, which has a bright LED light shining on the drum, is beautifully sharp and clear.
I have mine on display on a shelf in my screening room alongside the box of the 200ft Disney print of The Band Concert . Every time I go past it I can't resist giving it a twirl!
---
Visit www.film-tech.com for free equipment manual downloads. Copyright 2003-2019 Film-Tech Cinema Systems LLC




UBB.classicTM 6.3.1.2