This is topic Derann Cinemascope Promotion Reel in forum 8mm Forum at 8mm Forum.


To visit this topic, use this URL:
http://8mmforum.film-tech.com/cgi-bin/ubb/ultimatebb.cgi?ubb=get_topic;f=1;t=008575

---
Posted by Paul Adsett (Member # 25) on September 20, 2013, 03:10 PM:

I have just aquired a reel of Cinemascope excerpts printed by Derann. It seems to be a promotion film for Derann Cinemascope releases. There are several excerpts, including Supergirl, Never Say Never Again, and The Sound of Music. There is a brief narrative extolling the introduction of Cinmeascope for home use.
Anyone have any more info on this and when this was produced?

---
Posted by Mark Mander (Member # 340) on September 20, 2013, 03:38 PM:

Hi Paul, I'm not sure when it was actually released but it's called This is Scope and as you said it's a promotional reel of Derann's scope releases. They also released This is Scope 2 and have clips of There's no Business like show business, Romancing the Stone and Star Wars but this second one doesn't have the narration, Mark

---
Posted by Pasquale DAlessio (Member # 2052) on September 20, 2013, 06:06 PM:

Excellent reel. I had it but sold it a while ago. Great trailers on it. Especially NSNA 007. Great find
---
Posted by Rob Young. (Member # 131) on September 21, 2013, 07:21 AM: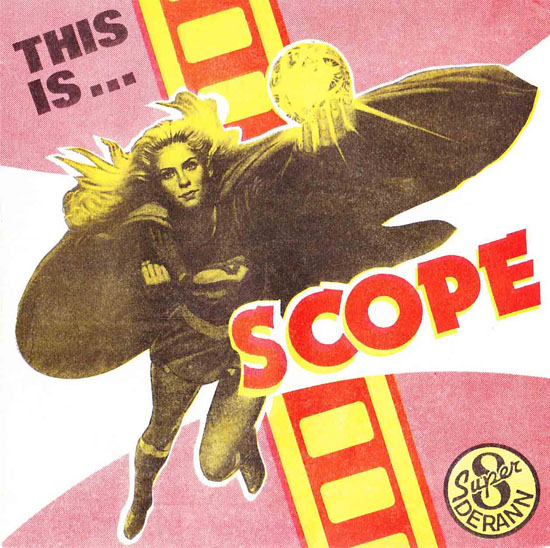 There you go, Paul, box cover!

A Derann newsletter from March 1990 reads,

"THIS IS SCOPE 1 x 200ft Col/Snd (Scope) either STEREO or MONO, SPECIAL OFFER £19.99
One of our most popular releases, just the reel to show off your scope screen.
Excerpts from SUPERGIRL, NEVERENDING STORY, NEVER SAY NEVER AGAIN, CAPRICORN ONE and SOUND OF MUSIC.
Full reel and a bargain."

I have an earlier mono copy; I believe Derann persuaded Keith Wilton to make them a stereo master for subsequent releases.

Those were the days, employing a voice over artist for the finishing touches!

They also sold this with an anamorphic kit, including lens, holder and the film.

Later, as Mark has said, This Is Scope 2 appeared, with excerpts from Star Wars amongst others.

---
Posted by Paul Adsett (Member # 25) on September 21, 2013, 09:26 AM:

Thanks for that box cover art Rob. I had no idea that this might have been in stereo. I will re-run my print tonight and check the sound.
I thought the reel was very well done, with professional voice over, and emphasis on flying and tracking shots to highlight the scope. Nice Derann opening and closing titles too.
---
Posted by Maurice Leakey (Member # 916) on September 21, 2013, 10:35 AM:

Many years ago I bought a film (Derann?) called "The Robe - An Intro to Scope". Most disappointing. It wasn't in scope! The box said "This pre-release trailer not in scope features the new CinemaScope ratio plus footage from the film."

It was supposed to be shown in cinemas which had then not been converted to scope. A pretty pointless exercise. How can you really explain scope on a flat print? At that time audiences had probably never even heard of scope.

The film was a waste of money. particularly as it only ran for about five minutes.

---
Posted by Lee Mannering (Member # 728) on September 21, 2013, 11:19 AM:

Hi Paul. I never tire of the reel and these excerpt reels were really popular for collectors who could not quite afford the main feature shall we say. Derek was quick to spot the need for this sort of thing and it sold a packet load over the years. Excellent quality throughout and a good demo reel just how good 8mm scope can be. I think it was introduced about 1987 but someone can put that right if wrong.

---
Posted by Paul Adsett (Member # 25) on September 21, 2013, 11:20 AM:

Hi Maurice,
I think I may have the same reel, but I'm not sure. my reel features Darryl F. Zanuck talking about CinemaScope and the fact that all future films from Fox would be filmed in scope. There are shots of newspapers and periodicals praising the process, and a shot of the scope "miracle" lens. The film concludes with some stills of the cast from The Robe, and the new Fox CinemaScope fanfare.
I think its a great reel, and of quite historical significance in cinema.
I also have a similar CinemaScope 55 reel, where Zanuck points out the greatly increased area of 55mm film, and concludes with a great little promo for Carousel.


---
Visit www.film-tech.com for free equipment manual downloads. Copyright 2003-2019 Film-Tech Cinema Systems LLC




UBB.classicTM 6.3.1.2