This is topic Elmo GS 1200 Stereo Dutch test report in forum 8mm Forum at 8mm Forum.


To visit this topic, use this URL:
http://8mmforum.film-tech.com/cgi-bin/ubb/ultimatebb.cgi?ubb=get_topic;f=1;t=009893

---
Posted by Nick Vermeirsch (Member # 4136) on April 07, 2015, 04:58 PM:

Hello! As in my other message of the Dutch projector test reports I have found, here you have a translation from the Elmo GS 1200 Stereo test report. Hope you enjoy! If you want the pdf with the original report and pictures, send me a pm and I'll post it to you.

Projector test - ELMO GS 1200 STEREO

Written by Piet Joosten for the Dutch magazine "Smalfilmen als Hobby"
______________________________________________________________

Elmo GS 1200 Stereo, a quite simple type-marking, to which one can add something like GTI or GTX, like in the automotive sector, in our opinion. A dike of a machine, we have been looking to it for at least five minutes after unpacking it. The machine has quite everything you can think of. A dashboard like in a cockpit of a jumbo jet. At the controlling side, there is a big switching panel, at the backside a panel that is also worth mentioning and behind also a pair of in- and outputs. The front is then, with the objective and the cutter, quite sober. The Elmo GS 1200 STEREO is in any case one of the top machines at the market, while he delivers the packet of ELMO, that is imported by FODOR in Rotterdam. The projector is moreover not very cheap, with a bruto price of f 4595,- (= appr. 2085 euros). The separate remote control costs f 100,-. Besides, there are other diverse extras deliverable.
This projector is the topper of the Elmo-collection. With magnetic or optical playback, a proper pulse system and an especially nice design. We have taken this quite valuable machine under the microscope for you.

And there he was, in front of us at the table. A robust projector. Hull, front and back cover are from cast metal. Everything looks beautiful and nicely finished. The manufacturer take care of a logical construction of buttons and switches. At the front, there is everything that has to do with projection. At the left side, there are the inputs and switches for recording, separate from this is the pulse system. Everything is organized that way that an imaginary line - signed in the middle between the switches - gives the separation between left- and right channel. The push buttons for the moving mechanism in the front must just be touched for a second. Doing this, a relay is activated that takes over the switching from you. You can also hear this. The button "still" that you also find here, is for a stationary projection. An anti-fire screen falls in this position between the bulb and the film. This costs a bit of light, but the image stays reasonable. If you push, while this function, on the button to go forward or back, the projector runs with a speed of 6 frames per second. Above this, there are the framer and the loop former. Other switches are for on/off, stereo or mono sound, half light or full light. In front, there is also a height controller and at the side two buttons for a sidelong positioning; they take care to make your projector be positioned perfectly in all circumstances. On the front, there is also a little cutter for film cutting.




Automatically inserting

The film runs automatically through the projector just to the take up reel. Delivered is a 360 meter reel. Use this reel for a good and stable film transport. Even if you just show a 15 meter film. Before the reel, there is a film guide with two positions. The running through worked perfectly during our whole test. Even films with the most weird cuts ran smoothly through it. Once the film is in the projector, it is not difficult to take it out again. Cover removed and the film path is visible, no picking, just a few handles.

Four motors

The projector has no less than four motors. Elmo has separated all mechanical functions and has provided every function with a motor. In that way, there is a motor for film transport, one for the cooling and even two for the rewinding of the film. The switch for this is close to the input of the film. Full reels of 360 meter are rewound with ease and quick. It's a pity that the single-frame ax is not lengthened and brought to the outside. He is even that short that it is difficult to build here a synchronic system. It's a pity, in fact it belonged there, even if it was just a single-frame ax to turn the wanted frame in front.

Light

A 24 Volt/200 Watt bulb delivers an enormous quantity of light. As soon if you turn on the projector, the bulb begins to glow. He does that at 2.4 Volt. At the same time, a fire screen falls in front of the opening and the cooling motor begins to turn. If you now switch to half light, it burns at 21 Volt and at full light, 24 Volt. The light outputs, you find in the pictures next to this (pictures 1 and 2). The changing of the bulb is very easy. In the lamp cover, there is still space for an extra bulb.

Illumination lens

An Elmo zoom lens of f. 1.1/12.5 has to give a perfect and sharp picture. The lens has a good illumination, but sharp? In the middle, it gives an excellent sharpness, but the edges fade somewhat unsharp. The frame behind the lens decides which part of the film we well get to see. For this, there exists a nominal standard, according to SMPTE. The mask here cuts quite a part of our film. 7.2%. It's a pity. The focusing (done by a worm nut) is done smoothly and works excellent. The lens can be removed with one handling for cleaning.

Travel-ghost

This projector has a not fully stationary frame line. This is called "travel ghost". Pay attention, this is not meant to happen with all these projectors. Only this one suffered a bit from this. The result is that the horizontal lines looked not completely sharp. This is due to a not completely correct adjusting between the shutter time and the film transport. It can be fixed by the importer. Framer and loop former work outstanding.

Speed

Principally, the projector runs at 18 or 24 frames. To do this, there is at the left side a sliding switch. Under this one, you will find a potentiometer to which you can vary these standard speeds. This pot-meter has a clicking-in stand at exactly 18 or 24 frames. At this stand, our projector ran, completely with film, 4.6% too fast. Very less thus and inside the norm. The manufacturer noted that, at the left stand of the pot meter, the speed is one frame less. We didn't find that correct. The precisely adjusting at 18 frames, was 2 frames at minimum and 8 frames at maximum. At 25 frames, we found -5 at minimum and +10 at maximum. So, variation enough. Pay attention that the pot meter is in the click stand when recording. Otherwise, you will get varying recording speeds. The transport noise from the running projector is reasonable, totally not annoying during recording projection.

Remote control

It is possible to have a remote control panel, separately delivered. This one has the functions forward, back and stop. But also a recording position. Don't push on this button accidentally during the projection. You then delete your sound. It's better to tape off this section when using this accessory during a show. There is about two meters of cable on it. That's rather short. I hope that the importer can deliver an extending cable for this, so that you can stand i.e. in front of the room. If you use it for recordings, then set the volume controlling on automatic.

Stereo Sound

It is a stereo projector. There are two amplifiers in it. One for the main and one for the balance track. Both amplifiers are good and straight of 40 - 20000 Hz. So, largely sufficient . The manufacturer gives 2 x 15 Watt of output power. This is music. Our dimensions are sinus and so less. We came to 10 Watt for the main track and 7 Watt for the balance track ( 0 dB at 1000 Hz). For an even strength of the tracks, the volume knob of the balance track must be turned up a bit. The measurement results over the area from 50 - 1000 Hz were very good, were it not that under the 500 Hz, there was a bit of deformation. Totally inaudible, by the way. The azimuth-adjustment (so, the correct adjustment of the sound knob) is good. The film is pushed good towards the sound heads during the transport. Also with a film without sound, thus. Only when rewinding, the heads are free.

Recording

Recordings can be made on track 1, track 2 or on both mono or stereo. Replaying is possible from track 1 to 2 and vice versa. Hearing from track 1 and recording on 2 is possible, and vice versa. Dubbing in of sound on a certain place does he as well. By mean of the counter, that place can be located approximately. This counter gives one number per 18 images (so, seconds). It is quite a nice mathematic lesson if you work with 24 frames. The starting "whimper", that happens when most projectors are started, is with this projector a small 2 seconds. Just keep this in mind. Recordings can be made in the "manual"-position (so, by hand) or automatic. The volume (litt: "strength"), you control with the two heavy and clear VU-meters on the front side. The recording volume controllers, you find on the left side. Separated again in the left and right. As well the various inputs.

Sound inputs and outputs

All inputs consist of a 3.5 mm plug. Separated left and right. We start with AUX. Delivered is a cable with on one side a 5-poled DIN-plug and on the other side four coloured wires, with each a 3.5 mm plug. These are located on the DIN-plug as follows: black on pen 1, white on pen 4, yellow on pen 5. All plugs have a mass and are connected with this mass with pen 2. If you now want to write over stereo from an amplifier, then black haves to be in left and white in right. Or from a recorder, then yellow haves to be on left and red plugged in right. For the microphone, black is left and yellow right. If you also want to let the sound from your projector trough an amplifier, then you use the AUX-outputs on the back side and is yellow left and red right. Pay attention, these connections, I had to make with my equipment. That can be different from yours. So, a little bit of searching. Every channel has to be adjusted separately on the recording volume with the according pot meter. You can see this on the VU-meters. Thus, there is no balance controller. It can happen that your equipment has not enough output. The hands of the aren't then almost making any angle, while the volume pot meter is open. In that case, you have to use a pre-amplifier. You can build it separately, but you also find them in an active mixing panel. Following the user's manual, you can also use the microphone input. The adjustment is then not correct anymore and this gives a bit of thin sound. So it's better not to do this. Listening during and overhearing is possible with the delivered earphone or a good headphone. Plugs of 2 x 3.5 mm. or a stereo headphone jack of 6.5 mm. The loudspeakers are turned off when plugging in. The amplifier has also a PA-possibility (Public Address). With this, you can i.e. turn on an lp or a tape, or talking to the audience, through the amplifier of the projector.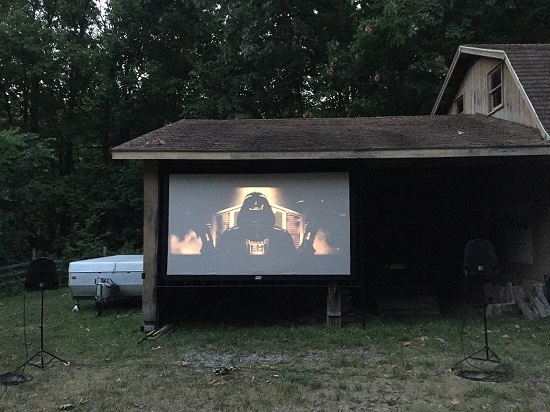 Microphone

The delivered microphone is directional (sensitive) and is from the "electrettype". By screwing off the bottom, you can put in a battery of 1.5 Volt. There is no indication how, just + of -. The pimple on the battery is always on the +-side. Don't do this inverse, or a microphone will perish. There is also no on/off switch on it. So, you have to eliminate the batteries after use. The microphone reproduces a good sound. However, he is hand sensitive, so don't use it in the hand, but place it in the delivered standard. The "plop-cap" takes away quite a lot of sound. Don't speak in the letter 'p' too loud, then you should better work without the cap. This microphone is very directional sensitive, indeed. Place it always with its back to the projector and speak right into it.

Pulse system

It is, during a recording with an Elmo-camera and an Elmo-cassette recorder, possible to put a pulse signal simultaneously on the tape. With this pulse signal, you can let your projector run synchronically later. Are you not in possession of the above-named equipment, then it's also possible to put a pulse signal on the tape on every other recorder per projector. Later, the sound that you want to reproduce on another track, will run synchronically during projection. All the technique for this, you'll find on the left side of the projector. The fitting of this pulse signal is a very hard job and pure lip-synchronic work is almost not possible to make.

Optical sound

We couldn't test this system with our equipment, unfortunately. Looking at the sound quality of this projector, it will be good without doubt. But it's always a bit less than that of the stripe.

Accessories

Delivered are a nice carrier bag, a reel of 360 m, connection cables, earphone and cleaning materials. Next to this, you can order a lot of useful objects, such as an "endless" 120m reel, a daylight screen on the lens, an extra lens for use in rooms, a mixing panel and loudspeakers.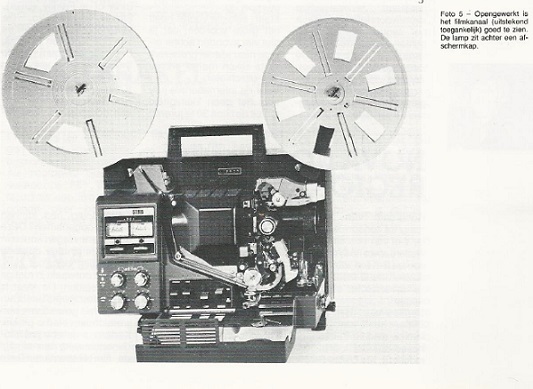 Cleaning

There are not much projectors that are that easy to keep clean as this one. All particles are easy to reach, even the sound heads. Be careful with the film path, that is attached to the lens fitting.

User's manual

The "step-by-step" (Dutch) manual is made clear and understandable, with here and there some funny typing errors. All fame for being that handy.

Conclusion

For those who use all the possibilities from this projector optimally (the pulse system, showing a lot of films (optical and magnetic)), this is a wonderful projector. The mechanical part is made solid. It's a bit a pity about the disappointing power of the amplifier, the lens that is not that optimal and the "travel-ghost" of this projector. After a clean adjustment at the importer, this projector will give you lots and lots of joy, also when using it a lot. The ratio quality/price is justified positively. The above named advice price a bit high. You will certainly find him somewhere cheaper. As a machine for the film freak, we can highly recommend it.

TECHNICAL SPECIFICATIONS

type Elmo GS 1200 STEREO
film types super 8 and single 8
objective f 1.1/12.5 - 25 mm
motors 4 pieces
reel capacity 360 meters
speeds 18 and 24 frames/second, variable
switch.poss. forward/backward, stop, still projection, forward or backward with 6 frames/second
amplifier manufacturer: 2 x 115 Watt music
freq.range 18 frames: 70 - 10000 Hz --- 24 frames: 50 - 11000 Hz
sound types stereo recording and playback
sound system magnetic or optical
inputs aux, microphone and headphone
outputs aux and external loudspeakers
loudspeakers 2 x 12.5 cm diameter, build-in
pulse system Elmo Puls Sync. Control
weight 13 kg
price f 4.595
importer FODOR Rotterdam (The Netherlands)
manufact. ELMO JAPAN

---
Posted by Alan Gouger (Member # 31) on April 07, 2015, 10:55 PM:

Another winner Nick, thanks for posting. There are a lot of GS owners who will enjoy this. I know it takes time to convert to English a big kudos!!

---
Posted by Paul Adsett (Member # 25) on April 07, 2015, 11:16 PM:

Thank You Nick, that was a great read. One can only imagine the excitement the GS1200 generated when it first appeared on the market.

---
Posted by Andrew Woodcock (Member # 3260) on April 08, 2015, 04:58 AM:

Thanks Nick, once again excellent translated report for saving to the archives.

---
Posted by Nick Vermeirsch (Member # 4136) on April 08, 2015, 07:04 AM:

With most pleasure! I forgot the date of the report, this was written in december 1979.

---
Visit www.film-tech.com for free equipment manual downloads. Copyright 2003-2019 Film-Tech Cinema Systems LLC




UBB.classicTM 6.3.1.2