This is topic Pictures From CineSea 11 in forum 8mm Forum at 8mm Forum.


To visit this topic, use this URL:
http://8mmforum.film-tech.com/cgi-bin/ubb/ultimatebb.cgi?ubb=get_topic;f=1;t=009941

---
Posted by Claus Harding (Member # 702) on April 29, 2015, 01:03 PM:

Hi guys, here we go.
As usual, I'll post pics up to the limit, then someone else can post a quick note, and I can continue. That way everything is in one thread for reference.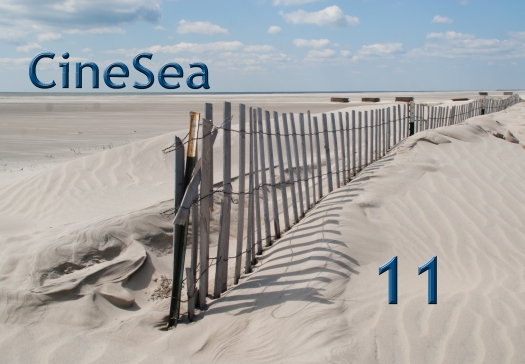 Wildwood was on the cold side this time, but beautiful as always.
It never ceases to be like magic: this plain room becomes a haven for us for 2-3 days. If that isn't love of film, what is?




Doug's big screen and Gary Sloan's terrific sound system promised an excellent time: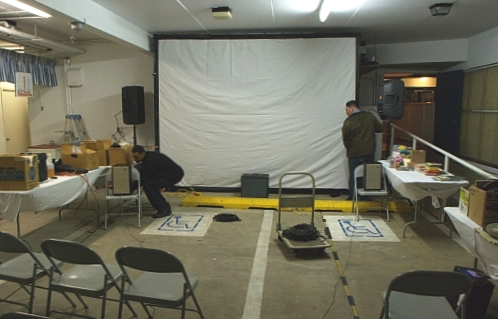 We inaugurated the "Friday Night Feature" this time, and it was a great success. People arrived earlier, and we had an extra group dinner together with our good friend Simone in attendance: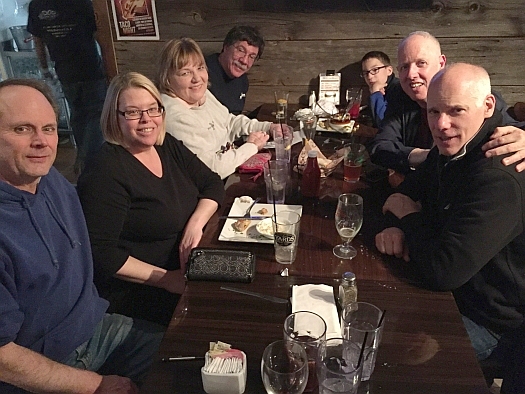 Feature time! "The Seventh Voyage of Sinbad" in Super-8. The GS-1200 Xenon showed why it is one of the "kings of projectors" here, with a tremendous, sharp image on the big screen, and excellent sound through Gary Sloan's JBL/subwoofer combo. Sinbad and company should look this good all the time: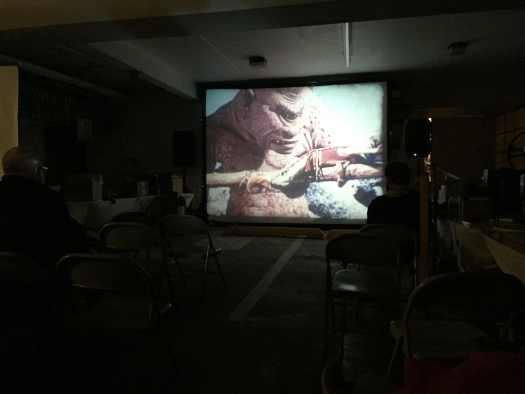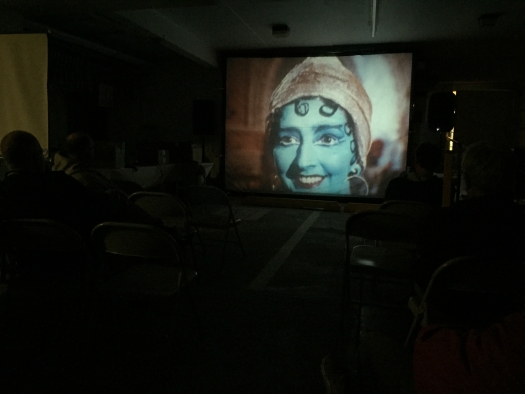 Come Saturday, the room filled up with....well, everything film :-)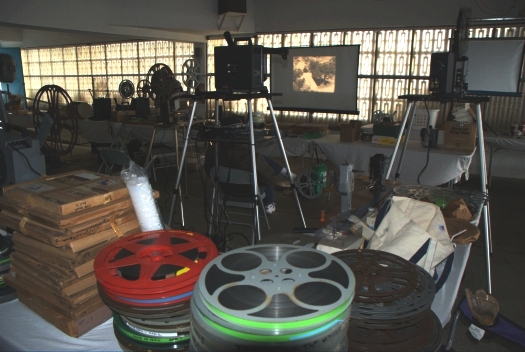 As usual, our late friend John had his table 'in memoriam':




That is it for this time; when someone comments I can continue.
C.

---
Posted by Guy Taylor, Jr. (Member # 786) on April 29, 2015, 01:11 PM:

Great pics Claus, please continue.

---
Posted by Dominique De Bast (Member # 3798) on April 29, 2015, 01:17 PM:

As usual, you can only regret you were not there when you look at these pictures...

---
Posted by Joe Caruso (Member # 11) on April 29, 2015, 04:04 PM:

Magnificent, as always you do well by your friends with panache and gusto - Cheers, Shorty

---
Posted by Claus Harding (Member # 702) on April 29, 2015, 06:17 PM:

The room settled down to the usual atmosphere with the sounds of projectors and soundtracks blending with talk about...what else, film!




If you don't know who he is by now.....


Old and new in harmony: an Ipad comes in handy for sharing pictures and showing one's collection: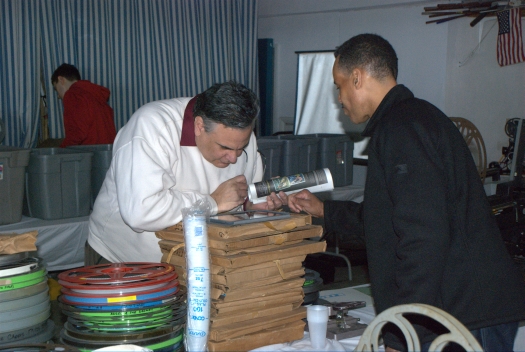 A big hello to our forum friend Paul Adsett and his wife Betty; we are glad they made it this time: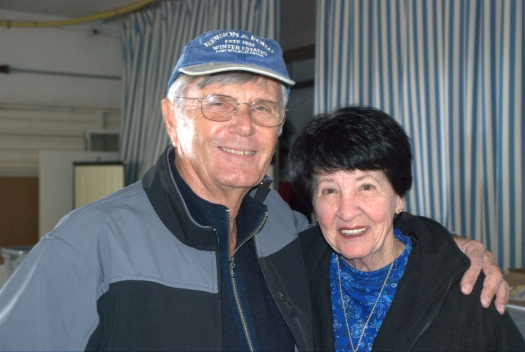 As always, a good cross-section of films. Hey, when the lists in the room go from Bugs Bunny to "Triumph of the Will"...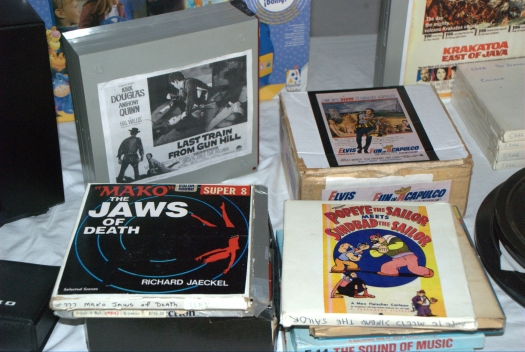 Steven Klare, our juniormost attendee, knows box art when he sees it...(I forgot to ask Jeffrey where he got that t-shirt.)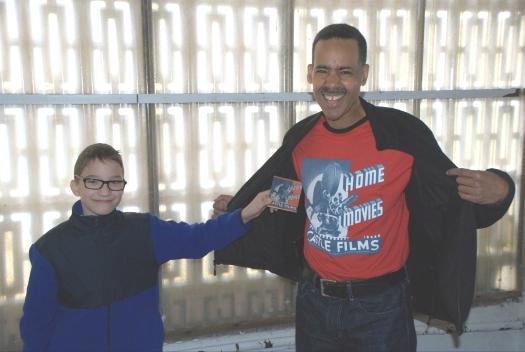 Round two done...someone chime in...

---
Posted by Larry Arpin (Member # 744) on April 29, 2015, 06:26 PM:

I'm hoping when I retire I can make it. Can you project scope there? I have El Cid and Close Encounters I'm sure everyone would love to see and I would love to share them.

---
Posted by Graham Ritchie (Member # 559) on April 29, 2015, 07:33 PM:

Excellent pictures Claus...nice to see everyone enjoying themselves. The Xenon GS1200 looks very impressive... nice and bright


Steve.
Thanks for sending me the photos of " A Train For Christmas" a fellow forum film collector here in NZ has a 35mm print of it but wont part with it


Great stuff everyone
---
Posted by Janice Glesser (Member # 2758) on April 29, 2015, 07:45 PM:

What fun! Great pics Claus! Smiles galore on everyone and it's so nice to put faces with names.

---
Posted by Steve Klare (Member # 12) on April 29, 2015, 10:21 PM:

Just to be clear: My name goes with more than one face in these photos!

(I'm actually much taller ...and much older than the guy in that last picture!
)

It was a nice surprise to meet Betty and Paul Adsett for the first time!

---
Posted by Lee Mannering (Member # 728) on April 30, 2015, 12:26 AM:

Hats off to you all, what a wonderful event.
---
Posted by Dominique De Bast (Member # 3798) on April 30, 2015, 01:04 AM:

The Castle Films t'shirt looks great. I found that : http://www.nitrateville.com/viewtopic.php?f=15&t=19832

---
Posted by Jason Gronn (Member # 3921) on April 30, 2015, 03:44 AM:

Great pics and looks like everyone had a good time.

---
Posted by Andrew Woodcock (Member # 3260) on April 30, 2015, 04:13 AM:

Fantastic event with excellent photos for us to enjoy thanks to Claus.
Great to see Paul made the long journey to be there!
---
Posted by Joe Caruso (Member # 11) on April 30, 2015, 04:40 PM:

How about EVERYONE making the journey - We would have a tremendous lot of fun, wouldn't we? - mark the October 16th and 17th on your calenders please - Cheers, Shorty

---
Posted by Claus Harding (Member # 702) on May 01, 2015, 09:21 PM:

Ok, another round....it's that pesky thing "work" that keeps interfering with posting pics :-)

My travelmate Gary Crawford held court with his Pageants and Elmos. However, he also had one Eumig machine that was not well...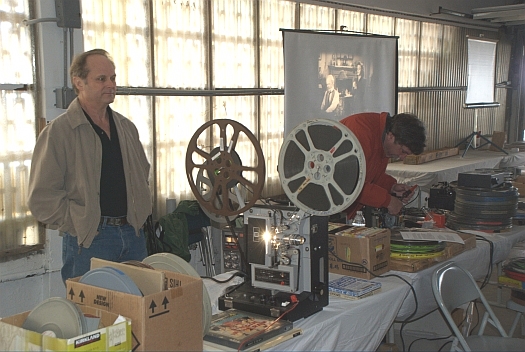 ...so our "house engineer" Mr. Klare set to work: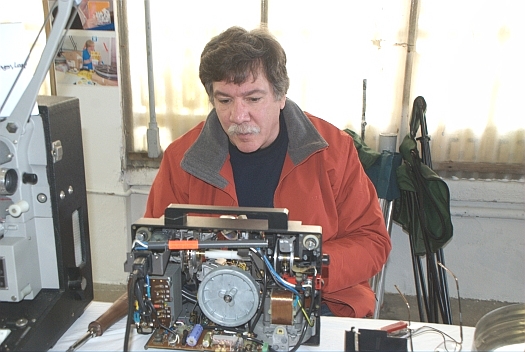 ...and meanwhile young Steven was absorbed in a film (relax Gary, it will run again....
)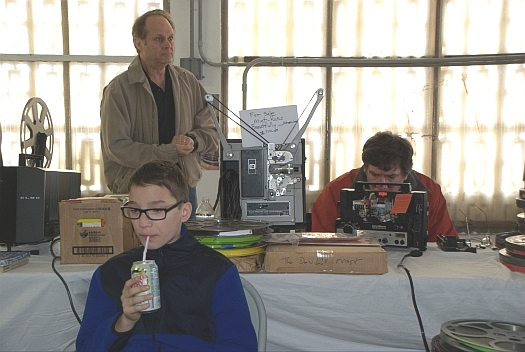 A parade of excellent prints ran at any given time...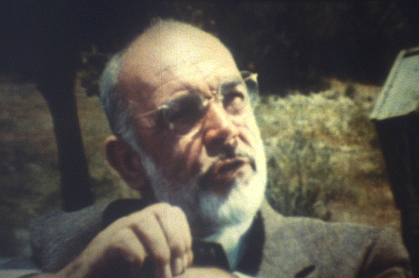 Highly recommended for CineSea if the temps are cold and you are bald: the sunshade with built-in hair!




I'll be back...
C.

---
Posted by Steve Klare (Member # 12) on May 01, 2015, 10:42 PM:

Note the warm clothes!

I can't be sure if this was the coolest CineSea, but it had to be at least close!

(Do you think we'll ever get to use that pool?)

---
Posted by Guy Taylor, Jr. (Member # 786) on May 02, 2015, 10:40 AM:

The last time I was there two years ago in October it was warm and people were using the pool.

---
Posted by Steve Klare (Member # 12) on May 02, 2015, 12:56 PM:

Certainly not this time!

The water was a little green and I think I saw an iceberg out by the far shore!

---
Posted by Claus Harding (Member # 702) on May 02, 2015, 06:18 PM:

The "Airyflex" has become part of the tradition here. Ok, maybe it's not up there with the lighting of the Olympic flame, but hey, we try....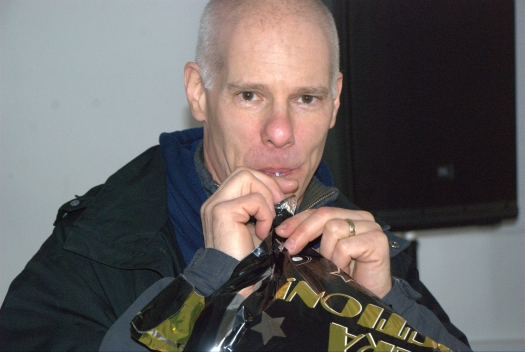 Our good friend Jeffrey was conducting an impromptu editing class: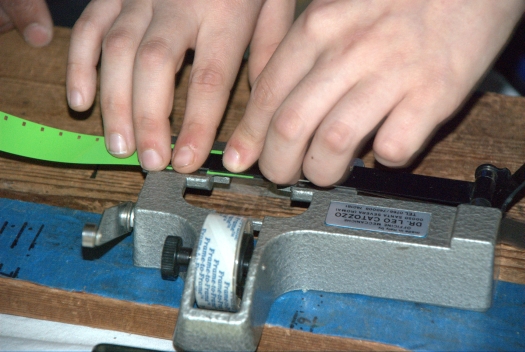 Meanwhile big Jack Cleveland was lounging with yet another of his top-flight prints: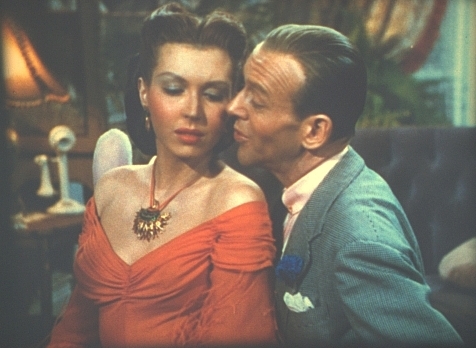 Joe Griesbach showcased a mint Revere 16mm sound projector: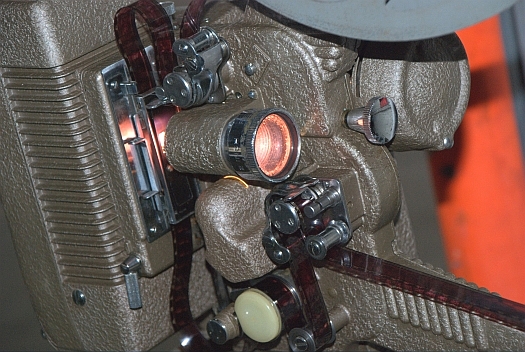 That's all for this time...
C.

---
Posted by Janice Glesser (Member # 2758) on May 02, 2015, 08:32 PM:

All those film boxes and cans and those gorgeous projectors ... better than a candy store.
---
Posted by Steve Klare (Member # 12) on May 02, 2015, 09:22 PM:

The thing is you have absolutely no idea what's going to be available until you get there, so it's a complete surprise. I've left CineSea with one or two OKish reels, but more than a few times come home with really neat films.

Last Fall I was thumbing through the Blackhawk Laurel and Hardies. I saw "Unaccustomed as We Are". I said (to myself)"Yeah, another silent..." but saw an 880 code (Sound!). I looked inside, saw it was striped and felt a little light headed!

You see, I'd been looking for one of these for years and had actually given up on it! I wondered if somebody was playing a cruel joke on me, but it is the genuine article.

This time I left with Fantasia 2000, a film I've wanted since Derann days!

I can say for a fact I left a few behind I hope to see again next time: the selection was that good! I don't think I've not bought a film I liked since could buy them out of a catalog.

-bearing in mind too: I don't collect 16mm (so far...) and the bulk of the films there are 16, so it's even better for 16mm Folk.

---
Posted by Claus Harding (Member # 702) on May 02, 2015, 10:33 PM:

Joe Vannicola ponders the choices for sale....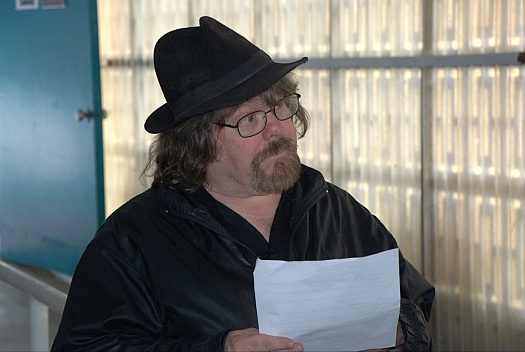 ...while his tube-amp-powered Filmosound helps keep the room warm


A good read is always nice...(!)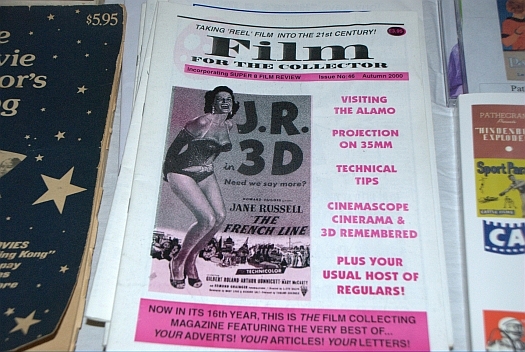 And if you want to dance....and it's in 'scope:




...however, Mr. Cleveland beat everyone with this: "Gone With the Wind", all of it, in perfect shape, from Derann. A reminder of the truly ambitious long titles that were available in S-8 back in 'the heyday.'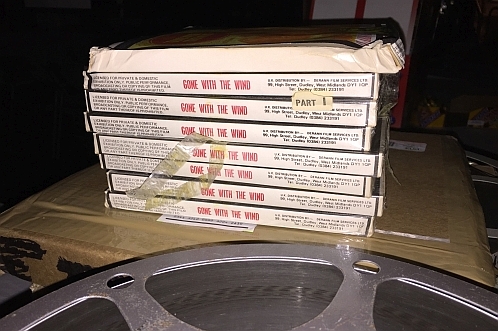 Paul Adsett brought a lovely Pathe 9.5mm machine with him: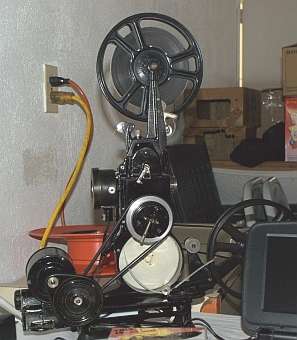 It's definitely the format you CANNOT load into the wrong projector by mistake...:-)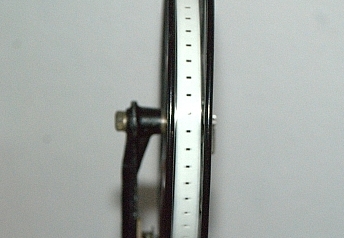 Just a wrap-up to go next time...back soon.

C.

---
Posted by Janice Glesser (Member # 2758) on May 03, 2015, 12:38 AM:

Glad to see a Pathe Baby in the mix
---
Posted by Mark Williams (Member # 794) on May 03, 2015, 10:16 AM:

Great pictures guys!!
!

---
Posted by Claus Harding (Member # 702) on May 03, 2015, 11:52 AM:

A mea culpa for not introducing Jeffrey's beautiful companion Laurie yet; here she is in the fine company of Shorty: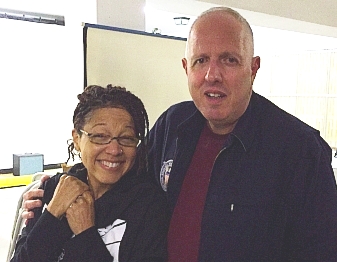 With Saturday night came the group dinner, a.k.a. the CineSea Summit, at the Two-Mile Restaurant. Good food, good company:




Then it was screening time. Doug and Gary's Xenon machines took center stage to light up the screen: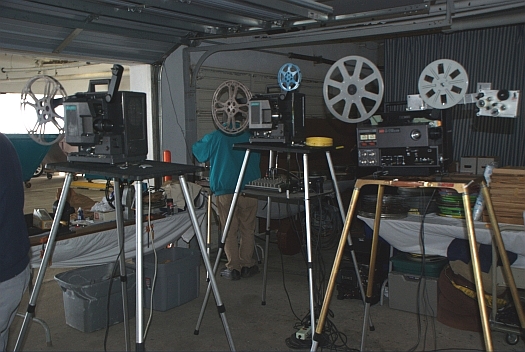 A mix of films into the night, all beautifully presented: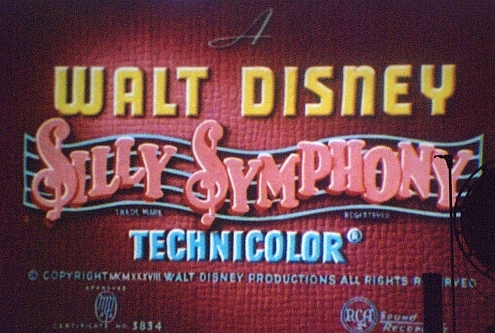 "The Mummy"...Super-8, Xenon light...any questions? :-)




As Sunday came, the packing began; the last deals were made, and the talk was of "next time." We gathered for a couple of farewell shots: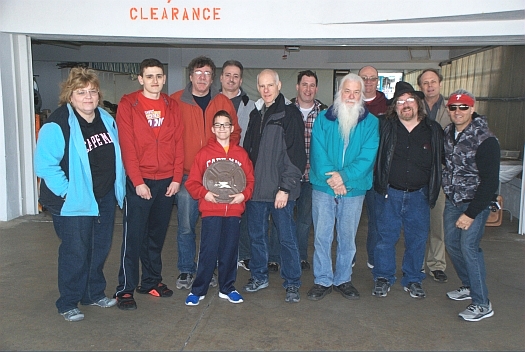 And that was CineSea 11, as documented by your roving photographer :-)
The familiar plea: if you couldn't make it this time, come back again in the fall; if you have never been there yet, mark the dates and start planning. You don't know what you are missing. CineSea isn't fancy, but it is REAL.

Real as in: people come because they really want to, because of the friendly atmosphere, the unexpectedly great film selection, the dinner(s)...think of us as a social club full of film nuts, and you won't be half wrong.

Thanks for looking and reading; see you at CineSea 12.
Claus.

---
Posted by Steve Klare (Member # 12) on May 03, 2015, 02:02 PM:

Excellent as always, Claus!

-but that "Clearance" over our heads makes us seem so...cheap!
---
Posted by Claus Harding (Member # 702) on May 03, 2015, 02:35 PM:

Haha! I agree; it should have said: "Max Headroom."
C.

---
Posted by Steve Klare (Member # 12) on May 03, 2015, 04:17 PM:

-And that's the News, now Sports!

Steven and I love to ride bikes. Often when we travel, we bring them along and get out for a little fresh air and a little break from life spent at a keyboard.

The last time we brought them we were more on-season and the boardwalk was crowded. We got about halfway up, but the slow pace turned us back.

This time turned out to be a week before the real opening of season and we made it all the way up to the north end! This is a little like a successful Moon Shot! (...actually very, very little!)

The moral of the story is there can be more to this weekend than just films and projectors (-as if that wasn't enough.) It's not as if we are meeting in the middle of an industrial park: there are many things to see and do while you are there.


---
Posted by Claus Harding (Member # 702) on May 03, 2015, 05:13 PM:

Very true, Steve.

When the weather is good, and there are pre-season events in town, the amusement pier "Morey's Pier" is open with rides and games, in addition to the shops on the boardwalk.

Claus.

---
Posted by Graham Ritchie (Member # 559) on May 03, 2015, 07:19 PM:

Thanks Claus and Steve, for posting those wonderful photos
for those of us that cant make it
---
Posted by Steve Klare (Member # 12) on May 04, 2015, 08:49 AM:

During the Saturday night show Doug Shared some of his handiwork with us: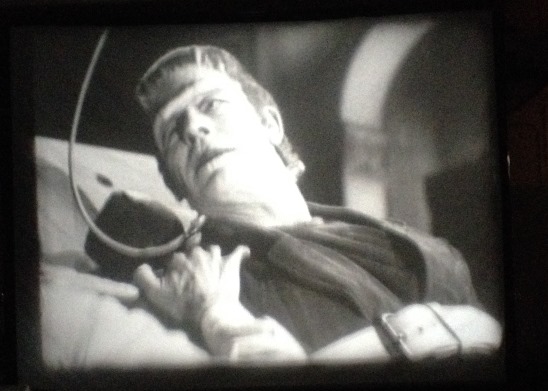 He has been taking silent horror digests, finding the original sound tracks, painstakingly editing them to fit the digest footage and then syncing them up. The results couldn't be better if they were made this way from the start.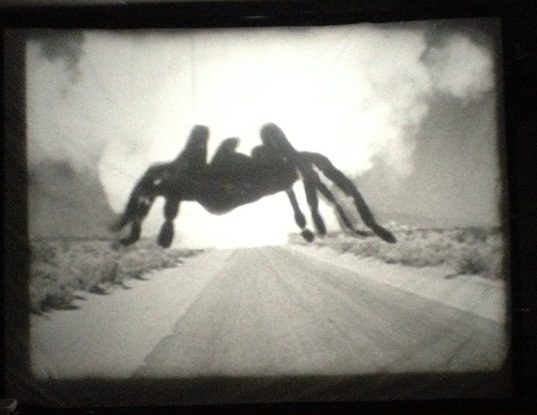 On a 10 Ft. high screen this guy was kind of impressive!

Let's face it: the sound effects were a major part of the impact of these films. There is no way these would be fodder for the Saturday Night show in silent form.

In this way, these films become big screen material once again and they looked and sounded great up there.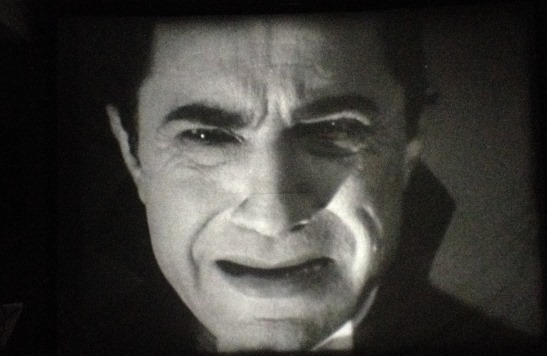 The fun part is (of course) the subtitles are still all there, and you get to see where the editors cheated a little on what the dialog really was in order to make the story work, to prevent "indigestion" as a matter of fact!




That's what makes the Saturday show kind of special: many people bring something they think the crowd will enjoy and we usually do!

---
Posted by Paul Adsett (Member # 25) on May 07, 2015, 09:00 PM:

Well we are just back home after a two week vacation in the north east USA, that included our first visit to CineSea. The weather was glorious the whole two weeks - except for Cinesea where it was brutally cold!
. Coming from the deep south I am sure we felt it more than most people there. Despite the freeze however the multitude of high power projectors that were constantly running elevated the temperature a notch or two, and the weather was no match for the warm and friendly comaraderie among all present. You see everyone here has a common bond, namely the love of film and film equipment, and there was never a shortage of some aspect of the hobby to share with fellow collectors.




The Friday night show, Sinbad was a knockout. Doug's GS Xenon did justice to Derann's superb print on that big screen. A winning film to kick off the new Friday night feature tradition.
On Saturday night, equally, or more impressive, was Doug's striping and re-recording of several silent Castle horror shorts. The sound quality was superb, and the sync was dead on - well done Doug! This was followed by several reels of Super 8mm and 16mm shorts, on three projectors, with no breaks. The selections were great, some really excellent subjects and great looking prints. The show went on until 1.30am, and I would have loved to see it all, but by 11.pm I was all in.
Just not enough time.
The last thing I needed was another projector, but Gary Crawford made me a deal on a Eumig 824 Sonomatic that was so good I had to spring for it. I have always admired the 824, the top of the line of the 800 series tanks. If nothing else it is a whole set of replacement parts for my existing Eumig 820 Sonomatic.
Above all else, the best part of Cinesea was meeting fellow forum members who you have known for years but never met. We had the pleasure of Steve Klare and his family at our end of the table at the Saturday night dinner.
Cinesea is a whole lot of fun, and I can definately recommend it to anyone who has not been there. We happened to hit awful weather there - I can only imagine how great it is when the warm air is blowing off the Atlantic.

---
Posted by Andrew Woodcock (Member # 3260) on May 08, 2015, 08:23 AM:

Nice to have you back Paul!

It appears you all had a fabulous time enjoying Doug's, and many others, excellent films and equipment whilst being amongst fabulous company.
A definite case of "Wish I was there".


Please excuse my ignorance, but who was John?
It was really moving to see a table laid out as he would have had it, had he been there.
A fine tribute indeed but a very sad sight at the same time.

---
Posted by Joe Caruso (Member # 11) on May 08, 2015, 10:28 AM:

The gentleman of whom you mention, John Black, truly was the one who launched this show - We were partners, so to speak in this venture - I had long-wanted a show similiar to one currently (at that time), housed in Cherry Hill NJ - John thought likewise and we formed an idea - Fortunately, his friendship with the Ocean Holiday Hotel folks initiated what has become a long-standing pleasure - We will always honor and remember him for what he left for us, and I have to stick around to keep my eye on these characters
- Cheers from Shorty

---
Posted by Andrew Woodcock (Member # 3260) on May 08, 2015, 10:39 AM:

Thanks for the explanation Joe (Shorty), sorry wasn't sure which was most appropriate.

A great man indeed then and such a shame he is no longer around to have been there this year and for many others to come.
---
Visit www.film-tech.com for free equipment manual downloads. Copyright 2003-2019 Film-Tech Cinema Systems LLC




UBB.classicTM 6.3.1.2