This is topic Star Wars part 2 in Cineavision in forum 8mm Forum at 8mm Forum.


To visit this topic, use this URL:
http://8mmforum.film-tech.com/cgi-bin/ubb/ultimatebb.cgi?ubb=get_topic;f=1;t=011048

---
Posted by John Armer (Member # 4655) on October 18, 2016, 05:43 PM:

I found a copy of Star Wars part 2 recently, and to my surprise it seems to be the Cineavision release, rather than the more usual Ken Films anamorphic version.




Not surprisingly, being that it's printed on Eastman Stock, it has faded, but there's still plenty of colours left. Some scenes are warmer than others, but it's still pretty watchable and the black bars to the left and right of the picture are still fairly black.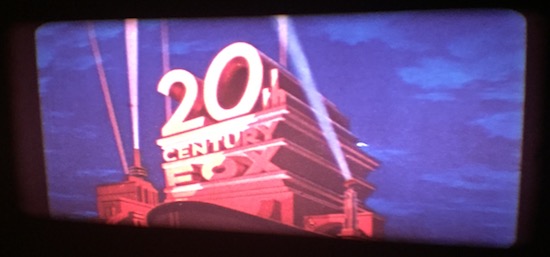 My question: do films like this fade so there's nothing left, or has it faded all it's going to and this is pretty much how the film will remain for the future?




It's really enjoyable in scope and the picture quality is quite good... and the sound is booming! I have the flat version which has been edited together with part 1 in sequence by the previous owner, so it's nice to see how part 2 works on its own.

---
Posted by Winbert Hutahaean (Member # 58) on October 19, 2016, 03:12 AM:

Cineavision released some titles that include a 3 x 400' Ben Vur that I own. As this is on Eastman, it will fade to just red.

I believe the fading process cannot be stopped no matter where you store your films. It is just about the time.

---
Posted by Andrew Woodcock (Member # 3260) on October 19, 2016, 03:33 AM:

But by lowering the temperature during storage while keeping the film still dry, it will suspend the fading and prolong the life of the film by a large extent.

---
Posted by Osi Osgood (Member # 424) on October 19, 2016, 11:53 AM:

Andrew is right ... I do that with my own collection of eastman non low fade film prints.

This print isn't too bad, color wise. my guess is that it's just a bit sharper than the usual Ken Films scope print. I have that one and here is a link to the last battle portion of that part 2 scope digest on youtube ...

https://www.youtube.com/watch?v=LDcrYl9NeMA

Sadly, I wasn't able to capture the really good color of this print, the little digital video camera i was usuing made the image look reddish, but it's still fun.

That was a good find! The Cineavision print is the harder one to find, to be sure, (and the part 2 Ken films scope digest isn't all that common either, especially with good color!)

---
Posted by Oemer Yalinkilic (Member # 86) on October 21, 2016, 10:42 AM:

was there struck only part 2 in cinevision, or does it exist also an part 1 of this?

---
Posted by Osi Osgood (Member # 424) on October 21, 2016, 11:47 AM:

No, unfortunately not. (though, if memory serves me correct, that first shot of the rebel blockade runner and the Star destroyer following it, was actually in scope in the Ken Films STAR WARS 400ft digest, part 1).

---
Visit www.film-tech.com for free equipment manual downloads. Copyright 2003-2019 Film-Tech Cinema Systems LLC




UBB.classicTM 6.3.1.2