This is topic After Fuji, now AGFA shows some degree of fade, check yours! in forum 8mm Forum at 8mm Forum.


To visit this topic, use this URL:
http://8mmforum.film-tech.com/cgi-bin/ubb/ultimatebb.cgi?ubb=get_topic;f=1;t=011197

---
Posted by Winbert Hutahaean (Member # 58) on January 07, 2017, 09:25 PM:

I beleive it never existed a "no fade" stock, but "low fade" does. In this case "low fade" can be 25 years, 50 years or 100 years, we never know.

About 5-7 years ago, our friends in UK reported their Fuji stock has shown some degree of fade to be purplish. I quicky checked mine and that was the case.

So if those Fuji stocks were struck in 1976 - 78, the life span is about 30-35 years.

I always wrote down the color condition of my prints with the date it was last screened. So my AGFA prints which were projected in 2008 were written as "excellent color" conditiion, i.e no sign of fade.

Today,I re checked those screened in 2008, and most of them have sign degree of fade. The worst condition was shown for AGFA prints from France (Film Office) which have faded to just pink.

So if those AGFA prints were also printed in 1976-78 it means the life span is about 40-50 years.

Next will be Kodak LPP stocks, you must be ready when they also are found to get faded in 10-30 years to come.

Now please check your AGFA print and report here please.

---
Posted by Evan Samaras (Member # 5070) on January 07, 2017, 09:49 PM:

That's disappointing to hear Winbert. Could you tell us about the storage environment and conditions, which I'm sure also have an influence.

---
Posted by Winbert Hutahaean (Member # 58) on January 08, 2017, 03:20 AM:

Hi Evan,

I live in a tropical, hot and humid country, similar to Texas or Florida in your case. That is right, the climate may take part on the fade process. But since the case of Fuji was reported from the UK members which is drier and cooler place, I believe for the AGFA stock will give 5-10 years more time than mines, but it still going to fade eventually.

If someone from cooler climate countries with Film Office primts can also share how do you see them now, that will be really helping me to prove my thesis.

---
Posted by Maurice Leakey (Member # 916) on January 08, 2017, 06:34 AM:

I bought a Walton Super 8 sound cartoon only a few days ago. It's on Agfa stock and the colour is still excellent.
But, of course, the climate here in the UK is "temperate".

---
Posted by Brian Fretwell (Member # 4302) on January 08, 2017, 07:46 AM:

My copies of The Wombles on AGFA are also in fine condition. I think these are the earliest prints I have on that stock, they are kept in a room that is cool except for the height of summer.

---
Posted by Fabrizio Mosca (Member # 142) on January 08, 2017, 07:46 AM:

Hi Winbert, there were different kind of Agfa stock (1S, 2S), what is the one you have that has faded?

---
Posted by Winbert Hutahaean (Member # 58) on January 08, 2017, 05:11 PM:

Fabrizio,

I believe it happens to both stock (1S and 2S).

I have Marketing's Raiders of the Lost Ark on AGFA which is on 2 S. Here is some screen shot when it has faded:

"Raiders of the lost ark" (1 x 400", Marketing Films).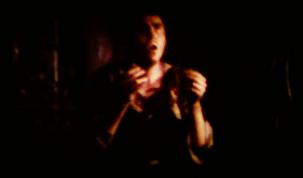 Please note that my auto digital camera did an automatic color correction on below pictures so it looks now fine for us, but actually it was warmer than this.




The fade of my film is much clearer on the below 3 pictures because the scene was outside and brighter.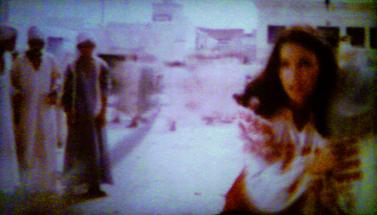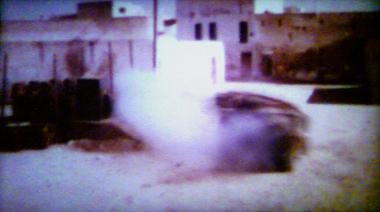 and when it came to a darker scene, the fade is more horrifying !!




I bought this reel in 1996 and found had beautiful (excellent color). But in 2008 I found it to have faded. I was thinking at that time that this was only the unlucky batch, but then now in 2016, I found other AGFA prints have also faded.


cheers,

---
Posted by Osi Osgood (Member # 424) on January 09, 2017, 12:28 PM:

I remember those screenshots well, Winbert, it made me gasp at the time.

From what I have heard, there were certain batches of Fuji that are terrible, but after a certain point, in the late 70's the fuji film stock was much better and long lasting. I have a number of the Walt Disney 400ft digests from the late 70's on fuji, and they are as beautiful as the day that they were printed. It took awhile for fuji to "come of age", as Derann fuji prints from the mid 70's or so tend to be purplish these days.

---
Posted by Alexander Vandeputte (Member # 1803) on January 09, 2017, 12:59 PM:

All color print stock prior to 1982-84 is prone to fading. This also goes for Agfa and for Fuji. Usually Agfa is the stock that fades more elegantly than Eastman (red, pink), Kodak SP (orange, brown) or Fuji (some degree of purple). Agfa more or less tends to fade evenly across the color spectrum. Colors become less saturated but the color balance is more or less maintained. Also S1, S2 or S4 is all the same Agfa stock.
I personally have never seen an Agfa print fade to pink. But when fading starts it can exaggerate any deficiency already present in the pre-print material, such as a warming internegative...
(When the first 35mm Star Wars prints started to fade, the matte boxes around space ships etc... became visible...)
In 1982 Kodak introduced their low fade LPP stock and within the next two years also Fuji and Agfa had their low fade stock. So it is safe to say that any print made after that period will be low fade regardless of the brand.
From my own collection I can attest that all 'late' Agfa prints, Kodak LPP prints are still fine. My early, mostly seventies, Agfa prints are holding up OK and have developed 'pale' colors at the worst. Most of my seventies Fuji are OK but generally there is always a hint of purple in there. Seventies Eastman Kodak is mostly faded to varying degrees of red, pink and brown. With some exceptions: I have a full length Kodak SP print of The Warriors that only exhibits the slightest fade...
Will low fade never fade ? I personally doubt that, but my guess is that this will be a very long and slow process

---
Posted by Gilbert Lambert (Member # 5403) on January 09, 2017, 01:05 PM:

Hi, Happy New Year to all. Yes some Film Office Prints are fading on Agfa and Agfa stock from the Netherlands have some fading as well. It is only a small quantity, I bought 28 Film Office Cartoons last week, checked them and only 2 with some fading, one was a Pink Panther cartoon and the second one a Popeye. The other 26 cartoons were perfect. Bought same time period from Film Office said the French guy to me who owned them. Can't check if it's 1s or 2s as I resold them already. Next time I'll have look. Keep them cool I would say. Thanks for starting this topic, Gilbert

---
Posted by Brian Fretwell (Member # 4302) on January 09, 2017, 04:01 PM:

I have some prints, Walton, that are on 4S, I believe they are all the same stock and the 1S, 2S etc is merely the designation of the slitter position for dividing a larger reel.

---
Posted by Tom Photiou (Member # 130) on January 09, 2017, 04:21 PM:

well, without putting a damper on cine, a friend of mine worked for the BBC archives here in the south west, he said to me a few years ago that all cine film will fade sooner or later. Of course hopefully for many of us our collections will see us through but i have to add this,
i am getting a little tired of paying high money to find what i am buying is fading,scratched or both but all advertised as "guaranteed not have fade or pink".
If i want a top quality derann print with no fade on LPP it looks as though you are talking in excess of £250 up to over a grand.
This bit will rattle a few cages, at the weekend we all sat down to a bluray Dolby 5:1 stereo showing on my Epson projector of the new Bond movie spectre. while it isn't cine the picture and sound were fantastic, first class in fact, my audience and me were quite taken back by it as its only the 3rd time i have watched a film on it. now we will see one every weekend. The cost of the film? £10. I couldn't even buy the trailer on 8mm for this price.
I think if i continue to pay out and films turn up faded i am going to have to think harder in the year ahead. It looks as though 16mm prices are going the same way just as we are starting to get back into it
---
Posted by Osi Osgood (Member # 424) on January 10, 2017, 12:24 PM:

Actually Alexander, I would take issue (in the most polite way, of course) with you're statement that any film stock prior to 82 to 84 would be subject to fade. I have Cinecolor standard 8mm prints that to this day, after over 70 years, still have as vibrant of color as they did when released on standard 8mm, and the Agfa color prints, (called "Ansco-Chrome" before they were called "Agfa") from over 70's years ago are the same ...

So, there were most definitely low fade forms of color stock utilized for home movie releases before 82 to 84. in fact, they have over 70 years to them, and the more well known LPP has only been around for 30 or so years and while they do look great at the moment, lets see how good they will be in 70 years. Don't get me wrong, nearly all of my collection have been converted to, (whenever possible), a low fade print, but there is always that slight uncertainty of all film stocks.

---
Posted by Winbert Hutahaean (Member # 58) on January 10, 2017, 05:56 PM:

Osi, if you can post screen shot of the mentioned print please. There is always a debate regarding the degree of fade.

To me "no fade" is just perfect and vibrant color.

---
Posted by Osi Osgood (Member # 424) on January 11, 2017, 11:51 AM:

Winbert ...

Are you speaking of the Ansco-Chrome (early Agfa), and Cinecolor standard 8mm's?

If so, I could probably take some shots of the film unprojected, (just put the films up to the light and take a photo), but if I project them, I'm never able to get the color right.

I think we're mainly talking "package" films, but i just help but add home movie film stock as well, as there is Kodachrome way back from the late 30's (when it first came out) that is as colorful as the day it was shot, as well.

---
Posted by Alexander Vandeputte (Member # 1803) on January 11, 2017, 01:13 PM:

Osi, indeed there were 'non fade' stocks around before 1982-84 but these were either color imbition processes such as Technicolor IB (only 16 and 35) or Cinecolor or they were reversal stocks such as Kodachrome.
I have a 16mm Disney "Donald Gets Drafted" on 1943 Kodachrome that probably stil looks the way it did back then.
But if your color print is dated before 1982-84 and is not a reversal nor an imbition print it will be prone to fading be it Agfa or Fuji or Eastman Kodak.

---
Posted by Adrian Winchester (Member # 248) on January 11, 2017, 11:36 PM:

Agfa stock displaying some warming is no surprise to me as I've been noticing it on 16mm for some years. On some prints, you mainly seem to lose some dark blacks but it then doesn't seem to get any worse. However, I recently viewed my Super 8 400' of 'Roustabout' on Agfa stock and it showed no fade whatsoever. But it has always been unclear to me when Agfa became as reliably 'no fade' as LPP. If this was also 1982, that's useful to know, but presumably it's virtually impossible to define whether the later batches of Agfa prints from Walton, Ken, Marketing, etc should or shouldn't be low fade. No doubt some were printed in 1982 - but I believe there's no obvious way to make certain - and even if they were, we can't assume that every lab had the improved stock at the start of the year.

But I don't see why any such issues would necessarily invalidate Kodak's prediction that LPP would hold its colour for 75 years.

---
Posted by Osi Osgood (Member # 424) on January 12, 2017, 11:49 AM:

When I get around to it, I'll get some photo's of my "AnscoChrome" (agfa) Disney's (the 100ft home movie versions from the 40's).
---
Visit www.film-tech.com for free equipment manual downloads. Copyright 2003-2019 Film-Tech Cinema Systems LLC




UBB.classicTM 6.3.1.2