This is topic New sound heads for magnatech in forum 8mm Forum at 8mm Forum.


To visit this topic, use this URL:
http://8mmforum.film-tech.com/cgi-bin/ubb/ultimatebb.cgi?ubb=get_topic;f=1;t=011284

---
Posted by Kevin Hassall (Member # 2352) on February 10, 2017, 09:46 AM:

Hiya guys Phil at classic is seeking advice about new sound heads he wants anyone who can help

---
Posted by Adrian Winchester (Member # 248) on February 10, 2017, 10:59 AM:

In fact I just checked with Phil whether he would welcome his text being posted on the Forum, and he would. Here it is:

HERE AT CLASSIC, WE ARE VERY KEEN TO CONTINUE RELEASING NEW SUPER 8 FILMS TO THE COLLECTORS WORLDWIDE.

THIS PROCESS HAS STALLED FOR SOME MONTHS BECAUSE OF NEW FILM STOCKS, STRIPING PROBLEMS ETC. WE NOW HAVE PRINTS READY TO RECORD, BUT THE MAGNATECH MACHINES AT THE LABS HAVE FAILED, AND THE SOUNDHEADS NEED REPLACEMENT.

I SEEK HELP AND ADVICE FROM AROUND THE UK AND THE WORLD TO FIND REPLACEMENT SOUNDHEADS.

DOES ANYONE HAVE ANY? DO YOU KNOW WHO MAY MAKE OR REBUILD SUCH HEADS?

PLEASE TELL US IF YOU CAN HELP.

PHIL SHEARD
CHC

---
Posted by Kevin Hassall (Member # 2352) on February 10, 2017, 11:03 AM:

Thats great Adrian ,we have a lot of technically minded guys on this great forum there's bound to be someone who knows someone or knows about the machines we just got to help our Phil out .

---
Posted by Tom Photiou (Member # 130) on February 10, 2017, 12:10 PM:

I'm not 100% if i am on the right track here but i have e-mailed Phil with the following links, Hoping this may help,

http://www.thegreatbear.net/preservation/magnetic-tape-heads/

http://www.summertone.com/

http://www.jrfmagnetics.com/


---
Posted by Andrew Woodcock (Member # 3260) on February 10, 2017, 02:08 PM:

Summertone, I've dealt with. They do a great job of testing and lapping mag heads to give them a further lease of life, but they cannot manufacture them or even repair the type used on Super 8mm projectors sadly.

---
Posted by Osi Osgood (Member # 424) on February 11, 2017, 11:39 AM:

A friend iof mine suggested (and i agree) that, as a last ditch measure, if Phil does not have any GS1200 projectors, he should get them, as they make incredibly GREAT recordings, whetner mono or stereo, and they have, of course, that wonderful sync pulse function ...

After all, when parts do run out for these larger magnetic recording devices, there will probably be numerous sources for GS1200 parts for many more years. i understand that this manual GS1200 style of recording would take more time and effort, but at least, sound recording would still be possible.

---
Posted by Andrew Woodcock (Member # 3260) on February 14, 2017, 05:16 AM:

Very confusing statements made there Osi???

Phil always tends to have a few GS 1200s in his store at any given time as his lists suggest.

There might however, be very good reason why he wouldn't undertake a full run of brand new prints through any he has to record them all though, using "home recording" techniques.

Not all GS 1200's record so well btw, straight out of the box.
It very much differs from one model to another.
Just have a read of what people's experiences are,like what Alan Rik has said previously for example here,when using these to pulse sync record upon.

[ February 14, 2017, 11:30 AM: Message edited by: Andrew Woodcock ]

---
Posted by Osi Osgood (Member # 424) on February 14, 2017, 11:02 AM:

It shouldn't be confusing ...

Just that, as a second option, he should have those GS1200's ready willing and able to do record jobs, if the possibility of recording on a large unit falls apart, (due to a lack of the spare parts to replace the ones not working).

I mean, Lance Alspaugh has used GS1200's for years and has had excellent results.

---
Posted by Andrew Woodcock (Member # 3260) on February 14, 2017, 11:14 AM:

As said Osi, for a kick off,.. not all of them record anything like to a "standard".
And that's just the starting dilemma.

Lance knows what he's doing to optimize bias settings, I doubt Phil will be digging in doing the same.

---
Posted by Andrew Woodcock (Member # 3260) on February 14, 2017, 07:13 PM:

Let's hope I don't start tomorrow's first sentence off with "As said !"

---
Posted by Alan Rik (Member # 73) on February 14, 2017, 10:10 PM:

Yes Andrew is spot on in terms of the differences in recording results with various GS machines. I would imagine that if every GS machine was put back to proper running order, meaning set up as they were when they left the factory they would all put out superb recordings. But there are very few people who know how to really calibrate the GS to obtain the spectacular results that Lance does. His recordings are really stunning. Hi fidelity and A+.
I have had many GS1200's and the best recording one was a version one machine. And of course the 1st GS machine I bought in the 80's. They both recorded really well. But some of them I have had and they were good, some were bad, some were so so.
And eventually the one I had that was great became so so. One day the left channel got very low. I sent it off for repair but we never could get it back to its "Glory Days".
I had heard that Derann use to use the Fujica SD25/Yelco 3600 in order to record sound at one time. The quality was THAT good. But then again even those machines are starting to get old. Correction..are OLD. I hope that Phil can find the heads he is looking for. As a last resort as someone suggested sell the new prints striped but mute and have the buyer add sound later.

---
Posted by Larry Arpin (Member # 744) on February 14, 2017, 11:45 PM:

Osi-The kind of recorder Phil probably has is capable of recording both prints, before they are slit, at the same time at high speed. I don't remember how much faster, maybe 4 or 5 times faster. Back in the days, I was offered such a machine but they wanted too much for it. I made a counter offer but the guy said the sync motors were worth more than what I offered. This was around the early 80's.

---
Posted by Brian Fretwell (Member # 4302) on February 15, 2017, 02:28 AM:

From Phil's email it is clear that it is not CHC that are doing the recordings but the lab that is making the prints. I assume they are similar to those used by Derann, Studio labs etc. Pity Derann's went for scrap.

---
Posted by Andrew Woodcock (Member # 3260) on February 15, 2017, 04:39 AM:

You are probably bang on Brian, but they must still have sourced their magnetic heads from Europe or Japan for these though, more than likely. We just need to know what they are?

The thing is, Phil has gone through all of this once if you read what has been said. He speaks of them at one time being able to be found but at very high cost.

Makes me wonder if he is referring to Wittner there, who knows? Either way, we are left playing guessing games when we have been asked to help if we possibly can.

The SD 25 / Yelco 3600 would have produced spectacular results no doubt, straight out of the box judging by how good the SH 30 mono sound stage is. The separate amplifier section on these (for all intents and purposes) produces the best and most professional sounding reproduction from a single track on Super 8mm that I have ever heard from a Super 8mm amplifier!
Similar quality to a S938 /40 but with a precise consistent drive from the pulse sync DC motor controller and virtually zero wow from the enormous capstan roller. Much more powerful also just from the internal speaker/ amp ext output, Superb!

Very unlikely one of those SD 25/ 3600 will now ever surface these days though,especially in top working order.
---
Posted by Jason Smith (Member # 5055) on February 15, 2017, 07:19 AM:

As someone who speaks Japanese, I would like to see if there is anything available here in Japan.

There are plenty of skilled craftsmen running small workshops around here that can restore or replicate just about anything...for a price.

I don't have a technical background but if anyone does speak to Phil, get details and pictures of the part that needs to be replaced.

On a separate note, Andrew if you were going to find a SD25 anywhere, it would be in Japan. I have one that i would like to try and record on but I'm looking for a manual.

---
Posted by Andrew Woodcock (Member # 3260) on February 15, 2017, 07:54 AM:

Great news there Jason and as you say, you stand the very best chance of finding a fully functional SD 25 of anyone I'd say.

We just then would need to find out, whether or not it contained a Universal transformer to be used globally on any voltage or frequency from around the world.

Asking whether or not Magnetic Super 8mm heads could be replicated is great news to hear also. If this is possible from one of the small workshops you find, let me know as I can then send you some details of the kind of Mag Heads I would be interested in having replicates of.

Sadly from searching myself our most reliable of sources for duplicate vintage photography manuals here, they have nothing at all for Fujicascope projectors sadly.

Luckily I have the original English version manual for my own SH 30 but of course, this would not help you here with quest to find out all of the recording functions and facilities using the more complex and Stereo SD 25 sadly.

---
Posted by Alan Rik (Member # 73) on February 15, 2017, 08:47 AM:

You can also see if you can find a manual for the Yelco 3600. That model is identical and would record the same way. The Yelco is the same as the SD25 just marketed outside of Japan.
If you can read Japanese Jason I may have a manual for the SD25 as a PDF with pictures. It is the one floating around on the net so its been out a while.

---
Posted by Paul Browning (Member # 2715) on February 15, 2017, 10:51 AM:

This maybe of interest to Phil http://www.ebay.com/itm/Magna-Tech-magnetic-film-audio-recorder-/252220110407 . This is an item for sale currently in the US, but in his write up it states that if the heads prove to be no good because it has stood for a long time he has a contact that can supply these at low cost ??. Got to be worth an email to ask the question surely.

---
Posted by Osi Osgood (Member # 424) on February 15, 2017, 11:48 AM:

Interesting Larry, I kind of assumed that was the set-up that Phil has. One of the nice things about those GS1200'S, is that Multiple GS1200s can be looped together so once they're ready to go with the frame set exactly the same on each one and the auto start engaged it's fairly straightforward.

---
Posted by Winbert Hutahaean (Member # 58) on February 15, 2017, 02:52 PM:

Having read the Ebay link provided by Paul Browning, I found the head was made by Teccon: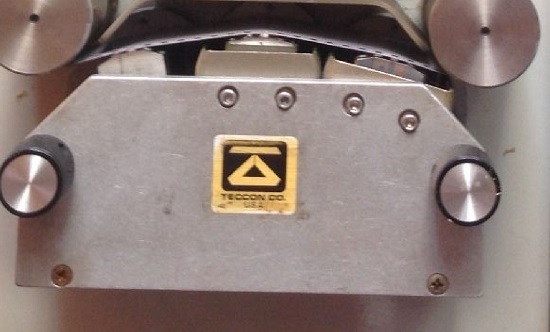 Teccon was located in California: http://www.bigscreenbiz.com/42-equipment-and-suppl ies/48-film-making-equipment-manufacturer/1352-teccon-enterprises-ltd.html




But it is already a dissolved company

Here is an article about Teccon and the type of head it has made:

http://www.in70mm.com/news/2015/teccon/index.htm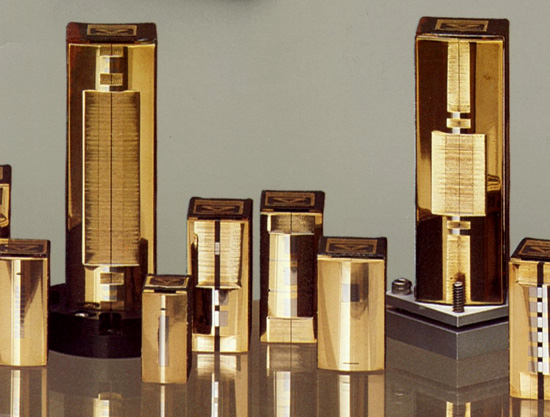 With the help of google, here is the company who can rebuild or refurbursh Teccon recording heads:

http://www.sprague.ws/audio.htm

The page says:




So it is still available brand new.....if the company is still in business


At least until 2013 the company was still in business and was bought by NCE Computer Group: http://www.ncegroup.com/about-us/company-profile/news/2013/07/18/acquisition-of-sprague-magnetics-inc/

otherwise try this: http://www.magnummagnetics.com/

So good luck Phil!

cheers,

---
Posted by Andrew Woodcock (Member # 3260) on February 15, 2017, 02:54 PM:

very interesting Paul, however is this recording equipment not solely for use with 35mm film?

---
Posted by Paul Browning (Member # 2715) on February 15, 2017, 04:41 PM:

The ebay page Andrew shows the machine also does 16mm, but the point is the text in the read up, may provide a lead to a sound head for the machine in Germany. I find it extraordinary that they haven't got a number for someone in Germany, has this machine never been serviced in all this time of use?.

---
Posted by Andrew Woodcock (Member # 3260) on February 15, 2017, 04:57 PM:

They must be recorded then before slitting on this machine, as suggested.

The heads seen above all look very wide to my eyes even maybe for 16mm recording?

---
Posted by Brian Fretwell (Member # 4302) on February 17, 2017, 03:16 AM:

I believe that Derek put in his newsletter, when they put in the sound recording equipment from Magnatek that the firm made 35/70mm film sound recorders and that this was a modified one. Also that they heads had to come from the USA.

---
Posted by Andrew Woodcock (Member # 3260) on February 17, 2017, 03:22 AM:

Yes also the FFTC issue showing it out on the high street being delivered in 3 sections out of the back of a lorry!😂

Didn't know the head source details though Brian, linking them to the USA.

---
Visit www.film-tech.com for free equipment manual downloads. Copyright 2003-2019 Film-Tech Cinema Systems LLC




UBB.classicTM 6.3.1.2