This is topic Big Screen Revival in forum 8mm Forum at 8mm Forum.


To visit this topic, use this URL:
http://8mmforum.film-tech.com/cgi-bin/ubb/ultimatebb.cgi?ubb=get_topic;f=1;t=012272

---
Posted by Ian O'Reilly (Member # 76) on May 04, 2018, 03:30 AM:

Just to let people know that Perrys Movies will be attending the Big Screen Revival Sunday week see you there.
Details below

Big Screen Revival
Sunday May 13th
Harvey Road Primary School
Croxley Green
Herts
WD3 3BN

10;00-17;30
£5 Standard Entry - £8 Special Entry

---
Posted by Adrian Winchester (Member # 248) on May 05, 2018, 07:38 AM:

That's great news - I was very pleased with the bargains I got from the Perry's stall at the last Big Screen Time Revival!

---
Posted by Martin Dew (Member # 5748) on May 05, 2018, 08:11 AM:

Yes, Ian's selection is always a fine one.

---
Posted by Dominique De Bast (Member # 3798) on May 05, 2018, 08:39 AM:

I attended the event last year ; it was a success : many sellers with interesting items and several projections. Needeless to say, I will be there this year as well.

---
Posted by Colin Fish (Member # 5679) on May 09, 2018, 08:15 AM:

Will there be a Bring and Buy? I've got a couple of bits I don't want.

---
Posted by Simon McConway (Member # 219) on May 09, 2018, 09:02 AM:

Yes there is normally.

---
Posted by Dominique De Bast (Member # 3798) on May 09, 2018, 09:24 AM:

Somme pictures of last year's edition http://www.bfcc.biz/ (Click on Other Film Collector Events and then BSR)

---
Posted by Colin Fish (Member # 5679) on May 10, 2018, 03:14 AM:

Does anyone know the programme for the show?

---
Posted by David Tatham (Member # 92) on May 13, 2018, 12:02 AM:

For those that can be tempted late on; taken direct from program (subject to change), hopefully see lots of you there:

New for 2018 – By popular demand – your feedback helps

- an extra dealers room – layout subject to change

- hot bacon butties

- access to the toilets before 10:00!


On with the show

10:00 – Open doors - Please book in your Bring & Buy items

Unfortunately due to holidays and projector availability, the 35mm Talk and Show will not be going ahead – Apologies for any inconvenience this may cause.
Please visit the Dealers Rooms (1 & 2) and the Bring & Buy (in Room 2).

11:00 – 11:45 – Screen 1 Saturday Morning Picture Show

Presented by Mark Norton on a newly modified Elmo GS1200, modified to HID150 High Intensity Discharge lamp with original Elmo ES-1000 Extension Speakers.

Recent releases are currently available from The Reel Image USA & possibly Classic Home Cinema

Star Trek Blooper reel

Magoo Meets Frankenstein (1960) (Recent Release)

Pearl & Dean introduction followed by various adverts

Back to the Future (1985 - PG) Promo (Recent Release)

Trailers to:

Somewhere in Time (1980 - PG)

Pulp Fiction (1994 – 18) (Recent Release)

Silence of the Lambs (1991 – 18)

The Fugitive (1993 - 12) - The escape sequence starring Harrison Ford. A Derann feature extract

Lunchtime Break

Please visit Tom and Jerry's Café and continue to browse the Dealers tables and Bring & Buy.

13:00 – 13:50 – Screen 2 9.5mm Sound Show

Presented by David Wyatt on a Buckingham converted Elf.

Adventures Of Popeye (1939) – Popeye tells some of his adventures to a small boy who has been fighting with a bully. Extracts are featured from other Popeye cartoons showing him as a Matador (from I Eats my Spinach on 9.5), rescuing Olive as she lies in the path of an express rain (from Popeye the Sailor) and fighting Bluto when both men are Lumberjacks (from Axe Me Another).

Variety Reel Number 7 (1938) – Joe Loss & His Orchestra with Vera Lynn; My Heart Wouldn't Beat Again; The Petite Ascots, four young girls tap dancing; Three Australian Boys; For You Madonna

Heritage of the Sea (1938) – The love of the British for the Sea: Scenes of the liner Queen Mary, Tugs, Deep sea fishing, Trawlers in the North Sea, Salmon Fishing, The Royal Navy and Trinity House looking after the nations lighthouses

Harlem Holiday (1940) – A visit to The Cotton Club in New York to see Turner Layton; East of the Sun, Buck & Bubbles; Rhythms OK in Harlem, Elizabeth Welch; Nightfall and The Nicholas Brothers, song & dance to Za-Zu-Za-Zu. An extract from Calling All Stars.

Thicker Than Water (1935) - Mr Laurel lodges with Mr Hardy and his wife. After a domestic row, Stan persuades Ollie to withdraw his savings ($300) from the bank. They spend $290 at an auction where they buy a grandfather clock which is then smashed in a street accident. Mrs Hardy becomes very violent when she finds out……

Afternoon Break

Treat yourself to a fresh Cream Tea at Tom and Jerry's Café.

14:25 - 15:15 – Screen 1 Super 8 Scope Show Plus!

Presented by Simon McConway on the Elmo GS1200 modified to HID150 High Intensity Discharge lamp with original Elmo ES-1000 Extension Speakers.

A Tribute to Derann Film Services - 11 September 2011 was Derann's final ever day of trading. This footage, taken by Simon, is of that final Open Day event - in memory of Steve Wellings from the 16mm department, who is shown in the tribute; sadly, Steve passed away last year.

Cine Events in The UK - a selection of footage, filmed at cine events over recent years.

Most footage from the above was shot on a Canon 1014 XL-S with film stock being mostly Wittner's (Agfa) 200 or Kodak 100D.

Then follows the Cinemascope show:

Super 8 (2011 - 12) - Trailer to the recent JJ Abrams' film. A Classic Home Cinema release.

The Empire Strikes Back (1980 - U) - Trailer to the original classic.

This is 'Scope II - A Derann compilation showing just what can be achieved with Super 8 'Scope.

Feedin' The Kiddie (1957) – Jerry and Tuffy lead a quest to the dinner. Tom, Jerry and Tuffy have a fight over thanksgiving. In the end Tom, Jerry and Tuffy agree to eat the turkey but Tuffy then has change of heart!

Movietone News; The Fourth Bridge - A look at the famous Fourth Bridge, behind the scenes of Those Magnificent Men in Their Flying Machines, Farnborough Air show. Excellent Derann Kodak LPP polyester print.

Living Daylights (1987 – PG) - Opening Sequence from the Classic Home Cinema release of this 007 epic. With full Stereo sound.

15:30 -16:15 – Screen 2 17.5mm Talk & Show

Presented by David Wyatt & Nigel Lister on Nigel's converted Siemens.

There will be a discussion around the conversion and the 17.5mm gauge with a selection including:

Flying Down To Rio (1932) - In 1932 Pathe Pictorial included a series of items listed as "the full and exclusive story of a trip in the giant Graf–Zeppelin from Friedrichschafen to far off Rio De Janeiro". The 5000 mile journey was covered in four different issues of the weekly film magazine and included shots from the airship as well as interiors showing travellers relaxing and the crew working. This reel issued on 17.5mm in 1935 seems to have been compiled from that source.

Pathetone no 509 (1934) - One of many Pathetone Weekly reels which appeared on 17.5mm. This one includes 'Skylarks – a study in high life', 'Can a wrestler beat a boxer?', Captain Olsson's Merry Sprites and comedian Robb Wilton in his sketch 'The Lion Hunter.'

Hopefully a rarity…… before finishing with

I Heard (1938) – The miners at the Never Mine go to Betty's Tavern for lunch. Later she goes down the pit and confronts some unfriendly ghosts. They are playing baseball with a bomb which is thrown at Betty. She escapes with assistance from Bimbo and Koko, but the explosive goes off underground, sending the ghosts to the graveyard. Don Redman & his band play Chant of the Weed, I Know a Girl Named Betty Boop, How'm I Doin? and I Heard.

16:25 – 17:30 – Screen 1 - 16mm Show

Compiled by David Tatham and presented by Simon McConway on his Xenon Elf 2000A.

(Col) Adverts (1970's) –

Walls Sausages,
Sunsilk,
Cadbury Flake,
Angel Delight,
Anadin

Trailers/Promos

(Col) Swiss Family Robinson (1960) – Promo - A family on route to New Guinea is shipwrecked on a deserted tropical island. They create a home on the island and explore the island and its wildlife. Gripping scenes with an elephant and tiger.

(Col) Monkeys Go Home (1967) – Promo - Henry Dussard, a young American, inherits a picturesque but badly neglected olive farm in southern France and is determined to make it operational again. Desperate for labourers, the inventive Dussard turns to the zaniest crew of olive pickers ever recruited - four mischievous monkeys! As former members of an Air Force space team, these intelligent chimps quickly pick up on their new responsibilities - but prove to have a turbulent effect on the local townspeople.

(Col) Wahoo Bobcat (1963) – Trailer - From Walt Disney's Wonderful World of Colour Series: Season 10, Episode 4. The Wahoo Bobcat is introduced here by Walt Disney himself. As this is a TV spot, look out for where to place the advert!

The Main Show

(Col) News Pictorial EEC (1972) – Britain joins the EEC! Winston Churchill; 1951 – 6 Countries – Treaty of Paris; 1957 – Treaty of Rome; 1972 – 9 countries – Edward Heath; Concorde; Fanfare for Europe; Veteran Car Drive into Europe; Hampton Court Palace; New Year celebrations.

(B/W) Glad Rags to Riches (1933) – Shirley Temple plays a cabaret singer and dancer at a nightclub. It is the kids who rule the world. Shirley Temple and the cast obviously don't realise they're spoofing adult films with the same stories. The early cinema showed short films like this before the major presentation instead of commercials.

(Col) Birds, Bees and Storks (1965) – From the Gerard Hoffnung (musical comedian) stable and narrated by Peter Sellers; a naïve father makes an embarrassing attempt to explain the facts of life to his son, but he becomes increasingly embarrassed to the point where his explanations are so vague as to be incomprehensible. Don't miss the funny twist at the end.

(B/W) Destry (1954) – After the local sheriff dies under mysterious circumstances2, Decker arranges to have the town drunk appointed sheriff, thinking he will be ineffectual. But the new sheriff sends for Tom Destry, son of a famous two-fisted lawman, to be his deputy. When Tom arrives, he isn't exactly the swaggering he-man the sheriff had in mind. In fact, Destry doesn't even carry a gun. But the new deputy's mild exterior masks a fierce determination to see justice done, as Decker and the other locals soon discover.

(Col) The Empire Strikes Back (1980) – Original edition. The Rebel base on the icy planet Hoth is under attack by the Empire; Han, Leia, Chewbacca, and C-3PO flee across the galaxy from the Empire. This complete extract shows Luke being rescued, the attack of the Hoth system and the Imperial invasion, ends with the escape of Han Solo and Luke Skywalker.

---
Posted by Brian Fretwell (Member # 4302) on May 13, 2018, 05:34 PM:

Great day there today, good to see some forum members (Dominique, Adrian, Nigel etc) and Keith Wilton plus many others who said hello. Good film shows and equipment on show and many bargains to be had. Here are some pictures.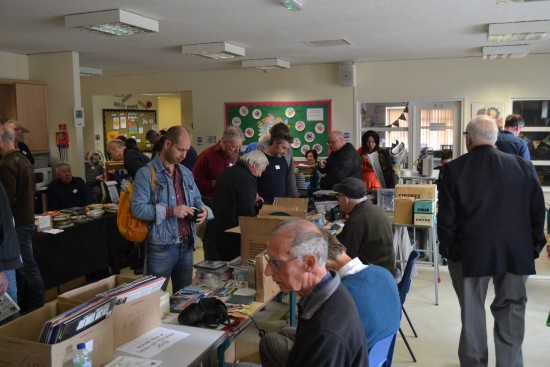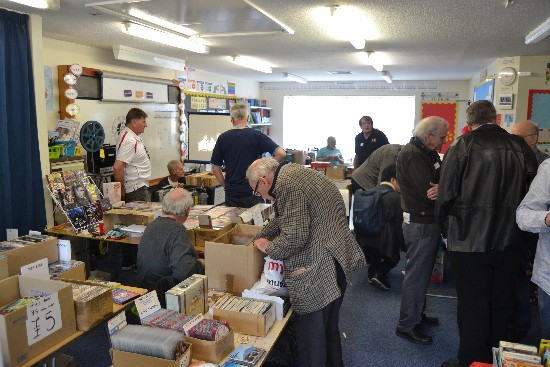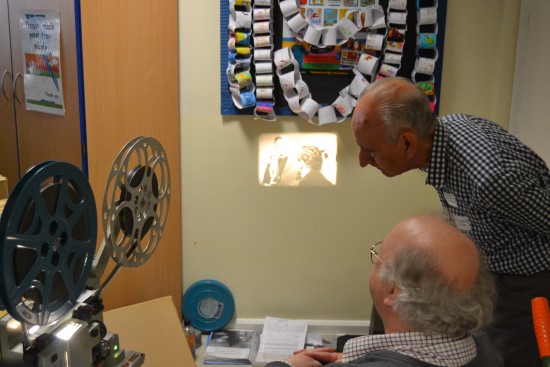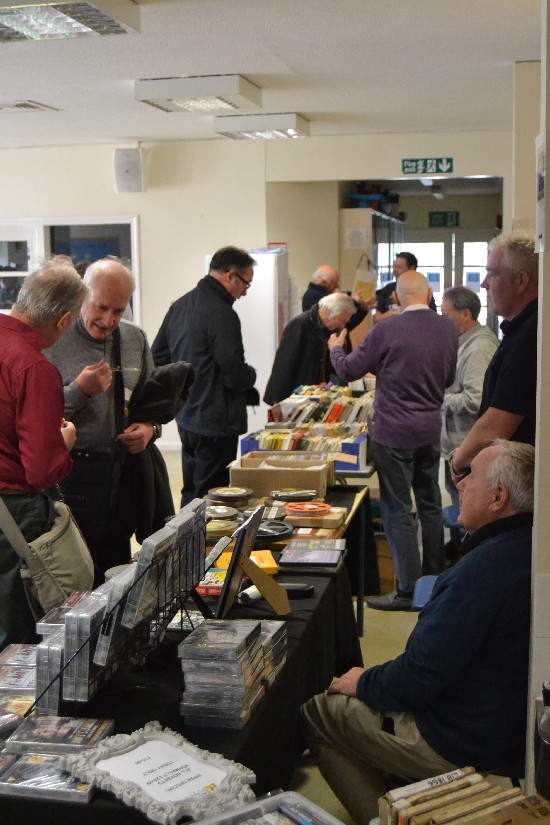 ---
Posted by Mark Mander (Member # 340) on May 14, 2018, 05:03 AM:

Thanks for those pictures Brian,I had a great time too and picked up quite a few films,saw part of the first film show then my son and I had to leave unfortunately,thanks David and all involved for another great event,Mark

---
Posted by Ian O'Reilly (Member # 76) on May 14, 2018, 05:32 AM:

Thank you David for a excellent convention. The Tom & Jerry Café serving very good food at very reasonable prices and I can honestly say having exhibited at many conventions over the last 35 years the café is by far the best.
Our takings on the day were up by 125% on the last convention, maybe something to do with the amount of 16mm that we took. Nice to see old faces and friends plus some new faces.

---
Posted by Can Sanalan (Member # 5988) on May 14, 2018, 05:56 AM:

Yes, Thank you David for orgainising the event.
It was my first time at one of these film conventions, and hopefully not my last, and I thoroughly enjoyed it.
Met some new people and for me it was interesting to see what others had for sale and what they collect.
I went in hoping to buy some 16mm features (only bought one, would of liked to have purchased more) but bought a lot of Super 8mm.
Quite looking forward to the next one now.
Thanks,
Best

---
Posted by David Hardy (Member # 4628) on May 14, 2018, 05:57 AM:

It is good to read there were some new faces there besides the old coffin dodgers as Derek Sharpe would say.

Sadly as i am not a rich man i don't get to any of these conventions as the cost of me getting there and back to Scotland far outweighs what i would have been able to spend on films.

Still it looks like everyone enjoyed the day.

---
Posted by Andrew Wood (Member # 5218) on May 14, 2018, 08:26 AM:

Congratulations David!

A brilliant organised and most enjoyable day - can't wait for the next one!

Thank you for all of your hard work

---
Posted by Douglas Meltzer (Member # 28) on May 14, 2018, 08:47 AM:

It looks like a terrific event with a great film program. Congratulations to the organizers and the attendees.

Doug

---
Posted by Paul Adsett (Member # 25) on May 14, 2018, 10:17 AM:

Looks like a great event, and nice to see the master himself, Keith Wilton, in attendance and no doubt getting some ideas for his next film convention.
---
Posted by Nigel Higgins (Member # 4312) on May 14, 2018, 10:26 AM:

Great event it was well attended and good to see everyone old and new ,i sold a few bits which is also good .Nigel

---
Posted by Colin Fish (Member # 5679) on May 14, 2018, 01:27 PM:

A great day and nice atmosphere. Catering was a treat and film shows were fun. Well done to the top team who made it happen. Bring on the next one.

---
Posted by Adrian Winchester (Member # 248) on May 14, 2018, 10:39 PM:

My compliments also to David as it was a great day with some very unusual shows. And it was nice to see the 'UK premiere' screening of the 'Back to the Future' promo in the first show! The amount of film on sale was truly impressive and there were plenty of rare and unusual items at very reasonable prices. E.g. the Perry's stall had 200' releases for £5 and 400's for £8. You might expect faded, common titles for those prices, but I've just watched mint copies I bought of a Blackhawk release 'Dangerous Females' (a 1929 sound film) and Derann's 'Calling All Girls'. Nice to also see Renown Films there with some interesting oddities on 16mm. If you like to put something new through your projectors now and again, you can't really afford to not attend such events if you're within reach, because you return with a bag full of nice buys at a fraction of the cost that you would otherwise spend!

As others have said, the refreshments are exceptional, with a friendly team quickly preparing whatever you select from the impressive menu.

The only problem is that Sunday's event was only 8 months after the first one, but we will now have to wait a full year until the next one!

---
Posted by Brian Fretwell (Member # 4302) on May 15, 2018, 02:49 AM:

Hopefully the BFCC will be back in October so it will balance out nicely. Unfortunately I forgot to ask Keith how things were progressing with he school there for a date (the only thing wrong with the Big Screen Time for me is that as it is a primary, not secondary, school the seats are a little low for my 6'5" frame.

---
Posted by Dominique De Bast (Member # 3798) on May 15, 2018, 09:19 PM:

I certainly second all the well rewarded positive comments on this event ! And I was happy, too to see known and new faces.




Forum member Can Sanalan was the first to pass the doors this year.




This picture was, intentionnally, taken when there was not too many people to show the room and the material.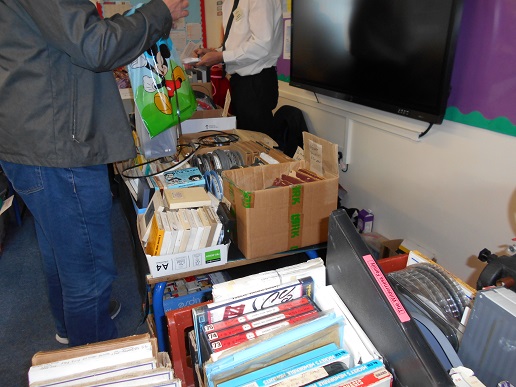 ---
Posted by Dominique De Bast (Member # 3798) on May 16, 2018, 01:24 AM:




David Tatham announcing the super 8 show.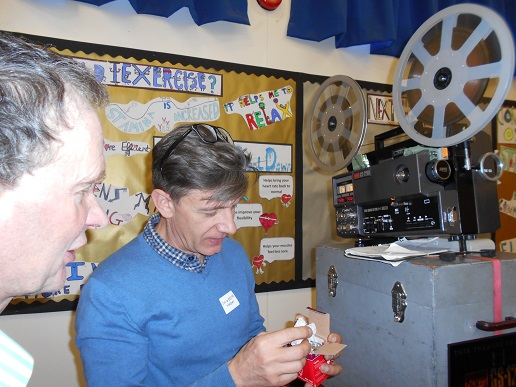 The GS is ready. (Sorry if my sentences are shorter and less poetic than Steve's...)




The owner replaced the original lamp by a HID 150 one. He changed the lampholder and added an external ballast without other "modofication".




Forum member Nigel Higgins was selling films in the main seller's room.




Sometimes, a school wall is enough to make the stars appear

---
Posted by Dominique De Bast (Member # 3798) on May 16, 2018, 01:24 AM:




Another seller projecting, in the second seller's room.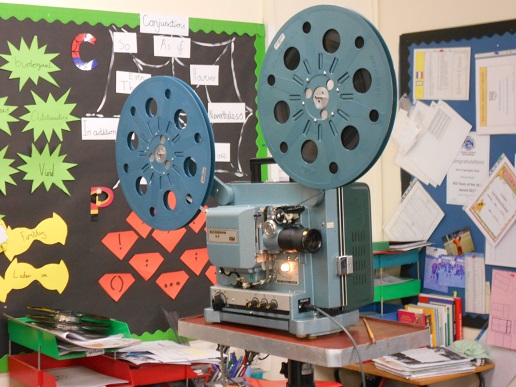 The 9.5 sound projector that was used for the 9.5 show.




The projections attracted interest !




A Siemens sound projector converted with success to 17.5 mm.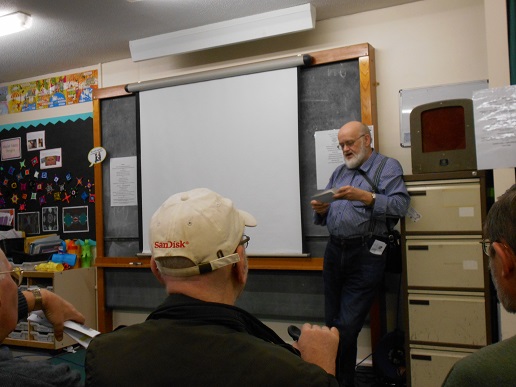 An interesting introduction has been made before the 17.5 show. I precise that 9.5 and 17.5 projections were held in a "small" room ans super 8 and 16 in a bigger one (with, of course, a bigger screen).

That was my last picture for this year

---
Posted by Greg Perry (Member # 5177) on May 16, 2018, 07:26 AM:

These pictures are great--looks like a really enjoyable event!
Thanks much for sharing them...

---
Posted by Simon McConway (Member # 219) on May 17, 2018, 09:40 AM:

A truly excellent day.

---
Posted by Dominique De Bast (Member # 3798) on February 10, 2019, 03:53 PM:

Is the 2019's edition confirmed ?

---
Posted by Colin Fish (Member # 5679) on February 11, 2019, 12:45 PM:

Will there be a 'Big Screen Revival' in 2019?

---
Posted by Paul Barker (Member # 4318) on February 11, 2019, 12:52 PM:

in PROJECTIONS magazine its advertised as this year its on sunday 12th may 2019. 10am-5.30pm. same venue. details contact david.tatham@lonza.com or leave a text or message on 07968966440

---
Posted by Paul Barker (Member # 4318) on February 11, 2019, 05:39 PM:

admission is £7.00 which includes free drink and cake. lots of film shows and dealers. bring and buy etc.

---
Posted by Dominique De Bast (Member # 3798) on February 12, 2019, 12:59 PM:

I've just bought my transport tickets
---
Visit www.film-tech.com for free equipment manual downloads. Copyright 2003-2019 Film-Tech Cinema Systems LLC




UBB.classicTM 6.3.1.2