This is topic Best Standard 8mm only projector? in forum 8mm Forum at 8mm Forum.


To visit this topic, use this URL:
http://8mmforum.film-tech.com/cgi-bin/ubb/ultimatebb.cgi?ubb=get_topic;f=1;t=012416

---
Posted by Kenneth DePriest Jr (Member # 3212) on July 28, 2018, 01:18 PM:

I have a Eumig 824, I like it but the bulb could be brighter. Here's the thing, I have for super 8 an Elmo 1200HD I even have a 1.0 lens and it looks nice. I also have a Kodak instamatic 100A and while it needs work and maybe some capacitors replaced to help with the sound volume, I swear the picture beats the 1200! not by a whole ton, but it's noticeable. I keep the Eumig should I get a regular 8 sound film, but here's the main question. Other than the REALLY old Revere's that had the 500W bulb, did they ever make a regular 8 projector with a higher bulb wattage than 150? is there a reg 8 projector with a 1.0 lens and really above average registration? were the old reg * sound projectors made to a better standard than the old silent ones? thanks!

---
Posted by John Armer (Member # 4655) on July 28, 2018, 02:01 PM:

Not quite the answer to your question, but I believe the Bauer T610 can be converted to make it a standard (regular) 8mm-only projector. So you would have a 150W lamp and all the benefits of the studio-class Bauer.

---
Posted by Buck Bito (Member # 2676) on July 28, 2018, 02:56 PM:

It seems you're looking for a 8mm Sound projector, so this may be off-base, but I'm a huge fan of the Bolex M-8. It takes a 500w CZX tungsten lamp and I run it with a Bolex 'Hi-Fi' 25mm/1.3 or 20mm/1.3.
Very forgiving for shrunken and/or cupped films and less than perfect splices. It is pretty loud though what with cooling that 500w lamp.
http://www.bolexcollector.com/projectors/m8.html

---
Posted by Maurice Leakey (Member # 916) on July 29, 2018, 02:39 AM:

Kenneth
The answer is no to your question.
The 824 is the best of the Eumig dual-gauge projectors, and with its f1.2, 12.5-25mm zoom lens, it's a pretty good machine, particularly useful is the two position lamp switch.
You should keep the 824 as you'll not find anything better.

---
Posted by Paul Adsett (Member # 25) on July 29, 2018, 09:52 AM:

I agree with Maurice that the Eumig 824 is the best dual 8 machine that you will find. I love the Eumig 800's, they are so reliable, trouble free, and very robust. One thing you may want to try is to install a better lens in your Eumig. I came across a Kodak Ektar f1.0 22mm fixed focal length lens, and machined down the outside diameter of the lens barrel so that it would fit in all my Eumig projectors. It literally transforms the picture quality of all of them. Much brighter, better contrast, and razor sharp focus. It's all in the lens!

---
Posted by Dominique De Bast (Member # 3798) on July 29, 2018, 10:19 AM:

From which machine does that lens come from, Paul ?

---
Posted by Paul Adsett (Member # 25) on July 29, 2018, 12:41 PM:

Dom, I got it from a Kodak M100 Super 8 sound projector, probably the best S8 sound projector Kodak ever made. I had to machine down the outside diameter of the lens barrel to fit the Eumig projectors: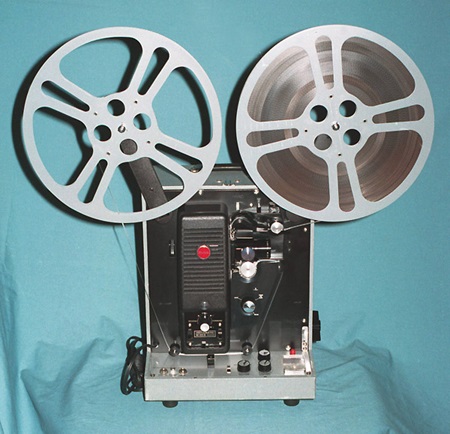 As you can see it will take 1200ft reels and has 150 watt Halogen lighting. This projector was made like a 16mm machine, really high quality before Kodak went cheap and plastic.They are as rare as hens teeth, but if you can find one its probably worth getting just to have that f1.0 Ektar lens.

[ July 29, 2018, 02:04 PM: Message edited by: Paul Adsett ]

---
Posted by Joe Taffis (Member # 4) on July 29, 2018, 02:34 PM:

The problem I had with that excellent Kodak Ektar f1.0 lens is that it's fixed and you need a really long throw distance to get a decent sized image on the screen. More than my limit of 16-20 feet...

---
Posted by Dominique De Bast (Member # 3798) on July 29, 2018, 03:01 PM:

Thanks Paul. I doubt those projectors have ever been sold in Europe 😞

---
Posted by Fabrizio Mosca (Member # 142) on July 29, 2018, 11:05 PM:

Hi Dominique,
they have been sold in Europe, I have one of them, with both the 1.0 and a zoom lens (1.5 or something like that). Nice machine, but it feels its age now, even if it has been serviced recently.

As standard 8 only projectors, I have both the Kodak Sound 8 and the Cirse Sound 2. Both of them have 12V 100W lamps (my Kodak has been converted to halogen lamp, while Cirse already had it as original design). Cirse has 800ft capacity, maybe the only projector that has this possibility.

But the best Standard 8 projectors ever made are the Fumeo 8 OemmeO and the Micron OemmeO, in 8 Mauer format (optical std8). Both are able to project also "normal" std 8 and some of them have both optical and magnetic sound.
Fumeo has 200W halogen lamp while Micron has a 21,5v 150W old style bulb. Fumeo has 750mt spool capacity while Micron 600mt (meters, not feet!)

Here some pictures:

Fumeo OemmeO
Micron OemmeO

---
Posted by Kenneth DePriest Jr (Member # 3212) on July 30, 2018, 09:11 AM:

you know whats funny? I have two Kodak M100A I know one of them has the 1.0 lens I am not sure about the other one. one was sparringly used, but needs service still, and the other one was a school projector. I have always wanted to get them repaired because when one worked for a short while the picture was amazing, Sound was real low, But I wonder if thats just a matter of replacing the capacitors on the amplifier in the projector. In the audio world, if you have an old power amp the sound can become low or disapear due to old leaking capacitors.

---
Posted by Dominique De Bast (Member # 3798) on July 30, 2018, 10:34 AM:

Thank you, Fabrizio. I hope I find one one day...

---
Posted by Paul Adsett (Member # 25) on July 30, 2018, 11:00 AM:

I had a similar experience Ken. About 20 years ago I did a side-by-side comparison of a Kodak M100 versus a Eumig S802. The differences were obvious. The M100 had a much brighter and sharper picture than the Eumig due to the 150 watt bulb and the Ektar f1.0 lens. But the Eumig had much better sound quality, the sound on the M100 being very low in comparison and poor fidelity. I did not like the sound head arrangement on the M100 at all, it looks very crude and is located at the end of a thin cantilever metal bar - no edge guides for the film going over the head. So I gave up on the M100, and kept that great lens for my Eumigs.
If you can fix the sound on your M100 though, it will be a fabulous projector.

---
Posted by Anna Vacani (Member # 2736) on October 25, 2018, 03:00 PM:

Hello Paul,
Me and my husband Terry, we have just bought a new projector to our collection - Kodak Sound 8 Model 1E.
I am just writing with my husband help, the article about it for our website - http://www.binoculars-cinecollectors.com/. Can I use yours picture of Kodak M100 Super 8 sound projector, as an example?
With friendly regards,Anna

---
Visit www.film-tech.com for free equipment manual downloads. Copyright 2003-2019 Film-Tech Cinema Systems LLC




UBB.classicTM 6.3.1.2