This is topic How to obtain/use a scope lens for super 8 projector in forum 8mm Forum at 8mm Forum.


To visit this topic, use this URL:
http://8mmforum.film-tech.com/cgi-bin/ubb/ultimatebb.cgi?ubb=get_topic;f=1;t=012540

---
Posted by Ben Zotto (Member # 6619) on October 08, 2018, 12:13 PM:

Can't find in the archives. I have a super 8 projector, and I want to project a scope print-- I know I need to put an anamorphic lens somewhere to project correctly. None of the super 8 projectors had a scope lens in them as standard, right? eBay is full of (pricey) anamorphic projector lenses, mostly "for 35mm" projectors, one or two say they're for 8mm, and I assume "for 16mm" too but I'm not sure how to think about this.

Is this something I jury-rig onto the front of the existing lens? What needs to match or how do I find a lens that will work correctly? Do I need to be doing complex optical math for throw length or whatnot or does any old anamorphic lens duct tape on there and basically work?

Want to make sure I don't drop hundred(s) of bucks on a hunk of glass just to find out there's no way to make it work. Since there were many commercially available scope super 8 prints, I have to imagine there's some standard ways to do it. Can someone please either point me to a guide or do a quick outline of how to approach? Thanks so much.

[ October 19, 2018, 03:26 PM: Message edited by: Ben Zotto ]

---
Posted by Dominique De Bast (Member # 3798) on October 08, 2018, 12:31 PM:

Hello Ben. Some super 8 projectors have a (non standard) scope lens bracket system. So, you need to find the support that fits your projector and then look for a scope lens that fits it (there are different sizes). Some examples here : https://shop.van-eck.net/film-projector-parts/anamorphic-lens-holders/p-1a/ There is another option : an universal scope holder to be placed in front of the projector. You have an example here : http://www.ffr-film.de/eng-anamorphotenhalter-.html

---
Posted by Ben Zotto (Member # 6619) on October 08, 2018, 12:53 PM:

Thanks Dominique! My understanding from your note is that some (not all) projector models were designed with various nonstandard scope holder attach points but one needs to go looking for some matching hardware (per the links you sent). If the projector doesn't support such a holder already then the universal holders should be used.

Further, and please forgive my ignorance on this, how do I know how to buy an appropriate scope lens given the projector model? There are all sorts on ebay of all different types and dimensions. I'm a bit lost there. Since I'm projecting in a room using an otherwise-normal projector, what are my considerations? Does it matter? What effect does the lens diameter have on the result? I'm still learning the analog optics. Thanks!

---
Posted by Dominique De Bast (Member # 3798) on October 08, 2018, 01:05 PM:

What super 8 projector are you using ?

I think it's important to choose a scope lens that was designed for 8 or 16 mm. It seems that many scope lenses found on EBay were intended for 35 mm projections. Since it's not always easy to set a scope lens properly in front of a normal lens and adjust the sharpness, I would think it's unnecessary to add another difficlulty by using a non adapted lens.

---
Posted by Maurice Leakey (Member # 916) on October 08, 2018, 03:05 PM:

Ben

As mentioned above by Dominique there are many 'scope lenses available on eBay which were designed for cinemas showing 35mm. However, these are not suitable for home use as an anamorphic lens has a focussing ring with the distance to screen marked in feet/metres.

Being cinema lenses they will not focus down to the short length required in the average home's front room.

Many Super 8 projectors have suitable brackets available, but a good idea is to use a freestanding bracket such as those mentioned in Dominique's second link. They of course are placed in front of the projector's normal lens.

Most anamorphics designed for 16mm can be used but these all tend to be quite expensive.

By the way, a 'scope lens will expand the picture to twice its width whilst retaining the vertical height unchanged.

---
Posted by Steven J Kirk (Member # 1135) on October 08, 2018, 03:29 PM:

I agree with everything above. Get a 16mm type lens. I recommend looking for the names Sankor or Proskar which can be had cheaply especially if the optics are clean but maybe the barrel has marks, etc. A free-standing stand is easiest to start with and you can use a 'lab stand' or 'retort' stand - same thing. These have a weighty base and two rubberised 'claws' and are for laboratory use but again can be found cheap. Best of luck...

---
Posted by Chip Gelmini (Member # 44) on October 08, 2018, 04:12 PM:

I use 35 mm scope lenses In front of my GS 1200 for many years and they work just fine my throw is about 25 feet.

---
Posted by Ben Zotto (Member # 6619) on October 08, 2018, 05:29 PM:

Thanks to all for the really useful context here. These are good leads to work off of: look for something designed for 8mm first (although I've yet to even see such a thing) but made for 16mm projection should work fine too, and Sankar or Proskar are good starting points for brand names. A 35mm lens would *work* (thanks Chip) but may well require a minimum screen distance longer than my apartment living room length.

Good enough for now. Cheers to all for your help.

---
Posted by Maurice Leakey (Member # 916) on October 09, 2018, 02:25 AM:

A further comment regarding the free-standing holder for the 'scope lens.
It can be used with any projector, useful if an expensive adapter has been purchased for a specific projector, but the owner disposes of that projector, and buys another make.
---
Posted by Edwin van Eck (Member # 4690) on May 21, 2019, 01:36 PM:

Hi,

I would like to add to this thread that we have also just released an anamorphic lens holder for the famous Bauer T500 / T600 series!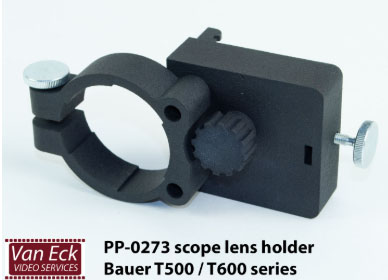 See: https://shop.van-eck.net/PP-0273.html?_globalsearch=anamorphic

p.s. I would also like to add an anamorphic lens holder for Fumeo filmprojector. But currently I don't have one in our warehouse. Maybe someone has a (broken) Fumeo 8mm or 16mm projector in the Netherlands?

---
Posted by Lee Mannering (Member # 728) on May 22, 2019, 12:12 AM:

Nice to have new parts available.

Ben if you are on a tight budget the Proscar lens is a good start and its possible to fabricate a bracket out of MDF and paint up black. The metal side a local model rail engineer turns out for me. Here is one I made up for someone and another scope lens made for super 8 use German Isco Gottingen. Cover the back of the MDF with felt to protect the projectors paint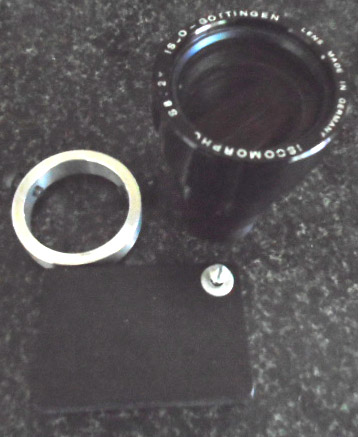 This particular lens was a popular in the 70's for cine fans and you will have plenty of choice.

For my own Eumig 938 projector I used a Elf 16mm scope projector lens bracket. Strip it down and reverse the ring works perfectly.

Another MDF project.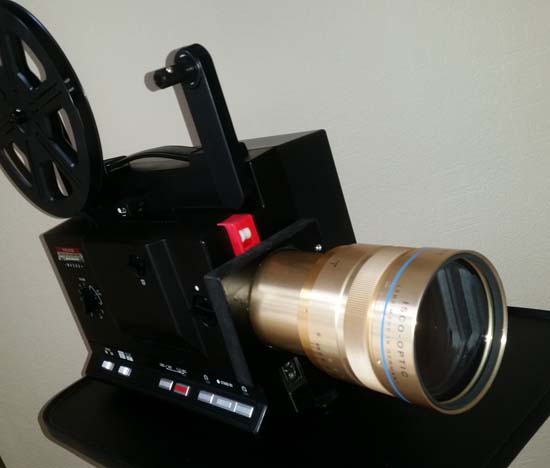 This is the finest lens I have. Bright crystal clear images rescued from a 35mm projector also used on my Elmo machine.

---
Visit www.film-tech.com for free equipment manual downloads. Copyright 2003-2019 Film-Tech Cinema Systems LLC




UBB.classicTM 6.3.1.2