This is topic Eumig 810D take-up arm falling apart in forum 8mm Forum at 8mm Forum.


To visit this topic, use this URL:
http://8mmforum.film-tech.com/cgi-bin/ubb/ultimatebb.cgi?ubb=get_topic;f=1;t=012653

---
Posted by Bill Brandenstein (Member # 892) on December 11, 2018, 01:02 PM:

Here's a new one! Just helped a friend locate a wonderful Eumig 810D-Lux projector in decent working order. Like any 40-year-old gear, it has a few issues but runs well and looks to be a champ in the making. And all the detachable parts are present, so that's a definite "win."

From the front it looks perfectly normal, same as mine: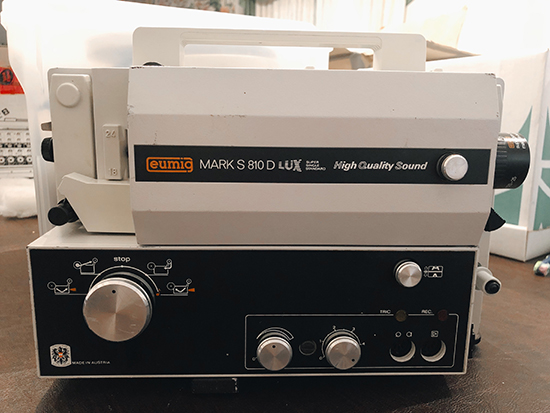 But the rear of the take-up arm has no screws: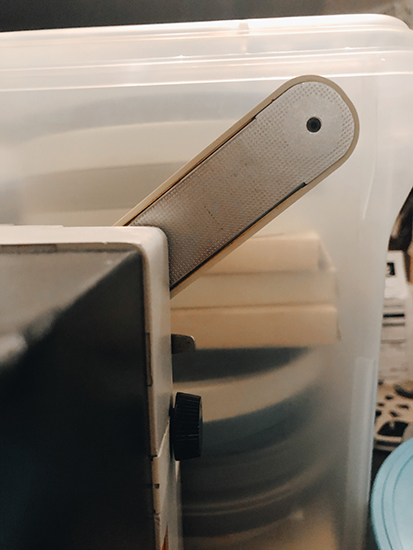 Mine looks like this:



So, as I was going over the projector the other day, the white take-up arm cover fell off, and the spindle and gears fell out. Does anyone know if mine is a later design modification to prevent that problem? More importantly, does anyone know what was intended to keep that no-screws cover on when the projector isn't level?
Is it supposed to snap or lock or just be snug? (It's none of those at present.)

There's also a cracked gear and a little rubber disc slippage, but I'll deal with that elsewhere.

---
Posted by Steve Klare (Member # 12) on December 11, 2018, 05:23 PM:

Hi Bill,

It looks like a nice machine. I was always under the impression that the HQS machines came later as an improvement on the original 800 series. If so, it should actually be a later machine.

My Bolex SP-80 special (Eumig 800 Series working undercover) has the screws like your machine.

Maybe it's time for an arm transplant: somebody here must have a dead 800 series they'd be willing to part out. I've done it on an Elmo: not too bad.

-maybe with a little patience you can even get the right color!

---
Posted by Bill Brandenstein (Member # 892) on December 11, 2018, 09:47 PM:

I'd definitely be interested in that! Nice recommendation, Steve.

---
Posted by David Michael Leugers (Member # 166) on December 16, 2018, 01:21 PM:

I recall having that same problem with the arms years ago. The Eumig 810D is a great machine well worth the effort to keep it going. I do believe that Eumig went to the screwed on covers as an improvement. The later made 820 series projectors I have all have the screwed on covers.

---
Posted by Lee Mannering (Member # 728) on December 17, 2018, 04:00 AM:

Yes you will find the early 800's had clip on covers, later were screw on types. My first sound Eumig from the early 70's has clip on and they have not thankfully fallen off yet.

---
Visit www.film-tech.com for free equipment manual downloads. Copyright 2003-2019 Film-Tech Cinema Systems LLC




UBB.classicTM 6.3.1.2