This is topic Servicing old projector friends in forum 8mm Forum at 8mm Forum.


To visit this topic, use this URL:
http://8mmforum.film-tech.com/cgi-bin/ubb/ultimatebb.cgi?ubb=get_topic;f=1;t=012708

---
Posted by Lee Mannering (Member # 728) on January 09, 2019, 05:11 AM:

Its our annual new year time of servicing the projectors. This task usually takes me a good few days to complete the collection throughout the various film gauges but has saved many a scratched film or in show projector failure I am guessing.

My beloved first GS1200 has given tremendous service and has been loved so enjoyed a pretty trouble free life except one new gear and belt in its time. Although a pricey machine new I've had value for money from this one also fitted with a 2 blade shutter for a bit more on screen illumination.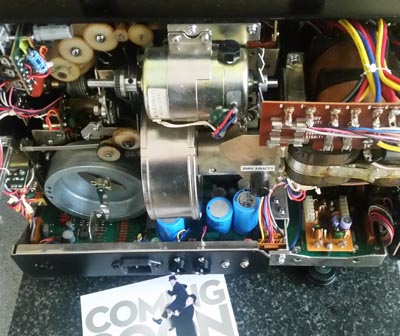 Film guides are removed and wiped with Silicone annually, that seems to work out well. I also use it on the plated guides in my 9.5 and 16mm machines.

Happy servicing boys and girls.

---
Posted by Maurice Leakey (Member # 916) on January 09, 2019, 05:49 AM:

Hi, Lee
The silicone treatment seems a good idea. Can you illustrate for us what exactly you use.
Liquid or cream?

---
Posted by Lee Mannering (Member # 728) on January 09, 2019, 06:53 AM:

Hello Maurice.

I use the 3in1 Aerosol Silicone usually about £6. Spray it onto a lint free cloth then rub on for a smooth coat. Its best to remove guides where possible so as not to get any on capstans on sound machines. In difficult to reach spots use it on a cotton bud.
Leave to dry for 24 hours but it does actually dry quickly although I'm always cautious. Do all of my machines as I say once a year without a problem thus far.
Best wishes

---
Posted by Mathew James (Member # 4581) on January 09, 2019, 07:07 AM:

Thanx for this tip Lee! Never thought to silicone spray the guides once a year. Great tip that I will now include in the maintenance program of my machines!

---
Posted by Will Trenfield (Member # 5321) on January 11, 2019, 07:17 AM:

Good tip. I've used silicone lubricant on my cars but never thought of using some on projectors. I bought a 400ml can of the 3-In-One stuff at Halfords for £5.99 today. I have Eumig and Sankyo projectors. Is it OK to use it throughout the film path, including the gate, on silent models, please?

---
Posted by Paul Adsett (Member # 25) on January 11, 2019, 09:09 AM:

Don't get it on the lens. You will never get it off!

---
Posted by Will Trenfield (Member # 5321) on January 11, 2019, 03:38 PM:

Paul makes a good point. I accidentally sprayed some silicone lubricant on part of my car's back window once. It was still there when I sold the car years later. It's probably best to remove the lens to a safe position before you start and only replace it when you've finished.

---
Visit www.film-tech.com for free equipment manual downloads. Copyright 2003-2010 Film-Tech Cinema Systems LLC




UBB.classicTM 6.3.1.2