This is topic Edgar Kennedy 400ft releases in forum 8mm Forum at 8mm Forum.


To visit this topic, use this URL:
http://8mmforum.film-tech.com/cgi-bin/ubb/ultimatebb.cgi?ubb=get_topic;f=1;t=012773

---
Posted by Thomas Smith (Member # 1889) on February 13, 2019, 04:33 AM:

Does anyone know how many 400ft titles were released
And if possible post a list thanks

---
Posted by Joe Caruso (Member # 11) on February 13, 2019, 08:53 AM:

Sure - DCR Films WILL POWER, DERANN Films DUMMY ACHE, T-BIRD/MORECRAFT FILMS An Apple In His Eye, DCR RADIO RAMPAGE, MORECRAFT FILMS Feather Your Nest, POWELL FILMS I'LL BUILD IT MYSELF and HOW TO CLEAN HOUSE, COOKS & CROOKS, MAD ABOUT MOONSHINE, Red Fox Films/DCR I'LL FIX IT - I need 3 of these, maybe we can talk? -Cheers, Shorty

---
Posted by Mathew James (Member # 4581) on February 13, 2019, 02:13 PM:

I can confirm the existence of the following titles on super 8 sound, 400' B/W:

Derann: Mad About Moonshine
Derann: Apple in His Eye
Derann: Dummy Ache
* Mind Over Mouse (this may be derann but i am not sure on my copy until further inspection).

I love the funny covers Derann does up!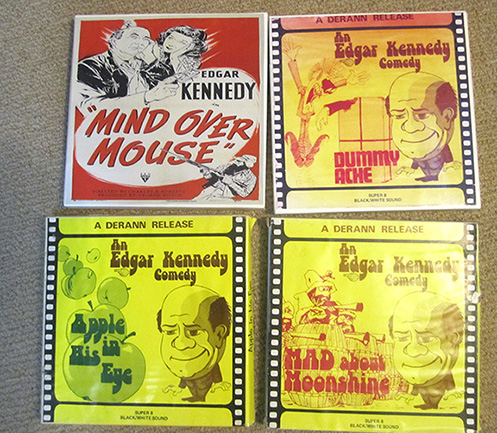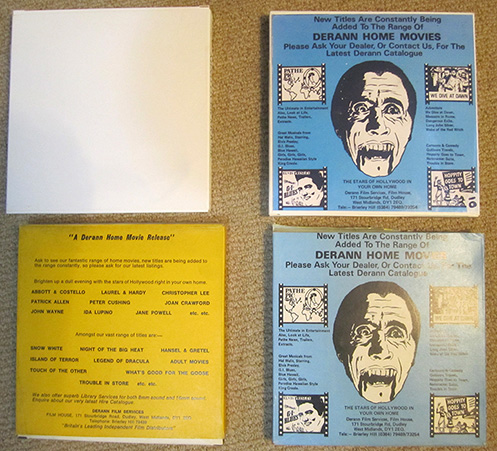 ---
Posted by Leon Norris (Member # 3151) on February 13, 2019, 04:18 PM:

Mathew, nice collection of films! I have them all! I love comedy's . I used to have Doubles! Enjoy!

---
Posted by Mathew James (Member # 4581) on February 13, 2019, 04:21 PM:

Thanx Leon! I quite enjoy making up new covers, especially if the films are worth it! You can't really tell from the pics, but I redid the covers on 3 of them and they look shiny new
---
Posted by Joe Caruso (Member # 11) on February 14, 2019, 09:19 AM:

Matt, Tom, send you messages - Shorty

---
Visit www.film-tech.com for free equipment manual downloads. Copyright 2003-2019 Film-Tech Cinema Systems LLC




UBB.classicTM 6.3.1.2