This is topic GS1200 Solenoid oscillation in forum 8mm Forum at 8mm Forum.


To visit this topic, use this URL:
http://8mmforum.film-tech.com/cgi-bin/ubb/ultimatebb.cgi?ubb=get_topic;f=1;t=012783

---
Posted by Paul Adsett (Member # 25) on February 18, 2019, 11:49 AM:

The front solenoid, which lifts the rubber roller off the flywheel in play mode, is giving me a problem. If I switch to forward play there is no problem, it lifts up normally and stays there, but as soon as I switch the lamp on the solenoid goes into oscillation, rattling the roller arm up and down and making a thumping noise. Any help appreciated.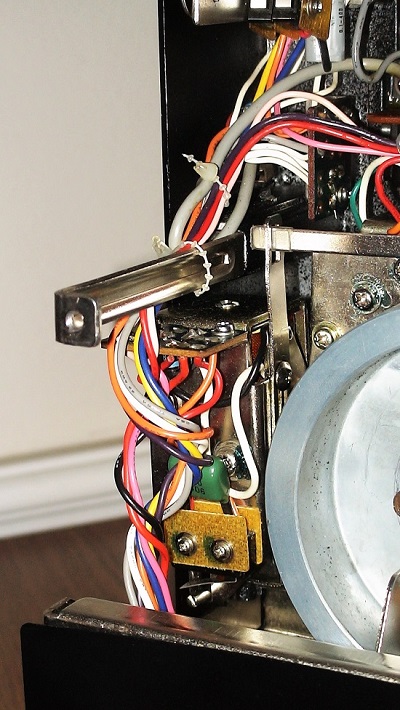 ---
Posted by Leon Norris (Member # 3151) on February 18, 2019, 12:25 PM:

Paul, replace the relay? Try that out! Leon.

---
Posted by Phil Murat (Member # 5148) on February 19, 2019, 09:11 AM:

Hi Paul,

Here is what I suggest you :

- Measure Voltage incomming energised solenoid when GS1200 setted in playing mode (With and without Lamp On) .
Does Voltage fluctuate (prefer an analogic tool to a digital tool for this specific case) ?
- If yes, Disconnect Solenoid and power it seperately with a 6V or 12 battery and observe Solenoid operation.
If intermittent fault has disappeared , check solenoid power source for a faulty connector, relay , switch, capacitor as well.....

Check also if there is a diode installed in // , closed to Solenoid.....(If yes , this is a small protect called "free wheel")

Check if Solenoid is abnormaly Hot during operation.

Hope it helps you

Let us know

Phil

---
Posted by Leon Norris (Member # 3151) on February 19, 2019, 11:23 AM:

Paul, Any luck with your machine? That solenoid is a tough one. It is most likely the original one? Well I have what you need. Just let me know!

---
Visit www.film-tech.com for free equipment manual downloads. Copyright 2003-2019 Film-Tech Cinema Systems LLC




UBB.classicTM 6.3.1.2