This is topic Your 8mm obsessions in forum 8mm Forum at 8mm Forum.


To visit this topic, use this URL:
http://8mmforum.film-tech.com/cgi-bin/ubb/ultimatebb.cgi?ubb=get_topic;f=1;t=012809

---
Posted by Lee Mannering (Member # 728) on February 26, 2019, 07:01 AM:

Other than Eumigs, producing Super 8 films and messing about with lenses as if that's not enough my other love is the Techniscope 2 perforation film format.

This desire to enjoy all things Techniscope if further fanned as a few titles shot in it did actually make it onto Super 8 Scope and Dracula Prince of Darkness was probably for me the best thing to happen.




Being filmed in 2 perf Techniscope this saved around 50% of the film and lab costs which would have been a bonus for Hammer at the time, mind you the underwater scenes of modern films such as Titanic also used the system which was puzzling. Regular 35mm film is of course 4 perforations I should mention.

I wonder if any more on here can own up to being fascinated by something in the 8mm film world?

---
Posted by Leon Norris (Member # 3151) on February 26, 2019, 01:08 PM:

Lee, My best times to watch movies are on rainy days and snowy days! I could watch films all day long! They are the times for me! I just can't stop! And its really fun when you have a large assortment of films to run! Its a great hobby!

---
Posted by Paul Adsett (Member # 25) on February 26, 2019, 01:20 PM:

I really enjoy maintaining and fixing my projectors I like to keep my whole stable of projectors looking and running like new. They are all looked after better than my Honda! That's why I think Leon has the best job in the world!
---
Posted by Brian Fretwell (Member # 4302) on February 26, 2019, 04:31 PM:

I believe the sharpening effect that could be put in by edge enhancing developers when making Technicolor dye imbibition printing matrices were what this viable at the time.

Also made in Techniscope and available on Super 8 'Scope, from Walton, was Daleks Invasion Earth 2150 AD. The original Dr Who and the Daleks, though Techniscope was only released "flat" by Walton.

---
Posted by Rob Koeling (Member # 35) on February 27, 2019, 03:06 AM:

That is fascinating Lee! I had not heard of the concept before and just read up on it. While browsing I stumbled upon this interesting piece on attempts to do widescreen in the twenties and thirties. Great stuff!
WideScreen Museum

When it comes to watching films, I have a thing for films that are shot in B&W Cinemascope. This is mostly French and Japanese films from the sixties, but there are some nice examples of noirish films from the US as well. And I would love to find a 16mm scope print of 'The Haunting' (anyone?)

I just realised that this threat is in the 8mm section.... My B&W scope prints are pretty much all 16mm. There is very little S8 B&W scope that I can think of. I only have one feature: Roy Rowland's "The Girl Hunters". I think Jason Smith (the forum member living in Japan) listed a couple of Japanese prints a little while ago. If anyone can think of (or offer?) other title, I would love to hear about it.

- Rob

---
Posted by Lee Mannering (Member # 728) on February 27, 2019, 05:09 AM:

Those little Walton SCOPE samplers are great fun usually still with decent colour.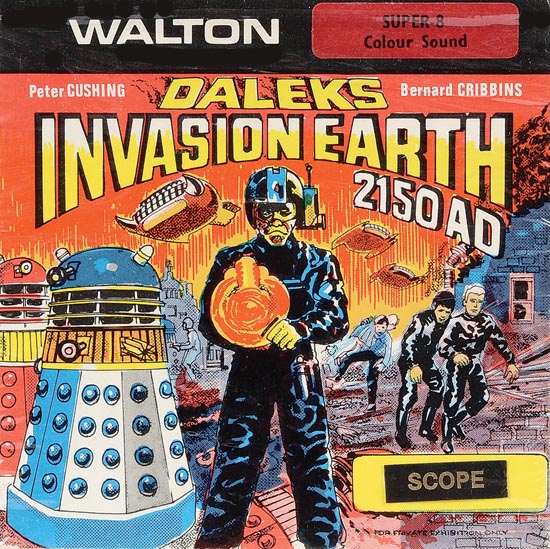 Its one of the wonderful things about or hobby we can enjoy so many aspects of it. A good example is Supergirl Scope feature. Although I applauded the new 2K Blu-ray from Warner Archive inevitably they have cropped it making the Super 8 Derann print quite unique really.

Yes Rob always something new to learn with film and we are all still learning


---
Posted by Osi Osgood (Member # 424) on February 27, 2019, 11:35 AM:

I agree with Paul, there!

The fun of keeping these projectors purring like a kitten, much like the automotive obsessions many men have (but happily, film is a tad less expensive ... hmmmm.)

... and, even better when we realize a new way to make the projectors function even better! My recent discovery of the proper cleaning of the optical sound assembly, which has allowed me to appreciate those little optical tracks even more!

---
Posted by David Michael Leugers (Member # 166) on March 02, 2019, 02:38 PM:

Techniscope is a great format. I loved the look of the Sergio Leone westerns. At the time, the grittier image on the big screen added to the look. Today any sign of grain and people freak out. It added a little grain but was sharp and wide screen. All at a cost very little more than shooting in 16mm...

---
Posted by Stuart Reid (Member # 1460) on March 02, 2019, 03:45 PM:

I'm with Rob K (hi neighbour!) - there's something special about black and white cinemascope. I have a print of Billy Liar in scope which is something special, and I'd also like to find The Haunting.

---
Posted by Leon Norris (Member # 3151) on March 02, 2019, 04:14 PM:

Lee, Is that a screen shot in super 8. If it is ! It sure looks good! Its Dracula prince of Darkness! In scope! I have a edited flat print!

---
Posted by Clyde Miles (Member # 4032) on March 02, 2019, 04:37 PM:

techniscope was a great money saver for the studios, using only half the neg needed and indeed looked great on 35mm, but when reduced to 16mm became somewhat soft on focus. yes b/w scope looks great and always a lover of mine.i have a very nice scope print of the haunting(not for sale). there was a flat print on ebay last week for sale in the usa.

---
Posted by Brian Fretwell (Member # 4302) on March 03, 2019, 04:12 AM:

I read somewhere that it was the Technicolor Dye transfer process (or the making of the printing matrices using edge enhancing developer) that made the 35mm prints look sharper. If the 16mm prints were Eastmancolor etc they wouldn't have that advantage.

---
Visit www.film-tech.com for free equipment manual downloads. Copyright 2003-2019 Film-Tech Cinema Systems LLC




UBB.classicTM 6.3.1.2