This is topic Kodak M80 Parts Needed in forum 8mm equipment for sale/trade at 8mm Forum.


To visit this topic, use this URL:
http://8mmforum.film-tech.com/cgi-bin/ubb/ultimatebb.cgi?ubb=get_topic;f=3;t=001439

---
Posted by Pasquale DAlessio (Member # 2052) on September 20, 2011, 01:27 PM:

I have a Kodak M80 that I need a couple of parts for.

Shutter Assembly with shutter gear.

Damping arm.

I have attached pics for reference.

Thanks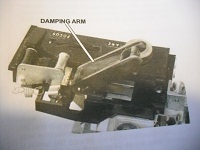 ---
Posted by Chris Punzi (Member # 2647) on September 21, 2011, 02:13 AM:

The same things were broken on my m95! This link here at least has the damping arm and info on how to get the drive gear: http://www.kodakparts.com/KodakM.html

If you read through it you'll see you can download a service manual for free. My guess is that no one on this forum will have these parts, they've held up so poorly over the years that finding originals seems impossible anymore. My damping arm came apart in my hands, and the gear was nowhere to be seen either. I also suspect a gear like the one in this is what caused my instamatic m6 camera to stop working.

---
Posted by Pasquale DAlessio (Member # 2052) on September 21, 2011, 06:33 AM:

HI CFhris

Thanks for your reply. My damping arm fell apart the same way. They used to take the old shutter as a trade in and send you a new one with a metal gear. I have that manual and the prices on their parts is outrageous. I just got this for 5.00 as a project to see if I can fix it. I am going to try Mcmaster-Carr for just a metal gear to attach to the shutter. The damping are I can cut out of plexi and paint it black.

Pat

---
Visit www.film-tech.com for free equipment manual downloads. Copyright 2003-2019 Film-Tech Cinema Systems LLC




UBB.classicTM 6.3.1.2