This is topic Winnie the Pooh and the Hunny Tree german Piccolo in forum 8mm Print Reviews at 8mm Forum.


To visit this topic, use this URL:
http://8mmforum.film-tech.com/cgi-bin/ubb/ultimatebb.cgi?ubb=get_topic;f=4;t=000116

---
Posted by Robert Aragon (Member # 181) on August 16, 2006, 11:52 PM:




I proudly admit i am a POOH fan. How can you not be? He represents our innate childlike innocence and kindness. My first super 8 sound film was Disneys WINNIE THE POOH and TIGGER TOO. Overjoyed, i played it constantly. Then i acquired the 400 foot digest of THE MANY ADVENTURES OF WINNIE THE POOH. Boy what adventures! Of course, there was a 20 year gap before locating the latter. But, who cares, i never grew up, so OVERJOYMENT revisited! I re-edited every scene into place..and PROUDLY forced all to watch my STEREO animated gem. Then one day.
WHAT? ON FILM? THE HUNNY TREE? OH MY GOD!
The film begins with Pooh at home...and hears his pookoo clock.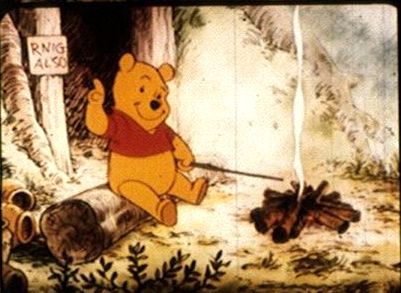 The whimsical story takes flight from there. The little bear must find something sweet. After failing an attempt while singing as he climbed the hunny tree, he settles on sustenance courtesy of Rabbit.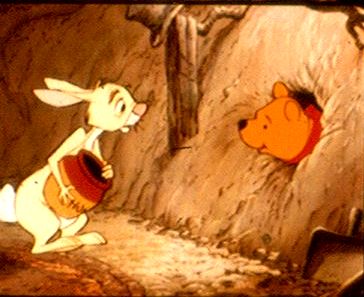 Over indulgence has a price, even for a bear of very little brains. He finds himself "STUCK". Then it's time for a musical parade to "unstuck" him. With tugs and pulls and a push, OUT he soars landing into another hole. conveniently located atop a hunny tree.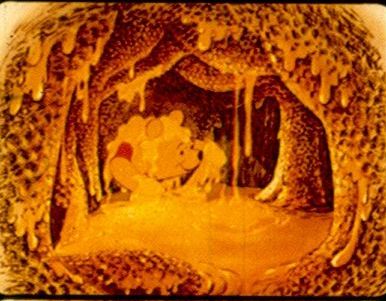 The entire Piccolo digest may be edited with the other two pooh Digests. MARVELOUS! No repeated scenes, all NEW footage on the piccolo film. As Pooh climbs the Hunny tree, he sings "Rumbly in my Tumbly". The entire sequence is complete. WONDERFUL! The print is sharp and VERY colorful, blends in perfectly.
I re-edited the films a bit. I loved the title credits from the 400 ft print, and the opening SONG "winnie the Pooh" from the 200 ft TIGGER TOO print. i reorganized them into the proper sequence as in the full feature. I have re-recorded the entire full 600 ft mini POOH feature into STEREO. WOW! I'm in A.A. MILNE/SUPER 8 STEREO heaven! This digest was first released in the late 60's in a silent version. Than in the late 70's with Sound. QUITE RARE to find, but, NOT impossible.

---
Posted by Mike Peckham (Member # 16) on August 17, 2006, 03:16 AM:

Robert

These are fantastic reviews you're doing, I particularly like the screen shots, how do you manage to get such great images?

Mike

---
Posted by Kevin Faulkner (Member # 6) on August 17, 2006, 08:26 AM:

And dont forget that Derann also do WINNIE THE POOH AND THE BLUSTERY DAY 1 x 600ft. Not a bad print either.

Kev.

---
Posted by Steve Klare (Member # 12) on August 17, 2006, 11:58 AM:

I have the Disney "The Many Adventures of Winnie the Pooh" (...bought it for my kid...yeahhh!!) and it's a great 400 foot print with wonderful color and sound.

The box has a $5 price sticker on it, likely from some "death of Super-8" clearance sale at a department store 20 years ago.

Is it just me, or is Tigger actually really obnoxious? My wife says he's not, but then again he reminds me of some of my in-laws! (...the things we debate!)

---
Posted by Osi Osgood (Member # 424) on August 17, 2006, 12:44 PM:

Beautiful sharp screen shot's (which means the actual image is even better than that!) I have an LPP copy of "The Many Adventures of Winnie the Pooh" as well, beautiful colour on that as well! It's wonderful. One of the saddest (yet beautiful) moments in that original feature is when Christopher Robin, who knows he's going to grow up soon, asks Pooh,

"Pooh, you won't forget me?"

"I won't Christopher Robin"

(probably paraphrased)

It's so touching. When we leave childhood behind us, we leave a precious time that we can never really relive. The boy, (now, a man) whgo played the voice of Christopher robin in the feature film, said that he was honestly crying as he read the script, for the films directors explained that he would never see Pooh again, so the emotion you hear in Christopher robins voice is real, and it brings this Body building tough guy to tears, (I'm almost tearing up just thinking of it!)

Wonderful little review. The original mono soundtrack was pretty good as well!

---
Posted by Robert Aragon (Member # 181) on August 17, 2006, 02:32 PM:

Hi there, Osi if i may correct
"Pooh, promise you won't forget me?"
Oh, i won't Christopher, I promise"
Gets me everytime. But, I never grew up, So, havent had that discussion yet.
YES,the actual print is VERY sharp. These are shot using a digital cam belonging to a friend. I think the screen shots bring the review to life.
I do have the FULL featurette of BLUSTERY DAY released by derann. Can't forget that.

---
Posted by Osi Osgood (Member # 424) on August 17, 2006, 04:55 PM:

It's funny,

When most people think of Super 8, they think of blurry old home movies or poor quality super 8 from studio's (and of course, there was a lot of it!)

But here is another example of Super 8 at it's best! I encourage someone who has a copy of "Winnie the Pooh and the Blustery Day" from Derrann, make some digital camera frame blow-ups and put them on the forum, I'd love to see them!

---
Posted by Steve Klare (Member # 12) on August 17, 2006, 10:41 PM:

Osi,

I often think of Super-8 as something that very often fell into the wrong hands!

It has a huge potential that 99% of the people that used it never sought. Even as a certified S8 fanatic, I never experienced Super-8 with sound until about 4 years ago, let alone delightful little facets of it like showing films in cinemascope or up on a big screen. (Amazing! All the years I was growing up I was told Super-8 could not be projected more than 3 feet wide! Where did this number come from?)

It's little wonder that for most people Super-8 brings back memories of one 50 footer after another of silent, unedited, poorly shot boredom. Unfortunately this is the mindset we are up against whenever we decide to set up a projector and do a show to the uninformed! It's not an easy prejudice to override!

I do find that once you convert 'em over, they really do appreciate it!

[ August 18, 2006, 12:11 PM: Message edited by: Steve Klare ]

---
Posted by Christian Bjorgen (Member # 1780) on February 16, 2013, 07:19 AM:

Ah, you are very lucky, Robert, and I am very glad to read that there is more than just the WDHM 400' of Winnie the Pooh. I am trying to locate as much as possible aswell, so I can make my own "mini-feature"!

Should you ever wish to depart with your print, let me know!
---
Visit www.film-tech.com for free equipment manual downloads. Copyright 2003-2019 Film-Tech Cinema Systems LLC




UBB.classicTM 6.3.1.2