This is topic DISNEY CLASSICS ON DVD OUT OF REGISTER? in forum General Yak at 8mm Forum.


To visit this topic, use this URL:
http://8mmforum.film-tech.com/cgi-bin/ubb/ultimatebb.cgi?ubb=get_topic;f=8;t=000537

---
Posted by Chris Quinn (Member # 129) on March 14, 2007, 01:16 AM:

Hi all,

Watching some of my disney dvds, especially the treasures collection, i have noticed that the colours are not in perfect registration. I did think that this was a fault with the transfer to dvd to start with, but i am not so sure. Has anyone seen this on film and if so why is it there.
It's not on all the cartoons on the disc.

Picture below shows the red/magenta clearly out of register.

Thanks guy's,
Chris.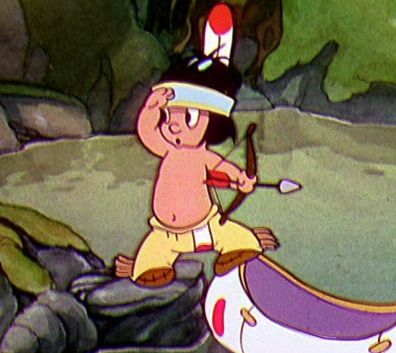 ---
Posted by Joerg Polzfusz (Member # 602) on March 14, 2007, 03:58 AM:

Is this a NTSC-DVD?

---
Posted by Chris Quinn (Member # 129) on March 14, 2007, 11:02 AM:

Hi Joerg,

The picture is possible from an NTSC dvd, but my own are Pal, and the same thing appears. I would say it is on all DVD's regardless of format.

Chris.

---
Posted by Graham Sinden (Member # 431) on March 14, 2007, 12:24 PM:

I would probably say this is cheaply transferred. Disney has always been a difficult company. I always got the impression that Disney wanted you to see their films but not own them, certaintly not the whole feature. It took them years before they released their films complete on video and most times only for a few months at a time. In the early days of super 8 all they released was 200 ft cutdowns. Rarely do you see top disney animated features on TV because Disney charge top dollar for them. I'm not saying all Disney DVD's are rubbish but sometimes i feel they dont want you to have a top rate pristine copy of it.

---
Posted by Steve Klare (Member # 12) on March 14, 2007, 03:27 PM:

There's the Spirit of Walt at work. He always very jealously guarded the Disney creations as his own personal work, even to the point of not allowing anybody else creative credit until the studio went on strike and it was negotiated into the settlement.

Not all bad, though. Anybody who is that serious about their work is likely to pour their hearts and souls into it!

---
Posted by Kevin Faulkner (Member # 6) on March 14, 2007, 06:37 PM:

It looks more like a problem of fringing from that shot due to not so well set up optics on the telecine equipment.

Kev.

---
Posted by Osi Osgood (Member # 424) on March 14, 2007, 07:01 PM:

Not all DVD's are created equal as well, which might be a factor.

One of the problems that I have always had with DVD is that if you have a shot where nothing is moving, it will almost freeze frame. This is the DVD's way of saving room and using less storage space.

Believe it or not, I find that I enjoy my laserdisc versions of some movies over the same transfer on a DVD, as the laserdisc has full grain used frame by frame and in many cases, gives a more approximate, true to film look of the transfer ....

or, am I wrong?

---
Posted by Chris Quinn (Member # 129) on March 15, 2007, 12:29 AM:

Thanks for your reply's guy's. I am sure now by what has been said that this is a transfer problem, as Kev has suggested. It appears on some of the cartoons throughout the Disney Treasures collection, although not on every cartoon. It is a shame as it pulls my attention away from enjoying the cartoon. The old mill has been remastered and is stunning, although i have a 8mm print i enjoy more.


Chris.

---
Posted by Graham Ritchie (Member # 559) on March 15, 2007, 03:15 AM:

Chris
The one big advantage I have found of owning Disney Treasures on DVD, is that it helps me pick my next Silly Symphony from Derann on Super8, my latest "The Ugly Duckling" my favourite "Woodland Cafe" The quality of cartoons on film including all my old Walton Tom and Jerry are in a league of there own, I never use video projection for cartoons "Yuk" it just aint natural.


Graham.
---
Posted by Chris Quinn (Member # 129) on March 16, 2007, 01:25 AM:

Graham,

I know what you mean, although it is difficult to say when it comes to colour. Some 8mm prints i have had do not do justice to these technicolor cartoons. Try getting a Sorcerers Apprentice that has not turned. This is one i would prefer to watch on projected DVD.

Chris.

---
Posted by Graham Ritchie (Member # 559) on March 16, 2007, 04:34 AM:

Hi Chris
My print of Sorcerers Apprentice is also fading a little bit but still OK, The Derann range of Silly Symphonies have excellent colour with a more natural "film" look when projected than the DVD, well worth getting.

Graham.
---
Visit www.film-tech.com for free equipment manual downloads. Copyright 2003-2019 Film-Tech Cinema Systems LLC




UBB.classicTM 6.3.1.2