This is topic Pinocchio DVD/BR in forum General Yak at 8mm Forum.


To visit this topic, use this URL:
http://8mmforum.film-tech.com/cgi-bin/ubb/ultimatebb.cgi?ubb=get_topic;f=8;t=001229

---
Posted by Paul Adsett (Member # 25) on March 15, 2009, 11:58 AM:

Well we watched the just released Pinocchio DVD last night. What can I say - you struggle for superlatives to describe this film.
From the first frame, and the glorious rendition of When You Wish Upon a Star, to the last, every frame is a stunning painting in glorious Technicolor. The artistry and devotion of the Disney animators is apparent in every frame. You realize, watching this film, that this is the absolute pinnacle of film animation and there is nothing that can approach Disney 2D animation in Technicolor. In fact it makes modern CG animation films look cheap and shallow in comparison.
Even though I dont have a Blu Ray player, I sprung the $6.00 extra and bought the Blu -Ray version, which also includes the DVD. Knowing Disney, this film will disappear off the shelves in 3 months, and wont be released again for at least another 10 years. Get it while you can. A must have.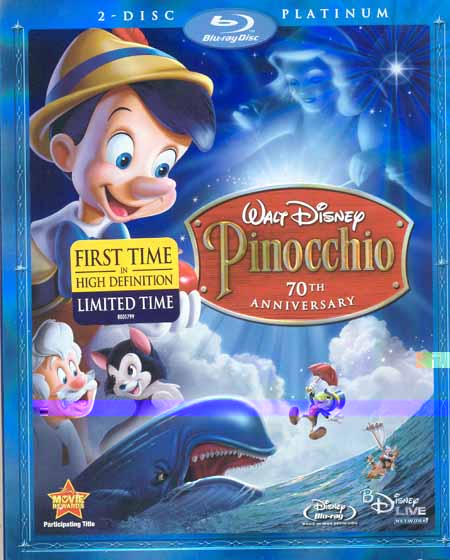 ---
Posted by Mark Todd (Member # 96) on March 15, 2009, 02:04 PM:

Hi Paul I would be very interested to hear how it projects on the panny as non HD.
I have been thinking about taking the plunge and my old philips can sort of do 1080i-ish and has 3 colours in. I wonder if that will be a step up over top drawer standard dvd which looks superb as it is.
Mine,s 2.3 million pixels 4/3.
The BR disc sound superb too.
Anyone seen the first blood one.???
Best and thanks Mark.

---
Posted by Christopher P Quinn (Member # 1294) on March 16, 2009, 10:04 AM:

Paul,
I agree with every word you said.
Pinocchio is the pinnacle of hand drawn 2d animation. The backdrops are so finely detailed you almost want to pause the film so you can admire the artistry. To think how much attention to detail was given on something that only had a few seconds allocated in the film. I would be interesting to know how much a similar cartoon would cost to make today, if it was drawn and filmed the exact same way. I would have thought many millions of US dollars. That is if you could find the talent.

Chris.

---
Posted by Paul Adsett (Member # 25) on March 16, 2009, 10:22 AM:

Hi Chris,
Disney/Pixar is releasing The Princess and the Frog later this year. This is a totally traditional 2D animation film and it will be interesting to see how well it does. Apparently Roy Disney wants to see the Company doing more traditional animation. Hopefully it will be a smash hit and will encourage Disney to return to their unique artistry. I don't know about you but I've pretty well had it with the slick modern CG animation films.

---
Posted by Tony Stucchio (Member # 519) on March 16, 2009, 08:21 PM:

I've pretty well had it with the slick modern films, period!

---
Posted by Andrew Wilson (Member # 538) on May 03, 2009, 11:28 AM:

Paul.Every you you said was true.This is a cracking disc in every department.The blu ray is something to behold.So be it blu ray or std dvd this title looks likeit was made yesterday.A real beauty of a disc,and yes it is blu ray.Andy.

---
Posted by Christopher P Quinn (Member # 1294) on May 03, 2009, 06:23 PM:

I don't think we will ever see the likes of Pinocchio again.

The DVD that comes with the blu-ray is also stunning; the difference with the BD is that detail is much sharper.

Come on Snow White.

And Warner Bothers where's my Wizard Of Oz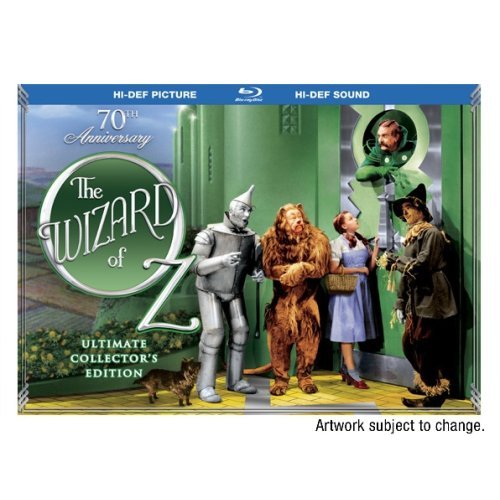 Chris.

---
Posted by Ricky Daniels (Member # 95) on May 04, 2009, 07:40 AM:

Just one thing that bothered throughout my viewing of this Blu-ray edition was the apparent lack of 'eye popping' technicolor... for me the colour was somewhat 'muted' and not as saturated as I would have expected it to be


BTW My system is perfectly calibrated so I know for sure it's not me!

[ May 07, 2009, 04:46 AM: Message edited by: Ricky Daniels ]

---
Posted by Michael De Angelis (Member # 91) on June 29, 2009, 04:32 PM:

Hi Paul,

On the Pinocchio BD, has Disney retained the multi-plane
depth effect or has it been flattened in the video upgrade?

---
Visit www.film-tech.com for free equipment manual downloads. Copyright 2003-2019 Film-Tech Cinema Systems LLC




UBB.classicTM 6.3.1.2