This is topic The Drive-In Experience in forum General Yak at 8mm Forum.


To visit this topic, use this URL:
http://8mmforum.film-tech.com/cgi-bin/ubb/ultimatebb.cgi?ubb=get_topic;f=8;t=001396

---
Posted by Steve Klare (Member # 12) on August 16, 2009, 10:22 PM:

The Drive-In Experience

I've had the urge to go to a Drive-In Movie for a couple of years now. The very first time I went to a movie it was a Drive-In while on vacation with my parents as a little kid. I was five then, but I still remember it. I have my own son now, and I wanted him to experience this while it's still possible.

The problem is at least where we live; the Drive-In Theater is an extinct species. Forty and fifty years ago there were many of them on Long Island including one of the world's largest. Yet part of life on an Island is understanding finiteness: sooner or later you will reach the shore and run out of land. Especially on the New York City end of the Island, this means land and the taxes based on it are expensive and businesses that don't do well on a dollars per square foot basis are going to wind up under a shopping mall or a housing development sooner or later. This is deadly to a weather dependent business that has to go dormant even on nice days simply because the sun is up.

Long Island's last drive in theater closed up in 1998, and is now a multiplex next door to a Home Depot (as if we didn't have enough of those already…). When we moved to our home in Suffolk County there was still the ticket office and screen of what had been been our own local Drive-In, but soon it became a strip of retail stores. The conventional wisdom is a nearby indoor multiplex killed it off, but I doubt it would still be there regardless.

It's kind of sad to see places like this go. So many people had happy memories of friends they'd had there growing up, of old romances long gone, of really cool first cars now replaced by family cars (with loan payments and rugs saturated with chocolate milk). The odds are not good that the same will be said of the supermarkets, stores and fast food places there today. ("Do you still remember the first time we went to Sears? Why, yes! We bought a dishwasher!")

So when we go on vacation in other parts of the country, I try to find a drive in movie. It hasn't been easy, the last few years we've found them but not close enough to make driving there worthwhile. This year we finally hit paydirt: we went camping up in the Lake Champlain region of Vermont. I found the Sunset Drive-In in Colchester, just North of Burlington.

http://www.sunsetdrivein.com/

The theater is in nice shape: everything was either well painted, nicely landscaped or recently scrubbed. They have recently added two new screens and even though it was a week night, attendance was pretty good. It seems like a going concern operated by people that care about it.




There is a snack bar there with that traditional deadly kind of fast food these places are famous for: hot dogs, nachos, French fries: all with optional day-glo orange cheese and fried in grease that they've been cultivating since the 50s. It could give even a life-long vegetarian a coronary in one sitting! We held it to just popcorn and sodas: I'd like to see my grandchildren someday!

There were a lot of people there well before sunset and the place was both active and sociable. There is a playground under screen one, and miniature golf. They both bought us a couple of minutes occupying our kid! There was a scattering of restored classic cars, and a lot of people tossing Frisbees around and playing small games of soccer and softball.

The sound system is FM stereo, but there are still two speakers on poles at the back of each auditorium(?), whether for tradition or just in case an Amishman shows up who still doesn't have FM in his wagon. I saw no cars next to them that night.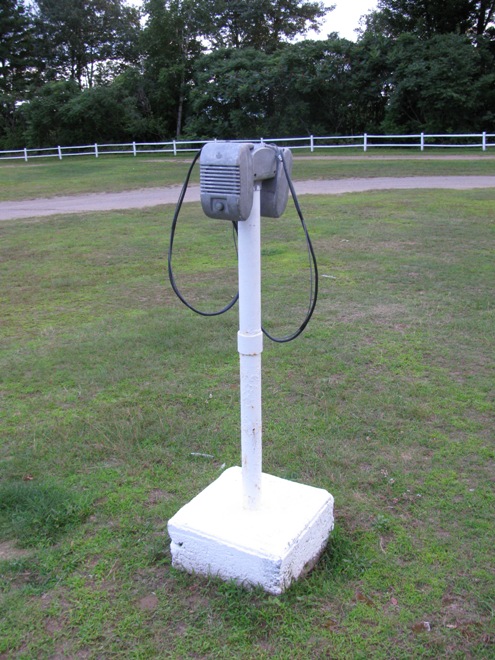 There is also WiFi, I guess so you can go on the IMDB even while you are watching the film!

The show was "Ice Age 3" with a start time of 9:30 PM. We were there early, so we had a 20th century problem: how do you keep an active six year old quiet in a motionless car that last half hour before the sun goes down and they roll the film? The 21st Century provided an answer. Our car has a DVD system for the rear seat passengers, so he got a "movie" before the Movie.

This thing of watching a movie outdoors is a different kettle of fish than sitting in an air conditioned theater. It takes a sunset to make the movie possible, but sunsets often bring out mosquitoes too. The solution is to shut the windows, which means sooner or later they fog up and you can't see the movie. Next time we will bring repellant and leave those windows down!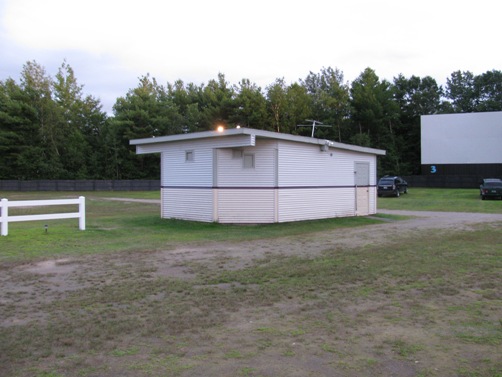 It's also a lot more interactive Cinema experience than normal. Remember: you are providing the last stage of the sound system. So just like at home with our projectors and audio systems I got to twiddle controls: bass, treble, balance, fade, reverb and some others I'd never even heard of before!. Over and over again I worked on dialing it in. I got it closer and closer to Audio Perfection, but had to stop because 15 minutes into the feature my Beloved made a motion like she was going to smack my hand if I reached for that dashboard again (I was so close!). It took my usual theatrical experience of obsessing on (other people's) scratches and specks to a whole new level! What was the story on screen?…I'm not entirely sure!

It turns out that just because you are at the drive-in, it doesn't mean you are confined to your car. The bunch on one side grabbed some lawn chairs and sat in front of their car with a boom box for audio. The minivan a few spots the other way parked nose away from the screen. They opened their tailgate and watched from the cargo bay. Some deployed sheets of plastic in case of rain, but structures exceeding the height of the vehicle are against the rules! We were first-timers so we just kept to the passenger compartment.

Another interesting note concerns leather seats: If you have a car with leather seats and a hyperactive kid, count on missing a lot of the dialog unless you can dress him in some sort of anti-acoustic pants!

Just about the time "Ice Age" came to a close, our kid climbed back into the third row seats, which we'd already set up with his sleeping bag and pillow, and was soon asleep. This is exactly what my parents did with me when I was little: kind of neat!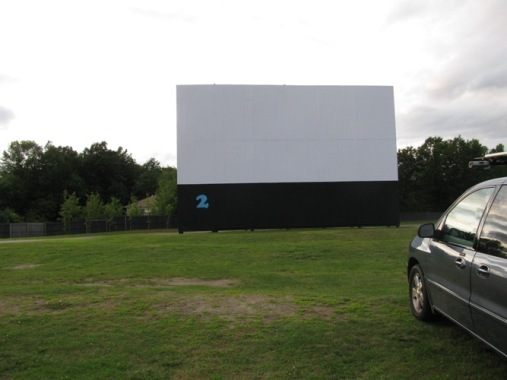 So is the Drive-In a better way of seeing a movie? No, it's not! In a regular auditorium the sound is better and you aren't seeing the picture through a bug splattered windshield (Note to self: bring paper towels and Windex next time.) You are also isolated from the rest of the audience and the right crowd adds to the movie. It is nice if you are a family with small kids or if you are 19 and on a date (you know…heh-heh! ) because you have your own little space. It's kind of a compromise between sitting in your living room and watching the tube and going out to a movie. It's almost public privacy!

Overall it was worth doing simply because it's a unique species of movie theater and an old tradition offering an experience beyond just seeing the movie (…which was OKish, I'm not asking Derann to print it up for me.).

I liked doing it; I'll do it again too!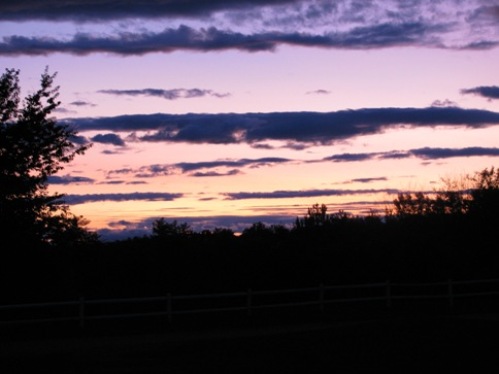 [ June 16, 2010, 11:57 PM: Message edited by: Steve Klare ]

---
Posted by Paul Adsett (Member # 25) on August 17, 2009, 10:22 AM:

Thanks for that great write up Steve. It brought back many happy memories of when I lived in Williamsport Pa. and my wife and I would frequent the local drive-ins on a weekly basis. Both drive-ins were a few miles out of town, and there was nothing better than watching a movie outdoors on a summers evening in that beautiful Pennsylvania scenery.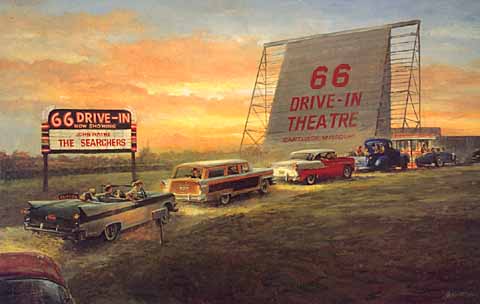 ---
Posted by Mike Peckham (Member # 16) on August 17, 2009, 11:03 AM:

Steve, that was a great write up, have you thought about submitting it to FFTC magazine for publication there?

Thanks for sharing it with us.

Mike
---
Posted by Jean-Marc Toussaint (Member # 270) on August 17, 2009, 11:08 AM:

Thank you Steven, great story.

I remember my first drive-in experience in Los Angeles back in the eighties. I saw "Shakedown" and "The Serpent and the Rainbow". The place still exists, by the I5, driving to Buena Park. They use it for swap meets now.

---
Posted by Michael O'Regan (Member # 938) on August 17, 2009, 12:52 PM:

Fantastic.

---
Posted by Steve Klare (Member # 12) on August 17, 2009, 03:01 PM:

Thanks for your kind comments!

Mike, I sent the article to Derann. Let's see what they say.

In a regular cinema you get an occasional speck in the picture, with this one every so often a bird or a bat flew across the screen!

---
Posted by John W. Black (Member # 1082) on August 18, 2009, 12:17 AM:

There is a great Drive In in Vineland,N.J. It's about 3 hours from LI.

---
Posted by Steve Klare (Member # 12) on August 18, 2009, 05:47 AM:

Hi John,

We had our sites set on that one when we stayed at Cape May in '07. It never happened due to vacation overload!

---
Posted by David Kilderry (Member # 549) on August 18, 2009, 08:41 AM:

Steve, I think you refer to the great lost Valley Stream Drive-in on LI.

Another monster that I once went to was the giant Los Altos down near Long Beach, CA. That place was huge.

Our largest here were the massive Metro Twins (yes MGM built drive-in in Australia) they held around 1600 cars. The Brooklyn Drive-in also here in Melbourne held 1100.

Our drive-in Lunar Drive-in Theatre holds around 1000 cars and has three screens. It is busy all year round....unlike drive-ins in NY!

The Ford-Wyoming drive-in in Detroit is open all year round and uses in-car heaters. Being close to Chrysler and Ford plants and their shift workers helps keep this place running.

---
Posted by Steve Klare (Member # 12) on August 18, 2009, 11:39 AM:

David,

Have you been to the land of my birth?

The Drive-In Theater in Valley Stream was about 5 miles from where I grew up. My Mom recently told me that when my sister was little the three of them used to go there quite a bit. I have no memory of it because around the time I was born my Dad took a night job and we didn't go to movies for a long time. apparently it lasted there until the mid 1970s, but by the time my friends and I got licenses and cars in the early 1980s it was paved over and forgotten. I remember seeing "The Shining" at the multiplex that replaced it just before I graduated from High School in 1980.

The theater I was actually talking about was the All Weather Drive-In in Copiague. This was well beyond my range back at the time, but I've heard a lot about it. It had space for 2,500 cars, a separate indoor theater, a small amusement park, a sit down restaurant, a snack bar and a shuttle train so people could ride around the 28 acre site. Adjacent to it was a small zoo and across the street was a roller rink. It is all gone now.

Today it is the site of....a Home Depot!

---
Posted by Mitchell Dvoskin (Member # 1183) on August 18, 2009, 03:08 PM:

The closest drive-in to New York City that I am aware of is in Warwick NY, just above the New Jersey border. They seem to do a good business.

Warwick Drive-In

---
Posted by David Kilderry (Member # 549) on August 19, 2009, 08:47 PM:

Steve, don't forget the Coram, Centereach, Massapequa, Nesconset, etc etc all gone now.

The nearest to NYC was of course the old White Stone actually in The Bronx, surrounded by high rise, who all got a view!

Yes Steve, I have been to the US a few times over the years for work and pleasure.

At least NY State has a few options if you want to go for a drive. Now Indiana and Ohio, they are still blessed with dozens of them.

Germany, France, Italy, Canada, South America, Africa, Asia and almost every other part part of the world had drive-ins too except the UK and NZ!

To people from these countries I always explain that a drive-in was not a novelty made up by Hollywood like in Grease; for us it was a way of life, how we saw movies all the time. The playground, the snack bar, the lawns under the screen for cricket and football.

Three left now here in Melbourne and the others in this state of Victoria that once had 60 are all gone.

---
Posted by Steve Klare (Member # 12) on August 19, 2009, 09:45 PM:

I did a count: there were actually at least 16 drive in theaters in our 100 mile plus Island, and now there are none.

There is going to be a one for one night only tomorrow night at a local beach. We are going, too! (I'm not too hopeful for reel film.)

The interesting thing is even though so many Drive-Ins are gone, sometimes that unique footprint is still left behind.

Google Earth fans try these coordinates:

41 05' 42.03"N 72 23' 14.42"W

This is the Skyway Drive-In in Greenport, Long Island, New York: dead since 1975. The screen stood for years afterwards until it burned down.

These will drop you right on the projection house.

---
Posted by Michael De Angelis (Member # 91) on August 19, 2009, 11:46 PM:

David,

The Drive-In that was in Valley Stream, Long Island, N.Y. was named
the Sunrise Drive - In, because is was on Sunrise Highway in Valley Stream.
The screen edifice was towering and looming on an angle with its back facing Sunrise Hwy. It reminded me of a huge tail fin on those great classic cars from the 1950's. The sign was built onto the back of the screen with neon lights.
Sunrise Drive-In
It is now the location of a Multi-plex chain of theaters.

Also years ago on Long Island there was the 110 Drive-In, located on Route 110 in Farmingdale, L.I., N.Y.

If my memory serves me, the 110 Drive-In was huge. But then again, I was very young.
There was a very small children's amusement park on the facility, that was equipped with a small diesel train that had passenger cars that kids could ride in.

---
Posted by Steve Klare (Member # 12) on August 20, 2009, 08:05 AM:

Michael,

I've been finding out a lot about these local drive-ins since I started this whole thing. A friend who grew up in Suffolk told me about the 110 Drive-In. He said you could see it from the Expressway.

I started working on Rt. 110 in 1991, and the theater was long gone. Do have any idea where it was geographically or what is there in place of it now? (I know this one isn't a Home Depot. There had to be one that wasn't somewhere!)

This is the "Drive-In" for tonight:

http://www.americantowns.com/ny/huntington/news/e-t-the-extra-terrestrial-movie-204866

---
Posted by Steve Klare (Member # 12) on August 20, 2009, 10:27 PM: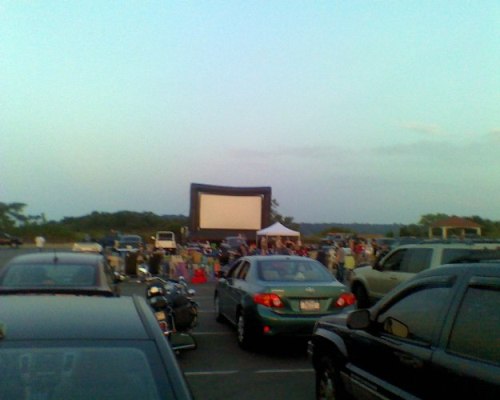 Well, it was an inflatable screen maybe 8' by 15' and a humungous video projector on a flat beach parking lot, but it came pretty close.

The night started out overcast, but as the show went on the clouds moved out and the skies were spectacular! There was even a scattering of meteors.

In a small way, and just for one night, we had a drive-in again!

---
Posted by Michael De Angelis (Member # 91) on August 20, 2009, 10:52 PM:

Steve,

If it was off of the L.I.E. expressway, then it's where the Marriott hotel is situated.
But there is something about the Skydrive golf range in Mellville that reminds me of the huge space that the Drive-In occupied. I guess that there is someone in the town of Babylon that could verify this? I will also inquire with some friends.

The last flick that I believe that I saw at the 110, was The Boatniks.
I heard that one Drive-In, located in Copaigue, was colossal.

Thanks for sharing the picts.

---
Posted by Steve Klare (Member # 12) on August 21, 2009, 01:03 PM:

Confirmed!

http://cinematreasures.org/theater/977/

What a great spot for a theater! People could have come from 20 miles away in either direction and been there in a half an hour. (Without traffic, of course!)

I attended a lecture on transformer design at that hotel once. All things considered, I'd rather have gone to a movie!

---
Posted by Terry Lagler (Member # 1110) on August 21, 2009, 01:24 PM:

Great topic Steve.
The Drive In was always a special memory for me as my parents took my two sisters an me often. Funny I have clear memeories of being in the back seat in our pajamas watching the Poseidon Adventure and I think that was about 74. Also remeber that downpour of rain during The Empire Strikes Back!!

There are still about 3 Drive-Ins in operation within a 45 min drive from my home - one's been going since the 40's!!

Just returned from a trip to New Brunswick (go yearly) and discovered the Neptune drive-in had closed, sad.
Love that original sign!

Glad I took these pictures through the years


The old snack bar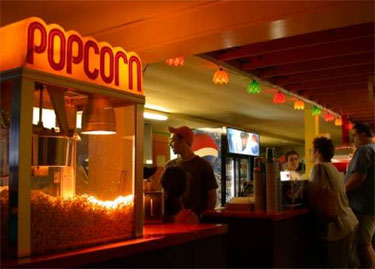 ---
Posted by Michael De Angelis (Member # 91) on August 21, 2009, 01:33 PM:

Steve,

110 Drive-In
As a child,I would ride this train before the movie.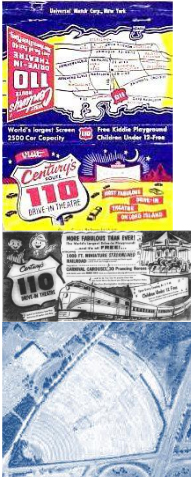 David,
Enter Page 114 in the field box,
to link to Worlds biggest movie screen at the
Sunrise Drive-In,located in Valley Stream.
( probably the largest when it was built?)

Worlds biggest movie screen

Before and After picts of the
Westbury Drive-In,
in Westbury, Long Island, N.Y.

Pict 1

Pict 2

Pict 3

---
Posted by Steve Klare (Member # 12) on January 05, 2010, 12:45 PM:

This Just In:

The UK has recently opened it's very first Drive-In Cinema on the grounds of Pinewood Studios!

http://www.pinewoodgroup.com/gen/DriveIn.aspx

Don't know if it's a permanent thing, but it sounds good to me!

---
Posted by Gian Luca Mario Loncrini (Member # 1417) on January 05, 2010, 12:53 PM:

Pictures from the Heaven
...

---
Posted by Steve Klare (Member # 12) on June 06, 2012, 05:43 PM:

Today's Google Doodle

79th Anniversary of the First Drive-In Theater

Huzzahh!!!

(Why it couldn't wait until 80 I don't know!)

---
Posted by Pasquale DAlessio (Member # 2052) on June 06, 2012, 06:28 PM:

Steve

Great story! I so enjoyed reading it and looking at the terrific photos.

I remember back in the day before the "carload" price we use to sneak our friends in by hiding them in the trunk! Then we would divy up the ticket price between all.

Those were the days!

PatD
---
Posted by Steve Klare (Member # 12) on June 06, 2012, 09:06 PM:

Thanks Pat,

Inspired by the experience I have made it a goal to become the best car-less, indoor, Super-8, drive-in theater on the block!

(I think I have a real shot at it!)
---
Posted by Tim Robinson-Ayer (Member # 2521) on June 07, 2012, 08:16 PM:

As a kid I had a blast seeing Star Wars at the drive in, but my real coup was seeing a double feature in Wausau, Wisconsin. The double bill was Sharkey's Machine and Bladerunner. I was about 16 and just had to see anything new with Harrison Ford and that was the only way to see it there. Suffered through the Burt Reynolds movie, then, as soon as Bladerunner started it also began to rain. It rained for most of the movie, me, stuck in the car with the crappy speaker sticking my head out of the window every now and again to try to see better what was happening. It didn't rain hard enough for them to shut down the show but just enough to make it hard to see a lot of what was happening.

---
Posted by Steve Klare (Member # 12) on June 08, 2012, 09:54 PM:

So the Quest continues:

Last Summer I got my family (and a couple of friends) to camp up in the Sebago Lakes region of Maine. This was the perfect storm of vacations for me:

1) It is the former home of the defunct Bridgton and Saco River narrow gauge railroad, so I'd have a couple of days to putter around and find relics (it's been gone since 1941, not a lot of relics remain...)

2) The campground was on a lake, so I'd get to haul my canoe down to the water at will.

3) The Bridgton Twin Drive-In was just up the road.

Playing that week was this double feature:

First up was Harry Potter and the something or other. You see I've never been into young Harry and all I knew about him at that point was he wears glasses and is somehow tied into the occult!

Second on the bill was "Cowboys and Aliens". This one really interested me because I wanted to see how they pulled off mixing a Western and a SciFi.

Our friends came to the rescue on "Harry". The days before we rented several DVDs and watched a bunch. I'm still not into it, but at least I felt more prepared (Since when has watching movies become so much work?)

-And so we went one night:

The Bridgton Twin is quite nice: they've recently added a second screen and the FM sound was clearer than the Sunset in Vermont two years before. I tuned in the stereo in the van and it sounded good without any twiddling at all.

Five of us went in that same minivan. This time we brought chairs, cranked up the stereo, opened the sliding doors and sat out under the stars.

What follows is a story of how theory collides with reality, and theory (as usual) loses.

The theory was we would sit through "Harry" and I would get to see "Cowboys and Aliens" under the stars basking in that rare Drive-In Movieness.

The reality is in August it's getting towards Fall in Maine and it gets pretty chilly at night. (Someone once said "Maine has but two seasons: Winter and August.")

Not very long after things started to get kinda interestin' in "Cowboys and Aliens" my wife made this announcement:

"Steve, I'm cold!"

-and not too long after that:

"Steve, I'm FREEZING!"

I couldn't really offer much of a defense, because frankly so was I!

-and ever so reluctantly I cranked over all six cylinders (Got the big block: 4.2L!!) and headed back to camp.

Maybe out of guilt, she bought me the DVD for Christmas. I didn't get to see how them fellers did against them bad compadres from another planet until January! (This is a record for me: five months to finish a feature!)

I thought the area was as pretty country as I've ever seen, so I think I will encounter the Bridgton Twin again.

-maybe next time with a thermos of coffee, a blanket and a sweatshirt!

The Bridgton Twin on Facebook


]

[ June 08, 2012, 10:59 PM: Message edited by: Steve Klare ]

---
Posted by David Kilderry (Member # 549) on June 09, 2012, 01:39 AM:

Steve, here everyone just starts the car and idles it for a while. The heater warms the car then you are OK for 30 mins or so. We are in winter here now (OK not as cold as the NE US) and cars just start up to keep warm.

The same thing happens in Summer, cars idle to use their air conditioning. Many may think that's crazy from your part of the world, but here hot nights can still be over 100 at 10 PM.

Check out what we are running tonight: www.lunardrive-in.com.au

---
Posted by Tommy Woods (Member # 2437) on June 09, 2012, 04:08 AM:

why don't we have these over here?

---
Posted by Steve Klare (Member # 12) on June 30, 2014, 09:52 AM:

I've had a new Drive-In Experience

-but in an entirely different way than usual.

A couple of weeks ago on Paul Foster's site I saw this:

"PATHE PICTORIAL - AUTO CINE 1X200 £12.99. A look at a drive in cinema in Italy with clips from My Fair Lady"

-one of my favorite film genres: "films about film". This means my enjoyment of films gets multiplied by watching a film about it. For me finding a film about films about films would be nirvana! (May need to make this one myself, though...)

I had to have this film, and as of a few days ago I do.

From what I've been able to find out this one was built near Rome in the mid 1960s. It is long closed but still in place.

Here are the map coordinates:

41.755912, 12.364648

Google Earth shows the field intact, but the projection house demolished and the screen roughly half dismantled.

Here's the film that started it all:

Pathe Pictorial - Auto Cine

(Note that first generation Mustang: even these days a drive-in Theater just doesn't look right without some vintage Detroit Iron! If you can find one that's open, you will often find a few restored cars as well.)

---
Posted by Steve Klare (Member # 12) on July 13, 2014, 02:05 PM:

Back to the Bridgton Twin

I am just back from a week long vacation in Maine's Sebago Lakes. We rented a house on Little Sebago Lake. Even though it is over ten miles long, this one gets called "little" because it is in an area of many lakes, and many larger ones too. We did most of the things I love to do when I'm there: relax by a campfire many nights and go grab some lobsters and fresh corn to eat out on the porch. As often as I wanted I pushed off in my solo canoe and coasted around the bay our house overlooked. There were two loons with a chick going about their business in the very vocal way these birds are famous for and I saw them a lot. One afternoon they lost and then found their baby and I'm sure people knew about it a mile down the lake.

Another thing I love to do when I'm in the neighborhood is take in a drive-in movie. Maine has a pretty decent crop of operating drive-ins. Based on what was showing and who I was with, we chose to return once again to the Bridgton Twin.

This was kind of a bittersweet return. When we were there in 2011, the Twin was showing 35mm. A year or so later they went digital, simply as a matter of survival in these changing times.

Along with the conversion, they completely tore down their snack bar and built a new building containing the projection house for screen #1 plus a new snack bar and very nice comfort facilities.

Opposite the snack bar there was this pleasant surprise:




This was a 35mm machine from screen #1, along with what I think are the power supplies for the lamp house. It's interesting to see it set up for reels top and bottom: I'd imagined all modern 35mm projection was done with a platter.

My very sharp-eyed son saw some film inside it and declared it the penguin dance sequence from Mary Poppins (-the one that Pamela Travers allegedly hated so much according to Saving Mr Banks)

It is still equipped with its anamorphic lens:




It's nice to see that even after the conversion, the management of the theater has enough reverence for the history this machine represents that they found it a place of honor. Being that it's a family business I bet there are some personal memories as well.

It's interesting that watching a Drive-In movie doesn't involve the car nearly as much as you might suspect. We, along with most of the audience found it much more comfortable sitting on lawn chairs behind the car, with the front bumper facing away from the screen, the rear hatch open and the stereo turned up. (A decent portable radio with fresh batteries might be nice next time…)

The poles for the hard-wired car speakers are still there at screen #1, but the speakers themselves are long gone. Screen #2 has been FM sound from the start, so there were never any poles there.

We learned the lessons of 2011 well: as much a July day as it started out to be it got pretty chilly after sunset. A sweatshirt and a fleece blanket each made everything right to enjoy that 75 foot wide screen under a starry Maine sky just fine and finish the movie too.

As far as the digital conversion goes, the reality of our time is that this change is coming: like it or not, ready or not. The family that owns this place doesn't have the luxury to stay 35mm and still be an operating cinema. As much as I love film, I can't be so much of a purist that I'd boycott them for doing what they have to do to stay in business and put food on their table.

Besides, as much as I enjoyed the fresh local corn, I'd rather see it be a drive-in theater of any kind than just another cornfield.


---
Posted by Brad Miller (Member # 2) on July 13, 2014, 07:48 PM:

Actually digital offers a boost in quality to drive-ins (assuming they do it right). Here is an un-doctored photograph taken while running a test show of Back to the Future at a drive-in I installed last year. Note the drive-in screen's backdrop is the downtown skyscrapers, yet the digital was easily able to overcome the ambient light. That screen is over 80 feet wide.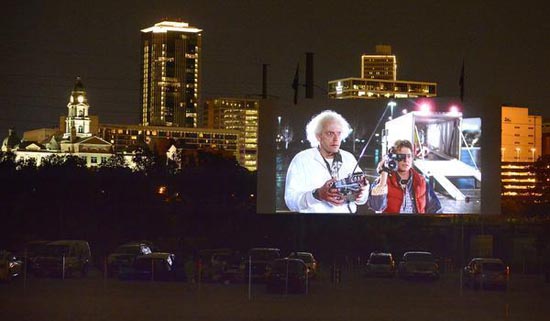 ---
Posted by Steve Klare (Member # 12) on July 13, 2014, 08:05 PM:

Yes, the picture was very good. My regrets run purely towards the sentimental side.

About the biggest gripe I had with it was nothing to do with the projector. Their screen surface is a mosaic of white panels a couple of feet on each side and quite often the gaps showed in the brighter sections of the picture.

I thought a couple of guys, a couple of ladders, a couple of tubes of white caulking and a couple of putty knives might make a world of difference here.

-at one point there was a bat flying back and forth scross the screen, probably catching bugs attracted by the beam, but that was kind of interesting!

---
Posted by John Hourigan (Member # 111) on July 13, 2014, 08:23 PM:

Wow! -- That's an impressive picture, Brad. And the quality of the image on the screen looks outstanding!

---
Visit www.film-tech.com for free equipment manual downloads. Copyright 2003-2019 Film-Tech Cinema Systems LLC




UBB.classicTM 6.3.1.2