This is topic 60 Years of Cinerama in forum General Yak at 8mm Forum.


To visit this topic, use this URL:
http://8mmforum.film-tech.com/cgi-bin/ubb/ultimatebb.cgi?ubb=get_topic;f=8;t=002296

---
Posted by Bill Brandenstein (Member # 892) on September 28, 2012, 03:48 PM:

A fun morning! Just attended a Hollywood world premiere... of the first true Cinerama film shot in 50 years. What's the big deal about Cinerama? When it opened precisely 60 years ago on September 30, 1952, it became the first commercially successful widescreen movie presentation. Until Imax came along, it had the largest movie image area on film. Also notable was the use of 7-channel stereo sound, which was also a brand new thrill to the public. It's hard to imagine a world accustomed to 1.33:1, mono film seeing that for the first time. Eventually it would be displaced by 'scope, and especially 70mm, but for a decade it held many notable distinctions, and gave many a thrill.

This morning's premiere was the kickoff to the weeklong 60th Anniversary Celebration of Cinerama, at Hollywood's Cinerama Dome, which will be the home to 12 3-strip, digital/restored, or 70mm Cinerama pictures over the next several days.

So the premiere was a 30-minute tribute called In the Picture, taking its cue from the Cinerama motto (which puts YOU in the picture!). A travelog of charming, quirky, and old-fashioned Los Angeles tourist sites, it's a bit corny -- which is to say, precisely and appropriately in the spirit of the vintage Cinerama documentaries. It was directed as a labor of love by Cinerama historian David Strohmaier, and hosted by Cinerama/Pacific Theaters guru John Sittig. Great fun. And yes, the sweeping vistas are spectacular to see, for example the ocean sailing segment featuring the Irving Johnson and Exy Johnson (magnificent sailing ships) of the TopSail Youth Program. But the wide-angle view of simply driving a twisty mountain road in Griffith Park is dizzying enough.

All the film's cast and crew, plus volunteers from TopSail, were present at the screening.

We then got to see a terrific making-of video documentary, The Last Days of Cinerama, which makes you appreciate even more the perilous and humorous work it was to deal with a huge camera weighing hundreds of pounds - and it doesn't even have an accurate viewfinder! (There is a scope on top that suffers from parallax and limited vision, so the only way to be certain of what would be seen was to remove the film magazine and look through the aperture. No wonder the format tanked after "How the West Was Won." But I digress.)

If any forum members were present, sorry that I missed you. Of the people around me, I was the only one who lives somewhat locally. The others were from northern California, and one came all the way from Hawaii, wanting to relive the thrills of his youthful viewings at the Hollywood Warner theater.

John Sittig told me that the print of Search for Paradise came from John Mitchell in Australia by boat, and Wonderful World of the Brothers Grimm from the Bradford, England Media Museum, with shipping costs of several thousands of dollars! And we thought shipping for eBay wins could be expensive!

[Edit:] Some pictures have now been added below.

[ September 29, 2012, 02:09 AM: Message edited by: Bill Brandenstein ]

---
Posted by Larry Arpin (Member # 744) on September 28, 2012, 06:17 PM:

I'm a few hours away from seeing How the West was Won. I saw This is Cinerama maybe 10 years ago when it was first remastered at Crest lab, which is no longer in business. They also finished HTWWW. I did see a trailer for it in Cinerama.

I also just saw The Master in 70mm at the same complex, the Arclight. Not a film for everyone but the image was incredible. I'll be surprised if Joaquin Phoenix doesn't win this years Oscar.

---
Posted by Bill Brandenstein (Member # 892) on September 28, 2012, 07:15 PM:

Larry, I hope it's a great evening for you and that you have good seats! I saw HWWW there about 8 years ago and hope to again eventually.

What a cutthroat world it is for technology-based businesses. I'm stunned that Crest is gone. They did replication for us within the past decade, plus so many of those lovely airline prints we talk about here came from them. Wow.

I'm not really interested in seeing The Master, so maybe you can tell us: how they ran digital sound with the 70mm print (non-DTS?), and how in the world did the producers of that film convince the powers that be to do it in 70, particularly when it wasn't poised to be a hit? Prestige, maybe? I'd be interested in your opinion.

---
Posted by Bill Brandenstein (Member # 892) on September 29, 2012, 02:04 AM:

Here are a few photos to look over. This is the view from the screen to the back, with Able, Baker, and Charley booth windows visible:



This to-the-screen view is neither wide enough, nor bright enough to do the place justice, but it's the best my camera could do. Projector realignment is being performed in preparation for a digital screening of South Seas Adventure: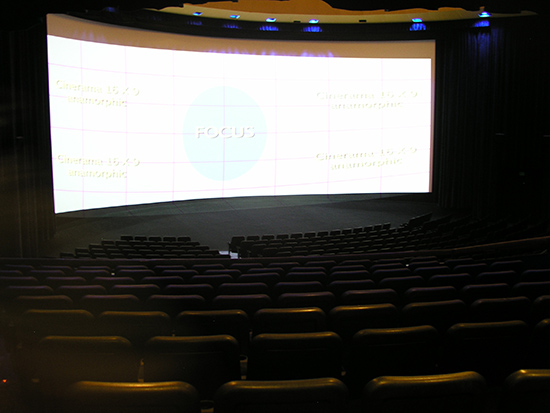 Film critic Leonard Maltin and Cinerama guru John Sittig are looking over Cinerama Camera #3, used to make the new movie: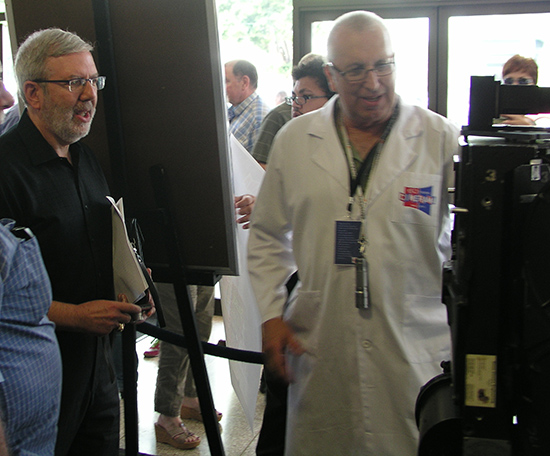 This is the writer-director of "In the Picture," noted Cinerama historian David Strohmaier, standing in front of one of the two amazing display cases full of Cinerama memorabilia: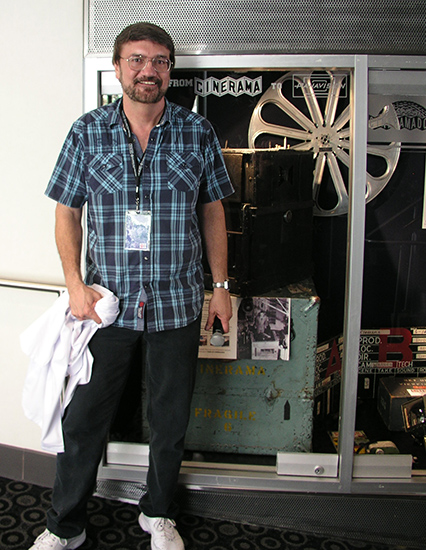 Finally, at the Arclight Hollywood there's a huge gift shop, an area of which was selling Cinerama-related t-shirts, glasses, and other gifts, but I thought most surprising were original Cinerama projector lenses (they have red caps but these are sperical, not anamorphic). These lenses weigh 20 pounds or more, for $99.95:



There are more and more photos I could post of people, memorabilia, and other technical stuff, but I think that would get excessive.

---
Posted by Larry Arpin (Member # 744) on September 29, 2012, 02:30 AM:

It was a grand evening. There were 2 from the movie, the head stuntman, I believe he is on the DVD commentary, and Stanley Livingston, who played the young son of George Peppard. They told stories of the director, Henry Hathaway, who Stanley described him on his first meeting as Santa Claus, then when he worked with him he was totally different and yelled at him when he did something wrong. But said the director took him out to lunch and went to a toy store and bought him a whole rock collection which was about $200. The stuntman said the director treated the stuntmen very well. But the director's favorite was Carroll Baker, didn't yell at her and called her 'Baby Doll', a character she played in the fifties.

The film looked fabulous, especially for being 50 years old. The print was struck in 2001 and I remember Crest shut down not long after that. Ron Stein who owned Crest also owned a DVD/CD duplicating business so I think since business fell in the lab he decided to close it.

I'm not sure how the sound for the 70mm The Master was done but it was great. I'll do some asking maybe on the 35mm forum.

---
Posted by John Clancy (Member # 49) on September 29, 2012, 03:45 AM:

We were allowed to film all around the projection box in August 2011. At the time Cinerama was not being used but all the equipment was still in place. Gariana was the projectionist who talked us through it all and a real enthusiast. The Arclight next door was going wholly digital the following Monday so it's good to hear they're still screening 70mm. They still had a complete 70mm title made up on the cake stand in the Cinerama Dome box but none of us knew the film and I've long since forgotten the title.

It was a real treat to be allowed to film at such an historic venue and a spur of the moment thing. We were in California to film completely unrelated things so it made a nice break to the usual workload.

Keith Wilton is working on a new Cinerama DVD so I've given the video to him for possible inclusion. It was very dark in there but it came out okay and at least I got it.

---
Posted by Joe Taffis (Member # 4) on September 29, 2012, 08:46 AM:

Thanks for the info guys, and thanks Bill for posting this thread and the pics. I wish I could have been at those screenings, must have been awesome! I definitely would have came home with one of those cinerama lenses for my movie room
---
Posted by Graham Ritchie (Member # 559) on September 29, 2012, 02:08 PM:

Bill

Thanks for posting all of this....brilliant


Graham.

---
Posted by Akshay Nanjangud (Member # 2828) on September 29, 2012, 03:22 PM:

Very good thread, guys. Liked this very much.

---
Posted by Graham Ritchie (Member # 559) on September 30, 2012, 01:12 AM:

Bill

Did you manage to see "South Seas Adventure" the reason I ask is I have never seen the film, but given the chance I would, just to watch what was shot in the NZ segment alone would be something, that was taken on an old and very overloaded Auster.
There is quite a story to that part of filming many folk would not be aware of. It was taken from his the book called Ski-Plane Adventure 1965 by Harry Wigley who did the flying in the Auster for Carl Dudley.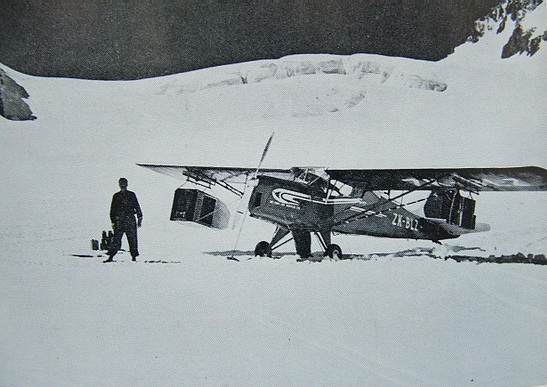 Equipped with pods for the Cinerama cameras, an Auster at the head of Tasman Glacier.

In later years I would work for the airline side of his company that he started....he was quite a pioneer.

Graham.

---
Posted by Bill Brandenstein (Member # 892) on September 30, 2012, 11:10 PM:

Larry & John, thank you for adding your interesting reports (and thanks a lot, John, for looking me up while you were here! No excuses next time!).

Graham, thanks for the photo, and I would've liked to have seen South Seas Adventure but didn't get to. However, its digital restoration means the lack of that yummy old film look, but at the same time, means it's now a highly repeatable presentation, and without the 3-panel join seams. So it will be back. In fact, all the Cinerama negatives are in the process of being scanned at something like 8K (about 100MB per single strip frame according to Dan Sullivan of Image Trends).

Anyway, that plane picture is amazing, with the 250-pound (not including case) Cinerama camera on the right wing, and what I presume is dead counterbalancing weight on the left one. What a great story. There are some other great adventure stories about their shooting expeditions, such as a capsizing with camera on board while shooting a whitewater sequence on the Indus River in Tibet for "Search for Paradise" (1957), and there was a fatality. Did that footage end up in the release? Haven't seen that one either.

---
Posted by John Clancy (Member # 49) on October 01, 2012, 02:59 AM:

Yes, sorry about that Bill. We only had a stopover in LA before heading south to do an interview so I didn't really get the chance to arrange any get togethers. As it happens we just drove past the Dome, I couldn't believe it was still going and promoting Cinerama, so we parked up and went and banged on the door. It was pretty early but they were really friendly and so enthusiastic.

---
Posted by Oemer Yalinkilic (Member # 86) on October 02, 2012, 05:09 PM:

Oh, I wish I was there. The Cinerama Doom looks perfect for Cinerama.
I was last spring in Bradford England and saw first time in my Live Cinerama and this was beyond words.
HTWWW and Brothers Grimm in Technicolor and 3 Strip Cinerama is gorgeous.
Here you can see few pics from the widscreen Festival in Bradford:
http://www.filmantiques.com/festival/festival.htm

---
Posted by Bill Brandenstein (Member # 892) on October 02, 2012, 06:40 PM:

Oemer, very kind of Bradford to loan their print of "Brothers Grimm" for this week's festivites here.

Seems as though I've been down this road before, and there are a few more photos from the Dome from my post here from 2009.

But I need to add one more photo I took back then, perhaps it still looks the same now. The prints for "This Is Cinerama" and "How the West Was Won" live on a baker's rack in the open booth space between the Baker and Charley projectors: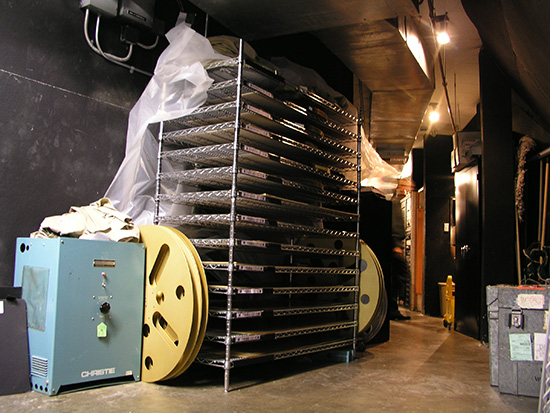 That is one "wide" projection booth, as you'd expect for a Cinerama house. I wonder if it's the widest ever?

---
Posted by Oemer Yalinkilic (Member # 86) on October 03, 2012, 07:15 AM:

Hi Bill,
Him we owe the Brothers Grimm Technicolor 3 Stripe print:
John H. Mitchell

---
Posted by Graham Ritchie (Member # 559) on February 11, 2015, 06:09 PM:

This is what the Cinerama camera took from its pod on the single engine Auster aircraft, that's shown in the above post. The weight and drag of all this stuff plus a 16 stone cameraman must have made this dangerous flying...however the results are very impressive. The bottom photo is of the Auster flying through what was to be later called the "Cinerama Gap"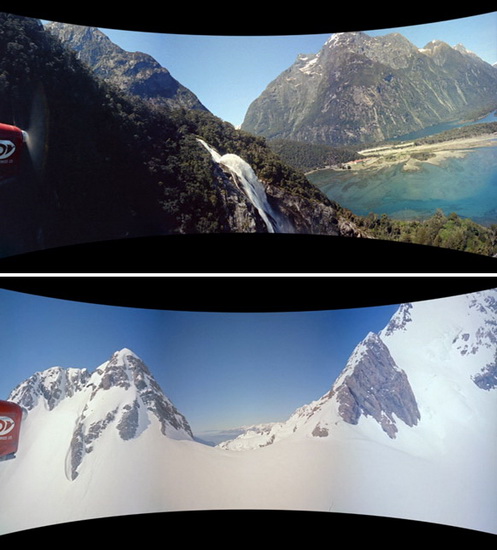 ---
Posted by Brian Fretwell (Member # 4302) on March 02, 2015, 06:03 AM:

Many years ago (1970's) the Daily Mirror newspaper had an original London Cinerama projector in a display in their foyer here is a photo I took of it. Unfortunately some light got into the camera but I have tried to get some detail back in the centre part.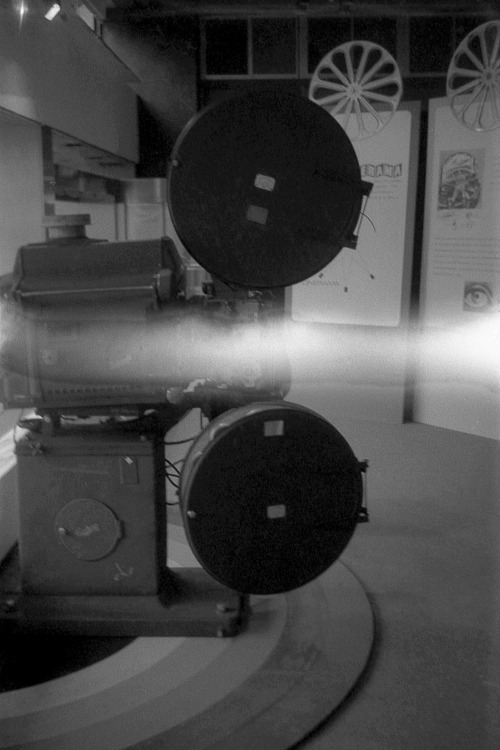 ---
Posted by Bill Brandenstein (Member # 892) on March 25, 2015, 02:10 PM:

Nice! Definitely not the same projector as the ones used at the Dome.

---
Visit www.film-tech.com for free equipment manual downloads. Copyright 2003-2019 Film-Tech Cinema Systems LLC




UBB.classicTM 6.3.1.2