This is topic Maurizio visits! in forum General Yak at 8mm Forum.


To visit this topic, use this URL:
http://8mmforum.film-tech.com/cgi-bin/ubb/ultimatebb.cgi?ubb=get_topic;f=8;t=003162

---
Posted by Douglas Meltzer (Member # 28) on July 19, 2014, 02:42 PM:

I had the pleasure of seeing Maurizio Di Cintio during his recent visit to New York. We originally met during his 2009 trip (I recall a fascinating lunch with Jon Addams), so it was wonderful to spend some time again with the gentleman from Ortona.



John Capazzo, Maurizio & Alan Rik. The Elmo in the background was trying to photobomb.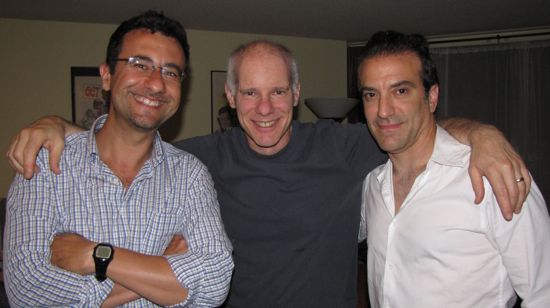 Maurizio, me, John



Maurizio & the closet o' film.

Now I have to work on my trip to Italy.

Doug

---
Posted by Paul Adsett (Member # 25) on July 19, 2014, 08:09 PM:

Amazing Doug the friendships that are forged on this forum. What great pics of great film collector friends!
---
Posted by Steve Klare (Member # 12) on July 19, 2014, 08:12 PM:

Come to CineSea and find out for yourself, Paul!

---
Posted by Paul Adsett (Member # 25) on July 19, 2014, 08:15 PM:

I am really hoping for that pleasure this year Steve.

---
Posted by Dominique De Bast (Member # 3798) on July 19, 2014, 11:37 PM:

Thanks for the pictures. By the way, it would be nice if more members could ad their pictures as it is always good to see how people look like. This forum is a modern version of a amateur cine club on an international scale.

---
Posted by Alan Rik (Member # 73) on July 20, 2014, 02:16 AM:

It was a great time! Of course Mr. Moderator has many gems in his collection and one of the highlights was the 400 ft digest of "Golden Voyage of Sinbad" from Piccolo films re-recorded into English. Only print I have ever seen with great colors and the redub was A+++.
Now if he could only tell me how to use the horrible black Derann reels as a take up spool and have it catch properly...hmmm..

---
Posted by Andrew Woodcock (Member # 3260) on July 20, 2014, 08:08 AM:

Nobody can Alan! ha ha. They were awful reels to get the film back onto, only to be outdone by the even more ridiculous 1600ft so called Supaspools (not!).

I dump everyone I ever get a print on and swap them immediately for something decent


[ July 20, 2014, 09:22 AM: Message edited by: Andrew Woodcock ]

---
Posted by Jon Addams (Member # 816) on July 20, 2014, 05:59 PM:

WOW Doug - I can't believe it's been 5 years since we had that wonderful lunch with Maurizio in New York, I wish I could have been there again.

Perhaps next trip?

Next time you cross the pond you may want to check Ortona, for in addition to Maurizio living there, that city has some great War World 2 history.

Piý belle donne!!


Jon

---
Posted by Larry Arpin (Member # 744) on July 20, 2014, 10:29 PM:

It's nice to see Alan. We've had a few deals together and he graciously stepped aside so I could buy Bug's Life recently. Thanks so much.

---
Posted by Alan Rik (Member # 73) on July 21, 2014, 04:37 AM:

Larry its the least I could do. You played such an important part of my formative teen years. I loved getting your lists and you were the only one who sent me an actual handwritten letter to my request. I still have it! I was asking about Star Wars the feature!
I was that kid who went home and daydreamed about all the Super8 films I would have. Lo and behold...many many years later...Larry Arpin from LA films is on the forum.
You have done great wonders for this hobby and for my hobby too. You are one of the good, no GREAT guys. Now I hope that gives you a warm and fuzzy feeling.

And I still have the 400ft trailer reel of Martial arts films that you produced. 5 fingers of death!! Bruce Lee...awesome!

---
Posted by Maurizio Di Cintio (Member # 144) on July 21, 2014, 07:20 PM:

Great evening! A perfect ending to my trip to USA. And Jon, you are right, Ortona is very interesting under several points of view. Have you ever been there? Anyway, we missed you.... Take care!

Thank you so much, Doug, John and Alan. I really had a good time. And it's always fascinating to see how this wonderful hobby of ours brings good people together. I hope one day I can make it to the Cine Sea: if the right combinations of dates and days off from work match properly, I'll be there!

So long from Italy to everybody!!!

P.S.: Dominique, perhaps I'll be travelling by train through Brussels this Friday, heading to The Haag to pick up some rolls processed by Frank (if he manages to do this in time): feel free to join me, in this case.

---
Posted by Dominique De Bast (Member # 3798) on July 21, 2014, 10:56 PM:

Maurizio, I would have done that with pleasure, especially as I have also to go to this city but I am on holiday in IsraŽl (in Jerusalem at the moment) until the 29 th August. PS : from Brussels to Den Haag, there is a bus (Eurolines) much cheaper than the train if you are prepared to spend about three hours in transportation.

---
Posted by Maurizio Di Cintio (Member # 144) on July 22, 2014, 03:16 AM:

Dominique, thank you for your suggestion, I'll keep it in mind. All the best.

---
Posted by Larry Arpin (Member # 744) on July 23, 2014, 12:20 AM:

Alan-Thank you so much for your comments. I really miss those days. They were so much fun.

---
Posted by Vincent Zabbia (Member # 2453) on July 30, 2014, 11:41 AM:

What a great group shot. I believe John Capazzo speaks Italian.
Am I right John? Hope you had some cheese and wine..

---
Posted by John Capazzo (Member # 157) on July 30, 2014, 02:00 PM:

si, Vincenzo. Noi abbiamo formaggio, vino y super 8 films! I said we had cheese, wine and...

---
Visit www.film-tech.com for free equipment manual downloads. Copyright 2003-2019 Film-Tech Cinema Systems LLC




UBB.classicTM 6.3.1.2