This is topic My Latest You-Tube Video in forum General Yak at 8mm Forum.


To visit this topic, use this URL:
http://8mmforum.film-tech.com/cgi-bin/ubb/ultimatebb.cgi?ubb=get_topic;f=8;t=004740

---
Posted by Graham Ritchie (Member # 559) on March 07, 2018, 01:14 PM:

Well folks Cinema 2 "The garage"
is up and running with the Bauer U4 35mm Projector working along with the platter as well last night.
Cinema 1 "Our Spare Room"
is still running as well, but thought I would be nice to take a bit of video of the Bauer U4 as well...for those that are interested here it is....
https://youtu.be/KKAnpR6EPe4
---
Posted by Colin Fish (Member # 5679) on March 07, 2018, 01:34 PM:

Looks amazing Graham! What lamp are you using there?

---
Posted by Graham Ritchie (Member # 559) on March 07, 2018, 02:04 PM:

Thanks Colin

The lamp is a Osram Xenophot HLX64663 36v 400watt. I removed the Xenon 1600watt but still have the projector set up for its return if required sometime in the future.
---
Posted by Mathew James (Member # 4581) on March 07, 2018, 03:13 PM:

purrs like a kitten...
I am always impressed how you know how to run these great machines Graham!
I am lucky if I get a splice right on 8mm

Great stuff. Thanx for sharing!

---
Posted by Graham Ritchie (Member # 559) on March 07, 2018, 07:42 PM:

Your welcome Mathew.

When I first started at the cinema I had little idea how to run things, however I do remember the projectionist racing down the stairs, heading for the door...I called after him, what shall I do if something goes wrong?....without looking back to me, he called out...you can figure it out...SLAM...went the door as he went through it. I never saw anyone so glad to get out of the place as he did...
..so for me it was a matter of sink or swim


Some photos this week of the Bauer U4 taken in the garage from my luxury fold up chair...as shown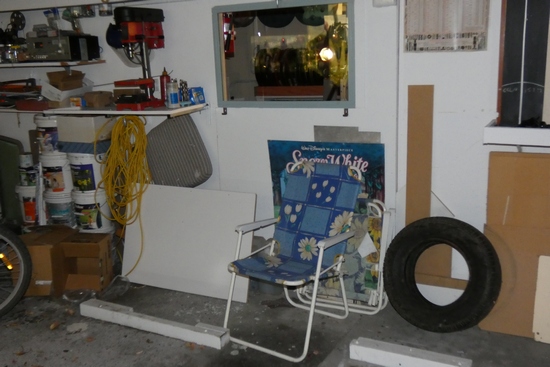 Note the swimming pool tubes placed on the top of the garage door to stop the light coming in. They also created a nice red glow..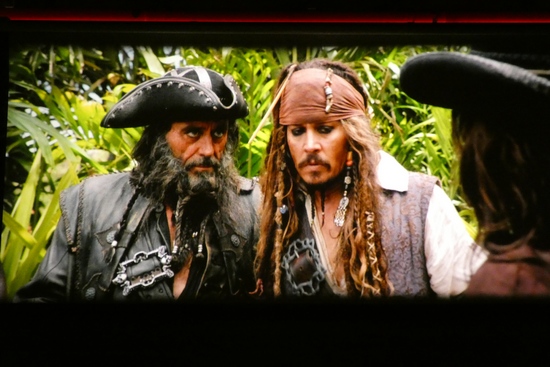 Funny thing I noticed the other night when I rolled up the screen and opened the garage door you could see the end credits rolling up the side of the house and the roof..it looked neat and in focus..

---
Posted by Stuart Reid (Member # 1460) on March 08, 2018, 03:51 AM:

Fantastic video Graham,something to aspire to. Thanks for sharing.

---
Posted by Paul Adsett (Member # 25) on March 08, 2018, 11:38 AM:

An amazing video Graham. That Bauer makes my GS1200 look like a toy!
---
Posted by Graham Ritchie (Member # 559) on March 09, 2018, 12:29 PM:

Thanks Stuart and Paul


Its been fun getting a lot of this stuff going again, this particular Bauer U4 itself I have a soft spot for, as it had run 12 to 14 hrs a day for the 20 years at the cinema with little trouble. Considering in the past it was bought second hand from LA in the US and to be able to keep running after all those years says a lot for the quality of German engineering.

In the long term I would like it to find a home in a museum somewhere, hopefully as some kind a working exhibit.

---
Visit www.film-tech.com for free equipment manual downloads. Copyright 2003-2019 Film-Tech Cinema Systems LLC




UBB.classicTM 6.3.1.2