This is topic Beware of "reelwinderz" in forum General Yak at 8mm Forum.


To visit this topic, use this URL:
http://8mmforum.film-tech.com/cgi-bin/ubb/ultimatebb.cgi?ubb=get_topic;f=8;t=004941

---
Posted by Osi Osgood (Member # 424) on August 10, 2018, 11:04 AM:

OK ...

I decided, since I had had very good experiences with this ebay seller in the past, I decided to chance a buy from him off of ebay ... a collection of McDonlads 16MM commercials. Clyde Wall had stated that the Mcdonaldland commercials (8 of them, I believe, as well as 7 or 8 repeats, and a few repeats of those) had OK color, but the regular McDonalds commercials had faded. So, I felt that I would have a decent chance to move the faded commercials, and keep the McDonaldland commercials and at least break even, (the collection was going for 150.00).

I took him at his word ... without screenshots.

i knew I was in trouble when I saw the boxes in the box, (the original boxes) as they were faded brown or very brown, (originally white), and, sadly, the McDonaldland commercials were not OK color, but faded.

I asked for a refund and he said I had no right to lecture him on color fade properties, (he don't know me very well, do he?), and refused to do so, as I had asked for a refund and that I would simply send the commercials back to him unharmed upon receiving my refund.

So, as long as this fellow gives you screenshots, he is a good risk, but beware if you take his word on color quality.

Please note, though I have no 16MM projector to project them, I CAN supply photographic proof of how badly faded the commercials are if asked.

OSI

---
Posted by David Baker (Member # 3259) on August 10, 2018, 05:05 PM:

By all means , PLEASE SHOW US , praytell.....

---
Posted by Osi Osgood (Member # 424) on August 11, 2018, 10:55 AM:

I am waiting until Monday to put up the photo's, as I want to give him the opportunity to do the right thing. I sent him the photos I took, just to be fair. I don't believe in doing things behind folks backs, but i also don't like being taken advantage of.

... and, to be honest, I was the fool. Since we'd had such good report on ebay and his screenshots were always so accurate on ebay, when he said that the commercials had O.K. color, I chose to take him at his word, so that's my bad.

I think that he thinks that I am some kind of "novice" when it comes to color film stocks and fade properties. He's being rather condesending at the moment, but I hope that he'll do right in the end and I can report a good end to this situation.

Fingers crossed.

---
Posted by Osi Osgood (Member # 424) on August 13, 2018, 11:23 AM:

Well, I waited for the "reelwinderz" to reply or do thehonrable thing. instead he threatened me if I posted anything about him and this sale. I'll never understand how a person would rather hold onto a few bucks than a good reputation but, oh well.

I took these photo's against my window with the 7 commercials in question taped up, (non permanent tape so no damage to the prints) and this had a "outside background' of a green yard, so no extra added redness.

Now, if these are "OK" color, than I'll eat a hat, and if I don't have an appropriate hat for consumption, I'll buy one and eat it!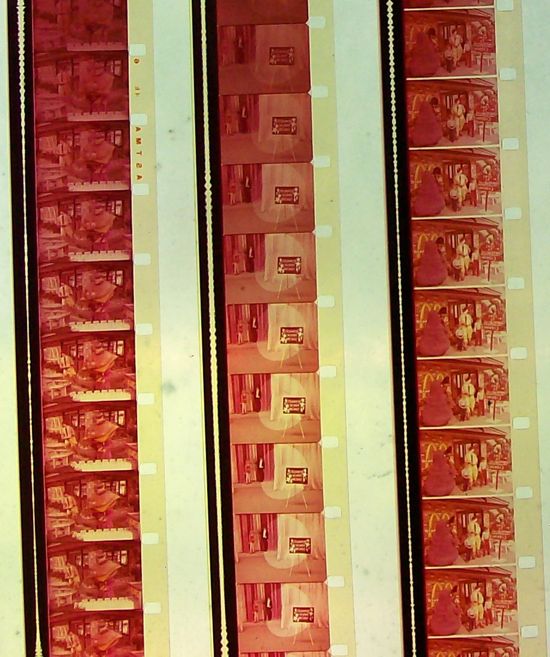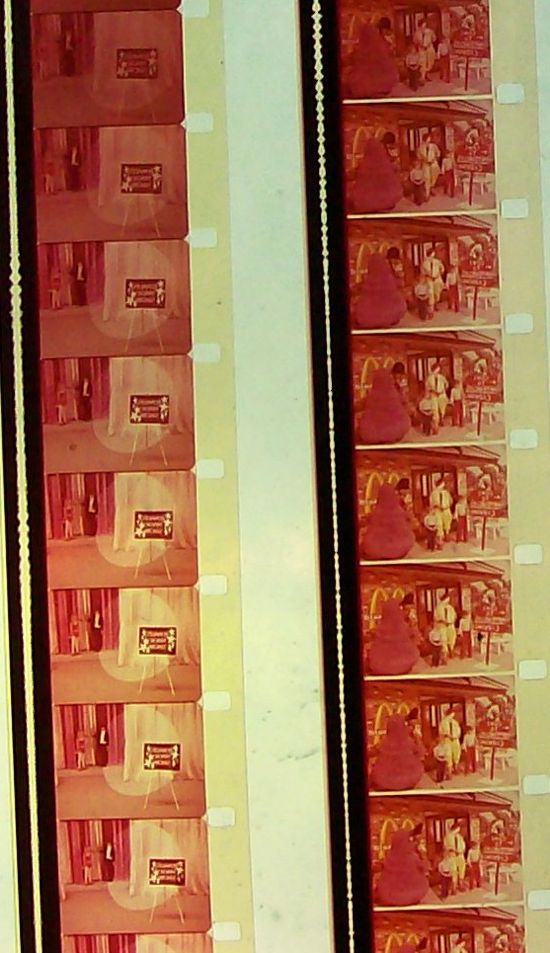 ---
Posted by Rob Koeling (Member # 35) on August 13, 2018, 11:35 AM:


quote:

---

I'll never understand how a person would rather hold onto a few bucks than a good reputation but, oh well.

---
Well said Osi! Even your fiercest critic will agree with you there!

---
Posted by Mathew James (Member # 4581) on August 13, 2018, 01:44 PM:


---
Posted by Graham Ritchie (Member # 559) on August 13, 2018, 02:06 PM:

Osi

When you say...he threatened me if I posted anything about him and this sale...

That sounds like he might be a member of this forum.

Prints like that should be destroyed, not sold. Although I was critized by some here, of throwing out a badly faded print of "Star Wars", this is the kind of thing folks, is why it should be done.

---
Posted by Barry Fritz (Member # 1865) on August 13, 2018, 02:48 PM:

Looks like he meant they were an OK faded red color!
---
Posted by Robert Crewdson (Member # 3790) on August 13, 2018, 02:52 PM:

Are you going to take it up with Ebay or Paypal; no way could the colour be described as 'OK'.

---
Posted by Mathew James (Member # 4581) on August 13, 2018, 06:34 PM:

Here is the procedure for returning an item, as per ebay themselves.
https://www.ebay.com/help/buying/returns-refunds/return-item-refund?id=4041

"I had asked for a refund and that I would simply send the commercials back to him unharmed upon receiving my refund."

Osi, unfortunately, this is not how returns work on ebay. See above link on how to initiate a return if that is what you end up doing! I hope this helps and I hope it works out for you both.

---
Posted by Chip Gelmini (Member # 44) on August 13, 2018, 06:47 PM:

Stay with me here.

In January of 2014 I purchased through Ebay my very first GS 1200. Little did I know, this was the start of a nightmare that just didnít seem to end. Everything about the description and the supplied photos looked good, so I bid and won.

The day the projector arrived changed everything. It powered up, but would not run. Just seemed like it didnít have enough juice to get going. So I thought, Leon can fix this.

A quick inspection revealed the unit was for the UK nations Ė voltage at 220. And I was in America, normally 110. The voltage on this model was not easily adjustable.

I wrote to Ebay and PayPal and filed a dispute. Turs out that the power issue or requirement was NOT listed in the description or shown in the photographs. So I won the refund. The seller and I settled for a $300.00 refund because I wanted to keep the machine and have it repaired.

Point being. If you get shafted through an Ebay seller Ė go ahead and file the complaint. Use their threats as intimidation and harassment and include it in your complaint.

Anything they say at that point, further helps you back up your claim.

Three months later and $700.00 added to the cost overall, it was in my basement purring like a newborn kitten. And it is that way today nearly four years later.

You canít restore the color on movie film, but you do and have the right of say.

Matthew James: Your first reply to this thread (L&H) was the best! I ilike the way you think..........


---
Posted by Osi Osgood (Member # 424) on August 14, 2018, 11:09 AM:

Thanks for the advice, but this was NOT purchased thru ebay. This was direct transaction with Clyde and myself, and I fear that I am at the mercy of a person who felt, (and it looks like he might well be right), that he can get away with ripping me off since it was off ebay.

... but at least I can warn folks about the fellow, who's ebay name is "reelwinderz", that, if he is willing to misrepresent his stuff to you off ebay, he might well do that otherwise as well.

The sad thing is that I never had a bad transaction on ebay with him, and I guess I let my guard down off ebay and trusted the person to be as honest off ebay as on.

I don't make that mistake too often however, but it cost me big time once before ...

One time, many years ago, back when all this was prairie, (well, not THAT far back), I was just getting back into super 8 (20050, and I bought two cartoons from a ebayer in the UK, who, when I wrote him about what i was looking for, (Star Wars), he said he had a print and that he would offer it to me off ebay for 300 pounds. Well, though a good deal, I decided to go for it, and i felt that, since i was paying for it on the same day as the two ebay auctions, he would mail all of them together. it makes sense, less overall postage for the fellow.

Well, I got the ebay auctions ... but the STAR WARS didn't arrive, which I found strange. He said that he had mailed it off and after a good deal writing back and forth, he gave me a tracking number for the package, but when I had the UK post check the tracking number, they said that the package or at least the tracking number, never existed.

The fellow wouldn't give back a single penny of the Star wars money and sadly, at the time, I didn't know that I could put a stop payment or anything on the money I sent (that's my bad) ...

... but I have NEVER forgotten that person who I understand, has done assorted shadey dealings with a number of ebay names and accounts.


So ... just because you have good dealings in ebay sales with a person, doesn't mean that they will be just as honest off ebay.

The end of my cautionary tale.
---
Posted by Maurice Leakey (Member # 916) on August 14, 2018, 01:49 PM:

The moral to this is never do business off eBay as you will lose their help and assistance in the event of any problem.

---
Posted by Dominique De Bast (Member # 3798) on August 14, 2018, 02:16 PM:

Of course, you're right, Maurice but it's always sad to see that even in our small world of cine enthusiasts, there are dishonnest people. A well known seller told me that each year at Argenteuil (the cine fair close to Paris), some items disappear, to give only one example.

---
Posted by Terry Sills (Member # 3309) on August 14, 2018, 04:45 PM:

'The moral is to never do business off eBay '
Sorry- I just do not agree with that philosophy. There are plenty of reputable members, enthusiasts and dealers that would not dream of behaving in this fashion and rather than admonishing him for dealing off eBay, I praise Osi for bringing this experience to our attention. I sincerely hope that others with like experiences will also share them, so that we can name and shame the disreputable sellers. Only by doing this will we 'clean up' the hobby for our members and newcomers.

---
Posted by Winbert Hutahaean (Member # 58) on August 14, 2018, 05:33 PM:


quote:

---

The moral is to never do business off eBay

---
No...actually we can still do business off Ebay but get the same protection as we have through Ebay if we pay with paypal.

This is clearly stated on paypal terms and condition.

---
Posted by Maurice Leakey (Member # 916) on August 15, 2018, 02:06 AM:

OK. I'll make a slight alteration to my statement.
Yes. If you know the seller and have every confidence that's quite alright.
But, unfortunately, eBay lets most sellers have a made-up name.

---
Posted by Osi Osgood (Member # 424) on August 16, 2018, 11:17 AM:

Oh, I'll still do business off ebay of course, but i think I'll limit it to people that I either know real well to be totally honest, or i can do some form of background check, for instance, on here, and find out if the person is a good risk, because "reelwinderz" was definitely not ...

The sad thing is that, he was totally reliable on ebay.
---
Posted by Winbert Hutahaean (Member # 58) on August 17, 2018, 04:02 PM:

So Osi, did you pay "reelwinderz" with PayPal as a gift or regular payment as a purchase?

---
Posted by Osi Osgood (Member # 424) on August 18, 2018, 11:06 AM:

The name of the person is "Clyde Wall". Doug pointed out that i might have the name wrong. If it's wrong in the earlier posts, I'll change that as well.

This was off ebay and and the payment was sent as a "gift", so paypal won't pursue a refund for me.

---
Posted by David Hardy (Member # 4628) on August 18, 2018, 02:18 PM:

Sorry to read of your bad experience you have had with this particular seller Osi.

I am with Graham on this one as its all more the reason why faded prints should be destroyed and taken out of circulation or their value at least reduced to ZERO.

If they are not there then they cant be sold on in order to rip people off.

---
Posted by Bill Brandenstein (Member # 892) on August 22, 2018, 01:55 PM:

I strongly disagree that faded film should be routinely destroyed. There are too many things that exist only in that condition, plus having some B-stock in the collection can be useful once in awhile for testing and training.

It should be sold for a pittance, that's all.

In my collection notes, I'd grade that footage "D" or "D+" since there's a tad bit of yellow left. Definitely NOT "OK." That's like 80% faded.

Great photos, Osi, and glad you presented clear evidence.

---
Posted by Robert Crewdson (Member # 3790) on August 23, 2018, 06:31 AM:

In response to David Hardy's comment supporting the binning of red prints; this is what you posted on March 14th.

Yes I did state that all 8mm / 16mm and 35mm prints should be binned in order to take them out of circulation.

However I am now of the mind that if I can sell my remaining or any future fading print to some collectors ( mugs ) at hugely inflated prices I am now more than willing to do so in order to fund my other interest.

If I don't get the asking price after a time period then in the bin they will still go.

Self-interested. ...Yes !

Me now becoming part of the problem ... Yes ! ( maybe )

Common sense ... Yes !

Hey I paid a lot of money for those prints over the decades and would now like to recoup some of my money if at all possible.

There is money to be made in selling that old junk film stock and if someone wants to buy and is willing to pay my asking price plus postage and packing then I am your man ! Hahahahah !
--------------------------------------------------------------

Changeable as the British weather.

---
Visit www.film-tech.com for free equipment manual downloads. Copyright 2003-2019 Film-Tech Cinema Systems LLC




UBB.classicTM 6.3.1.2