This is topic JAWS in forum General Yak at 8mm Forum.


To visit this topic, use this URL:
http://8mmforum.film-tech.com/cgi-bin/ubb/ultimatebb.cgi?ubb=get_topic;f=8;t=005002

---
Posted by Graham Ritchie (Member # 559) on October 05, 2018, 12:08 AM:

Well folks my grandson for some reason this week, has been on at me to screen JAWS. I was very reluctant to let him see it, due to his age. In the end I relented but did warn him "its scary"

I took this photo after screening it and thought that even after 43 years it still works
...I don't know about Zoe and Connor, but I closed my eyes at the severed head bit.
...some things never change..

After the movie....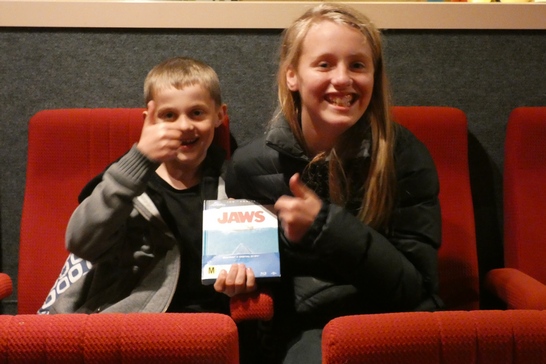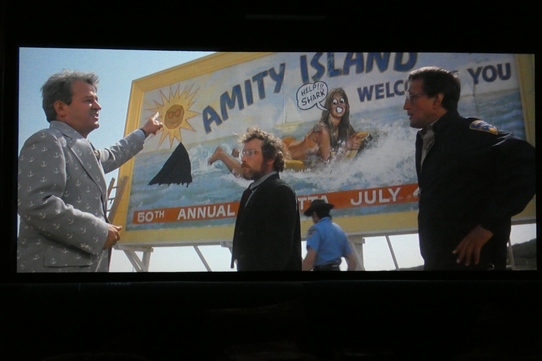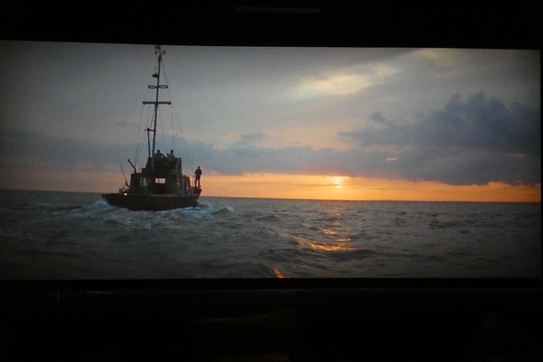 ---
Posted by Mark Todd (Member # 96) on October 05, 2018, 02:27 AM:

I still remember the audience reaction at that part with the hole in the small boat Graham, all those years ago.

I was 10.

The whole cinema erupted in to screams and gasps, then eveyone laughed at themselves.

The most memorabale time in a any cinema for me.

It should be written in to law or something !!! that this film is not remade.

Best Mark.

---
Posted by David Skillern (Member # 607) on October 05, 2018, 09:31 AM:

Graham,

I first saw this Speilberg classic at the ABC in Newport, Gwent, South Wales - which at the time was one screen. My father took me as I was 10 or 11 - what an impression it made on me. It is without a doubt my favourite film. I have owned several copies on dvd and now bluray and have the 2x400ft cutdown on super 8. I can and will never tire of it - as over the years I must have seen it hundreds of times. I can probably quote it verbatim !! But the scares and the wonderful performances always bring me back to it. One of the greatest films of the 1970's if not one of the greatest horror thrillers of all time.

---
Posted by Steve Klare (Member # 12) on October 05, 2018, 09:47 AM:

It is on the ballot for Friday Night Feature at CineSea (16mm). If it wins it will be the first time I see it on a large screen.

It was all the talk the summer it came out. We live where there are a lot of beaches and they say the food concessions along the Atlantic shore lost a lot of business that year.

My older sister saw it and she seemed kind of shaken afterwards. A couple of days later there was a beer commercial on TV: this guy in a boat reeled in a huge bass and it came flying out of the water. My sister screamed and pulled her legs up on the couch! Bearing in mind: she is a Registered Nurse who has stood through more surgeries than you or I have had restaurant meals: she aint exactly "squeamish"! (Never get people like this talking shop over dinner!)

As I said: I've only seen it small screen. To me it's an adventure story. Let's see if 14 feet diagonal it becomes a horror movie!

---
Posted by Maurice Leakey (Member # 916) on October 05, 2018, 11:18 AM:

I showed it on first release and the cinema did such good business it was held over for quite a few weeks.
None of the successive Jaws films ever did such trade as the first one.
Some films you just can't bring out successors.

---
Posted by Mark Todd (Member # 96) on October 05, 2018, 02:22 PM:

I really struggled when they did the Omen.

Never should of happened.

Best Mark.

---
Posted by Graham Ritchie (Member # 559) on October 05, 2018, 03:13 PM:

I bet in another 43 years time when most of us will be long gone, somebody somewhere will be watching it.


Steve I hope you do get the chance to watch it in 16mm Scope. Watching it on a TV is nothing compared to a much larger screen in a dark room
When I first saw it at the cinema it was with around 1100 people all going nuts at the scary bits. I have never forgot that night and am sure nobody else there did.

When you look back it was an amazing achievement, just get this film made. Its been interesting reading a bit about it, such as the time period of shooting, from May 2th 1974 to finally completed production on October 6th 1974, 104 days over schedule and from a initial budget of $3.5 million climbed to $12 million.

Last night I played this old record LP of the brilliant score by John Williams. Its a excellent soundtrack to just sit back and relax.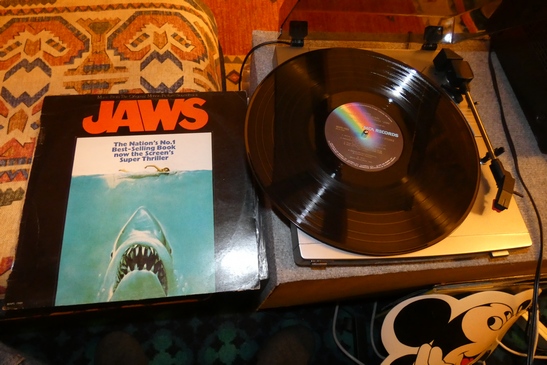 The LP was still in excellent condition...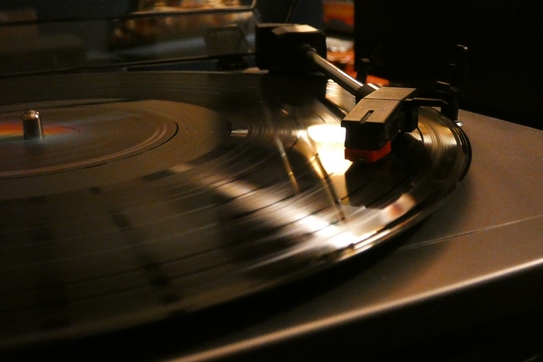 PS. I think this still of the clapper board is really neat...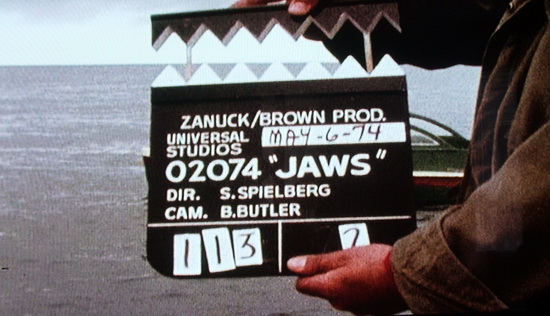 ---
Posted by Mark Todd (Member # 96) on October 05, 2018, 04:03 PM:

Its a very long time since I swam in the sea in warmer climes but that music would suddenly pop in to my head.

I remember swiming right out in a bay in Corfu in Greece in 81/82 and seeing a huge black shape under me.

Blimey I was quick off the mark back to the shore, and only really realised it was my shadow once I slowed a little when I was nearly back.

That music was playing very loudly !!!

Best Mark.

---
Posted by Steve Klare (Member # 12) on October 05, 2018, 08:17 PM:

The year Jaws came out my Aunt was swimming on our South Shore. Something rough brushed up against her. She started punching and kicking it. Just then a man in Scuba gear stood up:

"LADY!!! PLEASE STOP!!!!"

---
Posted by Michael De Angelis (Member # 91) on October 06, 2018, 10:55 PM:

A great thriller flick that we watch every year.

The film's success started the concept and model of a "Summer Blockbuster Film."

I always credit film editor Verna Fields and her Oscar win side by side with Spielberg, and John Williams, Oscar winning score, in making Jaws a great film.

---
Posted by Joe Caruso (Member # 11) on October 07, 2018, 08:35 AM:

For that you get the head...the tail...the whole damn thing - Shorty

---
Posted by Mark Mander (Member # 340) on October 07, 2018, 10:52 AM:

My Brother in law went to his local cinema yesterday to see Jaws on the big screen,had a great experience and he said the place was packed,it's still a great film to see,Mark

---
Posted by Tom Photiou (Member # 130) on October 07, 2018, 02:47 PM:

This is one of those movies that will never date.
I saw this twice upon its release, once with my Mum and a second time on my own but i had to get a young couple to get me in as i would have had to be accompanied by an adult. I was only 12 at the time.

---
Posted by Rob Young. (Member # 131) on October 09, 2018, 03:33 AM:

If you haven't read it already, this is a great book;

https://www.amazon.co.uk/Jaws-Log-Carl-Gottlieb/dp/0571209491/ref=sr_1_2?ie=UTF8&qid=1539073948&sr=8-2&keywords=the+jaws+log

---
Posted by William Olson (Member # 2083) on October 10, 2018, 08:16 AM:

Yes, it has scary moments and an occasional laugh but what I love best is the interaction between the three guys on the boat. Additionally, it has great cinematography and that score by John Williams. The main theme is known by everybody but the rest of the score is phenomenal.

---
Posted by Steve Klare (Member # 12) on October 10, 2018, 08:25 AM:

"Show me the way to go home!
I'm tired and I wanna go ta' bed!"

I had these whacky neighbors across the street when I was growing up. (-really great people, just whacky!)

They all went to see Jaws and the most excitable of the group kept covering her eyes and shrieking. The rest of 'em, maybe in response, maybe out of pure hysteria started to laugh uncontrollably and did through most of the movie.

-how would YOU like to be sitting in the row in front of them?

(This is the family that introduced me to "home movies"; I'll always have a warm spot in my heart for them!)

---
Posted by Martin Dew (Member # 5748) on October 10, 2018, 11:08 AM:

My favorite film of all time too. It was the film that made me fall in love with movies and directly led to my career in entertainment. I saw it on Boxing Day 1975 (release date in UK) with my dad and brother at ABC Reading with a packed audience. Queuing went round the block for continuous performances.

I still find Chrissie's death at the start quite disturbing. All that thrashing about and no shark in sight!

---
Posted by Osi Osgood (Member # 424) on October 10, 2018, 11:54 AM:

Even though it has a few scratch issues, (fortunately, no green ones), our copy of "JAWS" (600ft) is still a great watch and quite fortunately for us, is one of the copies that was apparantly saved on some form of low fade eastman, cuz the color is brilliant!

Such a great film!!!!

---
Visit www.film-tech.com for free equipment manual downloads. Copyright 2003-2019 Film-Tech Cinema Systems LLC




UBB.classicTM 6.3.1.2