This is topic They Shall Not Grow Old in forum General Yak at 8mm Forum.


To visit this topic, use this URL:
http://8mmforum.film-tech.com/cgi-bin/ubb/ultimatebb.cgi?ubb=get_topic;f=8;t=005051

---
Posted by Bill Brandenstein (Member # 892) on December 12, 2018, 10:55 PM:

Hundred-year-old WWI film footage: what's an "authentic" presentation? Is a film more authentic when viewed just precisely in the manner in which it was shot, with all its limitations and imperfections, using a projector and a screen? Or is it more authentic when digitally transformed into a more realistic window-in-time, as though it were shot with newer technology?

You decide.

Peter Jackson, who redefined the world of special effects with his Lord of the Rings trilogy, has reinvented the concept of archival footage with his documentary "They Shall Not Be Forgotten." He's taken hundred-year-old film footage and digitally created more resolution, a wider aspect ratio, smoothly added frames to increase the frame rate, added color, added synchronized sound, and even pulled it into 3D. I'm not sure what to think of this "inauthentic authenticity," but please take a look at the trailer:

Trailer for "They Shall Not Grow Old"

(Why isn't this a full theatrical release? The timing is awful for me, so if anyone sees this, please give us your review!)

There are a lot of ways Jackson could've done this and made it look. Whether or not we agree with his aesthetics, this is morally and artistically meritorious. Truly fascinating and profoundly worthy.

[ December 13, 2018, 07:35 PM: Message edited by: Bill Brandenstein ]

---
Posted by Burton Sundquist (Member # 5813) on December 13, 2018, 12:41 AM:

...HERE HERE!

---
Posted by Janice Glesser (Member # 2758) on December 13, 2018, 02:24 AM:

This looks wonderful. I hope it will be at a theater near me.

---
Posted by Brian Fretwell (Member # 4302) on December 13, 2018, 02:42 AM:

What he mainly did was remove the damage accumulated over the years and increase the frame rate to allow it to be shown at TV frame rates. It would have looked more like this when originally shown than modern TV showings. It was the colourisation that changed it most and that's what I thought was least successful when I watched the whole programme on the on 11th November this year. The recollections of the veterans read over the pictures made it for me. (My grandfather lost an eye in that war)

---
Posted by Graham Ritchie (Member # 559) on December 13, 2018, 12:48 PM:

Bill

It did the cinema run here but I missed it, however I have ordered the Blu-ray so hopefully I will catch up on viewing it soon.

Another interesting point, was that the cameras used were hand cranked and as such the speed varied. What Peter Jackson and his team has worked on was also a way to obtain the right speed.

Its great that the technology is such, that much can be done to improve those early films. Hopefully we will see further historical film be given this treatment.

---
Posted by Melvin England (Member # 5270) on December 14, 2018, 01:09 PM:

I never knew about this film before this thread was started. I watched the trailer,thinking it was a new release, but apparently, as Graham points out, it is already available on Dvd/Blu Ray. Not only that, it has also been given a BBC2 airing in the UK in November of this year.

As to whether we should digitize such footage or not remains for debate.

In my opinion..... absolutely.

As a supporter of celluloid, as we all are on this forum (or should be)I think it is extremely important to preserve the original black and white scratchy fast moving images as they were because, after all, this film is history in itself as a demonstration of the up to date technology available in that era.
What Peter Jackson and his team have done is a minor miracle. It has brought this low quality imagery into the 21st Century and turned it into footage that, for the sake of this example, could have been taken yesterday.
Surely the children of today and certainly generations yet to be born would not relate to these strange, scratchy, black and white images, yet, brought up to a standard they are used to everyday (notwithstanding future technological advances and improvements on even Jackson's work) they can be shown history in a way that can be understood in a way that they have come to expect.

Basically, keep the old stuff, but embrace the new.

I cannot wait for someone to get hold of Charlie Chaplin's material !!

---
Posted by Mark Todd (Member # 96) on December 14, 2018, 03:00 PM:

For me this really brings the footage and people to life and puts an amazing warmth in to it.

And creates a sort of feeling of more connection to the people in the film.

Must get this, wonderful, thank you for mentioning it.

Best Mark.

[ December 15, 2018, 06:32 PM: Message edited by: Mark Todd ]

---
Posted by David Michael Leugers (Member # 166) on December 15, 2018, 06:30 PM:

Thanks for posting! I had no idea about this film. A must see for me if I can find it showing near me. As a kid I knew WWI veterans and always felt that their story did not get the same attention as the WWII vets did. Maybe this will help correct that. With these new technological advancements, it makes me eager to see silent films get the full restoration treatment. I do not wish to see colorized versions though... Talk about film being a time machine, I am a few weeks away from my annual family time machine where my wife and I get to visit our boys as they grew up. They both are approaching 40 years old so each year it seems more incredible to see them up on the 6 ft screen as if the footage was shot yesterday. It's why I love film.

---
Posted by Joe Caruso (Member # 11) on December 17, 2018, 01:40 PM:

Yes, he has made it all the more profound, yet I will still take the original concept with all it's crinkles and wrinkles, because that was shown originally to audiences and perhaps the vividness (if invented then), might have been too much - Old-fashioned Shorty

---
Posted by Ken Finch (Member # 2768) on December 22, 2018, 04:14 PM:

I also saw this on Television and Peter Jackson has really shown the reality and horrendous conditions, and futility of war. Much of the footage was never shown to the public at the time and what they did see were often re enactments or behind the front lines scenes. No wonder the returning soldiers would never talk about their experiences."When will they ever learn. When will they evverr
learn! Ken Finch.
---
Posted by Graham Ritchie (Member # 559) on December 22, 2018, 09:56 PM:

Ken

Your words "when will they ever learn" reminded of this song by Marlene Dietrich. I first heard it on the radio back in the 1960s, and its one you never forget.

https://youtu.be/-9t7LbNpQcE

---
Posted by Burton Sundquist (Member # 5813) on December 29, 2018, 12:56 AM:

This presentation available on 2 dates local to where I live. Of course I saw it in the Cinema. Overall I would say that this is a worthy effort, and masterly crafted. It is indeed a wonder to see this
Breathtaking achievement. Apocalypse : The First World War achieved it's message without this new technology. This new effort continues to try to capture the attention of a new generation. To Never Forget.

---
Posted by Bill Brandenstein (Member # 892) on January 03, 2019, 06:10 PM:

Grateful to everyone for their musings. I've yet to have an opportunity to see this.

---
Posted by Graham Ritchie (Member # 559) on January 08, 2019, 02:27 AM:

Hi Bill

The Blu-ray arrived today so I watched it tonight, I would certainly recommend it.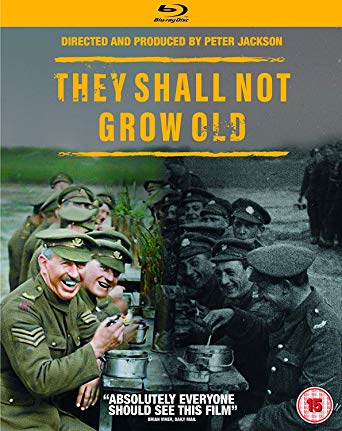 ---
Posted by Lindsay Morris (Member # 3812) on January 12, 2019, 06:37 PM:

The film is still playing in some art house cinemas in West Australia to reasonable audience numbers.
I think public requests prompted the cinemas to re-run it which we are grateful for as we managed to miss it when it opened last year.

Very very good as well as confronting & full marks to Peter Jackson for delivering a movie that was smooth & not jerky/stuttering archival stuff with missing frames and varying speeds.

---
Posted by Bill Brandenstein (Member # 892) on January 16, 2019, 11:56 AM:

Thanks for the updates, friends!

I'm hoping it gets additional screenings in southern California. Want to see this on a big screen the first time.

---
Posted by Janice Glesser (Member # 2758) on January 16, 2019, 03:48 PM:

I saw this movie and the attention to detail was phenomenal. The rotoscoping frame-by-frame restoration made the old film images come to life. It was the most amazing film transfer I have ever seen. Truely a work of art.

---
Posted by Melvin England (Member # 5270) on January 30, 2019, 03:26 AM:

In the UK there is a further showing of this documentary on television on BBC2 this coming Saturday evening 2nd February at 9pm

---
Posted by Melvin England (Member # 5270) on January 30, 2019, 03:26 AM:

In the UK there is a further showing of this documentary on television on BBC2 this coming Saturday evening 2nd February at 9pm

---
Visit www.film-tech.com for free equipment manual downloads. Copyright 2003-2019 Film-Tech Cinema Systems LLC




UBB.classicTM 6.3.1.2