This is topic Brings tears to your eyes in forum General Yak at 8mm Forum.


To visit this topic, use this URL:
http://8mmforum.film-tech.com/cgi-bin/ubb/ultimatebb.cgi?ubb=get_topic;f=8;t=005223

---
Posted by Terry Sills (Member # 3309) on May 31, 2019, 10:54 AM:

Watch this 90yr old DDay survivor singing the song that he wrote and you have to wonder what he and fellows combatants think of the world today.
https://www.youtube.com/watch?v=JOolfjkLoJw

---
Posted by Rob Young. (Member # 131) on May 31, 2019, 12:48 PM:

Proud, I hope, that we live in a free and democratic society thanks to them.

And hopefully know that most civilised folk give our utmost thanks to the brave souls who fought for us to live our free lives of today.

Never forget.

[ June 01, 2019, 04:52 AM: Message edited by: Rob Young. ]

---
Posted by Paul Adsett (Member # 25) on May 31, 2019, 12:50 PM:

That was great Terry, I have not seen it before, thanks for posting it. I could express some opinions about how the world has changed since these people made the ultimate sacrifice for our generation, but this is probably not the place to do it.

---
Posted by Terry Sills (Member # 3309) on May 31, 2019, 01:10 PM:

You and me both Paul - and I dare say many others.

---
Posted by Graham Ritchie (Member # 559) on May 31, 2019, 02:46 PM:

Brilliant Terry

My father was in Burma during the war as part of the Indian Army, he never really spoke about it until in later years. He did say more died of disease than enemy action and "everyone" got malaria. For him and I am sure for many others, the transition back to civilian life was tough, he was somewhat bitter to those that had stayed home and had done very well out of the war.

My father was always full of praise for the Indian people and the American pilots who flew missions to keep them supplied.

I remember one of our film buffs out here, a great guy I should add who served during the war, telling me his granddaughter once asked him to speak at her school, he turned the request down, telling me they might not like to hear some of those stories of his own experience. Some of the things his own troops did were at odds with his own feelings towards the enemy.

There is one film I feel everyone should watch and that's "The Best Years of Our Lives" 1946.

My father like so many now, are no longer with us, I did go back to the UK 20 years ago to help sort through his stuff. One item he had kept all those years after the war, was his old army knife. I brought it back to NZ and its still with me.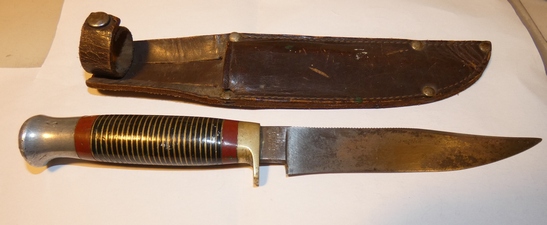 [ May 31, 2019, 10:47 PM: Message edited by: Graham Ritchie ]

---
Posted by Terry Sills (Member # 3309) on June 03, 2019, 02:14 PM:

With the present visit of Donald Trump to the UK I thought this post was worth a 'bump'.
I bet that Trump would appreciate it and it certainly cements our long term special relationship with the USA when we fought shoulder to shoulder with their troops. Can't believe it had so few comments.

---
Visit www.film-tech.com for free equipment manual downloads. Copyright 2003-2019 Film-Tech Cinema Systems LLC




UBB.classicTM 6.3.1.2