This is topic Help Pathescope Gem projector in forum 9.5mm Forum at 8mm Forum.


To visit this topic, use this URL:
http://8mmforum.film-tech.com/cgi-bin/ubb/ultimatebb.cgi?ubb=get_topic;f=9;t=000400

---
Posted by Clinton Hunt (Member # 2072) on May 28, 2017, 10:57 PM:

I took apart my Pathescope Gem 9.5mm projector to see why the pulley that the take up reel attaches too doesn't turn.
2 panels were all I had to remove,so simple and what a great design,works on cogs and one belt to turn the shutter.
The problem is the shaft that the pulley goes on is not being turned by the cog.It's like they used to be one but now thet are seperate.I had a look in my 16mm Gem and it is solid - i.e. both turn together.
I hope this makes sense?

this pic - it's the centre silver cog and not the one with the spring belt on - that's used for rewind and works as it should.


This pic - the silver part and the cog should move together but they don't


Here it is from a distance


Another pic from a distance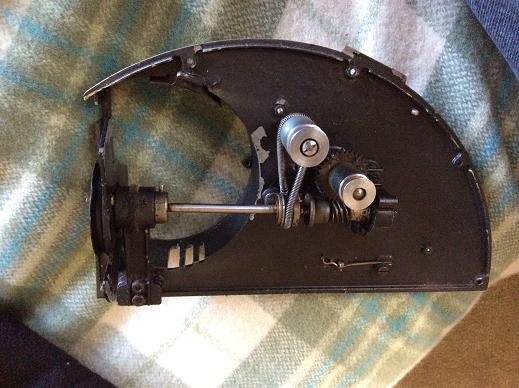 I'm wondering if the grease has gotten between the "plates" and now it slips,I'm not sure how to separate them for a look.
Any ideas?
Cheers

---
Posted by Clinton Hunt (Member # 2072) on June 01, 2017, 08:53 PM:

All fixed by a friend who knows about this stuff,he gave it a clean and used super-glue to make it work again,he said the tension had weakened and therefore it didn't press down enough anymore.

---
Posted by Terry Sills (Member # 3309) on June 02, 2017, 12:17 PM:

Clinton
I don't understand. Tension had weakened on what? It doesn't sound like superglue would be a proper fix to me. Are you sure the rewind lever is not set at the rewind position? This disconnects the drive to the take-up and gives drive to the front spool arm.

---
Posted by Trevor Adams (Member # 42) on June 04, 2017, 05:54 AM:

I dunno,maybe Pathescope used glue in the first place!
---
Posted by Terry Sills (Member # 3309) on June 04, 2017, 07:40 AM:

Now now Trevor. Not a fan of Pathescope?
---
Visit www.film-tech.com for free equipment manual downloads. Copyright 2003-2019 Film-Tech Cinema Systems LLC




UBB.classicTM 6.3.1.2