Bryan Chernick
Jedi Master Film Handler

Posts: 654
From: Bothell, WA, USA
Registered: Mar 2010



posted October 09, 2015 05:00 PM




---
I picked this up at an estate sale. It looked interesting so I wanted to take it home to play around with it. It's a Videotronic 8 Repeater Projector. I have seen Super 8 versions of this but I couldn't find anything about this regular 8mm version on the internet. It's 8mm sound and everything is in great working condition. It has a built in speaker and I think it's a vacuum tube amplifier because it takes a short amount of time to warm up. I haven't had a chance to open it up to see the insides yet but I can see the belts and they seem to be in great condition.

There is a pop out screen on the back that you can watch like a TV. If you switch lenses and move a mirror you can project it on a screen. It came with both lenses. It even came with an extra bulb and a cleaning brush so the kit was complete. There are instructions printed in the lid and there is the original instruction book in there as well.

It came with a film from the Switlik corporation that demonstrates their inflatable life boats, life jackets, etc. I checked and that company is still in business today making the same stuff. I only have the one continuous reel so at this point that is the only movie I can watch on it. The person that the estate sale was being held for used to own a marine supply store so he probably used this in the store.

It wouldn't be hard to load a different movie into the reel but I think I can also rig it to play non-repeating movies. The post that the reel mounts to is a normal 8mm size so I could just use that for the take-up reel and feed the movie off a rewind behind the projector. I wouldn't need to alter the projector in any way to make this work. I haven't had a chance to try that yet.

Does anyone have any experience with these projectors? I don't think it is something that I will keep so if anyone needs a regular 8mm sound projector I'm sure I will be willing to part with it soon.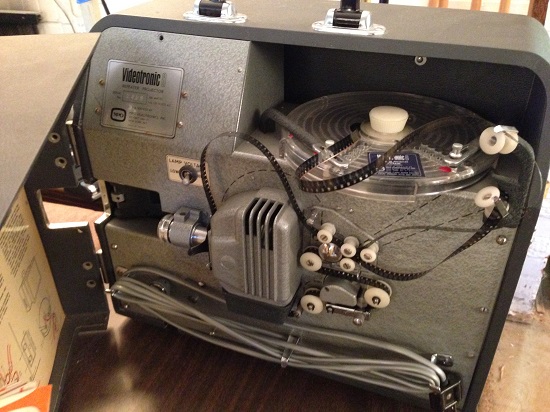 | IP: Logged