This is topic 8mm films on toy projector in forum 8mm Forum at 8mm Forum.


To visit this topic, use this URL:
https://8mmforum.film-tech.com/cgi-bin/ubb/ultimatebb.cgi?ubb=get_topic;f=1;t=001350

---
Posted by Winbert Hutahaean (Member # 58) on August 02, 2005, 04:05 AM:

I found to remember that my first touch with 8mm was not a few years back but much further than that, when I found my old toys that used to run super 8mm inside a cartdige. I don't know if this kind of toys were sold in Europe, but the catridge is endless (loop) system and the duration was about 40 seconds to 1 minute. Probably this is a miniature of Technicolor machines that used to be in the Airline...
as have been discussed in the other post.

But I was quite surpised when I saw the color of the films were just good. Not reddish at all!. This toys were made in Hong Kong. So I supposed it was printed in a Hong Kong Lab during that era. I did not find any lab marks or films stock written on the edge of the films. Any body can tell me if the Hong Kong's Lab were much superior than those in the US?

Bye,

---
Posted by Kevin Faulkner (Member # 6) on August 02, 2005, 04:15 AM:

Maybe it was on a Fuji Film stock which has been holding up very well or even Agfa. I think there was a small Hong Hong film manufacturer but cant remember their name. Companies such as Mitsubishi also made photographic film and then there were companies such as Orwo who made 8mm and still not fadeing as I have some in my collection. Orwo was based on the Agfa type dye technology a bit grainy but a fair film.

Kev.

---
Posted by Michael De Angelis (Member # 91) on August 02, 2005, 10:45 AM:

I once had the same toy. It was made by a company named: Kenner.
It had a loop of Super 8mm film in color of selected scenes (very brief) from Star Wars. You would look in the by and holding the device up to the outside light and crank the exterior handle to move the film.

The film had pretty fairly good color quality, and the image was fairly sharp.
Although it did have scenes that were different takes than were placed in the 400 foot and 200 foot Ken films digests.

---
Posted by Jan Bister (Member # 332) on August 02, 2005, 07:47 PM:

I had a similar toy as a kid... it was called the DUX KINO (made and sold in Germany) and also came with endless-loop cartridges of what I think was super-8 film, but it may in fact have been a completely nonstandard format, more like 6mm or 7mm wide. Anyway, it was pretty cool, as it actually projected the film through a tiny lens, using batteries and a flashlight bulb... Ah, the thrill of seeing images on my bedroom wall roughly the size of a CD jewel case!
---
Posted by Adrian Winchester (Member # 248) on August 03, 2005, 06:20 AM:

It's interesting to note that toy projectors have been sold fairly recently and may be still available. I recall someone putting up a link to a site, probably in Japan, where you could buy them. I also remember Derek Simmonds, probably at a Derann open day about 5 years ago, saying that he had arranged the printing of a batch of silent films for these projectors, which would be going to Spain.

I've also seen evidence of the sort of cartridge viewers mentioned being available recently. I have a couple of the cartridges that I got cheaply on eBay - one is 'Terminator 2' (or about 30 seconds of it!) I thought I might extract the film and see what it looks like on the screen.

Adrian

---
Posted by Trevor Adams (Member # 42) on August 03, 2005, 06:59 AM:

There are a heap of toy viewers and projectors that use 8mm/super 8mm film.Must say most are "recently" obsolete but a few are still being sold new.e.g. Galoob Sneak Preview keychain motorised viewers-neat!

---
Posted by Kurt Gardner (Member # 440) on August 18, 2005, 09:30 AM:

And of course there was the Kenner Give-A-Show projector. That's how my mania started. When a motorized version came out, I wanted it for Christmas so much. My dad bought me a REAL 8mm projector instead, along with Castle condensations of "Dracula" and "Bride of Frankenstein." I was so surprised. It was kind of like my version of the Red Ryder Carbine Action BB Gun.

---
Posted by Paul Adsett (Member # 25) on August 18, 2005, 12:25 PM:

Hi Kurt,
I had a similar experience. My first projector was also a toy which showed small 35mm movies, very dimly, and without a shutter so the motion was blurred. My first'proper' projector was a 9.5mm Pathescope Ace, which was a quantum leap in quality from the toy 35mm. The Ace opened up new vistas of 30ft, 60ft, and feature length silent films which I rented from the local photo shop. I think the excitement generated by those first toy projectors never leaves you, and that's why we are all into collecting and projecting 8mm films today.

---
Posted by James N. Savage 3 (Member # 83) on August 19, 2005, 02:11 PM:

I picked up one of those neat key-ring super 8 viewers from a comic book store a couple of years ago. It came with a cartridge of a Flecher "Superman" cartoon, "Volcano".

The neat thing was that on the back of the box, they listed a whole lot of other cartridges that were available, stuff thats never been on super 8, like they had about four different scenes from "Dirty Dancing" (with Patric Swazy). That would have been interesting to put up on the big screen.

Never got around to ordering the cartridges though, and I don't think the company is around anymore.

Wonder who printed their Super 8 for them?

Nick.

---
Posted by Trevor Adams (Member # 42) on August 19, 2005, 05:54 PM:

Have a look at Claude Mettavants wonderful site."Search Google with "mettavant".Trev

---
Posted by Paul Adsett (Member # 25) on August 19, 2005, 08:11 PM:

Hi Trev,
That's a great web site, really fascinating, makes me want to get into collecting toy projectors!
I was particularly interested in the British made 'Minicine', since I remember seeeing one of these displayed in a shop window when I was growing up in the UK. I think it was around Christmas time, and the 'Minecine' was in its display box, draped with holly and garland. I wanted that projector so bad for christmas! I was really fascinated by it, trying to figure out how it worked, and how it could possibly produce any moving pictures on such a short strip of film. Well I never did get to see one working, because I got hold of a 'proper' movie projector- the Pathe Ace, which was certainly not a toy, and I was soon off and running collecting the little 9.5mm 30 and 60ft films and the rest, as they say, is history. Funny though how these little toy projectors continue to hold their fascination 50 years later. Anyway thanks to the web site that you referenced I now know for the first time how the Minicine works! Thanks Trev.

---
Posted by Michael Clark (Member # 369) on August 20, 2005, 07:48 AM:

Same experiences here. I got a Kenner toy projector for Christmas one year as a kid. It had a plastic arm extending out from the front about 12 inches and you snapped on a small square white plastic screen. You flipped the switch and a flash-light bulb illuminated, you popped in the small rectangular green cartridge, and cranked the handle. Voila! Instant theater! I had cartridges of cartoons - Scooby Doo, Josie and the Pussycats, Fat Albert. I remember at night removing the plastic screen and projectin on the wall. My cousin and I would pretend we were running a movie theater. I was probably 8 or 9 at the time. Ahh, the memories!
---
Posted by Tim Drage (Member # 285) on August 20, 2005, 08:58 AM:

I have a few 'action replay' cartridges and viewer... 90's, so not old/collectable enough for me to feel guilty about dismantling to get the film out... and put my own in!

Also a few years back there was a Disney McDonald's happy meal thing with a viewer containing a loop of some old clip of Micky Mouse... big ugly yellow clear plastic thing, look out for them and you'll probably be able to find one in charity shops/car boot sales for almost nothing i imagine... the viewer itself it rubbish + breaks easily tho.

I always wanted to find enough toy viewers of some kind to be able to load a number of them with my own film as a 'multiple art' limited edition... inspired by the Fluxus artists who made 8mm loops supplied with those open hand-held viewers, such things being easier to come by in the 60s!

---
Posted by John Hourigan (Member # 111) on August 20, 2005, 09:48 AM:

Ahhh yes -- those great Christmases as a kid when there would be a much asked-for toy projector under the tree. Over those years, I received several toy projectors but my all-time favorite was Kennner's Change-A-Channel TV set. It used film catridges that had two movies printed side-by-side so that you could "change the channel" and watch the other movie. I loved this toy so much that I asked for and received it in 1967 and 1969. (I just recently purchased a Change-A-Channel set off of eBay and was just as excited to receive it as I was 35 years ago!)

Then in 1971 I received a toy projector for Christmas that played 50-foot reels, and I've been hooked on film collecting ever since. I still have the Std. 8 film that came with the projector -- Ken Films' SEEIN' RED with Red Skelton.

Sure wished I had hung on to those toy projectors over the years!

---
Posted by Eberhard Nuffer (Member # 410) on May 19, 2006, 04:33 PM:

...here's another toy projector, the Viacom Mini Movi, currently offered on eBay Germany: http://cgi.ebay.de/MINI-MOVI-HANDFILMPROJEKTOR-VIACOM-1978-RAR_W0QQitemZ9138465127QQcategoryZ108242QQrdZ1QQcmdZViewItem.
According to the seller, it was made in 1978 and also uses endless loops. As it is not equipped with a light well, you have to hold it up to the outside light, but the transport is motorized and battery-operated.

---
Posted by Nicholas Fair (Member # 2498) on March 23, 2011, 12:26 PM:

ive got something similar, made by fischer price - its called a movie viewer. they also made a small television type version with a light bulb...

---
Posted by Osi Osgood (Member # 424) on March 23, 2011, 12:48 PM:

There were a number of these little hand held (and otherwise) movie viewers.

There was the already mentioned Kenner brand, which housed STAR WARS movies. There was also a shortly released "The Black Hole" catridge and hand held crank super 8.

However, the Black Hole cartridge could be played on the Fisher Price projector system. That was where Fisher Price hand a one up on the other companies, as you had the option of either hand cranking it and watching it through the "peep show", or you could shove that cassette into the full size projector and watch it on the wall.

The Fisher Price company released scores of different titles, everything from Disney to Sesame Street!

Then there was the very good "Pocketflix" films, which has a small round cassette that held a full minutes worth of footage, and at 24 fps (where the fisher price was about 12 fps) these were silent as well, but they had quite a variety, ranging from thwe 1976 King Kong, the Bad News bear, laverne and Shirley, the original STAR TREK, and many others. Interestingly, most of the TV shows represented in the cassettes were made up of the Beginning intros to the shows which, (in the case of STAR TREK and Scooby Doo) you could add to the beginnings of your 400ft Scooby Doo's and such.

The last one I can remember in the states here, was the GAF View master corporation "Double View" super 8 viewer whioch had two loops of film on one cartridge, and if you wanted to switch to the other, you simply took the catridge out and reversed it.
These "double View" movie viewers held the least amount of film loop to the catridfge ands was once again at the 12 fps.

Hope that info helps.

---
Posted by Desmond Godwin (Member # 2530) on May 03, 2011, 02:05 PM:

On the subject of the 'Toy Projector's' I happen to be looking at some 8mm items on E\bay and low and behold i came across the very 1st Toy Projector that was bought for me in the early 70's
(pic below) It came with a B+W 50' cartoon reel of standard 8 film. (somewhere in my film collection i think i still have this
original reel of film) It brought back so many memories seeing
this toy projector once again...

---
Posted by Colin Robert Hunt (Member # 433) on May 03, 2011, 03:02 PM:

I remember one of my friends having one of these projectors. I had not got into film at the time. There is no shutter to this projector and resulted in streaking and ghosting of the images on screen. Could only project onto a small screen. The film suffered from scratches because this machine was not the best in looking after the film running through it/

---
Posted by Michael O'Regan (Member # 938) on May 03, 2011, 03:05 PM:

Desmond,
This looks like the projector that was always advertised in the back pages of Famous Monsters from the Captain Company.

Is that where you got it, by any chance??

---
Posted by Desmond Godwin (Member # 2530) on May 03, 2011, 03:36 PM:

As you describe Colin is exactly how this projector operated -
(very small dim picture,streaking,and it most certainly did scratch the film.....
Michael, My parents (or should i say Santa) got me this Projector for Christmas. I must have run that small B+W Cartoon
film through the projector, on that Christmas day about 50 times before the batteries packed up..I have never stopped being
in love with Projectors & Movie Film since i first got that toy over 40 yrs ago..

---
Posted by Jeff Missinne (Member # 3373) on December 10, 2012, 12:09 AM:

Toy projectors...that's how I got hooked! I started out as a kid with an 8mm Brumberger that sounded like a machine gun when I turned the hand crank. Came with 3 films, 25 feet each: Popeye, Laurel & Hardy, and Tom Mix. I had a Kenner Easy-Show later, remember it coming with films of David Seville and the Chipmunks (silent!) and Lassie; the open cartridges it used tended to jam very badly. A clone of the Kenner projector is still (I think) made in Spain; it's called a Cinexin and has LEDS for light and closed cartridges of film that maybe work better than Kenner's did. Just bought a used Cragstan 8mm toy projector; those had an interesting double life, they were sold as a kiddie projector with cartoons or as a "Sports Action" projector with NFL clips (Atlas Films in NYC made Cragstan's prints as I believe they also did for Brumberger)...but quite a few ended up sold in adult-novelty shops as an "accessory" for porn clips!
---
Posted by Hugh Thompson Scott (Member # 2922) on December 10, 2012, 05:13 AM:

That is exactly the same projector that got me started,as soon as
I left school I got one of these from an ad in the paper.No shutter,
and a 50' spool capacity with the ability to ruin everything put
through it, it was soon junked.I remember it came with a 50'
Keystone Kops film and "free" screen on the side of the box.
My supplier for film then was a great guy by the name of John
Rowley from Brighton who ran a secondhand film business,whose
lists were full of Castle horrors etc.I remember getting "The Deadly Mantis" & "Teenage Frankenstein" in 50' versions plus
"The Mummy's Tomb" that had to be broken down onto 50' spools,another reason why it had to go, that and the poor
picture that looked like it was lit by someone with a cigarette!

---
Posted by Hugh Thompson Scott (Member # 2922) on December 11, 2012, 05:51 AM:

Hi Jeff, thanks for mail,no the projector I had was the little
HORIPET machine that Desmond mentioned, mine was a beige
mushroom colour, but regardless of shade it liked scratching
the hell out of film, but it did lead to a love affair that has never
dwindled, so I do owe that little machine that much.

---
Posted by Jeff Missinne (Member # 3373) on December 11, 2012, 10:12 PM:

Taking a close look at the Horipet machine, it looks extremely similar to the Cragstan. The cabinet of the Horipet looks about half again as deep (thick?) as the Cragstan, and the base is different, but the mechanism and switches appear identical. Could be an earlier version of the same machine under a different trade mark?

---
Posted by Hugh Thompson Scott (Member # 2922) on December 12, 2012, 01:21 PM:

Anythings possible Jeff,sometimes cine projectors of well known makes were badged up and sold as "stores own" once upon a
time.As Michael previously mentioned it does look like the one
that used to be advertised in FM, as I mentioned in a previous
thread I always had a longing for the "Thunderbird" advertised in
the same monster mags and probably just as destructive as the
"Horipet".I don't think those little machines had the power to
chew film, but were the last word in vertical scratches.

---
Posted by Jeff Missinne (Member # 3373) on December 13, 2012, 12:06 AM:

Found a You Tube video showing the Brumberger Thunderbird 1503 (the "Famous Monsters" projector) in action; it actually seems to run better and smoother than you might expect. Please check out:

https://www.youtube.com/watch?v=zhYlsN6UpxQ

---
Posted by Janice Glesser (Member # 2758) on December 13, 2012, 10:33 AM:

That is my projector and video guys
I posted a link on the forum when I got it back in February. http://8mmforum.film-tech.com/cgi-bin/ubb/ultimatebb.cgi?ubb=get_topic;f=1;t=006911# 000000

I just took it off the shelf a couple of days ago and it runs like a champ. The image is much stabler than shows in the video. It's in perfect condition...it's not a toy...it's built to last. It's a keeper.

---
Posted by Hugh Thompson Scott (Member # 2922) on December 13, 2012, 10:42 AM:

Well it certaily isn't a toy Jeff, and a very impressive little machine.

---
Posted by Jeff Missinne (Member # 3373) on December 13, 2012, 11:41 AM:

Thanks to Ms. Glesser for an excellent video, also for another one on splicing with Presstape!

My Brumberger projector was not the one shown, but a hand-cranked plastic toy that ran 50' reels with a flashlight bulb for light. It had no shutter and used a small leaf spring with a burr on one side to detain and release the film, hence the machine gun noise. It was probably a real film chomper, but I loved it anyway.

Brumberger was sort of a divided company; one side made toys (I can remember walkie-talkies and a coin bank that was a replica of a US mail box) while the other side made photographic accessories; metal-and-glass slide mounts, 8mm and 16mm reels and cans in home-movie sizes, storage chests for slides, movies, and filmstrip cans; stereopticon viewers, and darkroom safelights. Movie projectors were a point where the two sides seemed to meet. Brumberger was founded in 1904 and continued to operate in Brooklyn, NY until at least the late 1970's.

---
Posted by Janice Glesser (Member # 2758) on December 13, 2012, 04:35 PM:

It's always so nice to know a little history...thanks Jeff.

---
Posted by Jeff Missinne (Member # 3373) on December 13, 2012, 05:50 PM:

Wait till you folks see this video clip...it's amazing what you can do with imagination, ingenuity, and waaay too much spare time!
https://www.youtube.com/watch?v=T341EIGjI1c
---
Posted by Hugh Thompson Scott (Member # 2922) on December 13, 2012, 07:13 PM:

I'm sorry Jan, I didn't realise that was your video of the projector
and thanks for making it,it was a pleasure to see that little devil
run.Obviously not a toy as I mistakenly first thought, but a really
neat machine and one I would be proud to own.It just takes me
back to when I was a school lad, wishing I could own one to show
those great films in Forry Ackerman's magazines.I shall definately
view that again.Thankyou.

---
Posted by Janice Glesser (Member # 2758) on December 13, 2012, 10:30 PM:

Jeff...that Lego Projector is amazing. My grandson is just getting into Legos and he sees all the projectors I have around the house... I'm going to show him this video. Thanks for the link.

---
Posted by Timothy Ramzyk (Member # 718) on December 14, 2012, 03:11 PM:

I love these toy projectors, I spent soo much time gazing at the 200ft. capacity one Famous Monsters used to sell for $50 in the 70's. My parents wisely side-stepped it and bought me dual-format Chinon as my first in the 6th grade. It truthful only played Super 8, and I blame the dumb dual-8 capability for scratching my films. Still, it handled 400ft. and I think the Famous Monsters machine was regular 8 only. I'd have been pretty unhappy with it pretty fast.

---
Posted by Dominique De Bast (Member # 3798) on August 09, 2013, 04:54 AM:

Maybe the toy from the other topic is mentionned here...

---
Posted by Matthieu van der Sluis (Member # 6040) on January 14, 2019, 08:20 AM:

I really injoyed this topic and have my own experience and even relived some.
I still like this small 8mm machines. Kinda nostalgic I think, but once in a while I like to take one of those and for a moment I'm back in my past.

Here's my story with some photo's ro remember the good past.
A neighbour kid had the Mini Movi, and I think it's an EU version of the Pocket Flix.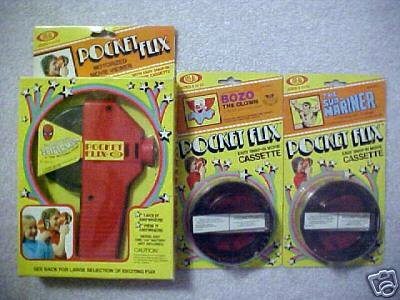 I showed this to my mother and she agreed to let me buy this, but sadly it was sold out.
What I did found was the viewer from GAF, who had a large market here in the Netherlands.
So I bought me a GAF Cinemaster as my first personal 8mm toy and I was crazy with this thing, watching the films over and over again.


For this you had the two films in one cassettes, like discribed earlier here.



For a long time I was a kid in my own magic cinema.
I even used a flashlight and put this in the viewers behind (lightgate) and projected the picture on the wall.
This worked suprisingly well and gave me a picture the zise of an A4 paper. Size above brightness of course.
A Year of what ago, I bought this GAF Cinemaster again from the marketplace, because I'm nostalgic.
Now I saw that the picture is small and jumps a lot too, because of the amount of frames a second.

As a kid I also tried the Mupi viewer V35 at a shop called HEMA (Sort of Hey Mom) here in Holland.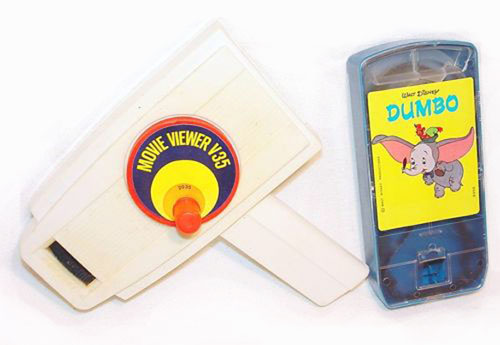 It had the film: The Prince and the Dragon, from Disney's Sleeping Beauty, and it was fantastic. I never saw that film before, WOW.
Lateron my father hired this film on Super8 60" Disney Digest which was great, which now of course have it myself.

Strange thing is, back than I liked the motorized GAF more, and was not focussed on the larger picture of this V35.

The HEMA also sold the Mupi P25 projector and WOW, this is what I wanted very much, like a dream, an ultimate toy to have.


Boy oh boy, this would give me my own staircloset Cinema Theater. Too bad, because it was sold very quickly, and I was really sad about this for a long time. I always wondered how this would have been.

I recently purchased a Mupi V35 and a Fisherprice version which is practically the same from the marketplace, with a lot of films.
Comparing this to the GAF Cinemaster, the Mupi V35 actually has a much larger picture than that of the GAF and smoother too (depending how fast your turn the wheel of course).

Finally I chased after my magical Mupi P25 projector, just to see what I missed out. I found it on eBay and now I could finally see how this would have been for the little Matthieu in me. Boy what an exciting moment,... to find out that this Mupi P25 really sucks. A very dim and small picture. I even tried out brighter lamps and all, but the design is bad.
I'm actually glad I could never bought one as a kid with my hard to get savings back than hahaha. Using my flashlight and my GAF Cinemaster gave me a much better result when I was little.

I also tried this a while back with the Mupi V35 using a very bright but small LED Flashlight that has a focus and zoom lenshead, pointing this onto the side of the V35 lightgate gave me a really good picture on the wall as well. Becoming the master of this hahaha, otherwise you need three hands, but it is possible to hold the Mupi V35 and the flashlight with one hand, while turning the wheel with the other hand, for movie watching.
Kids are gonna love it, or not,... nowaday's.

The Mupi V35 I like the best so far, because of the large picture, longer films and dark surrounding inside, like being in your small theater.
I also was thinking of putting my own film in a cassette by force-open the film cassette, or push the film out, splice my own film to the one inside, turn the real or push and pull till the other side comes out and splice the end to the beginning.
But,...
What I found you could buy a Mupi Personal Cassette for putting your own film on it and watch this with the great Mupi V35.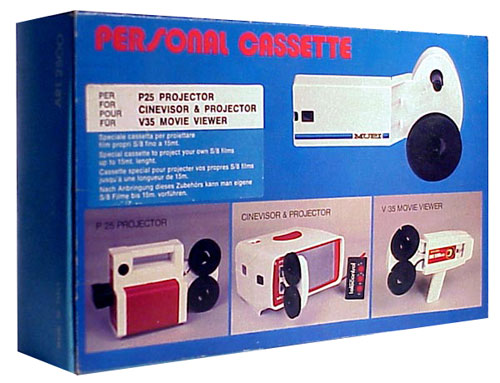 Probably not so good for your film, but very easy for showing the family quick.

I don't know what it is with those 8mm filmtoy's, but I still like to try them all out.

Since recently I've read here that the picture of the Pocket Flix would have been much better than the others, because of the 24fps.
I cannot find this anymore, but I recently found the Mini Movi with 6 films, that looks like an excact copy of the Pocket Flix.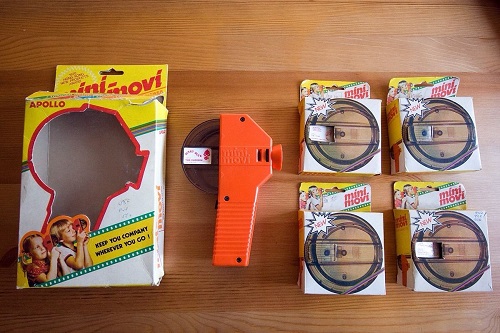 Only it says that the filmtransport does not function proparly. I know that the small pin that moves the film upwards is probably flatted out.
This Mini Movi is probably the one that my kid neighbour had and did I mentioned,... I broke without telling, auch. Bad boy.
Yes as a kid I always wanted to know how stuff worked, to see if I could make it better i think. So I put my fingers where it did not belong.
This way I needed to buy the GAF Cinemaster 3 times. But hey,... some films could only be bought with the GAF Cinemaster as a bundle, so I didn't mind that much.
I like to see how it looks, so maybe I'll go for it afterall. If I can fix it, and it's like the Pocket Flix, it shoutld be running very smooth.

Another 8mm Gadget that I found yesterday and is mentioned here as well, is the Micro Movie Viewer.
Even as a Keychain version: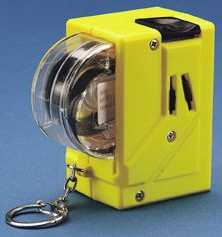 It has adjustable screen and focus.
I really love how small it is and because of the later developing it probably runs really smooth and has a better motor than the older GAF that gave a painfully high squeecking noise after a while.
There are some YouTube video's of this little Micro Movie Viewer and I think it is also 24fps.
I probably order myself a few of these, also as a giveaway for some of my customers who have done 8mm film themselves in the past.
I'm also keep searching for the Pocket Flix.

What's changed with the kids anno 2020?
The kids from now, like my son, have Virtual Reallity, by using a Samsung phone and Gear VR and watching their movies in a Virtual cozy theater.

[ January 15, 2019, 12:24 PM: Message edited by: Matthieu van der Sluis ]

---
Visit www.film-tech.com for free equipment manual downloads. Copyright 2003-2019 Film-Tech Cinema Systems LLC




UBB.classicTM 6.3.1.2