This is topic Elmo GS-1200 Take Up Reel Problem Solved! in forum 8mm Forum at 8mm Forum.


To visit this topic, use this URL:
https://8mmforum.film-tech.com/cgi-bin/ubb/ultimatebb.cgi?ubb=get_topic;f=1;t=001511

---
Posted by Alan Rik (Member # 73) on October 07, 2005, 01:21 AM:

As you know my GS1200 had a take up reel problem and I couldn't figure it out. I was measuring 7.5 volts to the rewind motor and only 3.5 volts to the take up motor. So the take up reel was moving but barely. After speaking to numerous people I decided to remove the Voltage Regulator board and it was either going to be replaced or repaired!

Ok! Here is the anatomy of a GS1200 Repair.
First off is the location of the Voltage Regulator board shown here with the 3 pots. Its the blurry board!




Now undoing 2 screws from the frame allows the board to come out. Look at all those wires!




Next every wire is labeled so as not to blow the fragile GS apart when putting the wires back.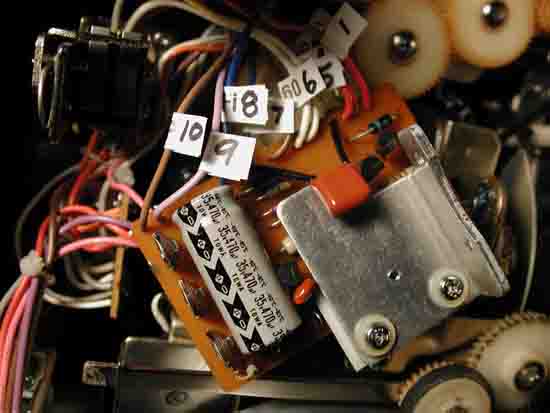 Then the wires are soldered off one by one!




Now for the tough part. I had no idea how to find out what was wrong with the board if it was the board after all. I knew I could get a new board from the US expert Leon Norris but I thought I would take the board in to a professional at my work. An electronics engineer.
I asked him to check all the components on the board to see if he could spot any bad transistors or resistors, caps, etc.
In 15 minutes here is what he found.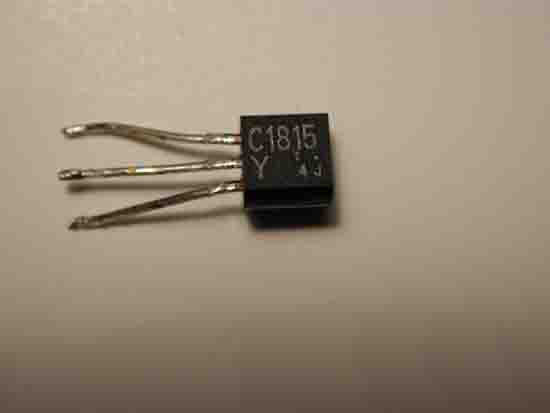 He replaced it for me and I installed the board. And now...7.5 volts to the take up motor. Nice and strong like it should be!
Thanks to Kevin, Ugo, Bill Parsons and Leon for helping me out on this one.
Now I can watch my 1200ft reel movies again!

---
Posted by Ugo Grassi (Member # 139) on October 07, 2005, 01:45 AM:

Congratulations!
So I know now an other part under "defective risk"!!!
Thank you alan Rik!

---
Posted by Kevin Faulkner (Member # 6) on October 07, 2005, 09:15 AM:

Well thats the first time I have heard of one of those going. What did you use as a replacement for the 2SC1815?

Kev.

---
Posted by Alan Rik (Member # 73) on October 07, 2005, 06:11 PM:

Kev,
I wish I knew! I asked the engineer where he got a replacement part and he said that it wasn't exact but, "Trust me. It will work."
And it did!
---
Posted by Bill Parsons (Member # 244) on October 08, 2005, 11:58 AM:

I use a BC182L as a replacement, but it must be a the 'L' version, there are others that will do the job but I have found the 182 to be the most reliable, this is a farley common fault on the board with the 3 pots, which is why I suggested to Rik he checks the transistors. In almost all cases if the relay is to blame the take up will stop completely in the fault condition.

Bill.

---
Posted by Jan Bister (Member # 332) on October 08, 2005, 06:53 PM:

Is that a common fault? Anybody ever watch a film with their GS1200 and find that the take-up reel suddenly stops and half the movie ends up on the floor?
---
Posted by Alan Rik (Member # 73) on October 09, 2005, 08:26 AM:

well.. I didn't find half the film on the floor but I looked down and saw at least 200ft of it!!!
It does feel good to be able to work on your machine and bypass taking it in to a repair place where you are at the mercy of whatever they want to charge you. And this forum has been SO great at dispersing information freely. The Internet at its best and doing what it was designed to do. Sigh...I get a warm and fuzzy feeling coming here....

---
Posted by Kevin Faulkner (Member # 6) on October 09, 2005, 08:57 AM:

Yes Bill, my Towers International also suggests the 182L or a 2N3859A as direct equivalents. Never seen one of those go todate.

Kev.

---
Visit www.film-tech.com for free equipment manual downloads. Copyright 2003-2019 Film-Tech Cinema Systems LLC




UBB.classicTM 6.3.1.2