This is topic Need info for DeMaio Film Service in forum 8mm Forum at 8mm Forum.


To visit this topic, use this URL:
https://8mmforum.film-tech.com/cgi-bin/ubb/ultimatebb.cgi?ubb=get_topic;f=1;t=002469

---
Posted by Winbert Hutahaean (Member # 58) on January 31, 2007, 01:21 AM:

I need info from you guys regarding DeMaio Film Service.

This is the picture: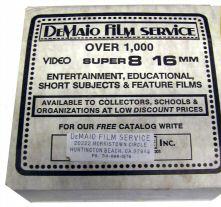 I never heard this company being discussed here. Any one have info regarding their quality (sharpness, stock, etc) and what sort of movies they had released?

thanks,

---
Posted by Gary Crawford (Member # 67) on January 31, 2007, 07:55 AM:

Carl Demaio is still around today...mostly dealing with movie posters, under Kellies posters.( that's his wife's name). I bought my Elmo St1200HD fromi him brand new back in the early 70's. I still have it and it is still in regular use. He distributed a lot of super 8 films back then.... As far as I know he simply put films from other distributors into his boxes and sold them. I could be wrong about that , but I don;t think he actually had his own releases. You could ask him....he still goes to the film conventions and sells wonderful posters...and sometimes some 16mm films...both at conventions and on ebay. Search for kelliesposters and I think y ou'll be able to get in touch with him. He and his wife are dear people and I'm sure he'd answer any questions you have.

---
Posted by Joe Taffis (Member # 4) on January 31, 2007, 05:24 PM:

I had a full length print of NIGHT OF THE LIVING DEAD that I identified as a DeMaio Film Service print from the leader, which was NOT spliced. A very good print, both picture & sound.

---
Posted by Gary Crawford (Member # 67) on February 01, 2007, 07:08 AM:

Forgot to add...he also has an ebay id and business Id as the Demaio collection.

---
Posted by Mathew James (Member # 4581) on September 24, 2015, 11:51 AM:

Today, I received in the mail a colour sound print of
'Popeye meets Sinbad'

The film was on the reel backwards and looks to never been used, but the box was squished. The box was just a white box with the title stickered on the end spine.
I will report back the film quality after i watch it. It is a 400' reel.I am surprised it is in colour because i bought it blind, not expecting colour, so that is a pleasant surprise, maybe...
I just rewound it correctly, and the header says 1978 Demaio Film Services, and the box says that it is in iowa. According to the internet, it says the company started in 1979, but my print says 1978 unless i am reading something wrong.
i'll report back on the colour quality/fade, sound, etc...in a bit.
Matt
EDIT: It looks like there was a company incorporated in 1978 in Iowa, and one in california the following year in 1979. Hey, this print is 37 years old!!!

---
Posted by John Hourigan (Member # 111) on September 24, 2015, 12:00 PM:

Back in the late 1970s, I bought several films from DeMaio, but the films were from Universal 8, Ken, Disney, etc. I seem to recall their address was Dubuque, Iowa (?).

---
Posted by Mathew James (Member # 4581) on September 24, 2015, 12:50 PM:

That is correct John!
Here is the full address on the sticker:
DEMAIO FILM SERVICE
2757 balboa drive dubuque, iowa 52001
telephone: 319-588-3043

The side sticker says 3/78 so I am guessing it was printed in March 1978. It also says 'Super 8 -processed CINE MAGNETICS

I just screened this. The colour is fantastic!! It looks like this one posted on youtube:
http://www.youtube.com/watch?v=vfFPAetfvvE
I see very little colour fade compared to my other colour cartoons. Sound is beautiful and clear....no crackle whatsoever...Very Nice Prints Carl produced or distributed here....
Cheers,
Matt

---
Visit www.film-tech.com for free equipment manual downloads. Copyright 2003-2019 Film-Tech Cinema Systems LLC




UBB.classicTM 6.3.1.2