This is topic ELMO VP-C Belt Configuration in forum 8mm Forum at 8mm Forum.


To visit this topic, use this URL:
https://8mmforum.film-tech.com/cgi-bin/ubb/ultimatebb.cgi?ubb=get_topic;f=1;t=004699

---
Posted by Terry Lagler (Member # 1110) on July 17, 2009, 10:05 PM:

I have in my possesion an Elmo VP-C and I wouldn't mind getting it going, but it no longer has the belts. I've got to admit I'm a bit confused as to how the belts are configured on this machine. I wonder if anyone has dealt with this projector before or can supply a belt diagram?
Cheers
Terry

---
Posted by Jon Addams (Member # 816) on March 22, 2010, 11:18 PM:

Hello Terry,

I am just answering this post because it will go back to the front page and perhaps there is someone this time who would have that information.

I have two of this little Elmo Super 8 BUT no belts. it seems to be quite a job to figure how to install the belts without a diagram. Here are a few pictures to see if anyone wants to take a crack at it.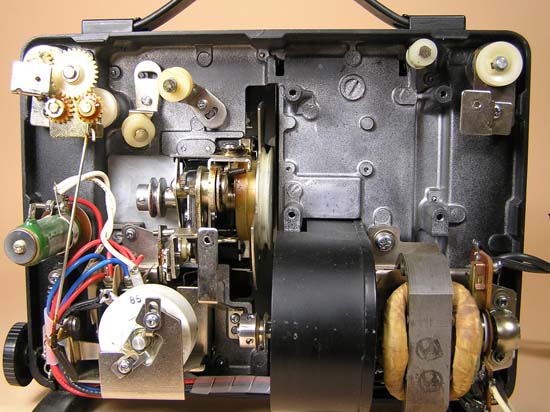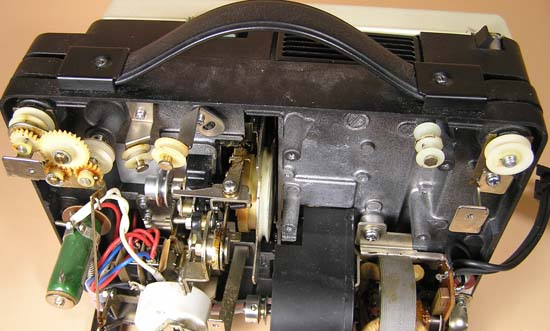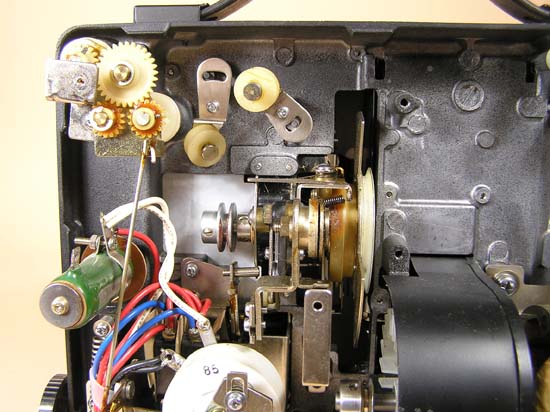 Anyone?

Jon

---
Posted by Steve Klare (Member # 12) on March 23, 2010, 10:39 AM:

Mostly Guesswork...

One belt from the motor shaft to the shutter shaft directly above it.

One belt from the shutter shaft up to the pulley at the bottom right of that cluster at the top left, with one of those idler pulleys adjusted as a tensioner.

One long belt from a pulley which is selected by the forward-reverse selector which goes all the way to the back pulley for the take-up arm with the other idler pulley as a tensioner.

A good clue is that pulleys have to be sitting in the same spatial plane for belts to work properly, otherwise they will wear wrong or even pop off the sheaves. In something bigger like for example a car engine they will make sounds which will kill every dog for half a mile!

Of course, by my own logic that front pulley on the shutter shaft doesn't have anywhere to go, since it is planar with nothing else, so maybe that angled pulley is there to bend its belt around a corner...

Do you have the replacement belts? "isellprojectorbelts" on e-bay may both have the belts and an idea how they go on.

---
Posted by Jon Addams (Member # 816) on March 23, 2010, 09:05 PM:

Steve,

I am going play with this over the weekend starting with your suggestions and see what happens. I will keep you posted.

Mark (isellprojectorbelts) currently does not have a set for this machine. I used to buy belts from him and he told me sometime ago he didnít have belting diagrams for any projector. He said so when I was looking for one for the Canon PS-1000, the most complex belting job I have ever done!

Thanks to Bill Brandenstein for posting excellent pictures of the opened PS-1000 in this forum back in 2007 (I am sorry for the belated thanks Bill but I went on sick leave for long time around that time)

I rarely buy belts now; I bought some belting material in different thickness and a welding kit. Now I make almost any belt I need in any size and thickness. My belts work fine and it cost me a heck of lot less than what I used to pay. I have already recovered the money I invested in the welding kit.

Thanks for the input Steve,

Jon

---
Posted by Steve Klare (Member # 12) on March 23, 2010, 09:38 PM:

Hey Jon,

The first belt from the motor pulley up is basically a given, it's just how does the torque get from the front shutter shaft pulley up to the stuff on the top of the machine?

From what I've been able to dig up, there are only two belts on this machine. If this is the truth that second belt must do some spectacular twists and turns.

(The idea of three belts still makes more sense to me. The rear pulley has to be able to either run or freewheel with the motor running...)

---
Posted by Graham Ritchie (Member # 559) on March 25, 2010, 03:11 PM:

Hope this helps its a VP-A though.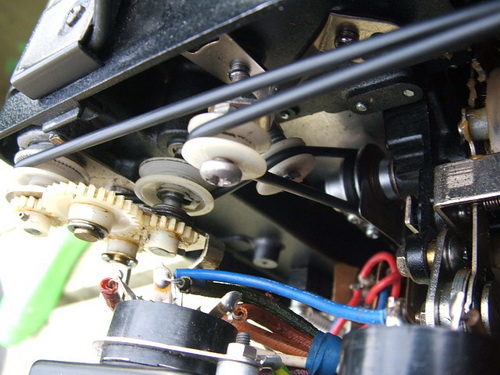 Graham.

---
Posted by Steve Klare (Member # 12) on March 25, 2010, 03:27 PM:

Yikes!

It looks like the insides of an 1820s sawmill! There are shafts, pulleys and belts everywhere!

Yet it does explain how they manage to get away with just two belts.

---
Posted by Jon Addams (Member # 816) on March 25, 2010, 05:47 PM:

YIKES!!! YIKES!!! YIKES!!! and another YIKES!!!

WOW!!!

Looks like fun, let's see how far I get this weekend. I'll post a follow up.

Thanks Graham and Steve for you invaluable input.

Jon

---
Posted by Jon Addams (Member # 816) on March 27, 2010, 03:50 PM:




Got it belted and it's running great. I followed Graham's pixs!

Thanks guys

Jon

---
Visit www.film-tech.com for free equipment manual downloads. Copyright 2003-2019 Film-Tech Cinema Systems LLC




UBB.classicTM 6.3.1.2