This is topic The Incredible 938 in forum 8mm Forum at 8mm Forum.


To visit this topic, use this URL:
https://8mmforum.film-tech.com/cgi-bin/ubb/ultimatebb.cgi?ubb=get_topic;f=1;t=005066

---
Posted by Paul Adsett (Member # 25) on December 12, 2009, 02:36 PM:

Yesterday I gave a Christmas film show to a school group at a local church hall. I decided to use my Eumig 938 projector as it is much lighter and more easily handled than my GS1200. I fitted the projector with my Eastman Kodak Ektar 22mm f1.0 lens and projected on to a 5ft wide screen. I was showing several films of all different ages and reel sizes, and I was impressed yet again at how flawlessly the 938 will thread and run any film you feed into it. Every film was projected absolutely rock steady with no hint of vertical dither or horizontal weaving, focus stayed put with no need to constantly fiddle with the focus knob, and throughout the whole show the 938 just purred smoothly and happily along. This is just about the most reliable and fuss-free projector I have ever owned, and performance-wise it is absolutely second to none. The sound was really superb, even on old mono films, and with the Ektar lens the picture was brilliant and needle sharp from top to bottom and side to side. The picture was astonishing, and I was so proud of how my 938 did its job without a single hiccup. What a really great projector this is, surely Eumig's ultimate achievement in projector design!.




[ December 13, 2009, 11:22 AM: Message edited by: Paul Adsett ]

---
Posted by Tony Stucchio (Member # 519) on December 12, 2009, 05:40 PM:

Paul,

That particular model seems very rare -- usually goes for high prices. I believe it is easier to get in Europe -- was it ever sold new in the US?

Also, how were you able to fit another brand of lens into it? Usually Eumigs need Eumig lenses, and the earlier lens that fit the 810D wouldn't fit into the 900 series.

I enjoy my Elmo ST-1200 HD, but I've been intrigued by this Eumig ever since you started raving about it a here on the forum. I would LOVE to get one!

---
Posted by Douglas Meltzer (Member # 28) on December 12, 2009, 06:18 PM:

Tony,

I have a Eumig 940 (great condition, original box) that I'm thinking of selling. Too many projectors, so little space....

Doug

---
Posted by Greg Marshall (Member # 1268) on December 12, 2009, 07:12 PM:

Doug.... It sounds like you need some shelf space for more films, too... so, what's for sale????
---
Posted by Paul Adsett (Member # 25) on December 13, 2009, 10:52 AM:

Tony,
I got my 938 from Canada. I don't think they were ever sold in the USA.
I had to machine down the outside diameter of the Ektar lens to get it to fit into the 938. Well worth doing though because the Ektar gives a much better picture than the Eumig lens.
Doug's 940 is mechanically identical to the 938, except it has LED lights for recording level (instead of the two analog meters on the 938), plus it has touch-pad microprocessor control of all the recording functions. It also has a better lens, though without the 938's 'optical levelling' feature.

---
Posted by Michael De Angelis (Member # 91) on December 13, 2009, 01:49 PM:

HI Paul,

Great news, and glad that it was a success.

Is there any other microprocessor control unit in
the 940 projector? Leon once mentioned something to
this, but I'm not sure if it is one and the same on microprocessors?

Years ago in Super 8 movie maker (Film maker) the back page
was advertised with a Eumig that appeared as this model.
-just do not remember if it was a 938, or 940?

---
Posted by John Hourigan (Member # 111) on December 13, 2009, 08:25 PM:

While I haven't owned a 938, I absolutely agree that the Eumigs I've owned project a much steadier picture than Elmos. I only wish the Eumigs handled 1200-foot reels as that's the primary reason I shifted to the Elmos.

---
Posted by Antoine Orsero (Member # 41) on December 17, 2009, 09:54 AM:

Hi,

I just bought a projector EUMIG S938 Stereo NEW.
Never used with original packaging for 124 euros.

Rare in this condition and in this price.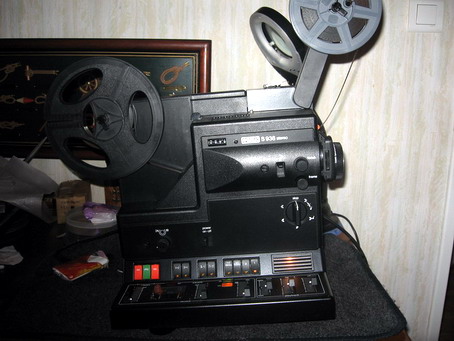 ---
Posted by Paul Adsett (Member # 25) on December 17, 2009, 10:24 AM:

Bonjour Antoine,
You really got an incredible projector at an incredible price! I got mine from Canada for $199.00 and it was just like new.
Enjoy this great machine.

---
Posted by David Michael Leugers (Member # 166) on December 20, 2009, 11:21 AM:

Just another example of how some truly great projectors and cameras were coming out just when the dreaded video revolution
put an end to it. A real bummer, cause the last Eumig's were
just incredible and are in very short supply.

---
Posted by David Kilderry (Member # 549) on December 20, 2009, 09:26 PM:

I paid less than $200 for my 940. It was a local projector delivered new by a camera store about 30 mins from here. It was on ebay and it had a poor description saying almost anything and everything could be wrong with it.

Well a quick service on the drive wheel to restore the correct speed and here we are after 18 months of film fun. It came in its original box too.

Paul was right years ago with his combined Elmig, but I like them sitting next to each other in my projection room. The Elmo 1200 series and the Eumig 938/940 both offer features that the other can't deliver.

David

---
Posted by Alejandro Lopez (Member # 310) on December 21, 2009, 02:51 PM:

On July I bought three Eumig projectors; a 926 GL Stereosound, a S932 and a S940, all three for Euros 200, including shipping, a real bargain.
When the projectors arrived I noticed there were problems on two of them. The 926 GL Stereosound doesnīt switch on, perhaps the micro switcher thatīs activated with the Power button is defective. Iīll watch when Iīll have more time. The S932 runs a bit slow, but I think that cleaning and adjusting the discs the motor will run fine. The S940 didnīt run fine with a lot of motor noise and slowly. I cleaned the discs and adjusted them and now itīs running fine. The main problem with the S940 was a lot of corrosion on the alloy cast, a kind of white powder. I sprayed generously with a gun cleaner and the white powder turned into a kind of salt, easy to remove with a brush. But I had to dissasemble all the mechanics and the electrical and electronic parts before spraying and cleaning. After two days of brushing, the machine seemed almost new. I reassembled all and the projector ran fine but thereīs no sound. You get noise from the amplifier so I assume I did one or more mistakes with the conectors. I donīt know if someone has a Service Manual but, if not, pics of the transformer with all the wires connected, the conectors inside the amplifier and at the circuit board on the bottom left of the rear of the projector will serve. I desesperately need them to do the work and have the machine in working condition. Merry Christmas.
Alex.

---
Posted by Paul Adsett (Member # 25) on December 21, 2009, 06:14 PM:

Alejandro,
When switching on the 926, try pushing the knob inwards as you slide it to the right. sometimes the switch will not power up the projector unless you do that. This is a common peculiarity ( NOT A FAILURE) of the 900 series main switch.

---
Visit www.film-tech.com for free equipment manual downloads. Copyright 2003-2019 Film-Tech Cinema Systems LLC




UBB.classicTM 6.3.1.2