This is topic What is Tom & Jerry "Krieg der Mäuse" in English? in forum 8mm Forum at 8mm Forum.


To visit this topic, use this URL:
https://8mmforum.film-tech.com/cgi-bin/ubb/ultimatebb.cgi?ubb=get_topic;f=1;t=005370

---
Posted by Winbert Hutahaean (Member # 58) on March 27, 2010, 08:37 AM:

I got an offer Tom & Jerry - Krieg der Mäuse, but I hate to buy something already in my collection.

The seller cannot find the equivalent title in English, but he interpret the story as follows:


quote:

---


The title in english I dont know. But the story is like so. Tom tries a mousecatcher, cat, and Tom angagiert himself for Jerry to catch now. But the mousecatcher changes his profession and catcatcher becomes now to the end.

---
The cover is just like this: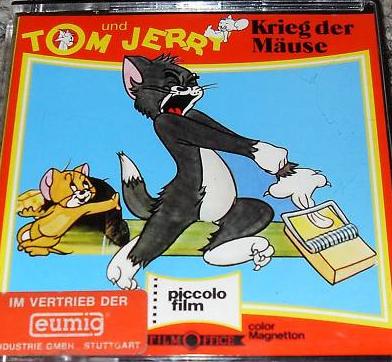 What is this title in English?

Your help is very much appreciated. Thanks

---
Posted by Larry Arpin (Member # 744) on March 27, 2010, 01:28 PM:

Sounds like Trap Happy. Tom calls an exterminator, Meathead, the black cat, but Tom keeps messing things up and Meathead gets mad at Tom and chases him at the end.

---
Posted by Winbert Hutahaean (Member # 58) on March 27, 2010, 03:43 PM:

Thanks Larry. You are really a TJ expert!

I will send this clip from youtube to the seller, in order to get his confirmation.

http://www.youtube.com/watch?v=r-QbkaA9Umg

cheers,

---
Visit www.film-tech.com for free equipment manual downloads. Copyright 2003-2019 Film-Tech Cinema Systems LLC




UBB.classicTM 6.3.1.2