This is topic Last copies of the book MOVIE CAMERAS in forum 8mm Forum at 8mm Forum.


To visit this topic, use this URL:
https://8mmforum.film-tech.com/cgi-bin/ubb/ultimatebb.cgi?ubb=get_topic;f=1;t=006739

---
Posted by Juergen Lossau (Member # 359) on December 28, 2011, 03:47 AM:

My coffee-table book MOVIE CAMERAS was published 11 years ago. In the first two years it sold 2,500 copies, then another circulation of 2,500 was printed. Now there are only 15 copies left. So - hurry up in case you would like to have a copy of this book with a catalogue of more than 3,200 movie cameras (16 mm, 8 mm, 9.5 mm, Super 8 and Single-8) inside - and with the stories of all big movie camera manufacturers. Last chance
We will not print another circulation.

The books MOVIE PROJECTORS and SUPER 8 are still available of course. You will find all these books here: www.atollmedien.de The website is in English and German; all books are English/German, too.

Juergen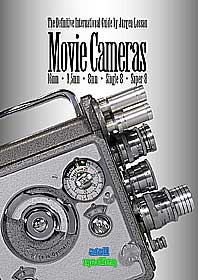 ---
Posted by Chris Punzi (Member # 2647) on December 28, 2011, 11:00 PM:

I just received a copy of your book "Super 8" for christmas! The book is terrific, thank you so much for writing it. It's very cool to see the website, I'll look into buying more books when I scrape together some more money.

---
Posted by Juergen Lossau (Member # 359) on January 01, 2012, 09:36 AM:

Hi Chris,

thanks for the nice comment. Always fun to see where the books are going to... Last year, I sold a copy of MOVIE CAMERAS to South Korea for the first time. And the handbook SUPER 8 was the bestseller for Christmas this year - with one copy to China and one to Russia
---
Posted by Douglas Meltzer (Member # 28) on January 01, 2012, 10:00 AM:

Movie Cameras is an amazing reference source. I'm constantly thumbing through it along with Juergen's other indispensable publications: CUT - A Picture Book About Splicers, Super 8, The Complete Catalog of Movie Cameras and especially Movie Projectors.

Doug

---
Posted by Winbert Hutahaean (Member # 58) on January 01, 2012, 11:06 AM:

Juergen, just wondering, any book sent to Indonesia, my home country?

---
Posted by David Kilderry (Member # 549) on January 01, 2012, 11:08 PM:

Just ordered a copy; thanks for the reminder Juergen. I always intended to add this one to Movoe Projectors and never got around to it.

As tip for others, they already sell for a much higher price in used book stores, so if you think you may want it, stretch now. Also, the Euro is the lowest it has ever been against our dollar, which certainly helps!

---
Posted by Juergen Lossau (Member # 359) on January 02, 2012, 04:19 PM:

Hi David, your copy will be shipped tomorrow
. Thanks for the nice words.

Hi Winbert, Indonesia is still a blank spot on our map. Will you be the first one from your country to order at www.atollmedien.de?
---
Visit www.film-tech.com for free equipment manual downloads. Copyright 2003-2019 Film-Tech Cinema Systems LLC




UBB.classicTM 6.3.1.2