This is topic Restoring Elmo Guides in forum 8mm Forum at 8mm Forum.


To visit this topic, use this URL:
https://8mmforum.film-tech.com/cgi-bin/ubb/ultimatebb.cgi?ubb=get_topic;f=1;t=007879

---
Posted by Steve Klare (Member # 12) on January 30, 2013, 07:15 PM:

My ST-800 has a tensioner that rides on the film surface between the heads and the lower sprocket. I got a look at it last week and found the beginnings of two grooves worn in it corresponding to the edges of the film.

This means I now have flat surfaces resting on the film. They are small enough I'm sure they aren't wearing into the frame, but of course given enough miles of film passing by they will and this machine projects a lot of film.

Has anybody here got experience reprofiling parts like this? It's made of that famous pea-green Elmo plastic. I'm wondering if all it would take is two tiny streaks of epoxy and some fine shaping, but I don't know if epoxy even sticks to this stuff.

Thoughts?

PS: on the ST-1200 this function is done by a roller, that's what you get spending more money.

---
Posted by Hugh Thompson Scott (Member # 2922) on January 30, 2013, 07:18 PM:

Hi Steve, are you referring to the head presser that holds the stripe to the head and fits below the film loop.

---
Posted by Steve Klare (Member # 12) on January 30, 2013, 07:22 PM:

Hi Hugh,

No, this is after the gate and before the bottom sprocket. It's a lever with a spring and your traditional V-shaped sliding guide. (I see your confusion: I fixed my original post. I shouldn't try using my brain after I get home from work!)

First thing I did was go to the parts machine. That part was worn identically, so it's either fab a better replacement or fix what I have.

---
Posted by Hugh Thompson Scott (Member # 2922) on January 30, 2013, 07:53 PM:

Right I think I've got it now Steve, it isn't you, it's me.The plastic
part does the job of the snubber roller, it is the same with the
GS1200, I have just two weeks ago replaced the horrible plastic
guide with a nylon roller salvaged from an old video recorder.
What I did was to cut away the plastic and leave the moulded part
with the spring, to which I attached the metal spindle with roller
with epoxy resin.It works great, and was the final roller to be
fitted to the GS, which I have been using while my Fumeo is
out of action, needing a wiring repair.Why ELMO could not have
done something similar beats me

---
Posted by Lee Mannering (Member # 728) on January 31, 2013, 03:26 AM:

Hi Steve. Hugh is dead right, that little black jockey thing is absolutely below spec for these machines and prone to wear due to constant tension and contact with the film. I agree with Hugh its best to work out a replacement rotating guide perhaps using a defunct part from another 8mm projector.

---
Posted by Maurizio Di Cintio (Member # 144) on January 31, 2013, 10:34 AM:

I did the same thing on one of my GS 1200: a roller is much better, and it's awesome!!! I like to see it while "caressing" my films during projection.
It's the way to go.

---
Posted by Patrick McGrath (Member # 1210) on January 31, 2013, 04:40 PM:

I just did a similar mod to my ST-180.
Nylon roller attached to the modified, existing spring/arm assembly.

---
Posted by Douglas Meltzer (Member # 28) on January 31, 2013, 10:03 PM:

I have got to do this.

Doug

---
Posted by Dino Everette (Member # 1378) on February 01, 2013, 01:12 AM:

Can someone please post some pictures so that the rest of us don't have to re-invent the wheel
As a new GS user I'd like to make sure I get my machine up to its best possible options...

---
Posted by Steve Klare (Member # 12) on February 01, 2013, 08:21 AM:

I've decided to machine a roller out of Delrin rod and build a mount for it.

Life being what it is this can't be a priority. So in the meantime I took my spare tensioner and reprofiled it so it is the same shape but without the gouges. I used this funky nail file my wife has with many different grits on it (Wives can be useful at times!) and shaped it and then polished it very smooth.

I ran a crappy reel through it, backed it up and ran it again: all is well.

(Note for the folks on the "What to do with red prints" thread. Here's one thing.)

I think I'll go through the fine polishing stage tonight: all 600 feet of "Wind Through the Wires", which is not exactly a pristine print either. When I feel comfortable I'll start showing the good stuff on this machine again.

---
Posted by Lee Mannering (Member # 728) on February 01, 2013, 08:36 AM:

This is what the back wheel looks like on my Vespa!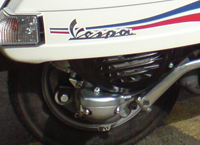 Have a look through Desmonds video rebuild clips. He has done a wonderful job indeed and does show a good picture of the jocky wheel upgrade on his Gs1200 Xenon. Amazing work Desmond. https://vimeo.com/43677907

---
Visit www.film-tech.com for free equipment manual downloads. Copyright 2003-2019 Film-Tech Cinema Systems LLC




UBB.classicTM 6.3.1.2