This is topic Sankyo 2000H - Removing/Cleaning Heatsink Glass in forum 8mm Forum at 8mm Forum.


To visit this topic, use this URL:
https://8mmforum.film-tech.com/cgi-bin/ubb/ultimatebb.cgi?ubb=get_topic;f=1;t=009936

---
Posted by Janice Glesser (Member # 2758) on April 27, 2015, 03:33 PM:

There is a thread on removing or cleaning the heatsink glass from a Sankyo 1000, but getting to the glass on the 2000H is a little more complicated. Here are instructions and photos to illustrate how to do it.

1. Remove the lamp and the lamp bracket.

2.Remove 2 inner front plate screws.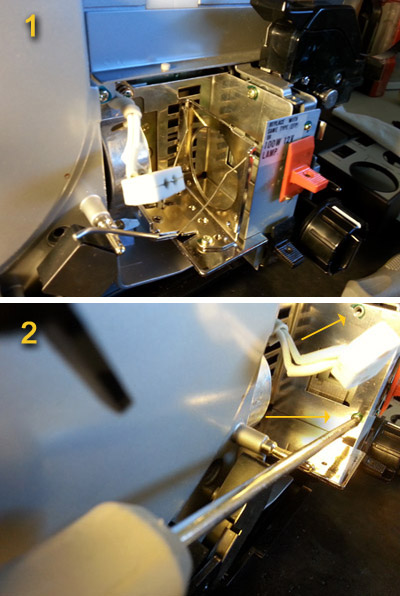 3. Remove 1 screw from upper side plate.

4. Remove 2 screws from underneath lamp base plate.



5. Remove the red & black slider switch levers by removing the tiny screws as shown. You'll need a set of precision screw drivers (I got mine at The Dollar Tree
The lever will pull off.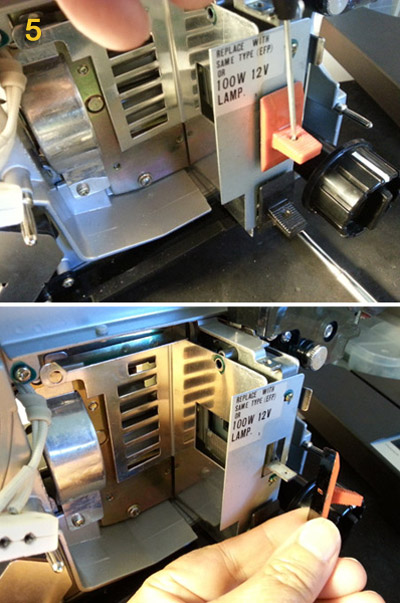 6. Remove the 2 screws from the face plate.

7. Remove the 2 screws that hold the heatsink glass frame plate. Once those screws are removed the frame should just pull out.

8. You can now clean the glass (mine looks a little dirty
...or remove it completely. However, if you remove the glass do not use the still function and if film gets stuck in the gate, it could burn.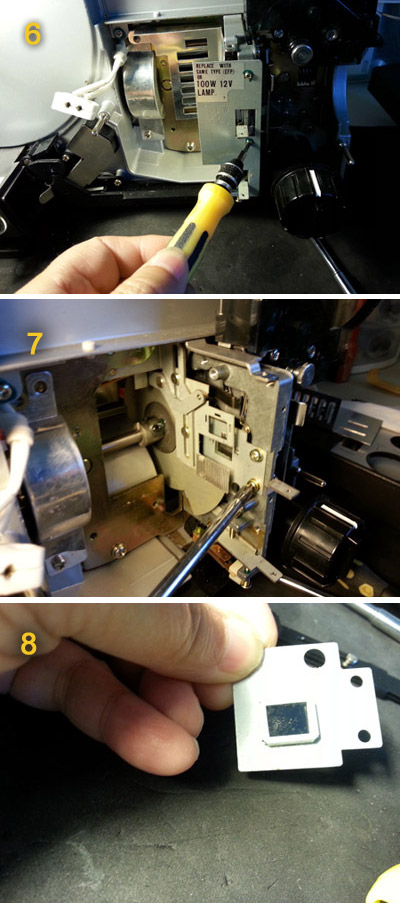 ---
Posted by Barry Fritz (Member # 1865) on April 27, 2015, 07:46 PM:

Great post Janice. I've been contemplating removing mine and this will make it much easier.

---
Posted by Janice Glesser (Member # 2758) on April 28, 2015, 04:35 PM:

Glad it was helpful Barry. I discovered another benefit to removing the lamp base and the back plate. It gives easier access to the shutter and claw drive shaft. Accessing it from the front made adjusting the claw so much faster and easier then trying to traverse through wires, a PCB and a metal plate. I'll write this up in another thread. http://8mmforum.film-tech.com/cgi-bin/ubb/ultimatebb.cgi?ubb=get_topic;f=1;t=009946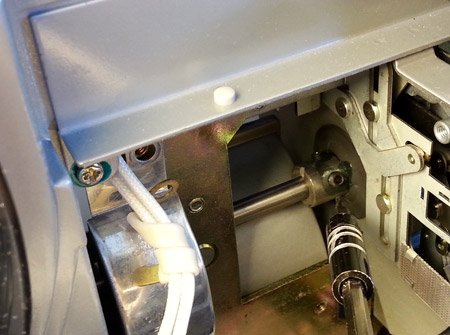 [ May 02, 2015, 10:09 PM: Message edited by: Janice Glesser ]

---
Posted by Andrew Woodcock (Member # 3260) on April 28, 2015, 04:48 PM:

Janice, this really is as good as any service manual you may find, to owners of these machines, superb work, very well done indeed!
---
Posted by Janice Glesser (Member # 2758) on April 30, 2015, 08:39 PM:

Thank you Andrew! I have a few service manuals. Most are extremely confusing...and they ALL could use more pictures
---
Posted by Alex Bond (Member # 6051) on October 02, 2017, 05:33 AM:

This is exactly what I was looking for - it must have taken you some time to put together -thank you
---
Posted by James Wilson (Member # 4620) on October 03, 2017, 09:21 AM:

Hi Janice,
can you give any tips on how to replace the grub screws in the super 8 & Standard 8 sliders?
I`ve just spent three hours replacing mine, this would try the patience of a Saint.
Regards,
James.

---
Visit www.film-tech.com for free equipment manual downloads. Copyright 2003-2019 Film-Tech Cinema Systems LLC




UBB.classicTM 6.3.1.2