This is topic Finally got my Lomo Russian projector going in forum 8mm Forum at 8mm Forum.


To visit this topic, use this URL:
https://8mmforum.film-tech.com/cgi-bin/ubb/ultimatebb.cgi?ubb=get_topic;f=1;t=010167

---
Posted by Clinton Hunt (Member # 2072) on August 29, 2015, 10:41 PM:

About 5 years ago I bought a Lomo (Inverted V over the name Omo means 'L' making Lomo) MIR2 standard 8mm projector that needed a motor plus had rust and broken feet,so I put it on a shelf hoping that one day I would see another for sale ... patience paid off finally!
These were made in the USSR in 1962-ish.

I used the old one for parts to make the newer one go - taking the lamp and the pilot lamp and the pilot lamp red cover from it and putting on the newer one.And there are now lots of other spare parts if I need them.

As you can see by the pics it is a solid metal casing projector,projects with the front cover closed,lots of "modern" internal components,speed control and a lamp selector for normal or bright.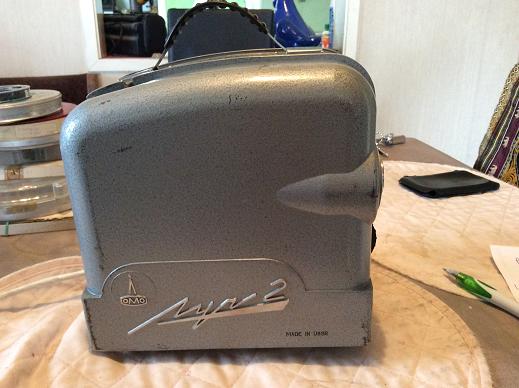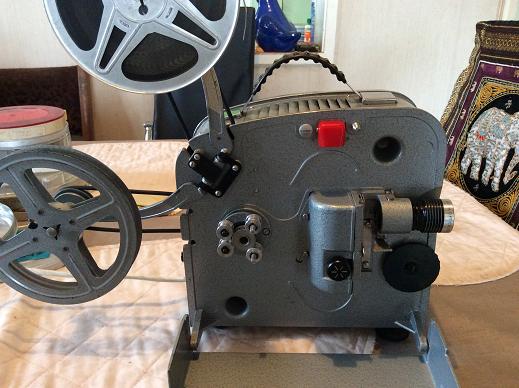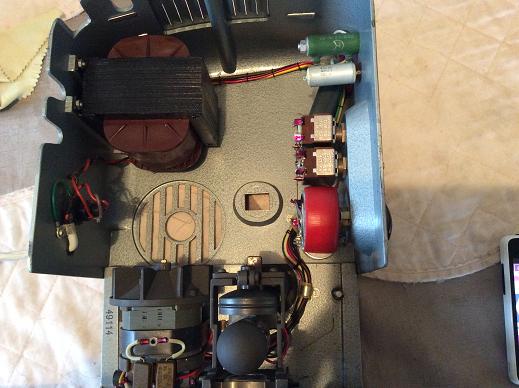 ---
Posted by Steve Klare (Member # 12) on August 29, 2015, 11:05 PM:

That's an interesting find!

I always associate Lomo with their developing tanks and I had no idea they made projectors.

Does it take a common lamp?

---
Posted by Clinton Hunt (Member # 2072) on August 30, 2015, 12:04 AM:

Hi Steve,
The lamp is similar to this one shown in first picture - not the actual lamp but it gives an idea of shape etc.

The newer one I got had an adapter that allows a halogen 12v 100w lamp to slot into like in the second picture.

So either type means I will be able to replace the lamp



I initially couldn't find any info on the projector until I stumbled across the Lomo
---
Posted by Lee Mannering (Member # 728) on August 30, 2015, 04:57 AM:

Wonderful to see interest in the Lomo Clinton. Twas my first silent projector as a boy which I still have and came as a complete cine outfit back then with cine camera. You have inspired me to fire it up once again...
---
Posted by Brian Fretwell (Member # 4302) on August 30, 2015, 04:14 PM:

Didn't LOMO stand for something like Leningrad Optical & Mechanical Organisation(?). Never could be sure of the last word.

---
Posted by Steve Klare (Member # 12) on August 30, 2015, 04:28 PM:

"Leningradskoe Optiko Mechanichesckoe Objedinenie"

-but you are certainly close enough!

LOMO

It makes me wonder what kinds of 8mm and Super-8 films were available in the Warsaw Pact countries and how common they are these days. It's kind of doubtful a lot of Western films were allowed in.

I'm not sure we've ever had anyone join this Forum from any of the former Soviet States, although I'm sure someone has posted from Russia a number of times (it was ME!).

---
Posted by Douglas Warren (Member # 1047) on August 30, 2015, 05:44 PM:

I image that projector cost many rubles in its' day.Only the party elite could probably afford it. I too wonder what types of films were available for it. I have come across a few Russian 8 mm cartoons for sale on various sites.

---
Posted by Steve Klare (Member # 12) on August 30, 2015, 06:13 PM:

I have an early cartoon called "Russian Symphony" I bought from Steve Osborne. It bears a lot of resemblance to very early sound cartoons like "Steamboat Willie": could be from that era, could have been made 40 years later for all I know.

Information is so thin on it I can't even promise It's Russian! (Music and sound effects: no dialog)

(Anyone?...Anyone?)

---
Posted by Clinton Hunt (Member # 2072) on August 30, 2015, 09:28 PM:

I too have a Russian Standard 8mm film that I bought on e-bay as a curiousity,no opening title,silent (Russian text titles) and in colour but mostly red/faded,runs for nearly 10 mins.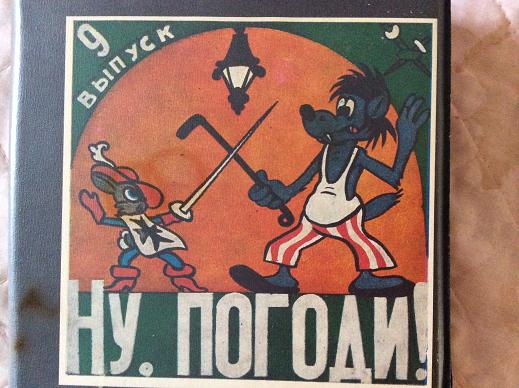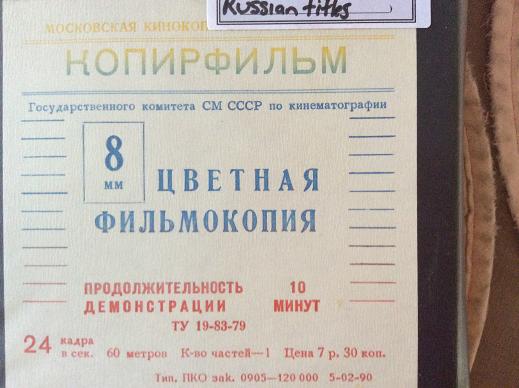 ---
Posted by Steve Klare (Member # 12) on August 30, 2015, 09:56 PM:

Derann had this one:

THE WALTZ OF THE FLOWERS Russian Animated Nutcracker Suite 1 x 200ft. Col Price code E

It was always one I was curious about but never got around to getting. (Maybe someday.)

I've been to Russia four times. Hearing spoken Russian as an English Speaker is fine: your brain grasps that it's a language you don't speak and you accept that. Cyrillic always got me though. It's so close to our alphabet you can't help but try to read it! I finally got to the point where I could actually sound out words I'd learned, but after 5 years I doubt much of that is left.

I have a friend who is bilingual Russian/English and can practically change languages mid sentence. What really gets me is he writes in both alphabets just as easily.

---
Posted by Clinton Hunt (Member # 2072) on August 30, 2015, 10:11 PM:

Great Steve .... that gives me an English title and maybe watching it with that wee bit of info will help
---
Posted by Steve Klare (Member # 12) on August 30, 2015, 10:46 PM:

Oh!

I'm not saying your film is actually "The Waltz of the Flowers". I'm just pointing out a Russian film that was under our nose for years!

Prompted by this topic I projected "Russian Symphony", did some digging and found out that the original title is "Russische Sinfonie" (1930).

-the Music is very Russian, but the cartoon is very German!

I'm guessing Steve Osborne recommended it because he knows I love Hans Fischerkoesen films and like those this is both animated and German.

Technically I do have a film that was filmed in Russia, except I'm the one that filmed it!

---
Posted by Clinton Hunt (Member # 2072) on August 31, 2015, 12:23 AM:

hahaha ... yes I see that now I re-read your reply
---
Posted by Rob Koeling (Member # 35) on October 25, 2018, 04:26 PM:

My son went on a school trip to Russia and he bought me a Lomo MIR2 projector on a fleamarket in St.Petersburg. It looks like it is in good nick. The belts look like they have been replaced fairly recently.

There is one issue though, and that is that the fuse holder is missing. If anyone has a spare one lying around or if someone has a good idea how to improvise one, I would love to hear from you!

Clinton, could I ask you to take a picture of the fuse holder when you have a moment and post it here?

I'll add some pictures later.

- Rob

---
Posted by Clinton Hunt (Member # 2072) on October 26, 2018, 04:51 PM:

Hi Rob,
Iíve sent you an email to your gmail

Iím having trouble posting pics on here with my iPad so an email will be easier.
I have some spare parts if they will help as I have a fully functional projector and a bits and pieces one ... that offer applies to everyone ... if I can help
---
Posted by Bill Phelps (Member # 1431) on October 26, 2018, 06:31 PM:

This Russian projector has about the same reel/spool configuration and film path as the old Kodak Brownie projectors. I wonder if one influenced the other?

---
Posted by Rob Koeling (Member # 35) on November 04, 2018, 03:45 PM:

Thanks to Clinton, the projector is running now! He sent me the fuse holder from a spare machine he has. However, now I know that the bulb is broken... There is no indication what the type of the bulb might be. Has anyone got an idea?
I like the idea of an adaptor that allows you to use an halogen bulb. Could you post picture of that, Clinton?

- Rob

---
Posted by Clinton Hunt (Member # 2072) on November 04, 2018, 07:31 PM:

You are nearly there Rob

Iíve emailed you photos of the lamp and the adapter socket for halogen12v 100w lamp.I canít post photos using my iPad so feel free to post those here if you like

I think if you search on eBay for e.g. for 12v 100w Projector lamp and then look for the same one you should get the answer or the adapted type which will be cheaper
---
Posted by Rob Koeling (Member # 35) on November 07, 2018, 05:44 AM:

Hello Clinton,

I think I found an 9mm bayonet to halogen adapter, but not sure if it is the right one for a 12V/100Watt halogen bulb. Can you check what the type of halogen lamp is that is used in your machine? Most adapters seem to accommodate halogen bulbs with a G4 fitting, but for projection bulbs the bulbs seem to have a Gy6.35 base.
The adapter that I bought seems to be a bit higher than yours, so also not sure if the bulb will end up too high. We'll see!

- Rob

---
Posted by Maurice Leakey (Member # 916) on November 07, 2018, 11:27 AM:

I think that the original lamp is an A1/186, as used in early Eumig P8 projectors.
Here is a link.
https://www.bltdirect.com/a1-186-100-watt-12-v-ba15s-projector-lamp?adcid=pla&gclid=CjwKCAiAt4rfBRBKEiwAC678KXbhog7LMqGag6wCzzVoSdNmgq0fKvdC7-AilKfiGPFJEvwTzypwCBoCaZYQAvD_BwE

---
Posted by Clinton Hunt (Member # 2072) on November 07, 2018, 03:38 PM:

A1 215 is written on the box but Iíve not had to use it yet sorry,but it does fit the adapter and it is the correct volts and watts ... I emailed you the photos
---
Posted by Maurice Leakey (Member # 916) on November 08, 2018, 05:06 AM:

The A1/215, is, of course the more modern lamp that Clinton refers to.
https://www.lampshoponline.com/a1-215-hlx-100w-12volt-projector-lamp.html?awc=5845_1541675112_23c0d86a37ffe372a2169137df837d18&utm_source=affiliate_window&utm_medium=affiliate_link &utm_campaign=affiliate_window

---
Visit www.film-tech.com for free equipment manual downloads. Copyright 2003-2019 Film-Tech Cinema Systems LLC




UBB.classicTM 6.3.1.2