This is topic Eumig 900 series switch in forum 8mm Forum at 8mm Forum.


To visit this topic, use this URL:
https://8mmforum.film-tech.com/cgi-bin/ubb/ultimatebb.cgi?ubb=get_topic;f=1;t=010974

---
Posted by Paul Adsett (Member # 25) on September 15, 2016, 02:57 PM:

Yesterday was a wet day, so I finally got around to installing a new rocker switch in my Eumig 938. This rocker switch switches the main power on and off, and replaces the really nasty sliding mains switch, which for me has failed on every 900 series projector that I have owned.
To install the switch I had to drill an 11/16 hole through the metal back wall of the chassis, and re-route the power wires over the top of the motor. I installed a power strip to make things easier next time.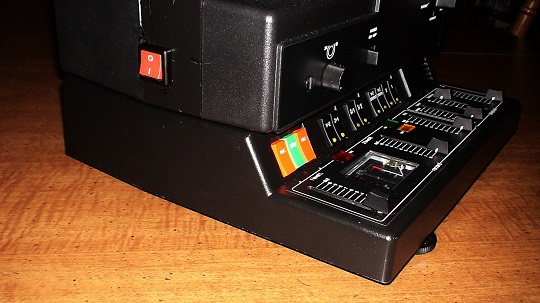 ---
Visit www.film-tech.com for free equipment manual downloads. Copyright 2003-2019 Film-Tech Cinema Systems LLC




UBB.classicTM 6.3.1.2