This is topic Replacing Claw on B&H 11XJ in forum 8mm Forum at 8mm Forum.


To visit this topic, use this URL:
https://8mmforum.film-tech.com/cgi-bin/ubb/ultimatebb.cgi?ubb=get_topic;f=1;t=011496

---
Posted by Janice Glesser (Member # 2758) on May 18, 2017, 04:10 PM:

Last night I did my first claw transplant. Here's the story.


I have a Bell & Howell 11XJ Super 8 sound projector I sometimes use for capturing audio. It's not a high-end machine...but it's very quiet running, stable picture, low-cost bulb, and the sound is very good. The mini-plug jacks makes it easy to connect and capture audio to my computer or my digital recorder without adapters.

I hadn't used this projector for over a year and as luck would have it after watching film just get pulled continuously thru the gate, I discovered the tip of the claw was broken off. Drats! However, after making a trip out to my garage to the shelf of "parts only" projectors... I eyed a Bell & Howell 10MS in the bunch. The 10MS is a dual format silent projector but looks very much like the 11XJ.





I discovered that the 10MS has some identical parts as the 11XJ...It has the same claw mechanism as well as the gate and lens holder. So I scavenged both of these parts from the 10MS and installed them into the 11XJ. The original gate on the 11XJ was not opening and closing properly which may have contributed to the claw breaking. Anyway I replaced it with the gate from the 10MS...a perfect fit.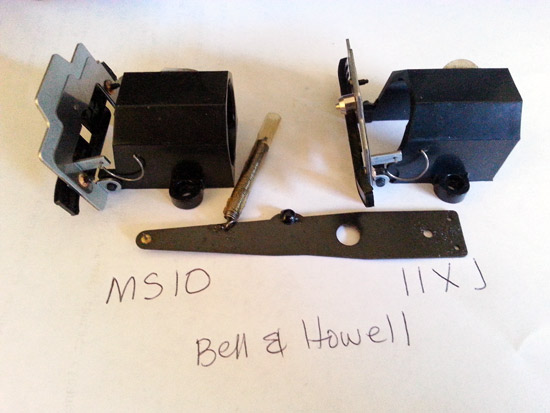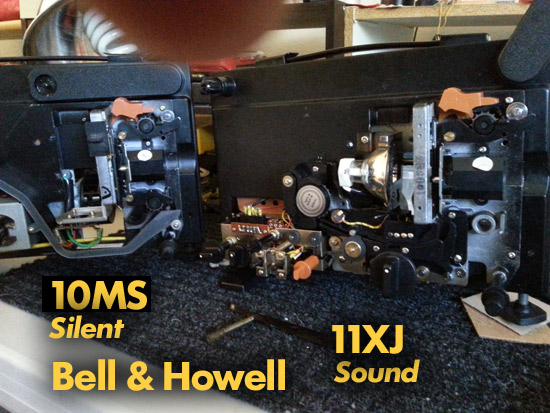 Installing the claw was the most tedious, but not difficult. The depth adjustment of the claw is done by turning a nut against a spring at the tail of the claw arm.




The poor 10MS is minus a few more parts...but the 11XJ is running great again.


---
Posted by Andrew Woodcock (Member # 3260) on May 18, 2017, 06:08 PM:

Janice your tutorials and skills are both truly remarkable and inspirational here!

I love your detailed diagrams and photographs, logical approach and the professionalism by which you achieve your results.

The video tutorials I've seen could not be presented any better if they were on TV.

Well done with this one, changing any claw isn't difficult, but very few have the patience and the necessary bottle and logical mindset to go ahead and do it to any particular standard, let alone then carrying it out to a completely successful professional standard from what I have witnessed in this hobby.

---
Posted by Janice Glesser (Member # 2758) on May 19, 2017, 12:02 PM:

Thank you Andrew for your kind words. There are so many on this forum who have a gift with words...I'm not one of them. My background has always been in visual media so that's how I tend to communicate. Although this isn't really a step-by-step tutorial...I'm always hoping these types of posts will spawn ideas and conversation. My main objective is to illustrate not to give up too fast if something goes wrong with a projector. I'm not sure if too many are that interested or perhaps their projectors just run great and don't need any attention, but these are common problems that eventually will have to be addressed. Because I've been a projector collector...I run into problems a lot more frequently
---
Posted by Andrew Woodcock (Member # 3260) on May 19, 2017, 12:20 PM:

Their owners might not say it out loud Janice, but rest assured there aren't many machines that will just run and run and run, year in, year out if used regularly.
This isn't only applicable to cine projectors either.

I see machines worth millions breaking down on a fairly regular basis mechanically as well as electrically due to the demands that are placed on them.
If something turns or moves or has electricity going through it, it will break in the none too distant future if used regularly,rest assured.

The good news is there are people like yourself Janice fixing them again!

---
Posted by Joe Taffis (Member # 4) on May 19, 2017, 01:41 PM:

Hi Janice, very interesting info as always, thanks for sharing
---
Visit www.film-tech.com for free equipment manual downloads. Copyright 2003-2019 Film-Tech Cinema Systems LLC




UBB.classicTM 6.3.1.2