This is topic Estate Sale #2 in forum 8mm Forum at 8mm Forum.


To visit this topic, use this URL:
https://8mmforum.film-tech.com/cgi-bin/ubb/ultimatebb.cgi?ubb=get_topic;f=1;t=011685

---
Posted by Rich Malmsten (Member # 5787) on August 24, 2017, 09:16 AM:

Following up on my previous post...

Last weekend my wife and I went to another estate sale, and what did I find? An Elmo HiVision SC18 projector (with a built in mini-screen so you can either watch it like a TV or project it on a screen). It has the power cord, 600-ft take-up reel, microphone, a spare bulb, all in the original packing. The cost? $5.

The belts are shot so I've ordered replacements. The motor works and the speaker seems to work as well, so I'm expecting I'll have it operational in a couple of weeks when the belts arrive.

This was the second big find for me in two weekends. I've never had that kind of good luck before, and maybe I never will again, but it sure was fun! It goes to show what you can find if you just keep looking.

---
Posted by Bryan Chernick (Member # 1998) on August 24, 2017, 10:21 AM:

I've had some pretty good finds at estate sales and garage sales but lately prices on film gear seems to be going up again. I think it's probably because the companies that run estate sales are realizing that film is making a bit of a comeback. Several years ago I got an Elmo ST180 for $15 at an estate sale in near mint condition (other than the belts).

About a month ago I found the best deal I have ever had. I got a Leica IIIc with a Summitar 50mm lens in very nice condition along with a few other items for $30. The Leica is a 1950 model, that year had a problem with the chrome due to post war materials being scarce. Other than the chrome flaking off the camera is in excellent condition. The 3 lens finder turret was part of the lot.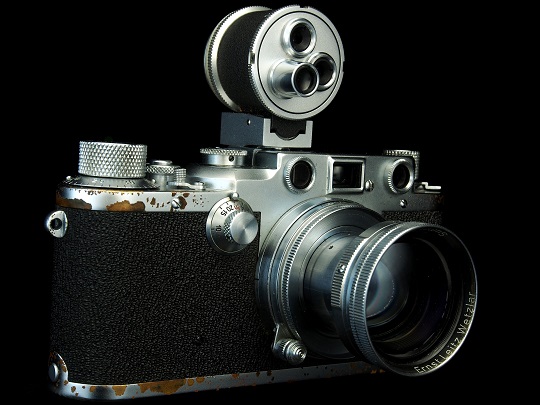 ---
Visit www.film-tech.com for free equipment manual downloads. Copyright 2003-2019 Film-Tech Cinema Systems LLC




UBB.classicTM 6.3.1.2